These 10 Vegan Kitchen Staples are some must-haves when going plant-based so you'll be ready to take on almost any recipe!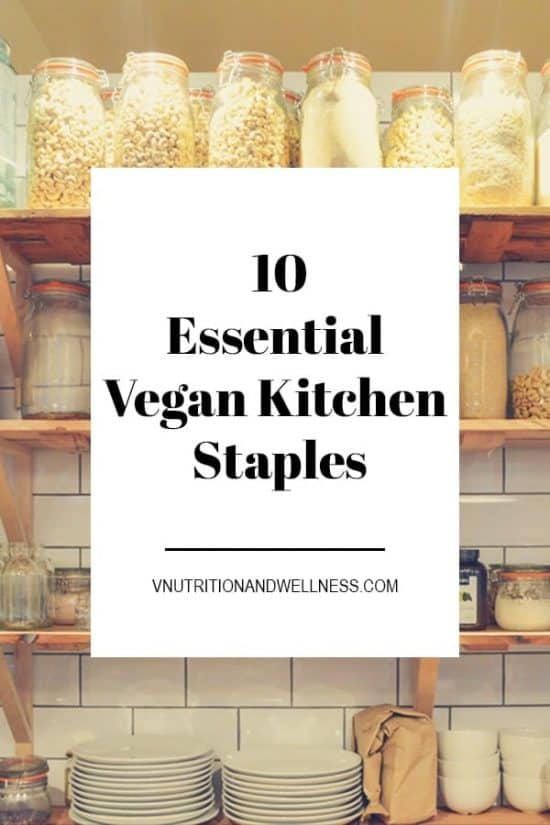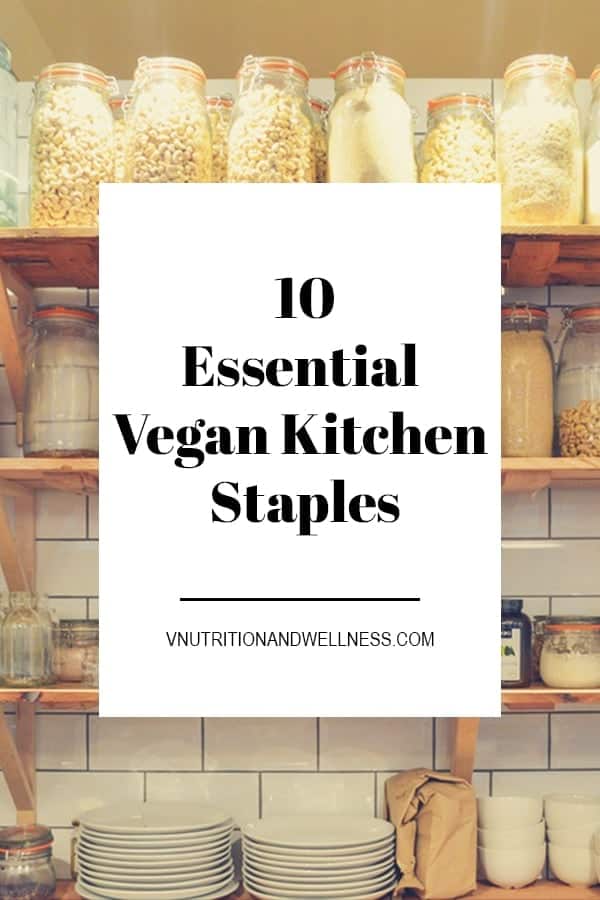 Do you ever find a recipe, think it looks fabulous, and then read one of the ingredients and stay to yourself "What the heck is that? Where do I get that?"
I sure have, especially when I first went vegan. To help you if you ever experienced the same thing, I put together a list of vegan kitchen staples that I use and that I've seen in other vegan recipes too. This way you'll be covered with the basics!
10 Essential Vegan Kitchen Staples
1. Non-Dairy Milks – I'm sure you probably have some in your fridge or at least have tried some before (if not, you're in luck, they're tasty!). There are nut milks like almond, cashew, and hazelnut as well as other kinds like soy, rice, hemp, coconut and flax.
Use in: smoothies, smoothie bowls, soups, sauces, drinks, baking – basically, anywhere a dairy milk would be used
2. Nutritional Yeast (aka nooch) – You might be asking yourself what that is or think yeast sounds gross – well it's not – it's delicious! Nutritional yeast is a biggie when you want to add a cheesy flavor to food and also adds an umami or savoriness to dishes.
Use in: vegan mac & cheese recipes (like mine), sprinkled on vegan pizza & veggies, making vegan parmesan
3. Nuts & Seeds (and their butters) – There are so many nuts and nut butters to enjoy. I snack on peanuts, almonds, walnuts, and pistachios as well as hemp, sunflower, and sesame seeds. I love peanut butter and almond butter for balls & smoothie bowls. Cashew butter is great for making dressings creamy and raw cashews are perfect for adding in that same kind of creaminess  like in my Colcannon Soup and Vegetable Bean Casserole.
Use in: snacks, sauces, dressings, soups, etc.
4. Tamari/Soy Sauce – Because I make a lot of Asian foods many recipes will call for it but I use it well beyond Asian recipes to add extra flavor.
Use in: almost anywhere!
5. Ground Flax Seeds – Did you know that you can make an egg substitute with flax seeds? It's true! To make one "flax egg", mix 1 TB of ground flax seeds with 3 TB of warm water and let sit for about 10 minutes.  When storing flax you have to keep it in the fridge because the seeds can get rancid in heat. Flax seeds contain Omega 3s so they're good for you too!
Use in: baking muffins, cakes etc.
6. Fresh Lemons – There are always lemons in my fridge. I feel like lemon can be added to almost anything – sweet or savory. I have a glad of warm lemon water every morning when I wake up -it's a nice and refreshing way to start the day.
Use in:  drinks, sauces, and dressings
7. Canned Beans – Canned beans are a must for vegans – they add lots of fiber and protein. Plus they're easier and quicker than cooking dried beans. My favorites are chickpeas like I use in my Roasted Tomato and Chickpea Soup). I always have a can of white and black on hand as well.
Use in: bowls, dips, sauces, soups
8. Hot Sauce – I love hot and spicy dishes so I alway shave some kind of hot sauce on hand. Even if you're not a hot/spicy person yourself, adding a bit will add a depth of flavor to food. The ones I always have on hand are sriracha (sriracha veggie burgers anyone?), Frank's Red Hot, and sambal oelek (chili paste).
Use in: almost anywhere that needs a bit of spice!
9. Vinegar – As I said before, I like to make most of my own dressings, so vinegar is a must for those. I also use it in many of my sauces to add a bit of acidity when I'm not using lemon juice. Some of my favorites are apple cider, rice wine, and balsamic.
Use in: dressings, sauces
10. Gluten-Free Flours – Although I sometimes use regular or whole wheat flour for baking, I like to keep gluten-free versions on hand because I'm mostly gluten free and many of my friends are as well. Some of the GF flours I use are almond (for baking like my banana nut muffins), chickpea, and quinoa flour. Besides baking, I use these types of flours in my protein balls or for coatings like on my  Popcorn Tofu.
Use in: baking, protein balls
10 Vegan Kitchen Staples so you'll be ready to take on almost any plant-based recipe!
Click To Tweet
You may also enjoy…
[cp_modal display="inline" id="cp_id_90426″][/cp_modal]
Like my Vegan Kitchen Staples!? It would be so wonderful if you could give it some love by sharing!