Need some help with vegan meal planning? In this post, I share strategies that have helped me get meals together easily and stay on track with my plant-based eating!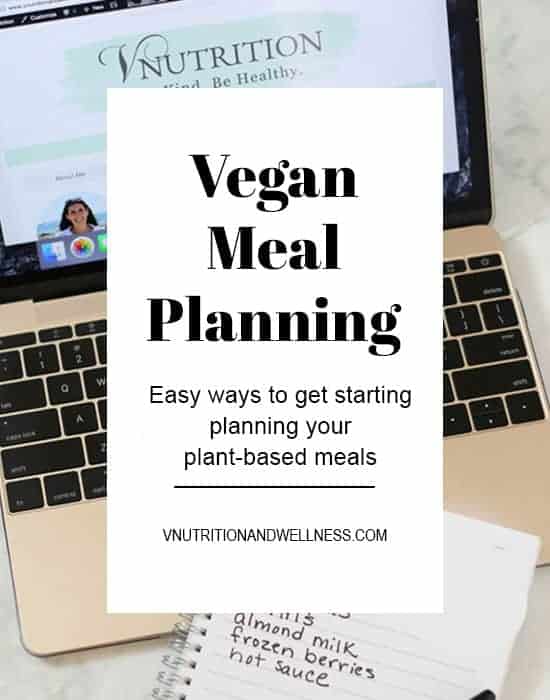 Ever get home, feel so tired from work and are starving...only to realize you don't know what you're having for dinner?
Maybe you try to whip something up but that doesn't turn out well so you end up just ordering takeout anyway?
I'm with you, I've been there too (more often than I care to admit actually).
Jump to:
Staying on Track with a Plan
The one thing that keeps me on my healthy path is meal planning. With vegan meal planning, I know what I'm eating and when I'm eating it so there are no bad decisions made when I'm tired. And with some vegan meal prep, it's not as hard to get something healthy on the table quickly.
Will it take a little time on your part to get things planned and prepped? Hecks yeah, but it's totally worth it. By taking some time on the weekends to get ready, the weekdays will be so much easier (and healthier) for you.
Today I'm going to share with you some meal planning tips that have helped me tremendously with having nutritious food throughout the week.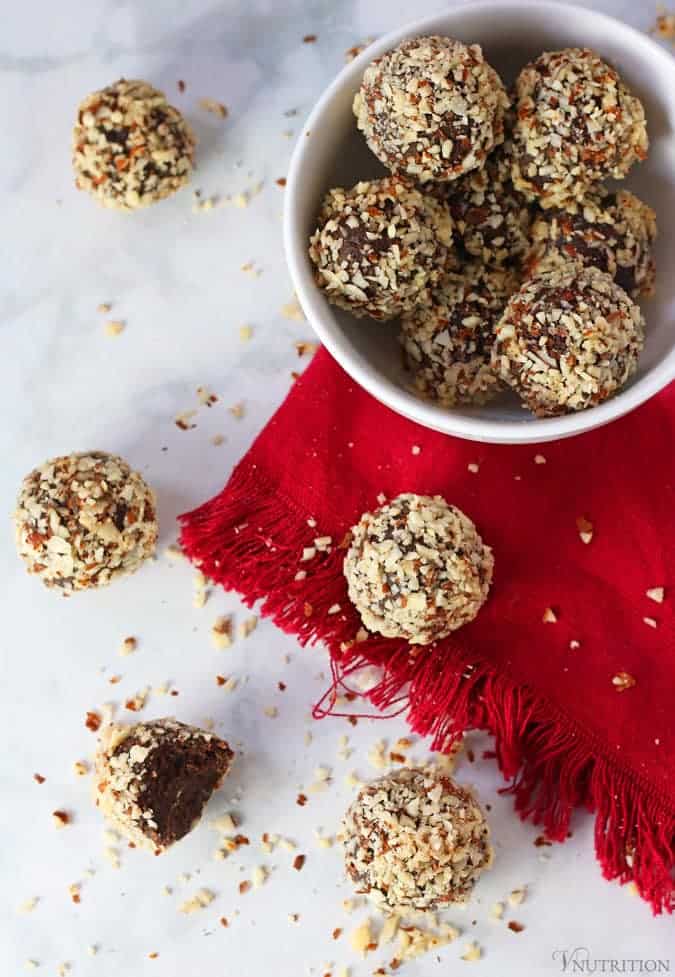 (Chocolate Cherry Balls - one of my favorite snacks to pre-make for the week!)
Vegan Meal Planning - The Basics
The first thing I do before anything else is to decide what I will be making. I take some time on Friday or Saturday so I'm all set when I go to the grocery store Sunday morning.
I find recipe inspiration from:
Cookbooks

Blogs (like mine!)

Pinterest (which is basically a blog search engine)

Your own recipes that you can make vegan by adding more veggies or plant-based alternatives
When choosing recipes, I consider:
The number of meals I will need - these may change weekly if you have after-work plans or are having leftovers from the night before

What fruits and veggies are in season?

What new recipes do I want to try?

Foods that I already have in my kitchen that I may need to use up

Foods that might go bad faster than others (use those earlier in the week)

Extras that will I need besides main meals. Think ingredients for salad dressings, snacks, etc.

Which days do I have plans in the evening or after work? I will probably need quick meals those nights

Does it have veggies, protein, carbs and some healthy fat (avocado, olive oil, nuts) for a nice whole meal? If not, what can I add to make it more balanced?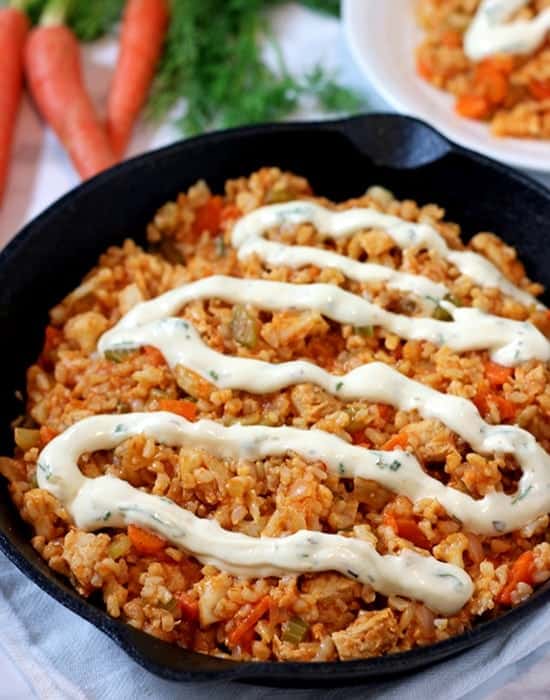 (my Buffalo Chick'n Skillet - made from my batch cooked grains)
Other Tips to Make Meals Easier
Be flexible. Nothing has to be set in stone. I want to stress this. While vegan menu planning might seem daunting at first, things don't have to be all or nothing.
You don't have to plan for the whole week if you don't want to. You can start with planning a few meals each week.
Sometimes I only write down a few dinner ideas then I use the leftovers from the previous night's dinner for lunch the next day. It still helps tremendously having at least a few things ready, especially for those days that you know you'll be busy after work.
Make at least a few easy/favorite recipes. I like to do a mix of new recipes and old favorites. If you're new to vegan recipes or meal planning it might be easier to stick with simple recipes.
Bowls (like my Green Power Bowl) are my are easy and versatile. All you really need is a whole grain, some veggies, and a plant-based protein.
I also have a few recipes that are my go-tos which I know I'll enjoy and that I'm used to making so things don't get too stressful every night with a new recipe. I've made my Cashew Mac & Cheese, Lemon One Pot Pasta and Thai Quinoa Salad and so many times now they're no-brainers to add to my dinner ideas if I need something quick.
Plan on batch cooking some items on Sundays. I have a list of staple batch cooking items I prep before the week begins. Things like grains, soups, dressings and roasted veggies are easy to make ahead and then you're set on those things for most, if not all of the week.
My rice cooker is a big time saver. I put the rice in, prep other things and don't have to think about it until the timer on the cooker dings to tell me it's done!
I use the pre-cooked rice in recipes like my Buffalo Chick'n Rice Skillet and my Kimchi Fried Rice (you can leave the kimchi out if you're not a fan) and pre-cooked quinoa in my Southwest Quinoa - and of course, I use them for my bowls too. Check out Vegan Meal Prep post for more on prepping food!
Have a backup plan. It's always best to keep ingredients for go-to meals on hand for just in case. For instance, I always have frozen veggies, pre-baked store-bought tofu, and rice on hand for a quick stir fry or canned chickpeas, coconut milk and crushed tomatoes for my Roasted Tomato Chickpea Soup. That way I know I have these options in an emergency so I'm not forced to order takeout.
A well-stocked pantry is key. Different herbs, spices, and condiments can add flavor to make your dishes delicious! Check out my 10 Essential Kitchen Staples post for my favorites. My Meal Planning Resources also contains my full list of items I have in my kitchen.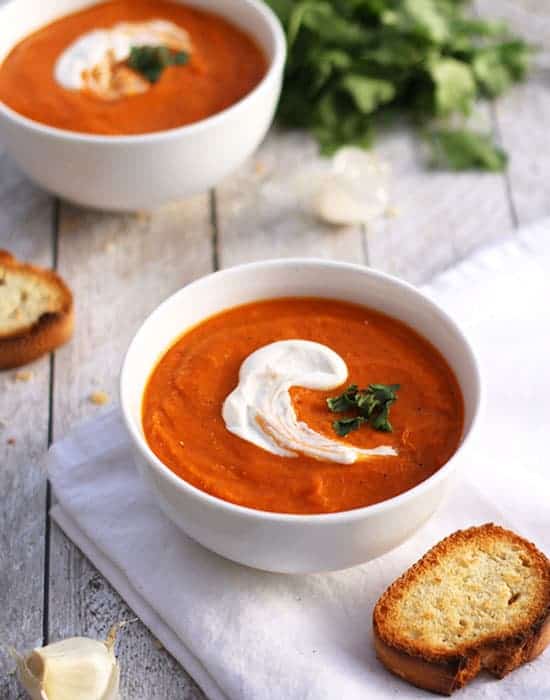 (my Roasted Tomato Soup - easy to make with kitchen staples)
Grocery List & Shopping
Once you're done deciding on what you're going to eat that week, make your grocery list. Don't forget to add any snacks!
I've included my basic grocery staples list in my Vegan Made Easy Guide.
When shopping, try to stick to the list so you're not picking up extras. This will save money and you won't be buying impulse purchases (which are often unhealthy).
I like to stick to the outer aisles of the grocery store. I also hit up the organic aisle as well as a few others for staples like spices and beans but most of the middle aisles are full of processed foods. While those are okay sometimes, we want to focus on real, whole, veggie-based foods.
After you've got a hold of doing some meal planning, check out my Vegan Meal Prep post!
What are some ways you plan ahead to make mealtimes easier?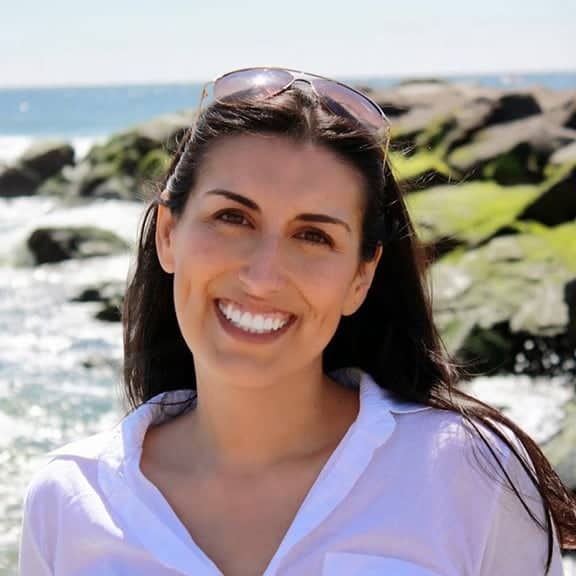 Mary Ellen Valverde MS, CNS, LDN is a Licensed Nutritionist and Certified Nutrition Specialist who empowers vegans to feel clear and confident about what is uniquely nourishing to them. Mary Ellen's recipes and nutrition information have been featured on Yahoo News, Parade, VegNews, LIVESTRONG, Dr. Axe, Greatist, LIVEKINDLY, Brit+Co, Well+Good, and more.