This vegan mozzarella cheese is a great way to have a tasty pizza without dairy.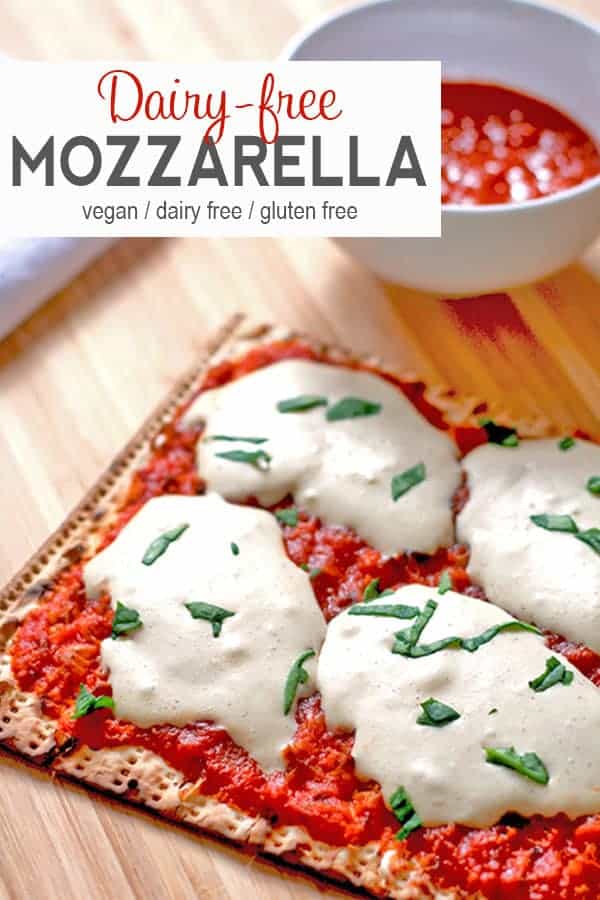 My husband, Matt, loooves pizza, so much so that he eats it a few times a week. This routine is not the best thing for his health though so he's trying to cut down a bit.
I wanted to create something that could be reminiscent of his beloved pizza without all the dairy. There are many vegan mozzarella cheese alternatives that can be purchased at grocery stores, however, I wanted to something homemade that is less processed for Matt's snack.
We travel to Germany sometimes so I was looking at vegan German sites when I came across this blog that had a recipe for a vegan mozzarella cheese. I'm happy that I know a bit of German* so I understood what most of the ingredients in the recipe were.  It's a nice bit of luck that I happened upon that site so I thought I'd try to add my own spin to the recipe, make it my own, and try it out on Matt.
*And by a bit of German I mean names of some foods, how to order beer/wine, basic colors and numbers, how to say I'm hungry, cold, and/or vegan, and "where is the bathroom".
Jump to: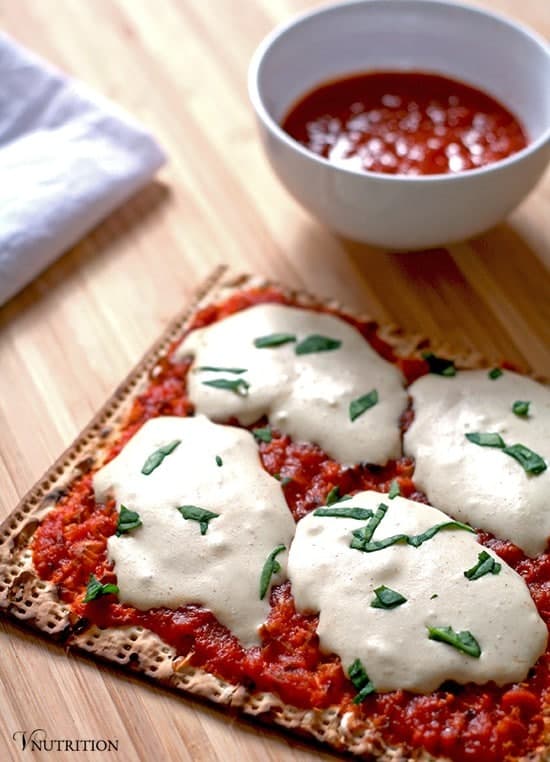 Vegan Mozzarella Cheese
I was pleasantly surprised with the consistency and taste of the vegan mozzarella cheese alternative when melted. It reminds me most of fresh mozzarella, and it kind of stretches in the same way.
I've had it on "parm" sandwiches and pizza and it has impressed me on both. I won't go as far as to say it's just like cheese but it's a great alternative for those that are plant-based or lactose intolerant.
The cheese isn't too bad on its own either. I could see some people liking it in a salad, like a caprese, but I prefer it melted and gooey. I also like to eat it right after it has been heated as it seems to have the best consistency then.
The base of my vegan mozzarella cheese alternative is made with psyllium husks. You might be wondering what psyllium is; I wondered the same thing.
Psyllium husks are basically the seeds of a plant which offers dietary fiber and is often used as a food thickener. I think it works really well for this recipe to keep the cheese a bit "gooey" when first heated.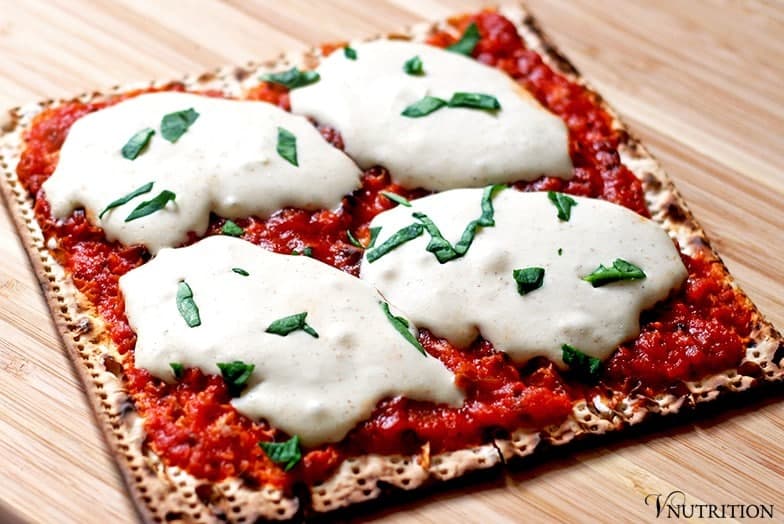 To make a matzo pizza as seen in the pictures, preheat oven/toaster oven to 350. Take 1 piece matzo bread,  add 2 Tb tomato sauce and arrange some sliced vegan mozzarella on top (recipe below). Bake for 3-5 minutes.
If you make this vegan mozzarella cheese recipe, let me know what you think by ★ star rating it and leaving a comment below.
📖 Recipe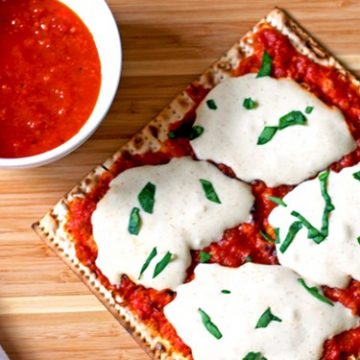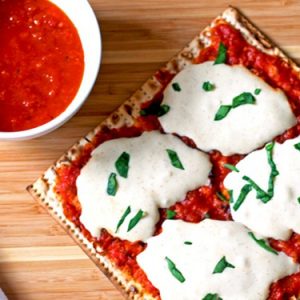 Vegan Mozzarella Cheese Alternative
This vegan mozzarella cheese alternative is a great way to have a tasty pizza without dairy. 
Email Recipe & Ingredients
Ingredients  
½

cup

water

1-2

Tablespoons

lemon juice

1

Tablespoon

psyllium husks

Pinch of salt

1

Tablespoon

nutritional yeast

¼

teaspoon

garlic

¼

cup

raw cashews, soaked in enough water to cover them for a few hours (then discard water)
Instructions 
Mix the water, lemon juice, and psyllium husks and let them sit for at least 2-3 hours or overnight.

Add the psyllium mixture and the rest of the ingredients into a high-speed blender and blend until smooth.

Put mixture into a bowl and into the fridge for 30 mins to an hour for the cheese to set. The final consistency is that of a fresh mozzarella (it will not be hard to the touch).

Slice the cheese to serve.

Keep in fridge for 3-4 days.

Please Note: When heating on pizza or sandwiches, the cheese only needs to be heated for about 3-5 minutes.
Nutrition
Calories:
124
kcal
Carbohydrates:
11
g
Protein:
5
g
Fat:
7
g
Fiber:
5
g
PLEASE NOTE: Nutritional information data is computer generated and only an estimate so it should be used only as a guide.
You may also enjoy...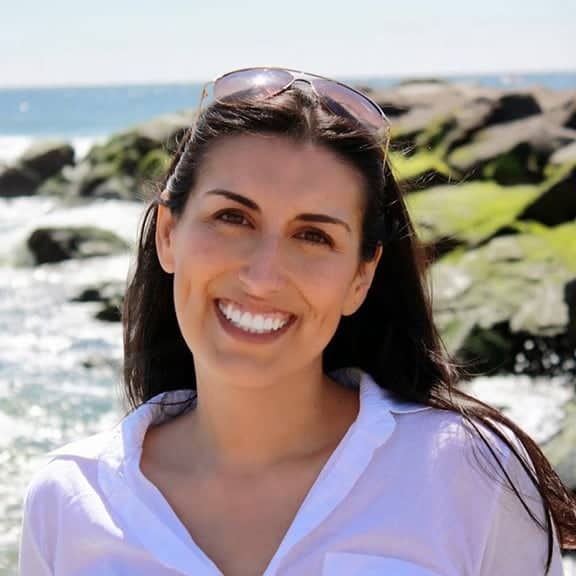 Mary Ellen Valverde MS, CNS, LDN is a Licensed Nutritionist and Certified Nutrition Specialist who empowers vegans to feel clear and confident about what is uniquely nourishing to them. Mary Ellen's recipes and nutrition information have been featured on Yahoo News, Parade, VegNews, LIVESTRONG, Dr. Axe, Greatist, LIVEKINDLY, Brit+Co, Well+Good, and more.