Making your own Vegan Parmesan Cheese is extremely easy and only requires 5 ingredients! It's a delicious dairy-free alternative to traditional parmesan.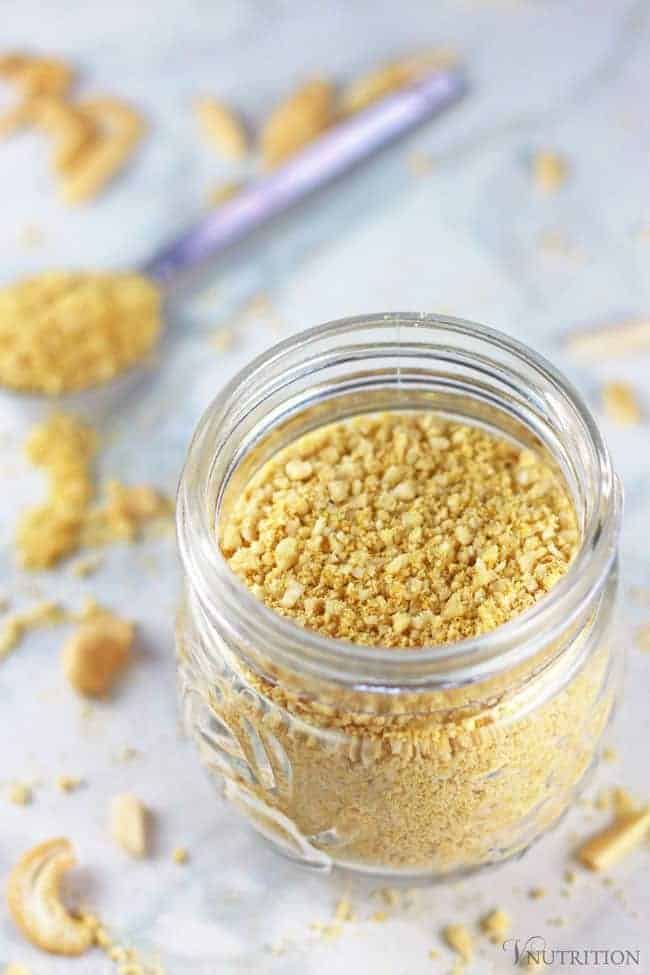 There's no need to miss cheese when going plant-based. Believe me, I know it can seem impossible at first but if I can do it, you totally can (I was a previous cheese-a-holic and had my own cheese drawer in the fridge).
One of my favorite things to do is recreate some of my favorite cheeses so I can enjoy them again. I've already made Chipotle Queso, Port Wine Cheese, Tofu Feta, Vegan Mozzarella, and of course my creamy Cashew Mac & Cheese.
I've been making my Vegan Parmesan Cheese for years and wanted to share it with you because it's so easy to make and perfect for topping pasta, vegetables, vegan pizza or anything else you'd use traditional parmesan cheese.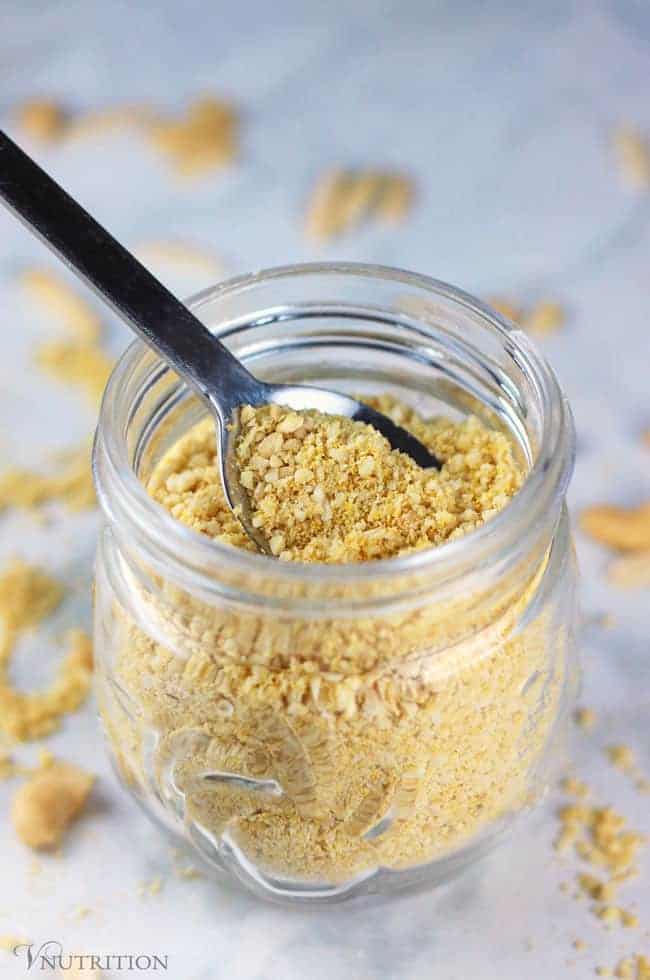 Healthy Easy to Make Dairy-Free Parmesan Alternative
I'd recommend this vegan parmesan to anyone who is plant-based but also those that have issues with cheese like those with lactose or casein allergies and intolerances.
The difference between these is lactose is a sugar and casein is a protein in milk. People can have problems with either (or both).
This non-dairy parm contains vitamin B12 from the nutritional yeast as well as provides good doses of protein as well as magnesium from the almonds and cashews.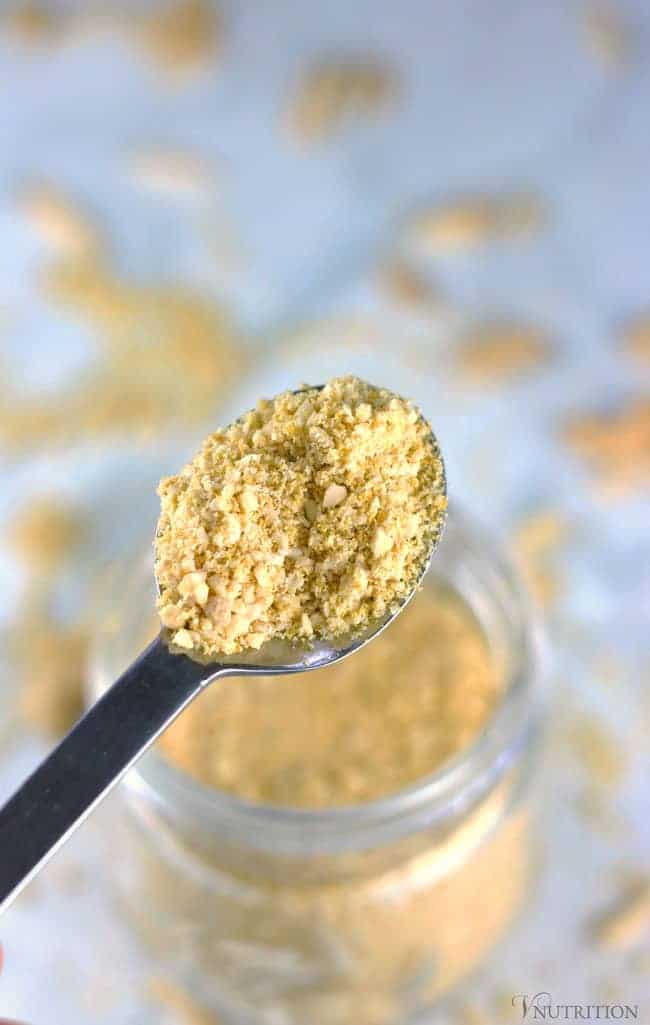 Vegan Parmesan Cheese
I can't really say enough about this vegan parmesan cheese. It's really tasty, takes about 5 minutes to make, and only uses 5 ingredients.
I make a double batch probably once a month and give half to my husband and save half for myself. I actually hide mine in the back of the fridge (don't tell him).
You might be wondering why we split it, well it's because my husband throws this on just everything and uses his batch in about a week.   Yes, I know it sounds bad to hide things from my husband but if you knew him, you'd hide some things too (otherwise you'd have nothing to eat).
If you make this Vegan Parmesan Cheese recipe, let me know what you think by ★ star rating it and leaving a comment below.
Share your pictures of any of my recipes on Instagram and use #vnutrition or tag @v.nutrition so I won't miss it!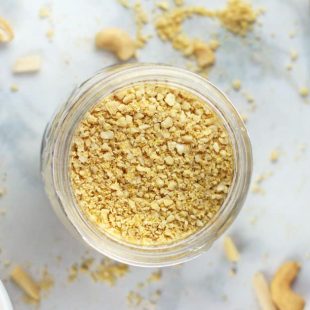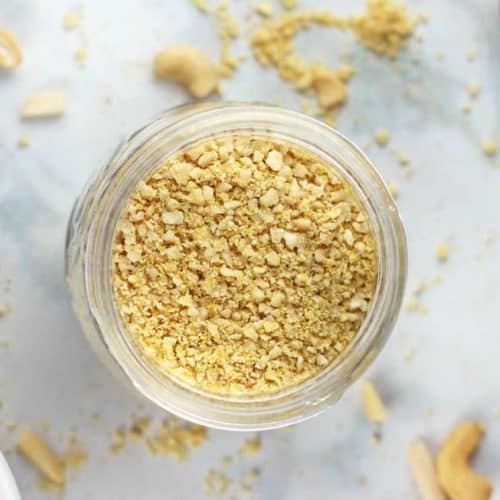 Vegan Parmesan
Making your own Vegan Parmesan Cheese is extremely easy and only requires 5 ingredients! It's a delicious dairy-free alternative to traditional parmesan.
Instructions
Pulse all ingredients together in a food processor until it becomes a parm like consistency.

Store in the frige for up to 1 month.
Recipe Notes
Nutrition info is for 1 tsp. 
Nutrition Facts
Vegan Parmesan
Amount Per Serving
Calories 19
Calories from Fat 11
% Daily Value*
Fat 1.25g2%
Carbohydrates 1g0%
Protein 1.2g2%
Iron 0.5mg3%
* Percent Daily Values are based on a 2000 calorie diet.
You may also like: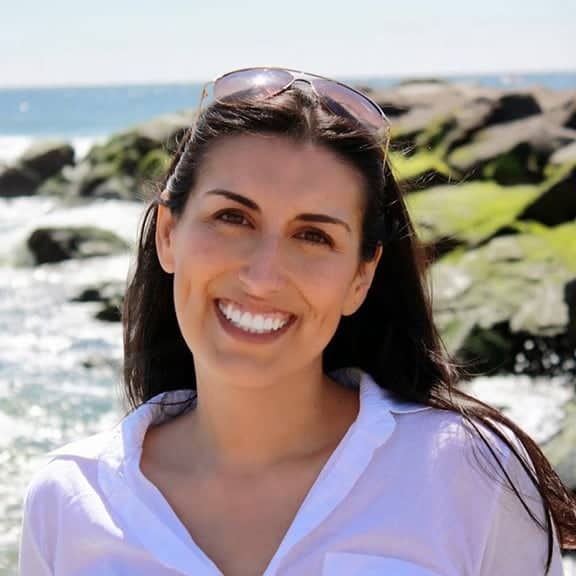 Mary Ellen Valverde MS, CNS, LDN is a Licensed Nutritionist and Certified Nutrition Specialist helping clients thrive on a plant-based diet. Through her functional nutrition coaching, Mary Ellen offers a completely holistic and science-based approach to designing a healthy, plant-based life.
When she's not working with clients or creating new meals for her blog, you can find Mary Ellen doting on her two rescue shih tzus, creating the perfect vegan mac & cheese, or exploring the world with her husband.