Creamy pumpkin "cheese" sauce and gluten free pasta come together in this comforting Creamy Vegan Pumpkin Mac and Cheese Bake. Enjoy it for an easy family dinner or a fall-flavored side for the holidays.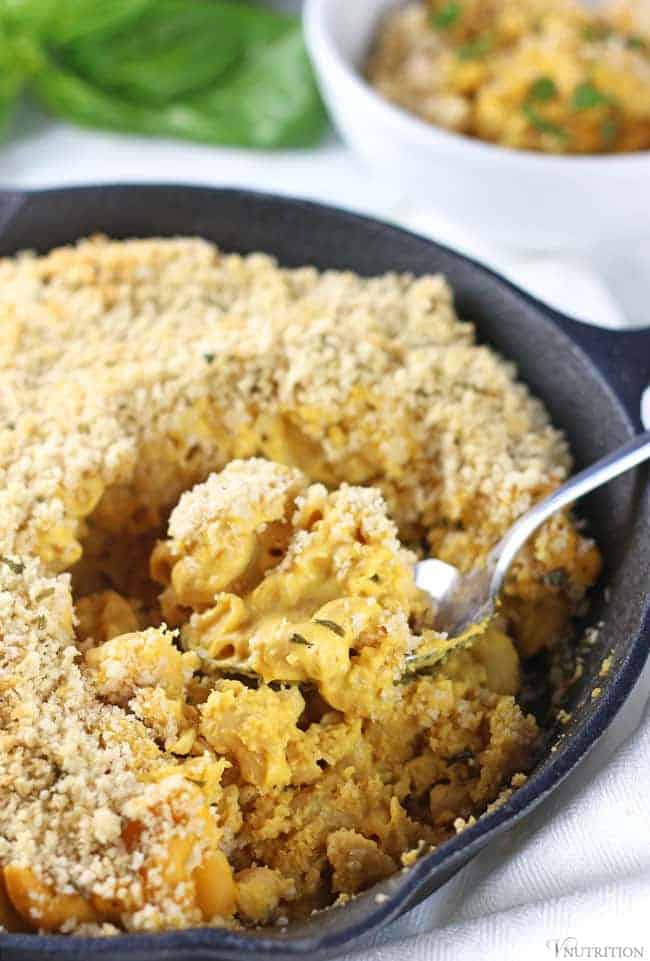 The leaves are changing and the cold air is blowing through. This time of year always calls for cozy, comforting meals with layers of delicious flavors. It's the perfect time to enjoy this healthy and gluten-free Creamy Vegan Pumpkin Mac and Cheese!
Made with a homemade vegan pumpkin cheese sauce, gluten-free noodles, and a crunchy breadcrumb topping, this easy pasta bake is perfect for family-friendly meals and the holidays. It takes my regular Vegan Mac and Cheese recipe up a notch! You'll find that the sauce is also similar to my Creamy Pumpkin and Sage Sauce but made with kid-friendly ingredients so it's enjoyable for all.
This healthy pumpkin pasta bake is easy to make ahead of time, stores nicely, and is even freezer-friendly. It's a great side dish for the holidays (especially Thanksgiving) and would make for filling and satisfying weekday lunches!
Jump to: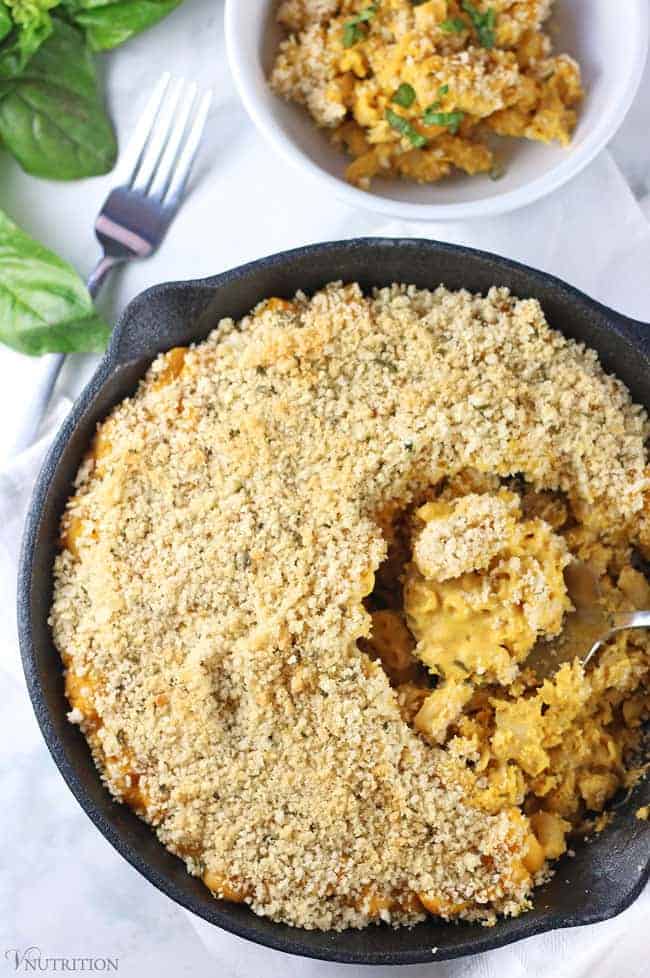 Is vegan mac and cheese healthy?
It absolutely is! Compared to regular mac and cheese, which is loaded with all kinds of dairy, I made this gluten-free vegan mac and cheese with a dairy-free cashew cheese sauce, nutrient-packed pumpkin puree, and gluten-free pasta. Each bite is really comforting and hearty, but will still leave you feeling light.
Pumpkin health benefits
Don't you just love pumpkin? Not only does pumpkin puree add tons of fall flavors into hummus, casseroles, and warm drinks, but it's also packed with nutrients! It can help fight off infections, supports your vision, and lower the risks of metabolic syndromes.
It's a food full of antioxidants and a whole food carbohydrate. Just one cup of pumpkin contains 49 calories, 12 carbs, 3 grams of fiber, vitamin K and C, and potassium.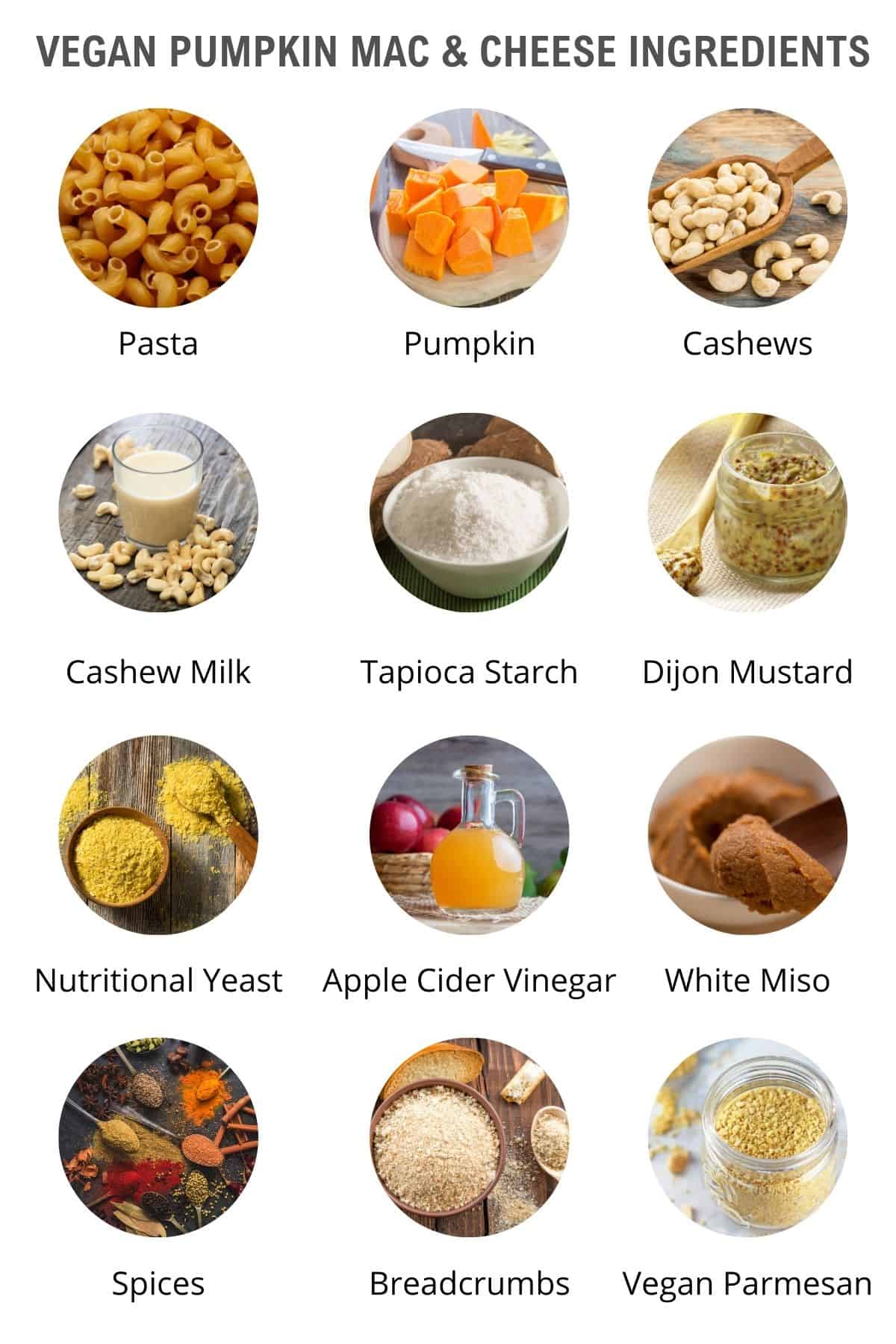 What's in a pumpkin mac and cheese bake?
Pasta - Gluten free macaroni is a classic choice! Or you can use any short pasta you love.
Pumpkin puree (or roasted pumpkin) - You can easily buy canned pureed pumpkin from the grocery store or make it yourself at home. Roasting pumpkin ahead of pureeing gives it a much deeper, richer flavor profile. If you don't have pumpkin puree at home, mashed sweet potato, kabocha squash, or acorn squash would be delicious substitutes.
Cashews - Soaked and blended cashews turn into a creamy sauce, giving the pumpkin cheese sauce a silky smooth texture.
Tapioca starch - Arrowroot or cornstarch work just as well.
Seasonings - A mix of garlic powder, onion powder, paprika, and nutritional yeast give the mac and cheese sauce a great variety of savory flavors.
Dijon mustard - Regular yellow mustard also works.
Apple cider vinegar - Or use lemon juice for brightness.
Miso - Use white miso paste for a mild umami flavor
Breadcrumbs and vegan parmesan - As a crunchy, cheesy topping on the pasta bake. Use gluten free breadcrumbs to keep the recipe gluten free.
How to make the sauce
This is a really easy, fall-flavored vegan cheese sauce. All you need is a blender to whip it up!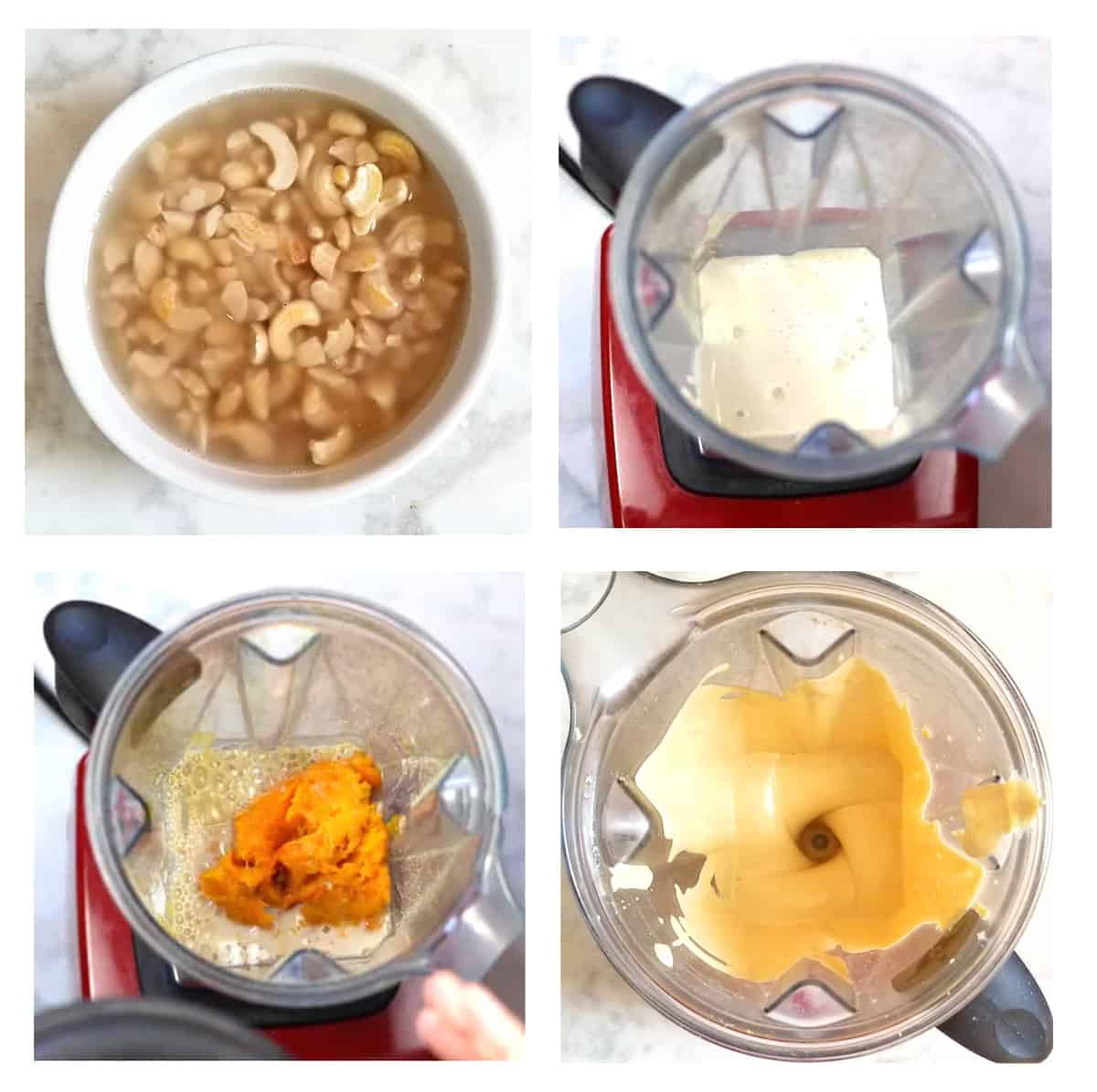 Step 1: Soak the cashews: Boil some water and pour it over the cashews in a bowl. Let them soak and soften for about 10 minutes.
Step 2: Make cashew cream: Blend the soaked cashews and water together in a blender until smooth.
Step 3: Finish the sauce: Add the rest of the sauce ingredients to the blender with the cashew cream. Blend until smooth.
Baking the Mac & Cheese
Finally, it's time to put this comforting meal together! You're just minutes away from enjoying this cozy fall dinner: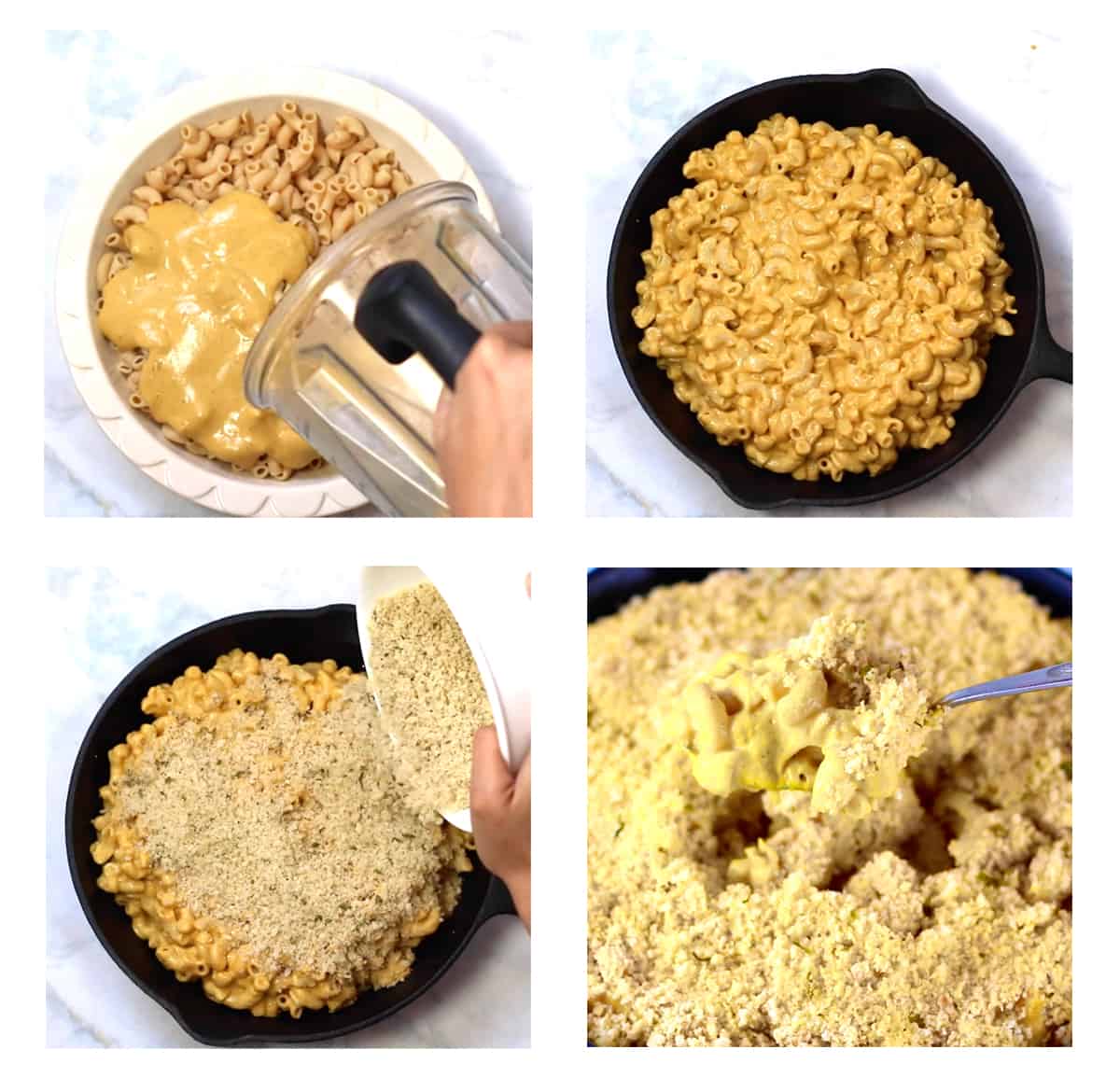 Step 1: Cook the pasta. Boil the pasta according to the package instructions. You want it to be al dente (tender and slightly chewy) rather than soft.
Step 2: Mix everything together. Stir the cooked pasta and pumpkin sauce together then add to the baking dish.
Step 3 Add breadcrumbs. Stir the breadcrumbs, oil, vegan parmesan, and parsley together in a small bowl and sprinkle it in an even layer on top of the pasta.
Step 4: Bake, then enjoy. Bake the pasta at 350 degrees until the sauce is bubbling and the breadcrumbs are golden brown and crispy. Scoop into individual bowls, top with more parmesan and parsley, and enjoy!
Serving suggestions
Pumpkin mac and cheese is really easy to put together, making it a great option for family and kid-friendly dinners and even meal prep. It's delicious on its own or you can serve each bowl with a light green salad or steamed veggies on the side.
I especially love to serve this healthy pumpkin mac and cheese around the holidays. It's a great side dish to pair with lentil puff pastry pockets, dijon brussels sprouts, and roasted squash on Thanksgiving. Every bite tastes just like fall!
Do you have more sauce than you know what to do with? Heat it up and enjoy it as a dip with crackers, pita chips, or tortilla chips!
Tips and variations
Customize your flavors and make the best vegan mac and cheese using these helpful tips:
Is the sauce too thick? Blend in a tablespoon of water at a time until you reach the desired consistency.
Add some heat - Red pepper flakes in the cheese sauce adds a subtle spice but if you like a lot of heat, feel free to blend in a teaspoon or two of sriracha or hot sauce.
Make it extra filling - Vegan bacon, buffalo soy curls, vegan chicken, tempeh crumbles, or tofu crumbles mixed into the pasta bake would make each serving extra protein-packed and filling.
Mix in veggies - To give your pasta even more of a nutritional boost, stir in some steamed broccoli, peas, green beans, kale, spinach, or cauliflower.
Oil free - You can omit the oil in the breadcrumb topping to keep this recipe oil free. The oil prevents the bread from burning in the oven, so only add the topping in the last 5 minutes of baking.
Meal Prep Tip: Bake the pumpkin the weekend before so it's ready to go when you're making this mac and cheese! Or use canned pumpkin to make things easier.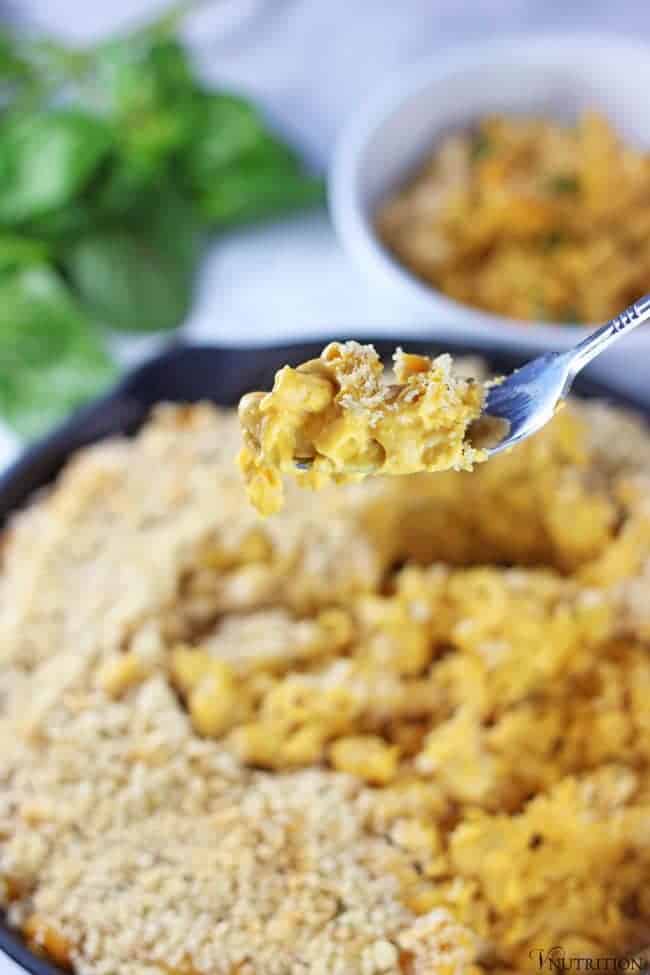 Frequently asked questions
Can it be made ahead of time?
The pumpkin cheese sauce is a great make-ahead recipe. Blend it up and keep it in a sealed jar in your fridge for up to 5 days. When it's time to eat, boil some pasta, stir in the sauce, and enjoy!
Can vegan mac and cheese be reheated?
Yes! Heat the leftovers in a 350ºF oven until warmed through.
How long does it last?
Leftover pumpkin mac and cheese will stay fresh for up to 5 days in the fridge. It's a great choice for autumn meal prep!
Is it freezer-friendly?
It is, but only without the breadcrumb topping. Freeze the unbaked or baked pasta in a covered baking dish for up to 3 months. Let it defrost in the fridge overnight, then bake with the breadcrumbs on top the next day.
Hungry for more creamy vegan pasta recipes?
If you make this recipe and LOVE IT, please give it 5 stars ⭐⭐⭐⭐⭐!
📖 Recipe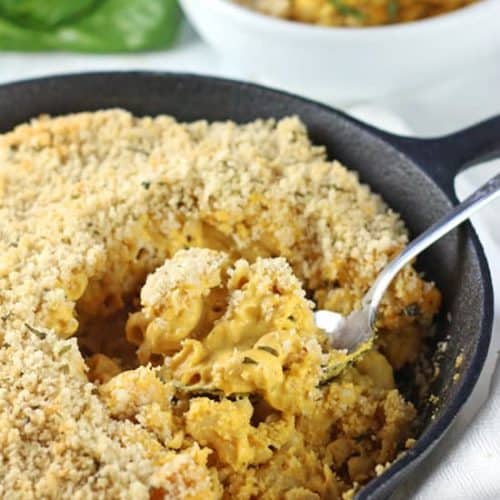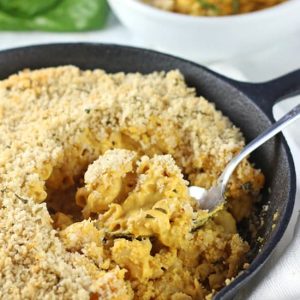 Vegan Pumpkin Mac and Cheese
This Baked Vegan Pumpkin Mac and Cheese is so creamy and delicious. It's the perfect comfort food for fall and a great dish for the holidays.
Email Recipe & Ingredients
Instructions
Preheat oven to 350 degree

Cook pasta according to package directions until al dente, then rinse.

Meanwhile, add cashews and water and blend in a high-speed blender*.

Add rest of sauce ingredients to a blender and blend until smooth.

Add pasta and sauce to oven safe pan or casserole dish.

Bake for 20 minutes or until breadcrumb topping is browned.
Notes
Oil-free version - You can omit the oil in the breadcrumb topping to keep this recipe oil-free. The oil prevents the bread from burning in the oven, so only add the topping in the last 5 minutes of baking.
See Tips and Variations above for more options.
* I use a high speed blender like a Vitamix when blending the cashews.
Nutrition
Calories:
362
kcal
Carbohydrates:
48
g
Protein:
21
g
Fat:
36
g
Vitamin A:
7300
IU
Vitamin C:
5
mg
Calcium:
120
mg
Iron:
6.3
mg
PLEASE NOTE: Nutritional information data is computer generated and only an estimate so it should be used only as a guide.
Tried this recipe?
Leave a comment and ⭐ rating below or tag @v.nutrition on Instagram with the hashtag #vnutritionandwellness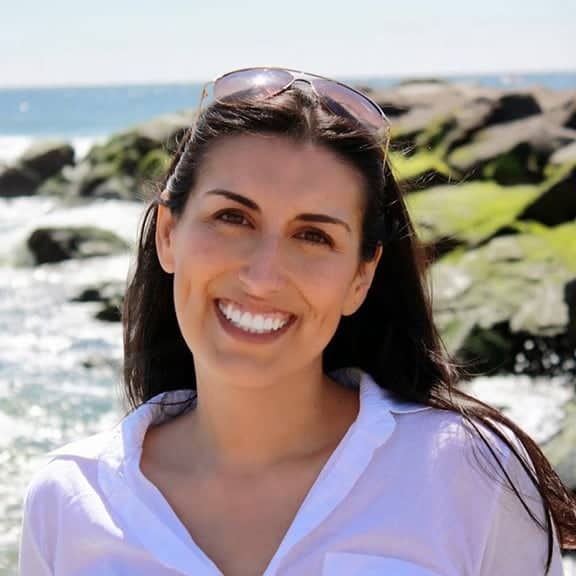 Mary Ellen Valverde MS, CNS, LDN is a Licensed Nutritionist and Certified Nutrition Specialist who empowers vegans to feel confident in creating sustainable habits that align with their values and health goals. She shares easy gluten-free plant-powered food to nourish your body + satisfy your tastebuds. Mary Ellen's recipes and nutrition info have been featured on Yahoo News, Parade, VegNews, LIVESTRONG, Dr. Axe, Greatist, LIVEKINDLY, Brit+Co, Well+Good, and more.