If you are new to the magic of Butler's Soy Curls, you are in for a treat! These incredible (shelf-stable!!!) bags of dried soy protein are a versatile vegan pantry staple that I'm sure you're going to love. Here are my 10 favorite soy curls recipes to get you started.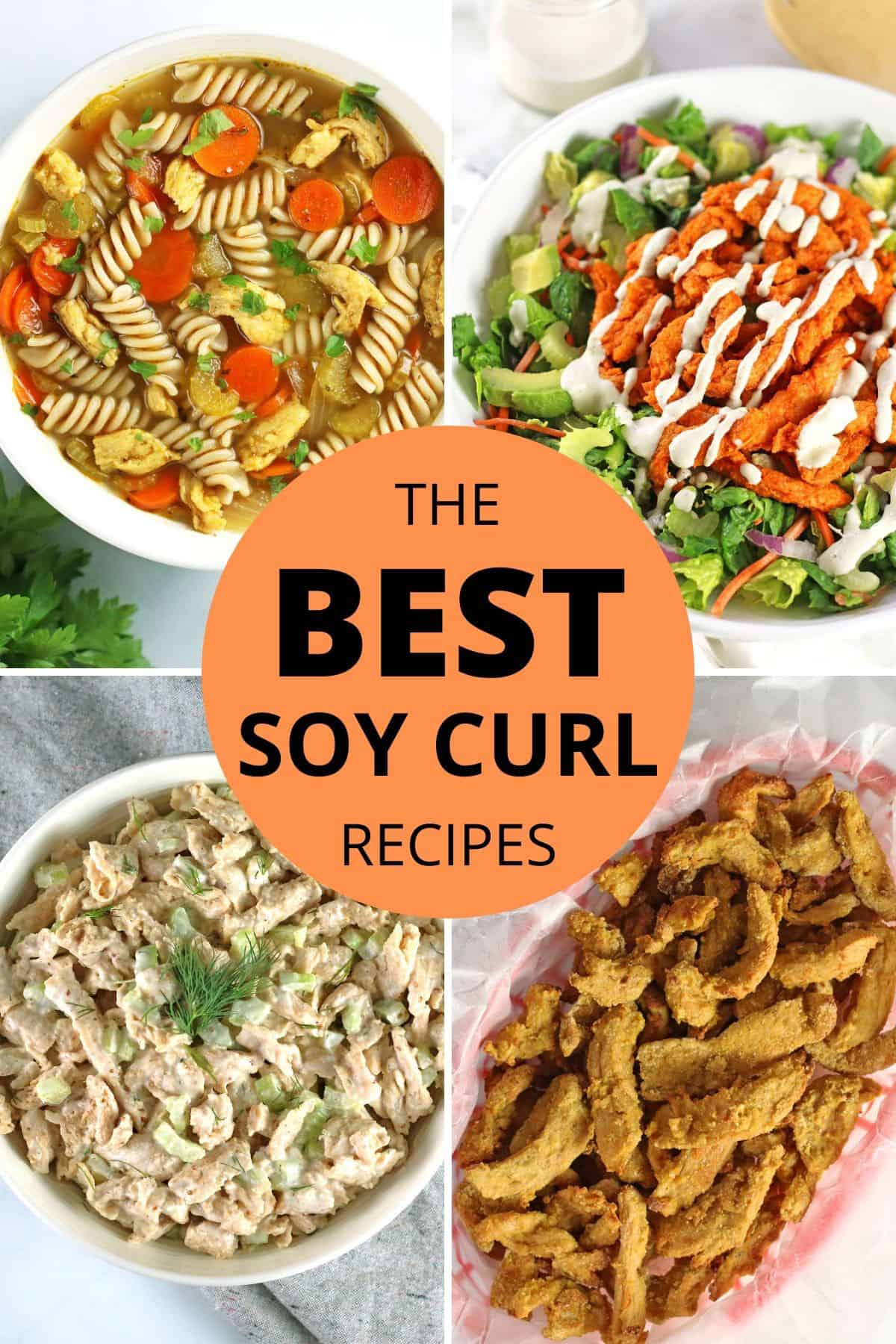 Jump to:
Why Soy Curls Are Amazing
Soy curls are a favorite for so many reasons. They are:
easy to prepare
have a long shelf life
are an excellent meat substitute
gluten-free and made from real food
so versatile because they take on the flavors of whatever seasonings and sauces you throw at them
When I'm worn out after a day of work and there's almost nothing in the fridge, I turn to a bag of Butler Foods' Soy Curls; after reading this post, I have a feeling you will, too.
Whether you're looking for a convincing vegan "chicken" salad or you have a hankering for vegan fried chicken but don't want all the heavily processed, artificial junk the frozen aisle offers, these soy curls recipes hold the easy answer.
What are soy curls and how are they made?
To make these delightful bites of cruelty-free meat-like yumminess, soybeans are slowly cooked and broken into strands, then dehydrated as strips (or curls, as it were) of soy protein. If you're not impressed yet, keep reading.
Unlike other vegan meat substitutes, soy curls are made out of whole, non-GMO soybeans, meaning they keep all of the fiber and protein intact. And unlike those "chick'n" products you find in the frozen aisle, there are no added chemicals, artificial ingredients, or added fat in soy curls.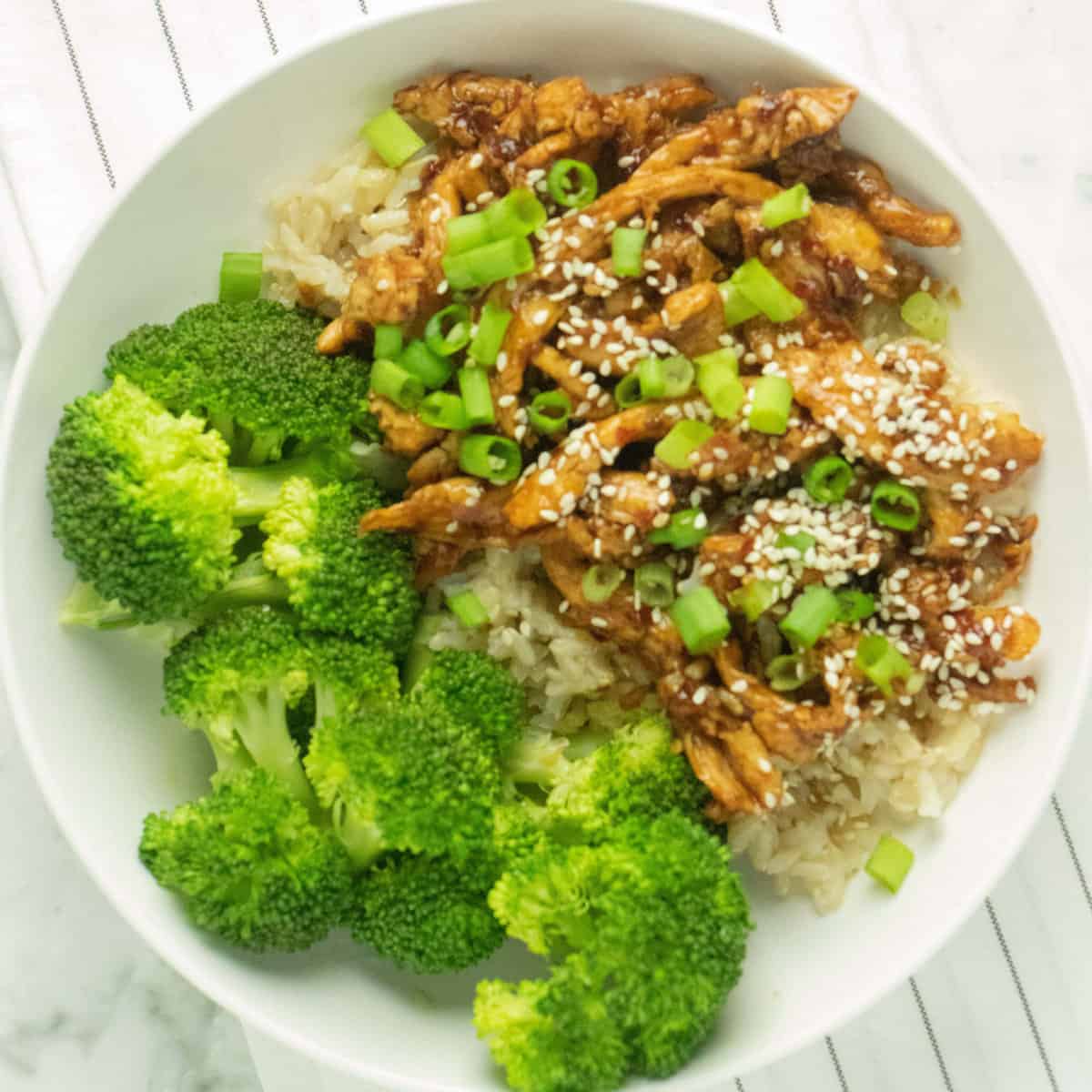 What do they taste like?
Much like other soy products - I'm looking at you, tofu - soy curls don't taste like a whole lot on their own. But don't be scared off by the idea of bland food; these little bad boys will soak up flavor like sponges.
After rehydrating, the soy curls take on a chewy consistency that makes them a dead ringer for pulled or sliced meats. So whether you're looking to eat vegan versions of Mongolian beef or spicy fajitas, barbecue pork, or buffalo chicken, these magical plant-based bites are here for you.
Are soy curls healthy?
Like I mentioned above, soy curls are not like those faux meats made out of heavily processed soy protein isolates. Rather, Butler Foods uses just one ingredient to make soy curls - whole, certified non-GMO soybeans.
Butler Foods also states on their website that no chemical pesticides are used for growing their soybeans - that in and of itself is a health miracle considering the havoc pesticides wreak on our bodies!
Unlike soy protein isolates, using whole soybeans means the curls keep all the fiber, omega-3 fatty acids, and isoflavones naturally present in edamame. They also contain an impressive 10 grams of protein per serving.
If you are still on the fence, even Harvard states that "Soy is a nutrient-dense source of protein that can safely be consumed several times a week, and is likely to provide health benefits—especially when eaten as an alternative to red and processed meat."
So, in short, the answer is YES. Soy curls can be included in a healthy vegan diet and I highly recommend you start using them ASAP.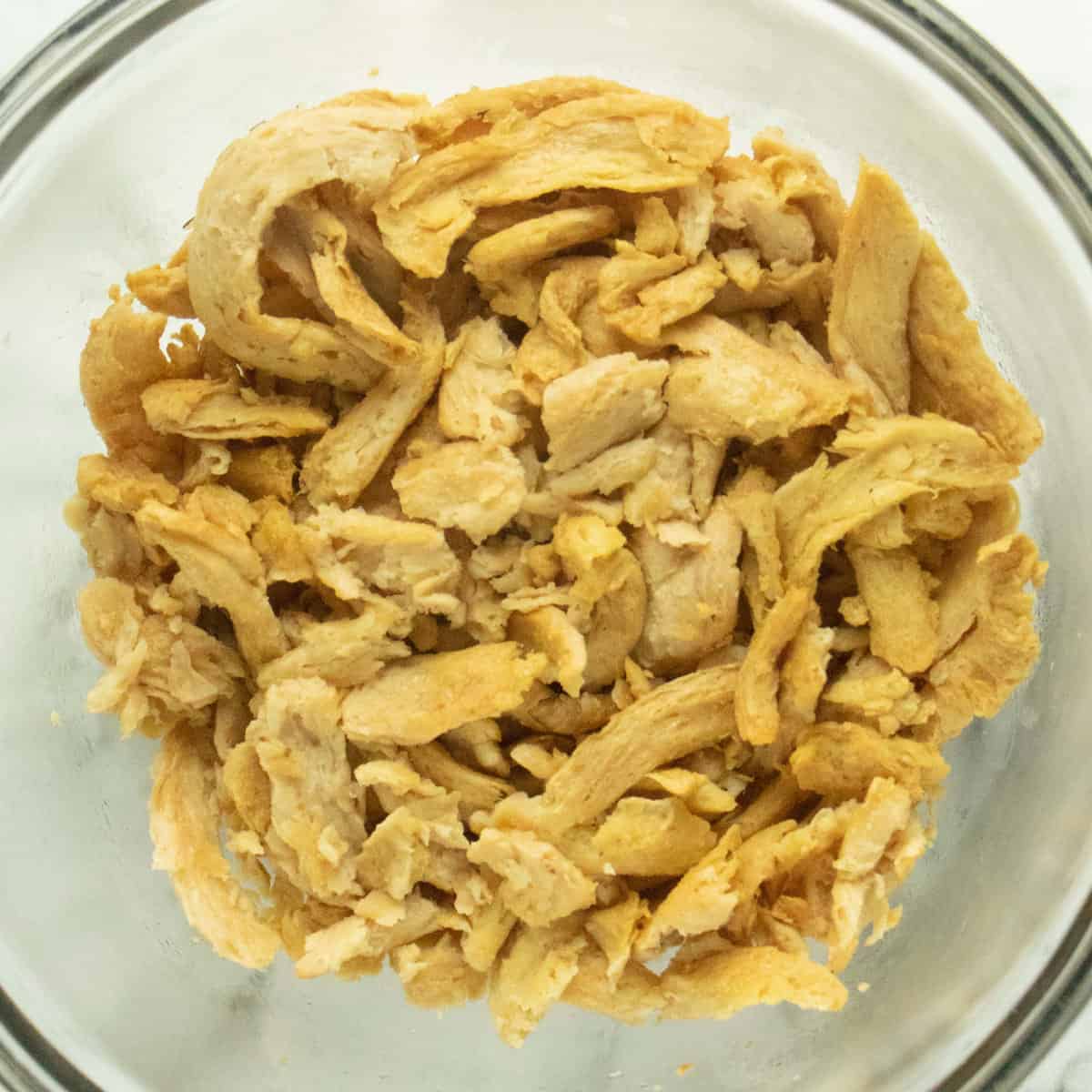 Where to buy
The biggest problem I have with Butler Soy Curls is that they are not available at all stores. I'm strongly considering starting a petition to make them a required piece of all grocery food inventory LOL.
If you are interested in buying some - and why wouldn't you be?? - you can get them on Amazon, directly from the Butler Foods website, or from certain health food stores.
In case you're worried about your food budget, you should know that each 8oz bag contains 8 servings. This means each serving costs about a buck. As someone who believes in the nutritional power of eating real, whole foods, these pieces of dry soy "meat" are worth every penny!
Oh, and don't fret about buying them in bulk, either. While it is recommended that you use the soy curls within 6 months of purchase, they will keep in your pantry indefinitely. I also will store them in the fridge to keep them even fresher.
After the craziness of the pandemic, it is deeply reassuring to know that I can keep my house stocked and my family fed using smart pantry-stocking. These shelf-stable vegan meat substitutes absolutely fit that bill. Go get you some!!
How do you make soy curls?
To cook with soy curls, you're looking at a three-step process. Don't worry - it's pretty painless.
First, rehydrate. Soak the soy curls you wish to make for 10 minutes. While you can use plain water, I recommend using a flavored liquid. Better Than Bouillon vegetable or no-chicken base, vegan chicken or beef broth, or any other flavored steeping liquid will help to season the curls from the get-go.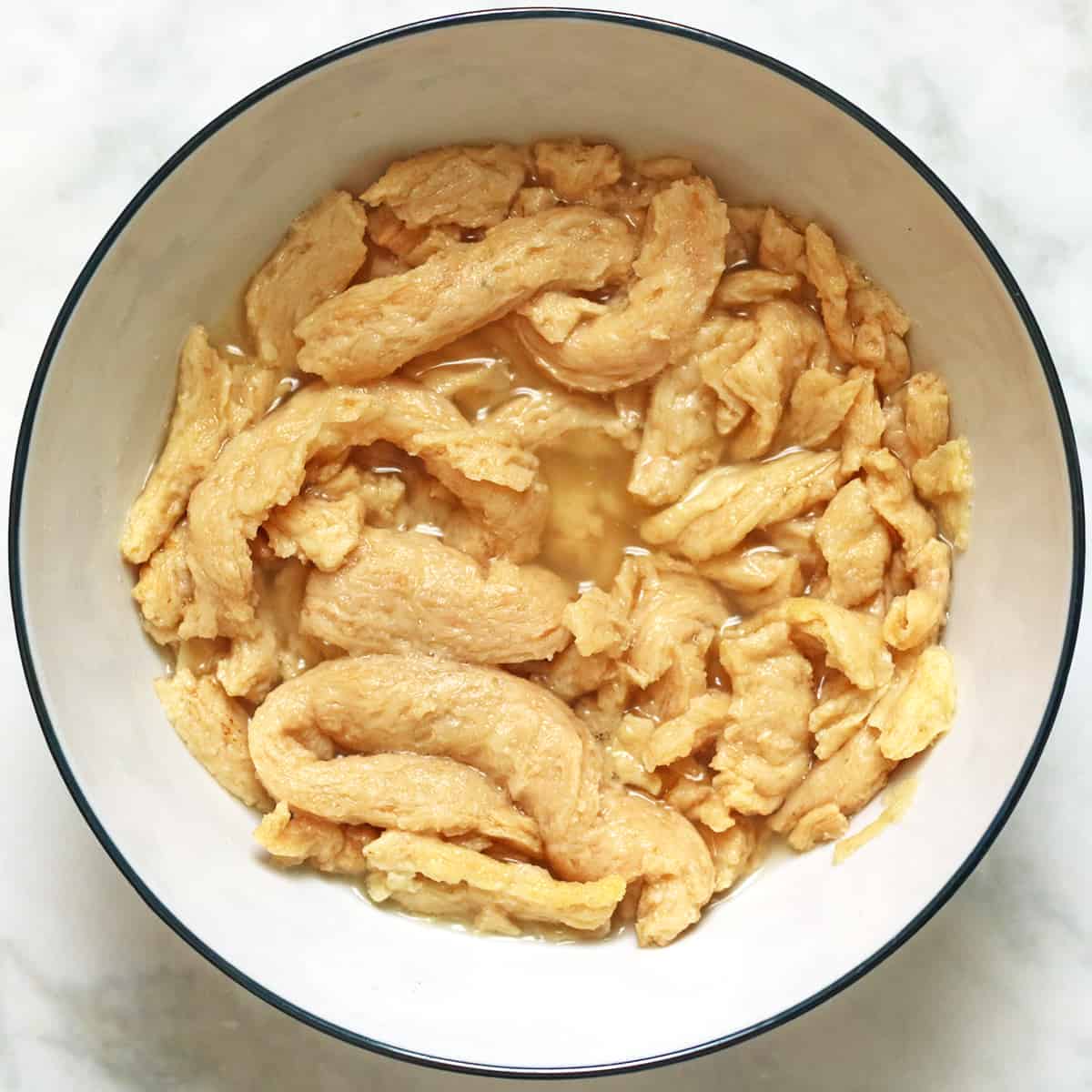 Second, get rid of excess water. Once the curls have soaked and are nicely plumped up, use a potato masher to press them in a colander over the sink, or use your hands to wring out the excess liquid.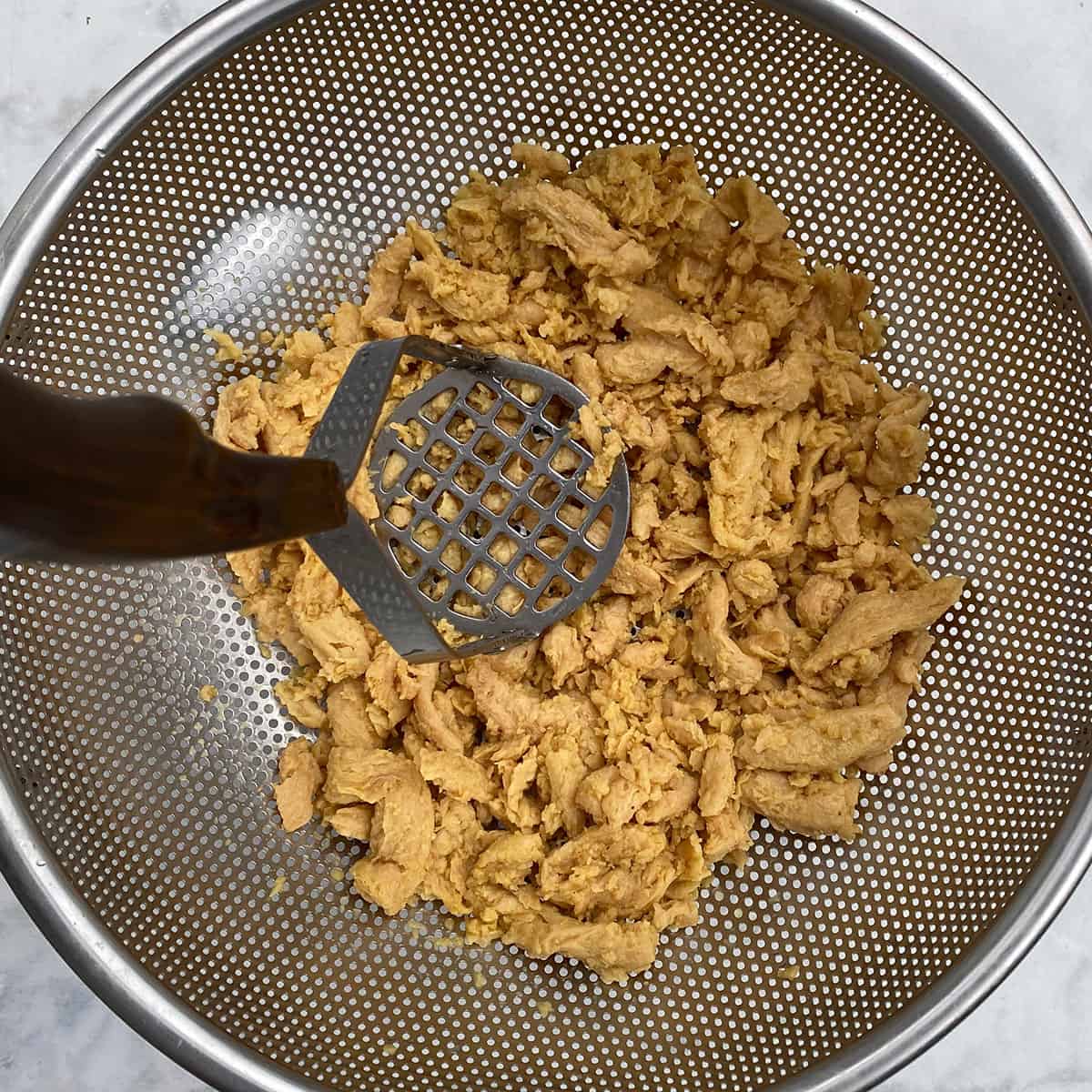 Finally, you're now ready to cook your soy curls! Now that they have been rehydrated, you can pan-fry, bake, or air fry the pieces to your liking.

If you are oil-free, no worries! You can bake them on a parchment-lined sheet or air-fry them dry.
Uses
The best thing about soy curls is their meaty texture; they can replace most types of meat in a variety of dishes! So whether you have a vegan hankering for beef, chicken, or pork, these yummy nuggets have you covered.
They soak up flavors really well, so I recommend using them with sauces. Buffalo, barbecue, Thai or Indian curry - the options are only limited by your imagination.
You can also use them to make soups, sandwiches, wraps, or salads. If you're feeling short on ideas, just read on below for my 10 favorite soy curls recipes to get your creative juices flowing!
Serving tips
In case you haven't noticed yet, I'm of the opinion that Butler's soy curls are a kitchen marvel. They can be used in basically every savory application you can think of!
Try them in tacos, enchiladas, or burritos. Add them to wraps, sandwiches, or grain bowls. Toss them in your pasta and salads. Add them to soups or turn them into stews. Make them into vegan jerky. THE OPTIONS ARE ENDLESS!
If the recipes I've presented don't convince you of how truly versatile soy curls can be, head on over to the nearly 8000 Amazon reviews for more inspiration.
Takeout Fakeout Recipes
Put down the phone! These easy vegan versions of our favorite takeout meals will be on the table faster than you could get them from a restaurant.
Mongolian Soy Curls
On of my most popular recipes, these delicious Mongolian Soy Curls are a vegan spin on P.F. Chang's popular Mongolian Beef. Once you have a bite of this addictively easy to assemble dish, you'll be saying "vegan beef – it's what's for dinner!"
Check out this recipe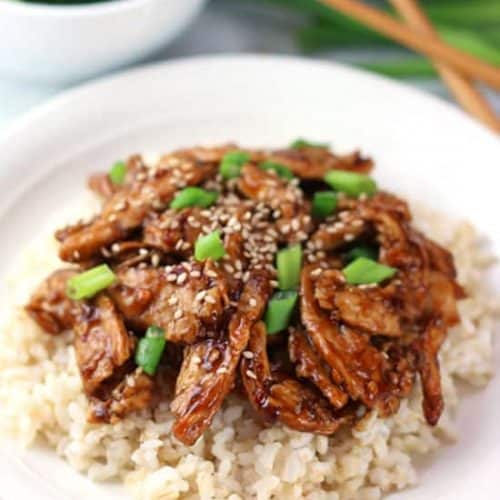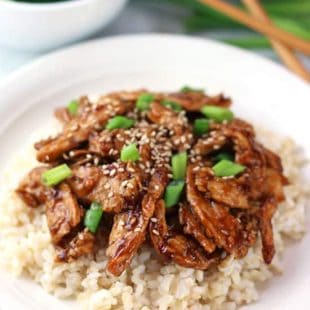 Hoisin Orange Soy Curls
This recipe for Hoisin Orange Soy Curls comes together quicker than getting take-out! This is perfect for an easy weeknight meal.
Check out this recipe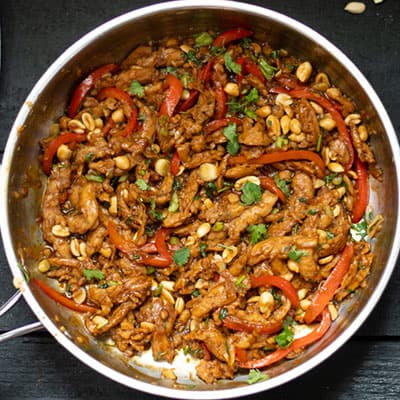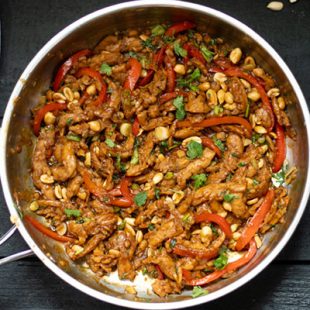 Vegan Chicken Shawarma
Grab a napkin, because things are about to get messy! Made with Soy Curls, loaded with vegetables, and drizzled with sauce, Vegan Shawarma is lunchtime perfection.
Check out this recipe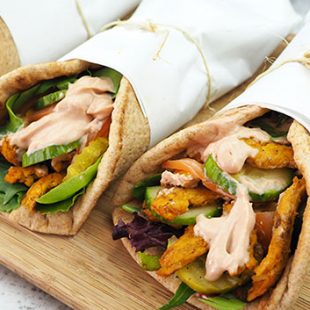 Soup & Salad Recipes
Diner classics for a reason, these vegan soups and salads are great for packed lunches or comforting dinners at home.
Vegan Chicken Noodle Soup
Warm and comforting Vegan Chicken Noodle Soup that tastes just like when we were kids! Easily make this recipe on the stovetop, in an Instant Pot, or in a slow cooker.
Check out this recipe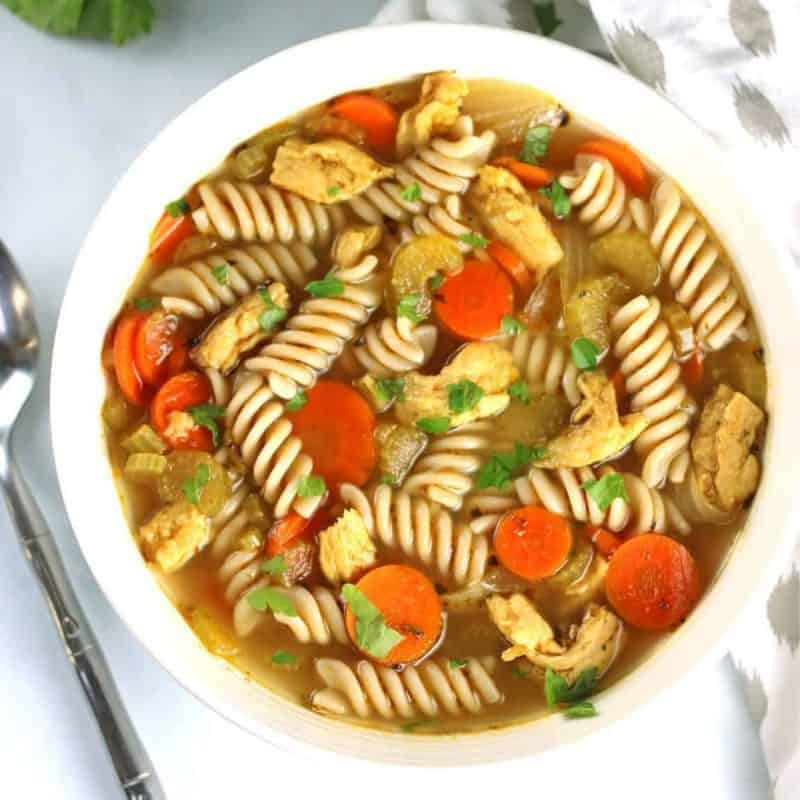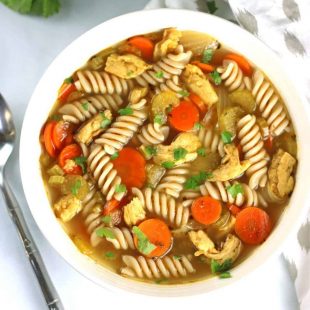 Buffalo Soy Curls Salad
My Vegan Buffalo Chicken salad combines lettuce, carrots, celery, onion, and avocado and is topped with a creamy vegan ranch dressing. It's delicious, easy to make, and filled with plant-based goodness!
Check out this recipe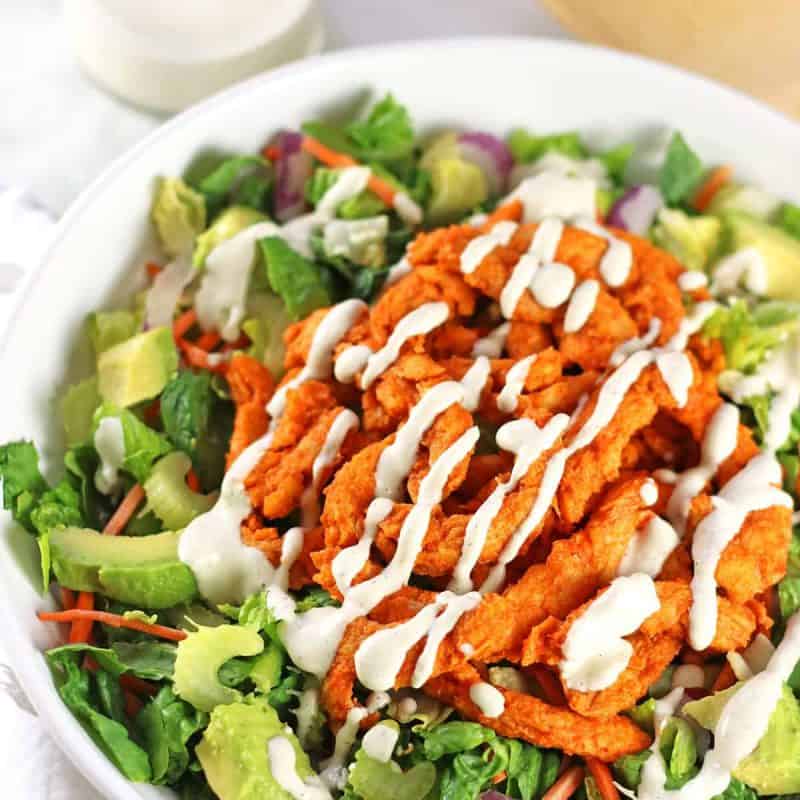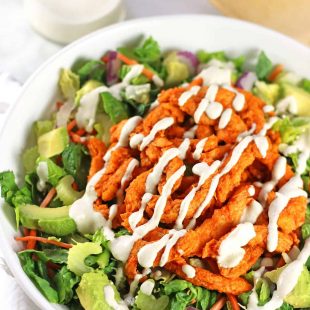 Vegan Chicken Salad
This creamy and easy whole food Vegan Chicken Salad is made with soy curls, vegan mayo, and seasonings. In 10 minutes, you'll have a delicious filling for sandwiches or a flavorful side dish you can bring to barbecues.
Check out this recipe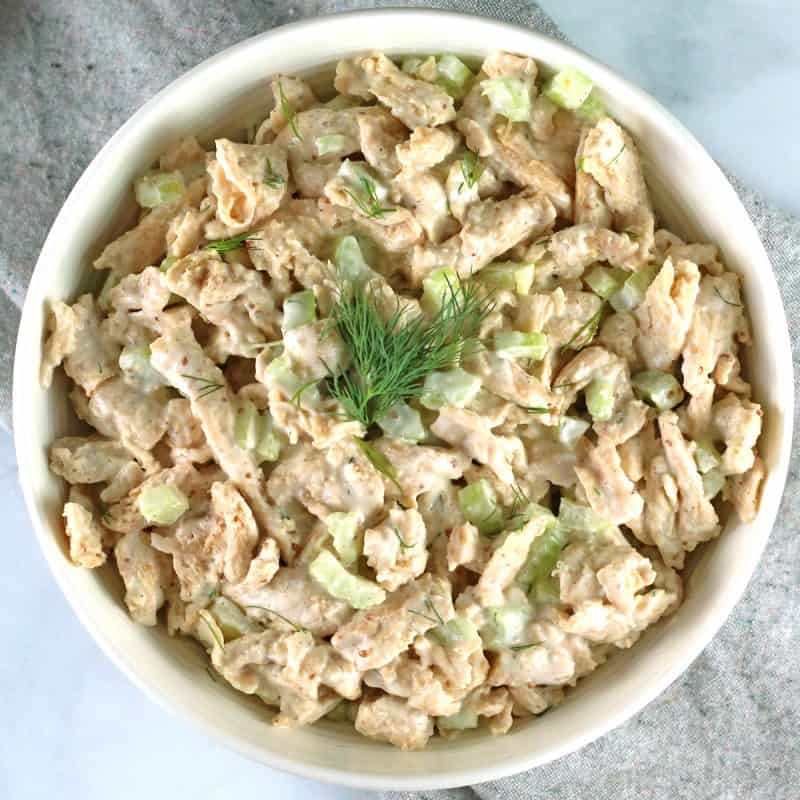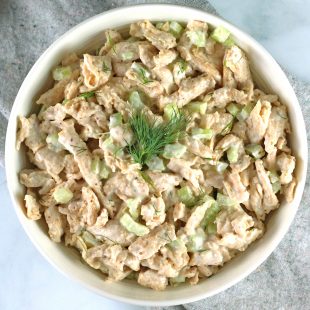 Spicy Thai Soup
Made with ginger, garlic, lemongrass, mushrooms, and red curry paste, this Tom Yum inspired spicy Thai soup is perfect when you crave your favorite restaurant flavors at home.
Check out this recipe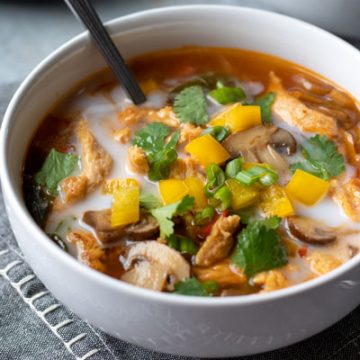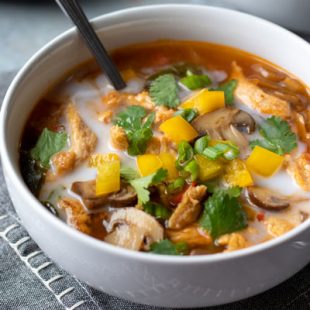 Kid Tested, Vegan Approved Recipes
These vegan-ized versions of childhood favorites have all the flavor and none of the guilt.
Vegan Chicken Strips
Tender Vegan Chicken strips from soy curls are easy to make and just as good as the real thing! Make them in the air fryer or oven for a healthy snack, lunch, or dinner.
Check out this recipe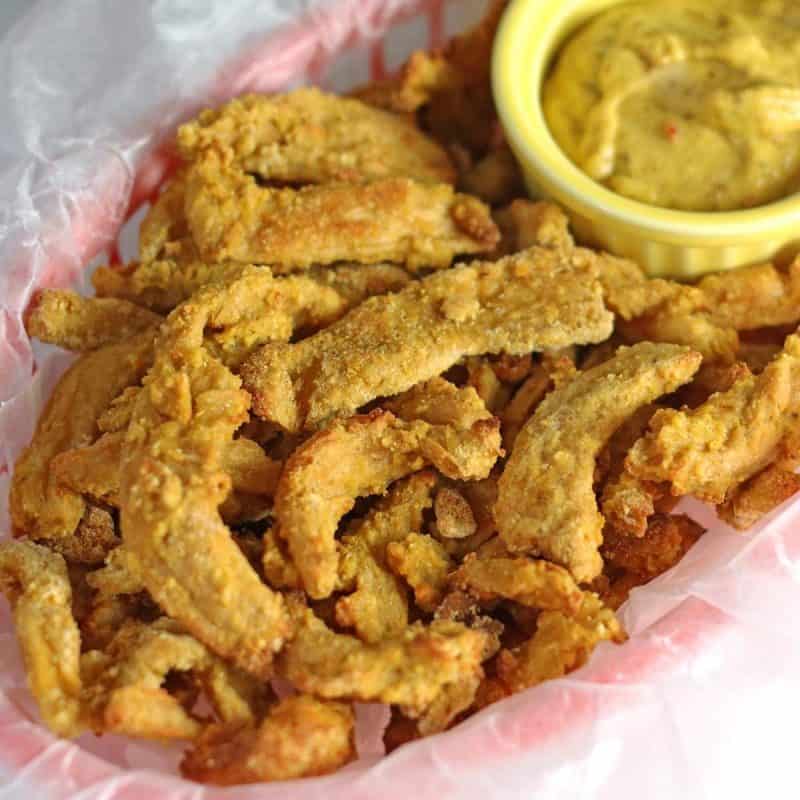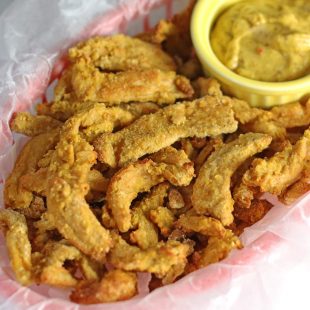 Vegan Bacon Bits
These vegan soy curl bacon bits are healthier than the store-bought kind. Plus they're oil-free, gluten-free, and ready in 30 minutes. Throw them on pasta, salads, sandwiches or anything else that needs a little (cruelty-free) bacon-y flavor.
Check out this recipe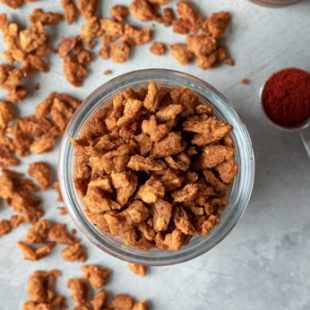 Soy Curl Tacos
These soy curl tacos are ready in no time! The soy curls are used as a meat substitute and the toppings you add can be so versatile!
Check out this recipe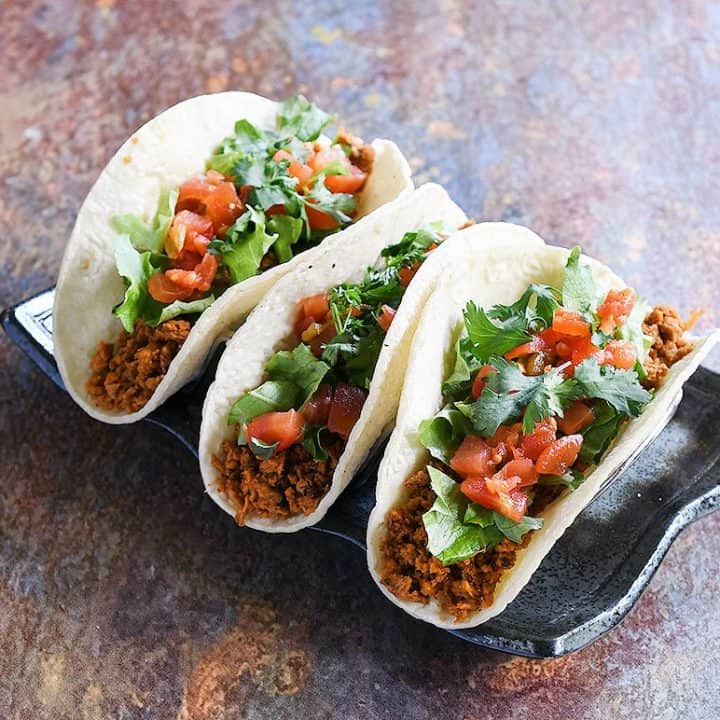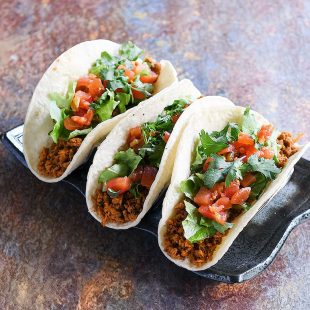 Vegan Bolognese
This vegan bolognese is a delightful lightened-up vegan version of the classic sauce. If you are new to soy curls, you'll be pleasantly surprised by the meaty texture they offer to this oil-free vegan bolognese sauce.
Check out this recipe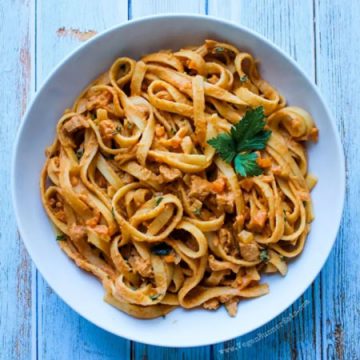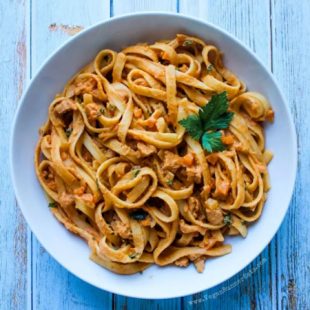 Q&A/FAQ
How long can you store rehydrated soy curls before cooking?
Rehydrated Soy Curls can be kept covered in the refrigerator for up to four days before use.
Do soy curls need to be cooked?
The short answer is yes. While you can technically eat them directly after rehydration, they won't be particularly appealing until they have been sautéed, sauced, or otherwise adorned.

That said, you don't have to introduce them to heat if you don't want to. Turning them into a vegan chicken salad (recipe above), for example, just requires rehydration (in chicken bouillon), squeezing out the excess liquid, and tossing with dressing.
Are soy curls the same as TVP?
Nope! While you can use the two pretty interchangeably in recipes, soy curls are made from the whole soybean, whereas TVP is much more highly processed.

If you're on the fence between purchasing either TVP or soy curls, I vote you go for soy curls, hands down.
Are soy curls highly processed?
Not at all! While they are technically processed (as are frozen or canned fruits and veggies), the processing is quite minimal. Soybeans are cooked low and slow, separated into strands, and then dehydrated before packaging.
Do soy curls go bad?
While there is a "best-by" date on each package of soy curls, they should last pretty much indefinitely if kept in a cool, dry, and dark pantry. I sometimes leave them in my fridge.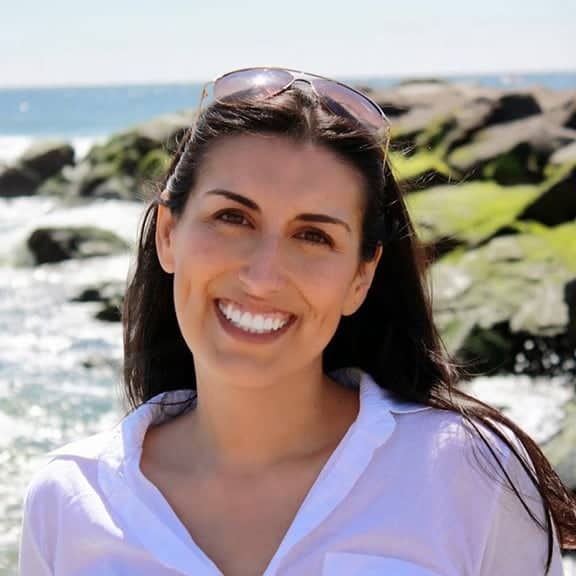 Mary Ellen Valverde MS, CNS, LDN is a Licensed Nutritionist and Certified Nutrition Specialist who empowers vegans to feel confident in creating sustainable habits that align with their values and health goals. She shares easy gluten-free plant-powered food to nourish your body + satisfy your tastebuds. Mary Ellen's recipes and nutrition info have been featured on Yahoo News, Parade, VegNews, LIVESTRONG, Dr. Axe, Greatist, LIVEKINDLY, Brit+Co, Well+Good, and more.