This creamy and easy whole food Vegan Chicken Salad is made with soy curls, vegan mayo, and seasonings. In 10 minutes, you'll have a delicious filling for sandwiches or a flavorful side dish you can bring to barbecues.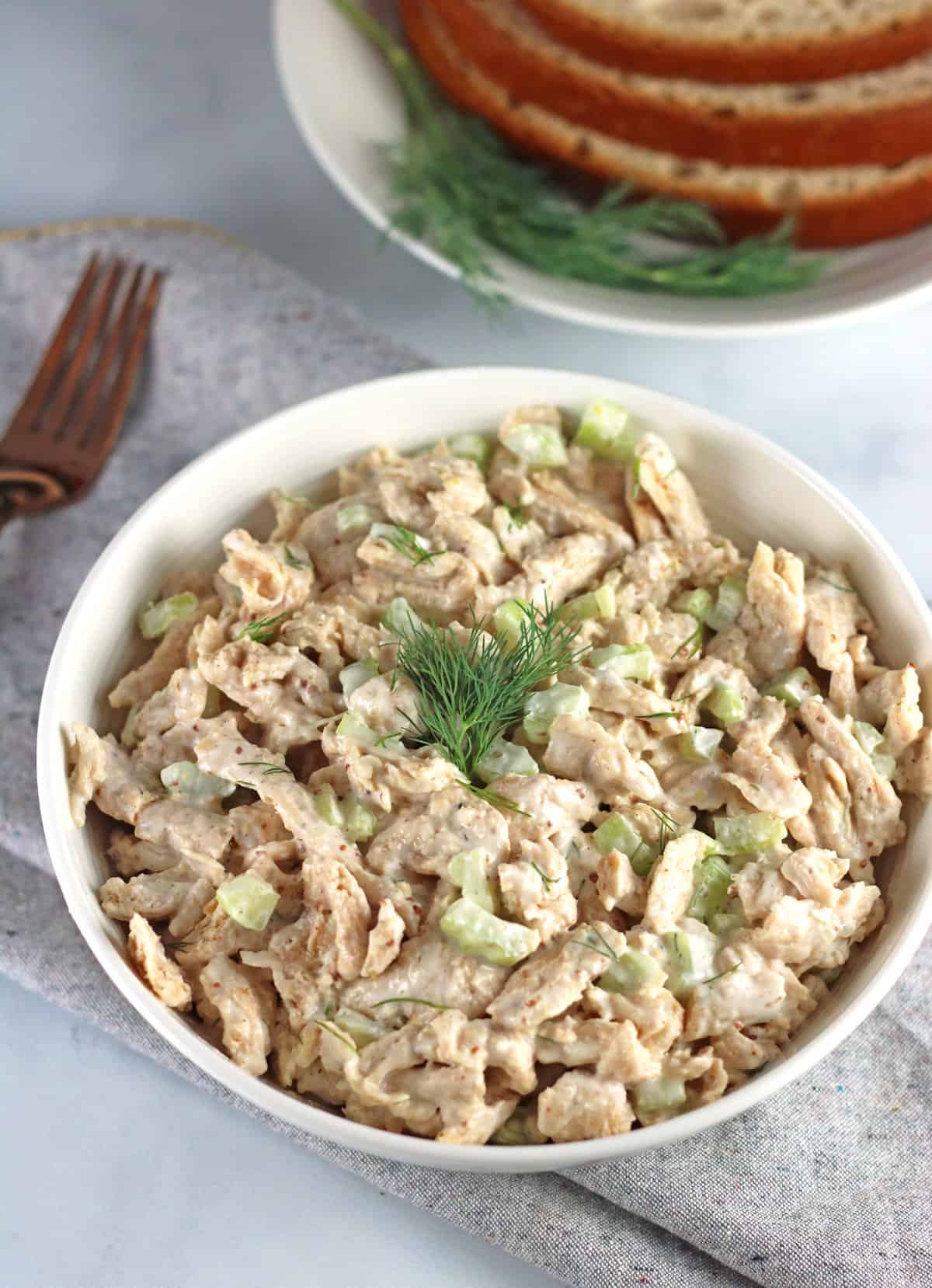 It doesn't take much to create a creamy and filling picnic lunch. This Vegan Chicken Salad is made with whole foods, a creamy dressing, and plenty of flavor! Stuff it into sandwiches, wraps, or enjoy it as a picnic-perfect side dish.
Want to know the secret to the best vegan chicken salad? Soy curls! These small dried pieces of soy soak in vegan chicken broth to rehydrate and in 10 minutes, you have a vegan-friendly protein that mimics the flavor and texture of classic chicken pieces.
Throw them into a bowl with the creamy mayonnaise and dijon dressing, add lots of spices and a few veggies, and you're done! Bring a batch of this delicious and easy vegan chicken salad to family barbecues, backyard parties, or your next potluck. It pairs so well next to Pasta Salad, Herbed Potato salad, and Grilled Tofu Steaks.
Jump to:

Is chicken salad vegan?
Made with a mayonnaise dressing and shredded chicken, traditional chicken salad is far from being vegan. Thankfully, all it took were a few slight adjustments to turn this recipe into a plant-powered treat!
Vegan chicken salad is made with soy curls and vegan mayonnaise instead of animal-based ingredients. With a few spices, dijon mustard, and veggies, the flavors in this dish are bold, vibrant, and rich. As a bonus, there's plenty of plant-based protein in each serving!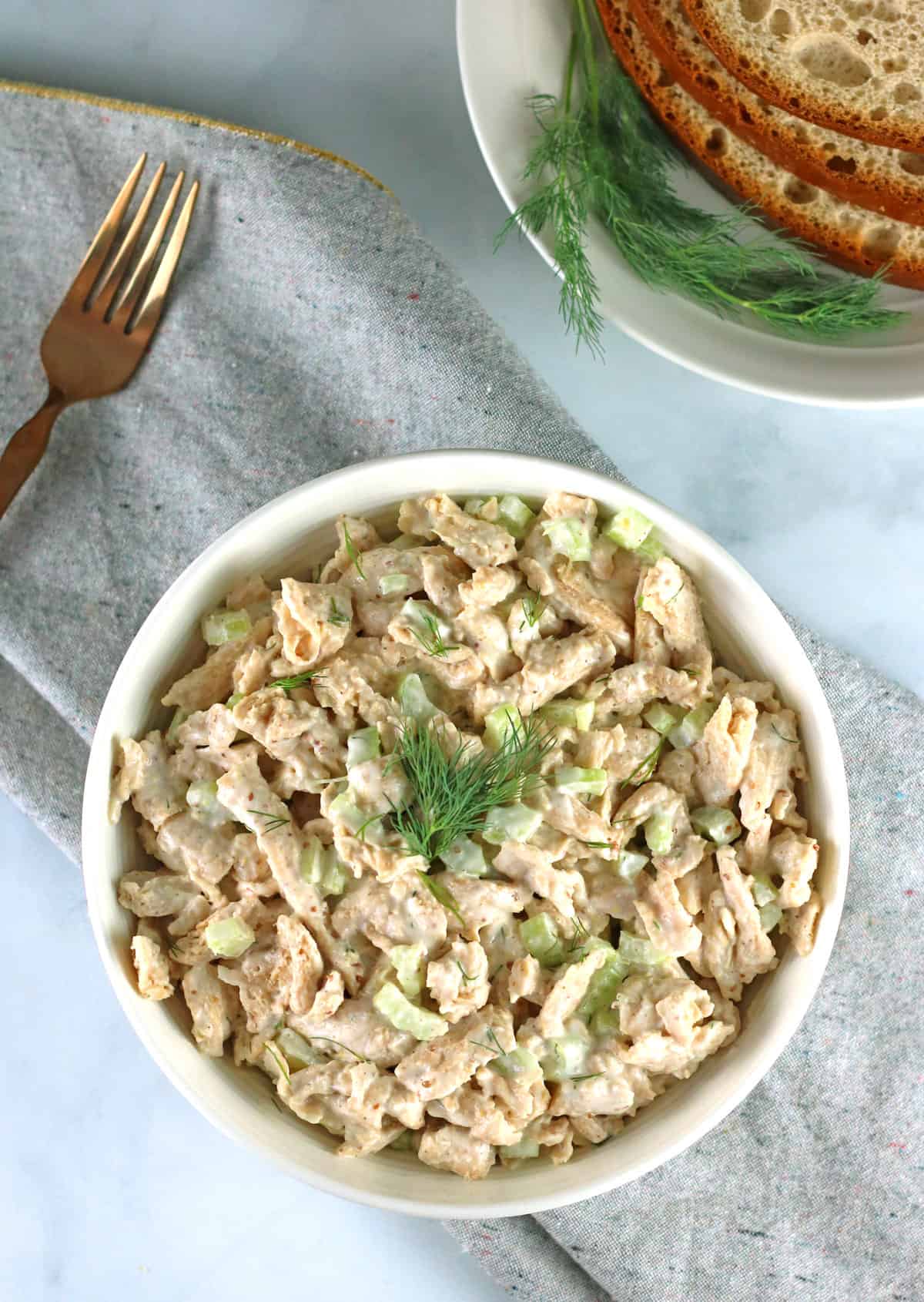 What is vegan chicken made of?
The whole food vegan chicken in this salad is made from soy curls. Made from non-GMO soy beans, these are an all-natural alternative to store-bought imitation vegan chicken. I love using soy curls for all sorts of recipes because they're budget-friendly, soak in lots of flavors, and have a long shelf life.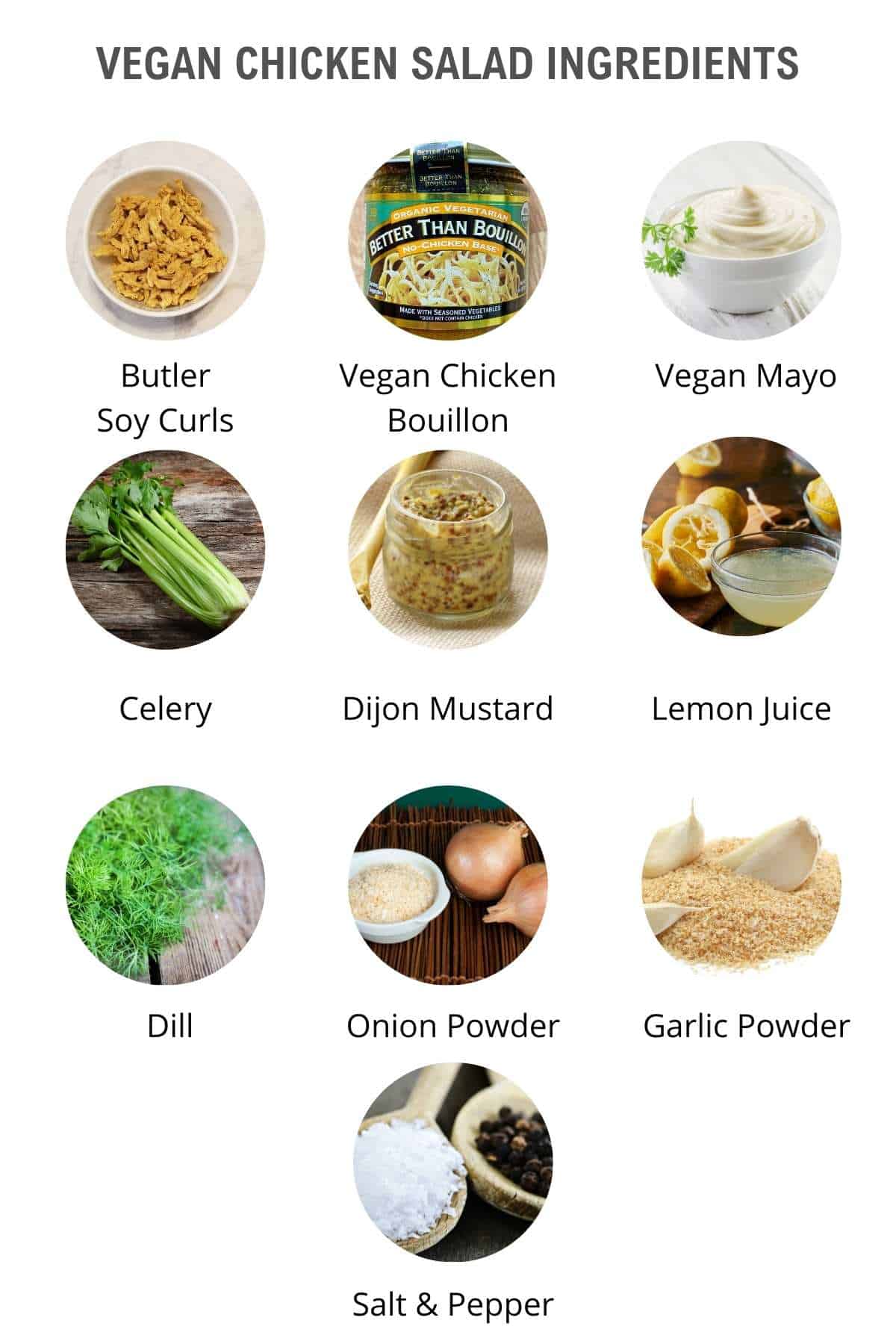 Ingredients and substitutions
The easy ingredients in this simple vegan salad are friendly to your wallet and still bring big flavors. This list of ingredients doesn't stray far from the traditional recipe. Here's what you need:
Soy curls – Butler's brand soy curls are the "chicken" in this vegan chicken salad. Once they're rehydrated, soy curls become flavorful and tender. They're a wonderful (and inexpensive) protein source you can add to soup, salads, and noodle bowls. If you can't find soy curls, you can use pre-packaged chicken strips or Gardein chick'n scallopini cut into pieces.
Vegan chicken bouillon – I like to use Better than Bouillon No Chicken Base to rehydrate the soy curls and infuses rich, herby, and salty flavors into each piece. Feel free to sub the bouillon for another brand of vegan chick'n bouillon cubes or vegetable broth instead.
Vegan mayonnaise – To make it extra creamy!
Celery – Some chopped celery in the salad gives each bite a bit of crunch and texture.
Dijon mustard – This is an absolute must for an extra creamy and flavorful vegan chicken salad. You can use yellow mustard if it's what you have at home but the flavors won't be as deep.
Lemon juice – For brightness and acidity. Feel free to swap this for apple cider vinegar.
Herbs and seasonings – Some fresh dill, onion and garlic powder, celery salt, and turmeric are all this salad needs to really pump up the flavor.
How to make the best vegan chicken salad with no chickpeas
No fancy equipment required here! Making vegan chicken salad at home is easy and fast, plus it doesn't need to chill in the fridge before you dig in. Throw it together in a bowl and enjoy!
Here's how it's done: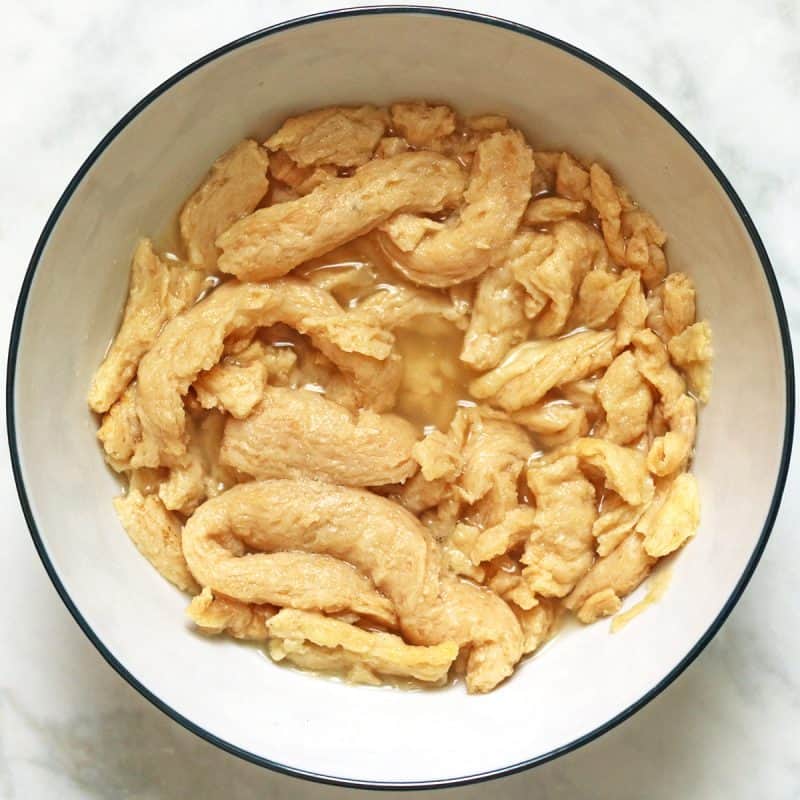 Rehydrate the soy curls: Place the soy curls in a large bowl and pour the vegan chicken stock over top. Let them sit until the curls are rehydrated.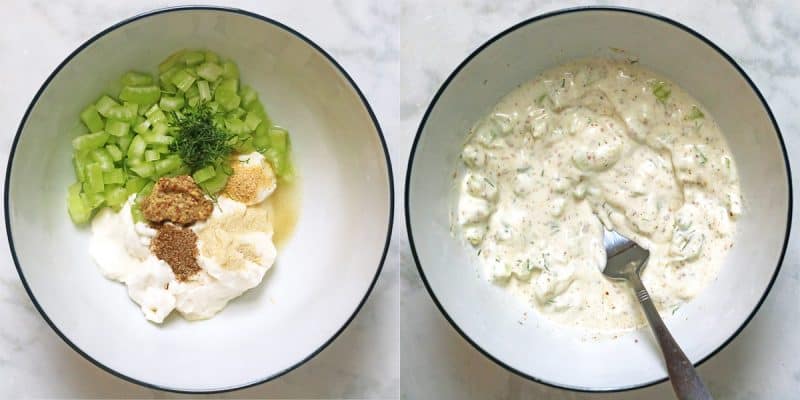 Make the dressing: Combine the rest of the chicken salad ingredients in a bowl and mix them together.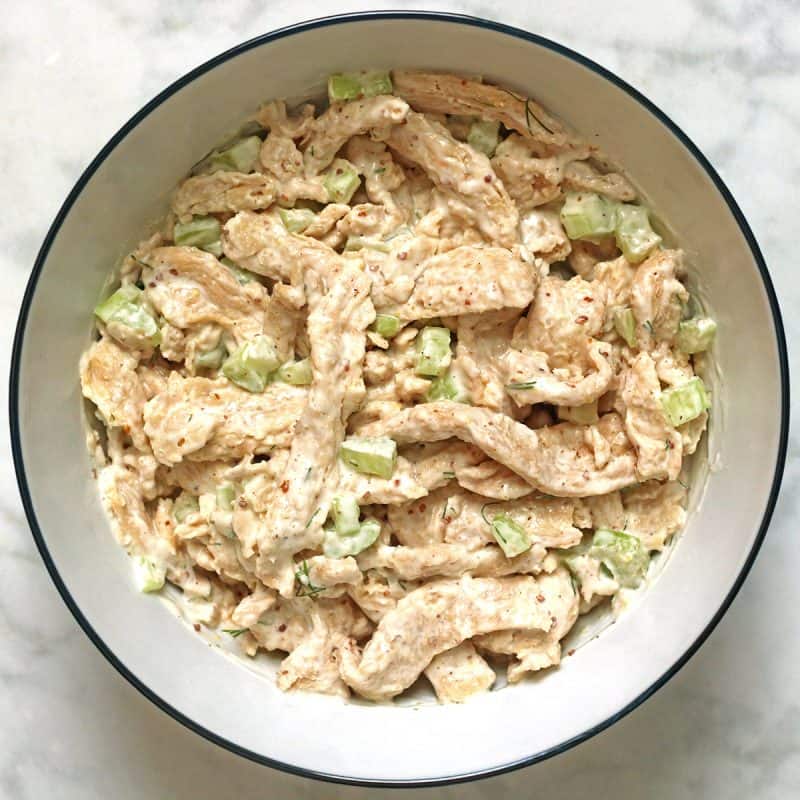 Add the soy curls: Now that the soy curls are hydrated and the excess water has been removed, place them in the bowl with the mayonnaise and seasoning mixture. Stir it all together until the soy curls are coated.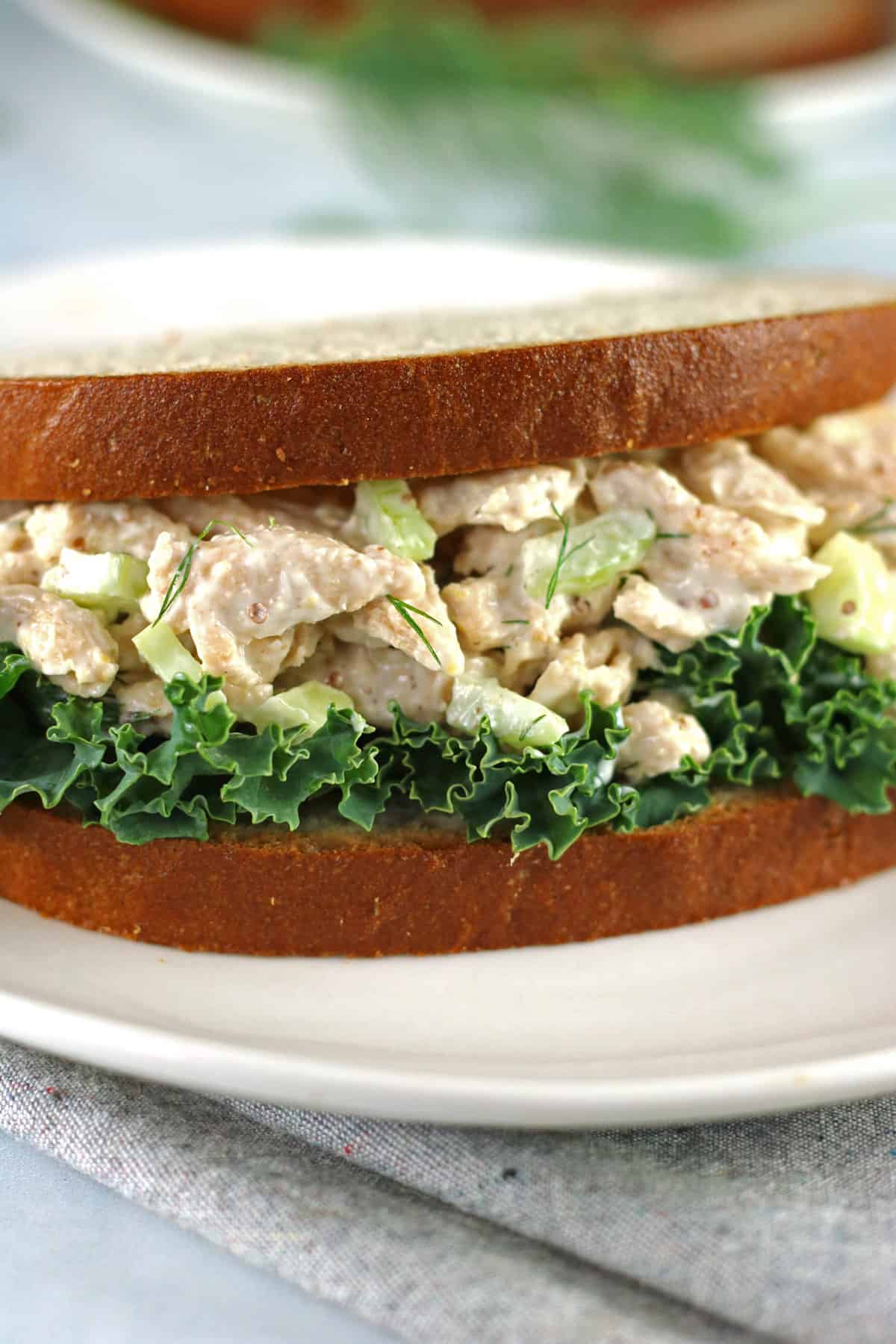 Serving suggestions
Vegan chicken salad with soy curls is a staple side dish at picnics, barbecues, and potlucks.
Serve it next to Grilled Tofu Steaks or Veggie Burgers for a hearty meal or with grilled Street Corn for a light and easy lunch.
Have you ever stuffed chicken salad into sandwiches and wraps? It's outstanding! This recipe would:
Make a delicious filling in between slices of whole wheat bread,
Be tasty in a wrap with lettuce and tomatoes
Perfect topped on a salad with greens.
Customize it!
You can easily customize your salad to include different flavors, vegetables, spices, beans, and more. Play with the flavors using my suggestions:
Add in options: Sliced purple grapes, blanched almonds, dried cranberries, sliced radishes, red onion or scallions, pepitas, or raisins would all be delicious added in.
Chickpeas: If you don't have soy curls, canned chickpeas are the next best thing. Mash a can of chickpeas and mix them in with the veggies, spices, dijon, and mayo.
tofu: A brick of drained firm tofu will also work as a backup if you don't have soy curls. Just crumble it up and mix it in with the rest of the ingredients.
Seasonings: Mix up the flavors by adding in poultry seasoning, swapping the turmeric for curry powder, or some chopped parsley instead of dill.
More picnic- and cookout-ready side dishes
Need some inspiration for the next family potluck? Any of these recipes would be delicious additions:
If you make this recipe and LOVE IT, please give it 5 stars ⭐⭐⭐⭐⭐!
📖 Recipe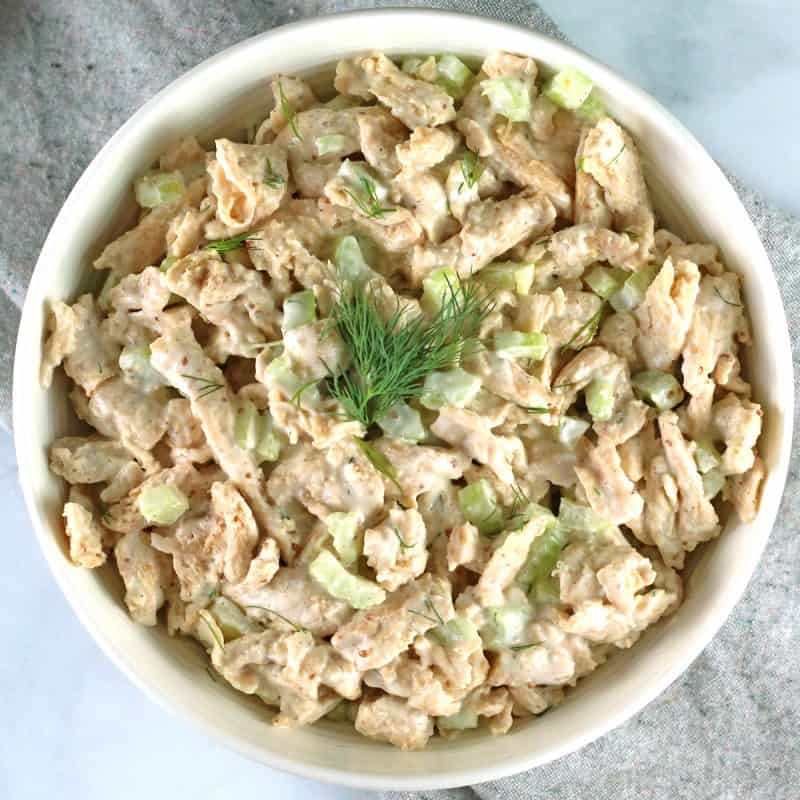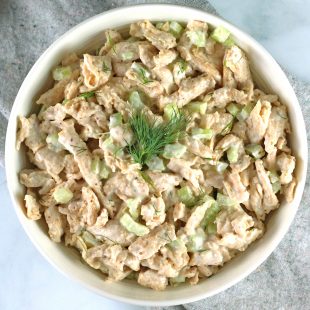 Vegan Chicken Salad
This creamy and easy Vegan Chicken Salad is made with soy curls, vegan mayo, and seasonings. In 10 minutes, you'll have a delicious filling for sandwiches or a flavorful side dish you can bring to barbecues.
Instructions
Take 1 cup of boiling water and mix it with chicken bullion in a large bowl. Add soy curls to bowl for 10 minutes to rehydrate. Add more hot water if needed to cover the soy curls.

Meanwhile, mix the remaining ingredients in a small bowl and set aside.

When soy curls are rehydrated, press all the water out of them and discard the water. I wring them with my hands or put them in a colander and press the water out.

Add soy curls back to the large bowl with the mayo mixture and stir to coat the soy curls.

Enjoy as-is or add to sandwiches, wraps, or salads.
Notes
The vegan chicken salad soy curls can stay in the fridge for up to 4 days.
Nutrition info is approximate for 6 portions and does not include bread or wraps.
Nutrition
Calories:
207
kcal
Carbohydrates:
8
g
Protein:
7
g
Fat:
15
g
Saturated Fat:
2
g
Sodium:
549
mg
Potassium:
10
mg
Fiber:
4
g
Sugar:
1
g
Vitamin A:
8
IU
Vitamin C:
1
mg
Calcium:
33
mg
Iron:
1
mg
Please Note: The nutritional information is a computer generated estimate so these numbers should be used only as a guide.
Tried this recipe? Let me know + share it!
Leave a comment and ⭐ rating below so I know you enjoyed the recipe! Tag @v.nutrition on Instagram with the hashtag #vnutritionandwellness so I can feature you!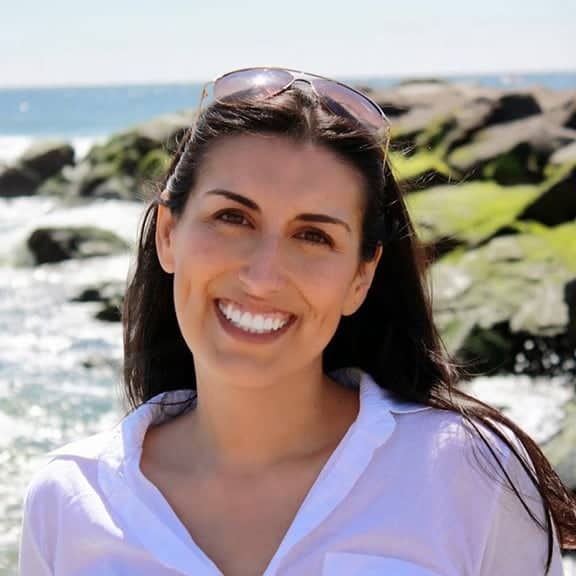 Mary Ellen Valverde MS, CNS, LDN is a Licensed Nutritionist and Certified Nutrition Specialist who empowers vegans to feel confident in creating sustainable habits that align with their values and health goals. She shares easy gluten-free plant-powered food to nourish your body + satisfy your tastebuds. Mary Ellen's recipes and nutrition info have been featured on Yahoo News, Parade, VegNews, LIVESTRONG, Dr. Axe, Greatist, LIVEKINDLY, Brit+Co, Well+Good, and more.