These quick and healthy Maple Dijon Brussels Sprouts are the perfect side for any fall dinner table or holiday spread. Pan-roasted Brussels sprouts are tossed with a sweet and savory vegan dressing then topped with crunchy toasted pecans. Best of all, it's ready in less than 15 minutes!!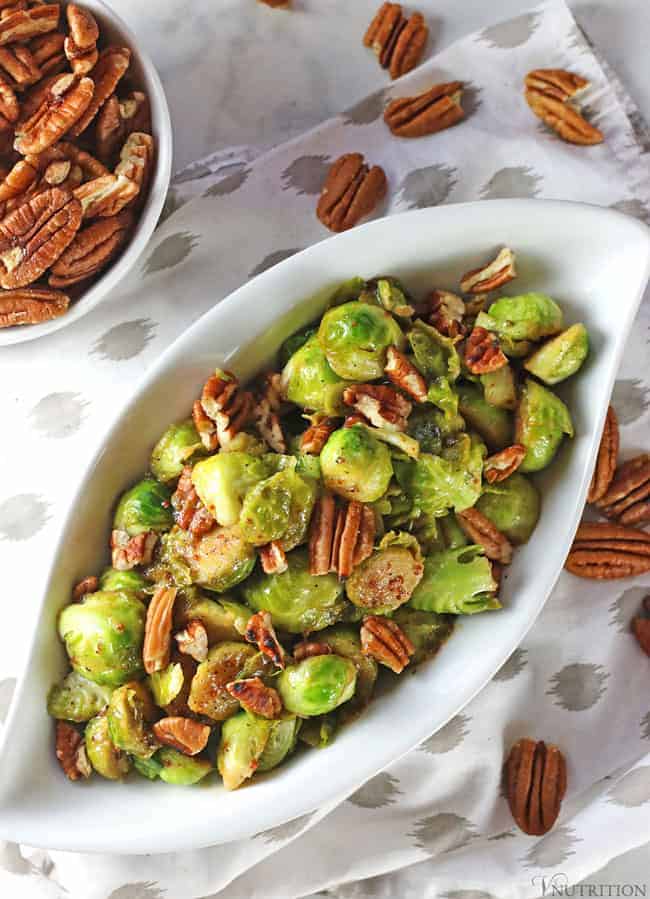 When it comes to the holidays, the hardest part is making sure everything comes out at the same time. This delightful side makes things a little easier; it's quick, simple, and made on the stovetop, meaning there's plenty of room for the tofurkey and pies.
As a vegan, gluten-free nutritionist, the second hardest part of Thanksgiving and Christmas dinner is making sure my spread is both healthy AND delicious. I have already health-ified the mashed potatoes and gravy (yum!), so now I'm working on the rest of my sides.
Lately, I have been on a cruciferous veggies kick; they're super healthy, and - when cooked properly - mouthwateringly yummy. These Mustard Brussels Sprouts are sweet with maple, nutty from the veggies, and have the bright acidity of dijon. They've definitely earned a spot on my buffet table, and I highly recommend them for yours.
Jump to:
Are These Brussel Sprouts Vegan?
If you find a recipe on this site, guess what? IT'S VEGAN! These tasty maple dijon brussels sprouts are no exception. Veggies, by definition, are plant based, and my maple dijon dressing swaps sweeteners to ensure it's vegan.
Taking a cue from one of my favorite pre-plant based condiments, this maple mustard sauce is a perfect vegan substitute for honey mustard. And friends? It pairs perfectly with these pan roasted Brussels sprouts.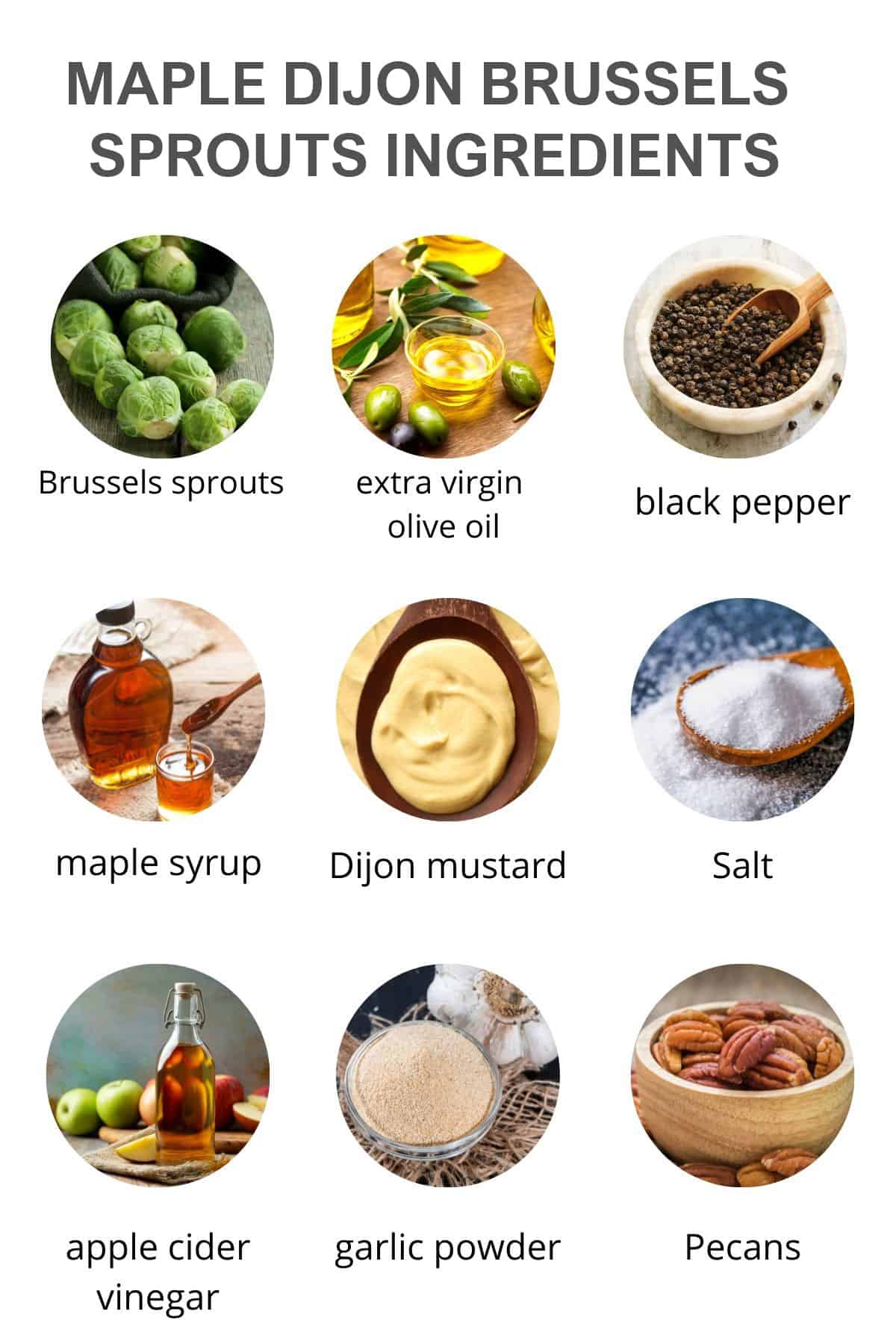 What's In Your Roasted Brussels Sprouts Recipe?
This simple veggie side dish requires fewer than 10 ingredients - how great is that?!? Here's everything you'll need:
Brussels Sprouts - I like to halve my brussels (or quarter them, if they're particularly large) so they cook super fast. If you only have frozen veggies that are whole, consider roasting them in the oven instead.
Extra Virgin Olive Oil - I prefer to use pure EVOO for its heart-healthy benefits, but keep in mind that it doesn't have a very high smoke point. If you like your brussels sprouts well charred, consider using a blended oil instead.
Maple Syrup - Maple syrup is my favorite liquid sweetener (especially in the fall and winter), but you can feel free to swap in agave nectar or date syrup instead.
Dijon Mustard - Dijon is one of my favorite mustards around, somehow managing to be both bracing and creamy. If you don't have any on hand, you can fake your own with mustard powder and vegan mayo.
Apple Cider Vinegar - If possible, try to get the kind with the "mother" still intact - it'll have more probiotic oomph than the filtered kind. You can also swap in red or white wine vinegar if you need.
Garlic Powder - Garlic powder is one of my favorite hacks for fast cooking. That said, if you have fresh garlic on hand, go for it! Each ¼ teaspoon is equivalent to a clove of the fresh stuff.
Pecans - Don't feel obligated to spend the extra money on pecan halves; bagged pecan pieces are cheaper and don't require extra chopping. Double win!!
Salt & Pepper - Be sure to properly season your food for it to taste its best. And opt for freshly cracked pepper whenever possible - it tastes waaaaay better than the pre-ground stuff.
How To Make Maple Mustard Brussels Sprouts
My simple recipe for maple dijon brussels sprouts takes less than 15 minutes to get on the table. How's that for a holiday miracle?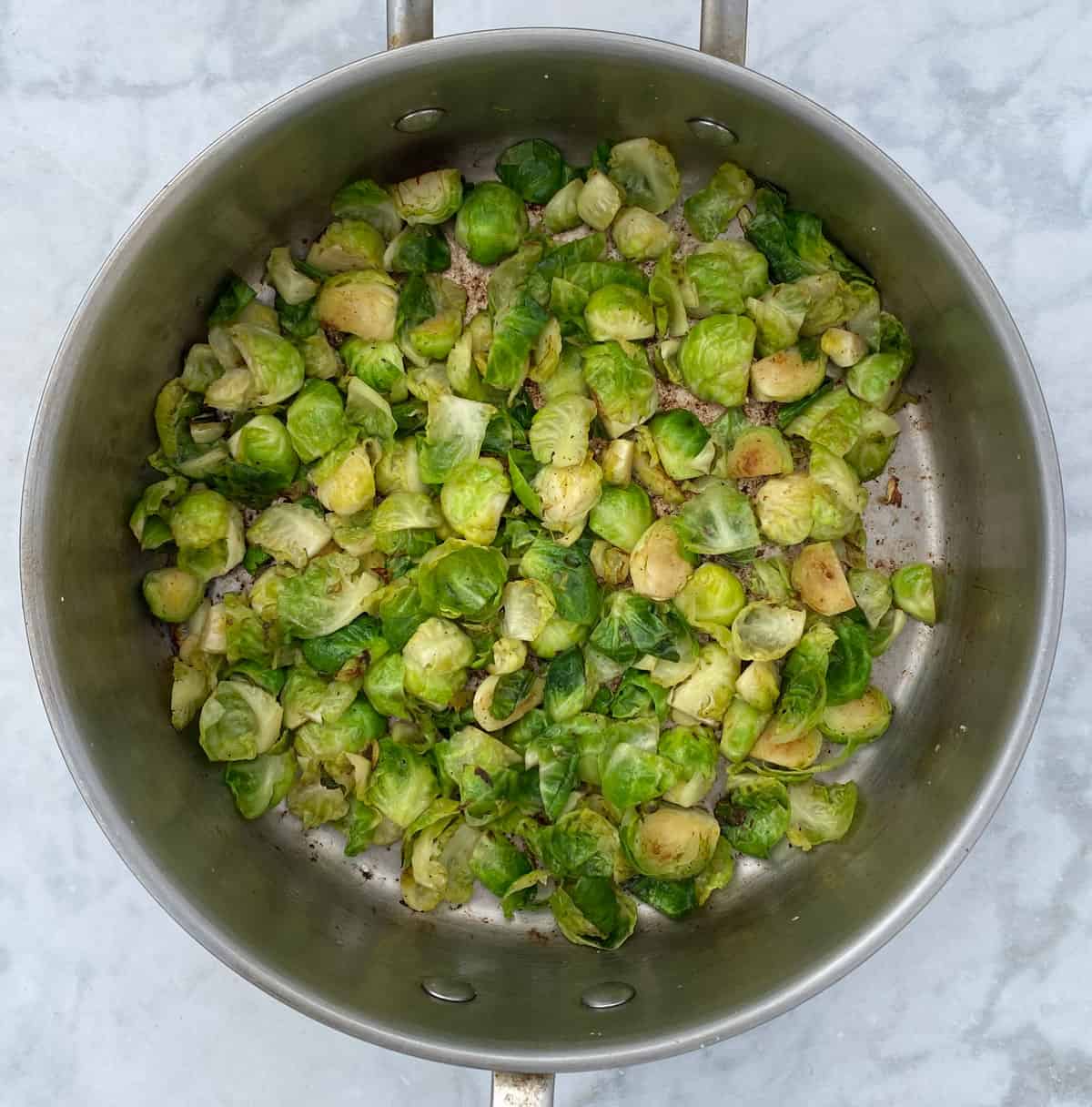 Step 1: Heat oil in a heavy-bottomed sauté pan. Add Brussels sprouts, salt & pepper, and cook for 5-7 minutes, or until Brussels sprouts are tender.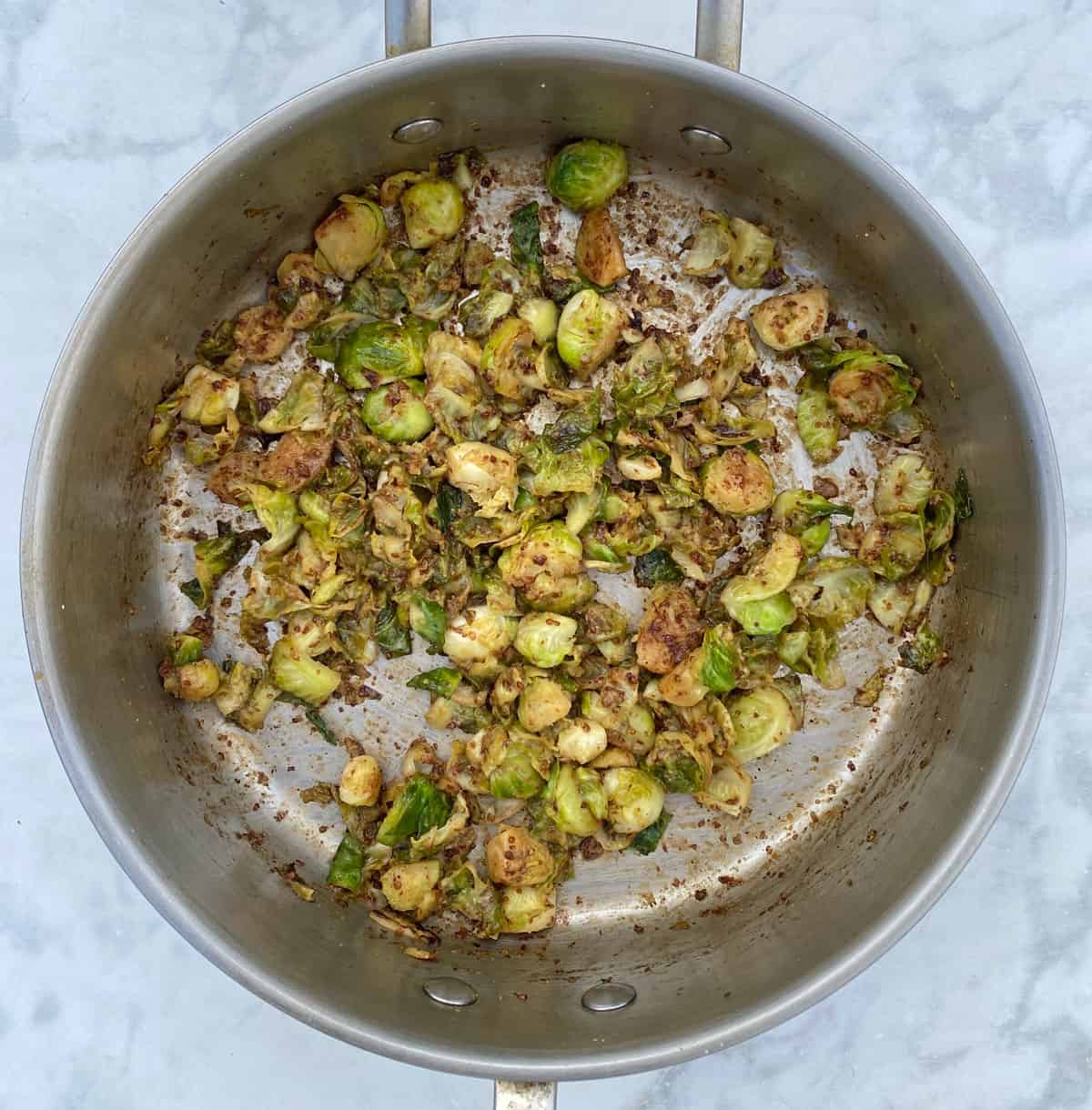 Step 2: Add maple syrup, mustard, apple cider vinegar, and garlic powder into the pan and cook for another 2-3 minutes.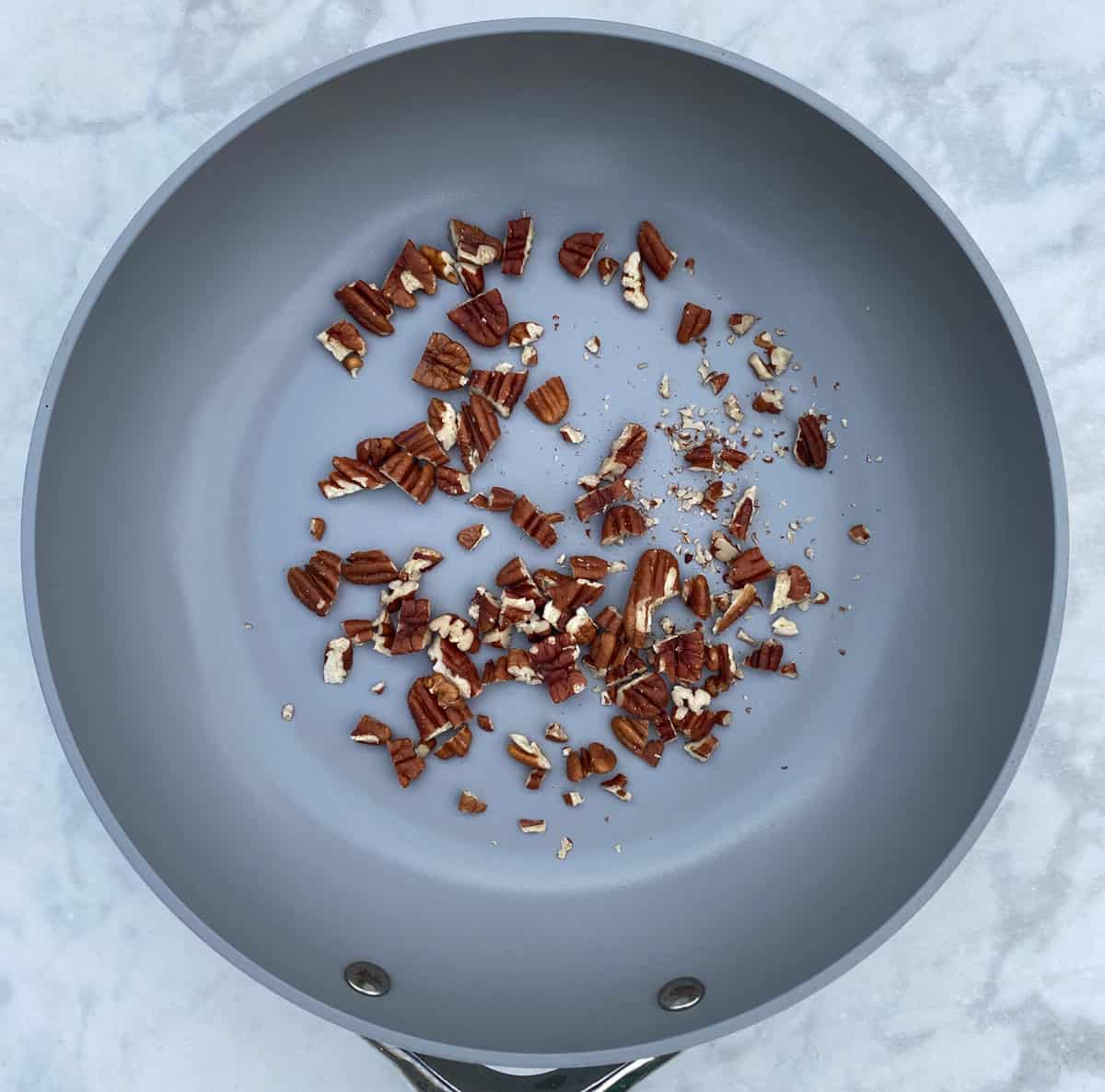 Step 3: Meanwhile, toast pecans in a separate (dry) pan for 1-2 minutes to release their flavor.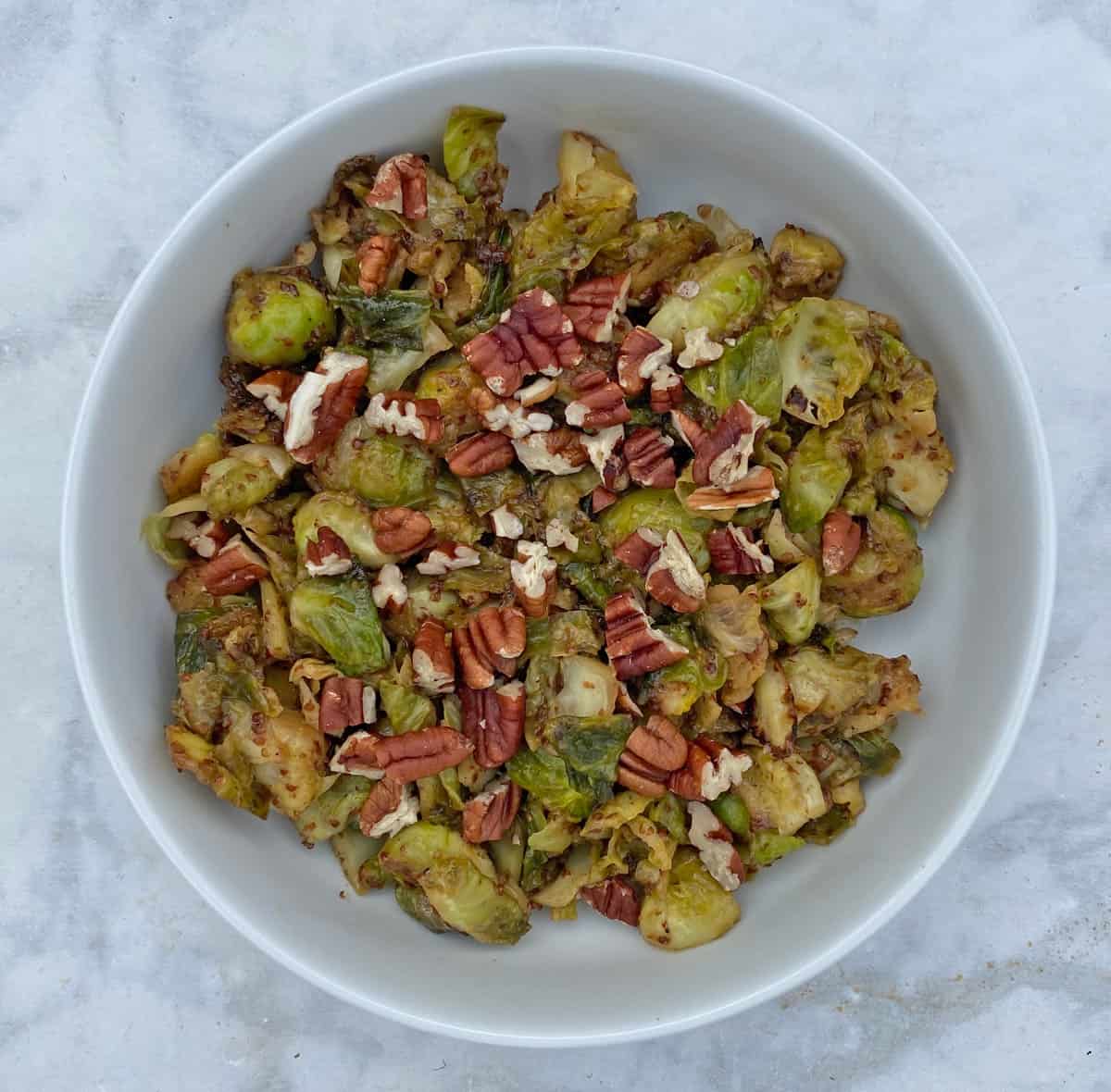 Step 4: Add Brussels sprouts to a serving dish and top with pecans. Enjoy!
Are They Good For You?
As a nutritionist, I know how important food can be (both health and taste-wise). I already talked about how tasty these are, so let's get into a bit about the nutrition of these healthy Brussels Sprouts.
Brussels Sprouts are cruciferous vegetables. Interestingly, the genus name comes from the Latin word for crucifix because the blossoms of these plants resemble a cross.
Cruciferous vegetables are low-calorie and contain the vitamins folate, vitamins C, E, and K. They are also good sources of phytonutrients - the plant-based compounds that may help lower inflammation and reduce the risk of developing cancer.
Brussels sprouts, like other cruciferous veggies, also contain ample amounts of fiber. Growing research shows that adequate fiber intake may benefit digestion and reduce the risk of chronic disease. It also supports the function of the friendly bacteria in the gut and keeps us feeling fuller longer - hip hip hooray!
While brussels sprouts are super healthy, they sometimes get a bum rap on flavor. But word to the wise: if they're boiled to soft obliteration (blech) with no seasonings (why would you do that?), there is no way they are going to taste good.
I usually refrain from boiling most vegetables (except potatoes) for both taste and health reasons. Did you know that boiling releases many vitamins and minerals from vegetables into the cooking water? If you're not drinking the liquid - like in soup - you're missing out on all that goodness!
That's why I love this recipe for pan roasted brussels sprouts - the flavor and the nutrition of this side dish is on point.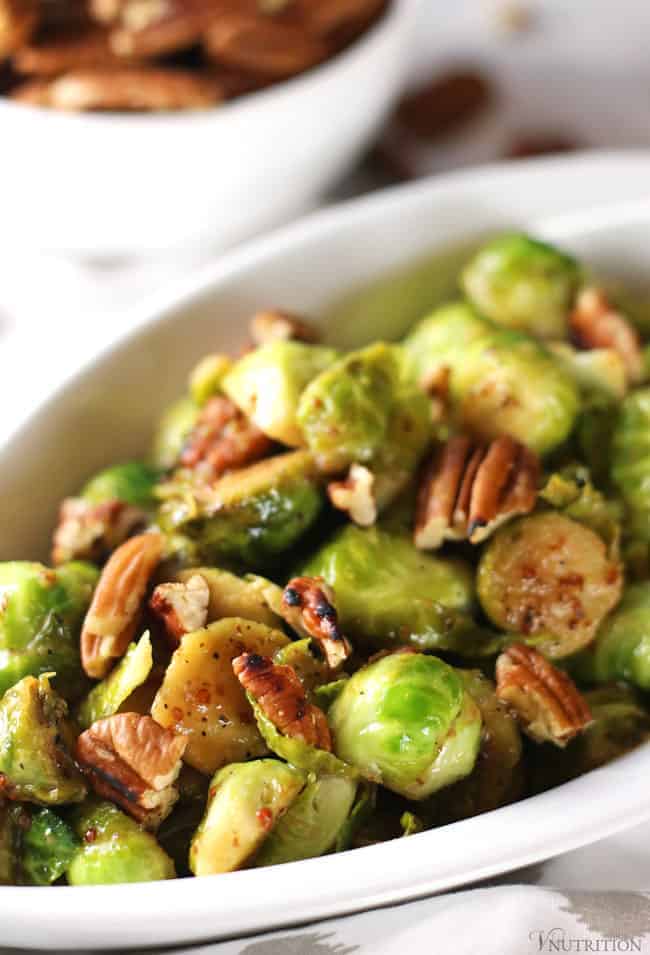 How To Serve
These tasty mustard Brussels sprouts are a perfect accompaniment to just about any fall meal. Try serving them with my vegan chicken strips or grilled tofu steaks for a satisfying and well-balanced meal.
For your holiday table, I recommend some of my other favorite vegan Thanksgiving hits such as:
Any leftovers will keep well in the fridge for up to 5 days. Reheat in the air fryer or skillet for best results.
FAQs
Why are my brussels sprouts bitter?
Brussels have high amounts of compounds known as glucosinolates, which can cause a bitter flavor. To prevent this side from falling victim to bitterness, be sure to only cook the sprouts until they are fork-tender - overcooking them enhances that bitter quality.
How can I make my brussels sprouts crispy?
To get your Brussel sprouts crispy in the pan, you'll need to heat the oil until it is shimmering (but not smoking) before adding them. You can also opt to air fry them instead.
What if I'm allergic to nuts?
Feel free to omit the pecans if you're nut free. You can swap in pumpkin seeds in their place, or add some dried cranberries instead.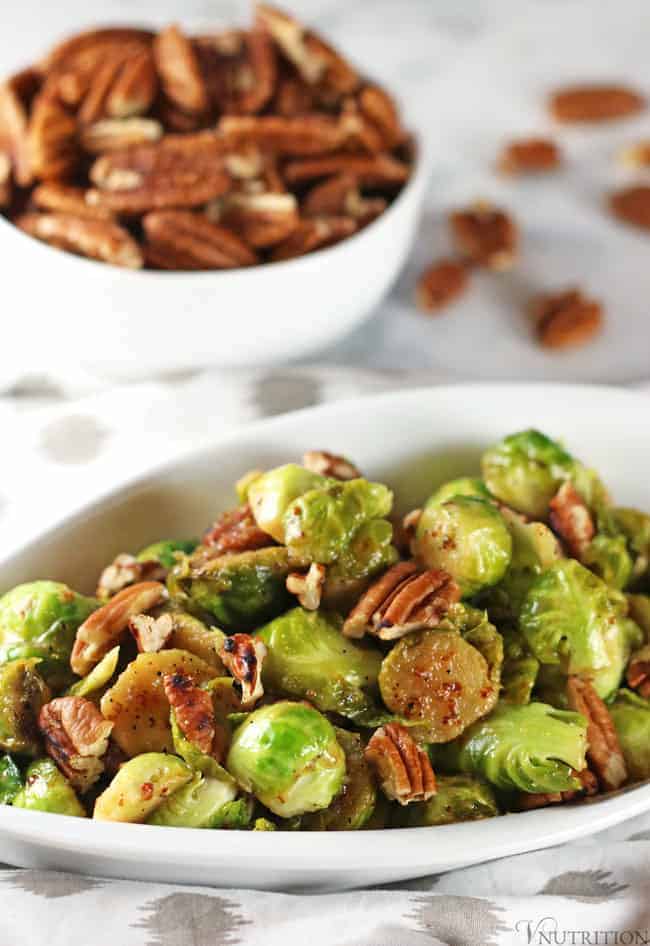 More Holiday Sides
Butternut Squash Mac & Cheese - You can't go wrong with this 20-minute Vegan Butternut Squash Mac and Cheese recipe. Creamy, tangy, and delicious, this easy and healthy dish is a comforting choice for family dinners or holidays.
Vegan Port Wine Cheese Ball - Creamy cashews, sun-dried tomatoes, and port wine make for a delicious combination that no one will realize it's dairy-free! Impress your guests with this easy-to-make ball of tastiness.
Christmas Pinwheels Appetizer - This easy recipe is filled with pesto and sun-dried tomatoes, making them a perfect savory snack. The beautiful green and red filling makes them a lovely hors d'oeuvres for the holiday season… but if I'm being honest, I'd happily eat them all year round.
If you make this recipe and LOVE IT, please give it 5 stars ⭐⭐⭐⭐⭐!
📖 Recipe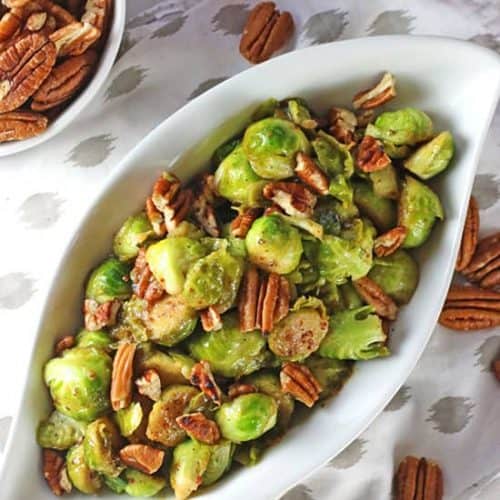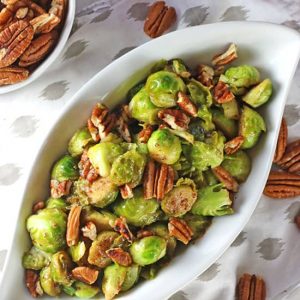 Maple Dijon Brussels Sprouts
These quick and healthy Maple Dijon Brussels Sprouts are the perfect side for any fall dinner table or holiday spread. Pan-roasted Brussels sprouts are tossed with a sweet and savory vegan dressing then topped with crunchy toasted pecans. Best of all, it's ready in less than 15 minutes!!
Email Recipe & Ingredients
Instructions
Add Brussels sprouts, olive oil, salt, and pepper in a pan and cook for 5-7 minutes or until Brussels sprouts are tender.

Add maple syrup, mustard, apple cider vinegar, and garlic powder into pan and cook for another 2-3 minutes.

Meanwhile, toast pecans in a separate pan for 1-2 minutes to release their flavor.

Add Brussels sprouts to serving dish and top with pecans.
Nutrition
Calories:
121
kcal
Carbohydrates:
9
g
Protein:
4
g
Fat:
9
g
Fiber:
2.5
g
Vitamin A:
700
IU
Vitamin C:
34.7
mg
Calcium:
30
mg
Iron:
0.9
mg
PLEASE NOTE: Nutritional information data is computer generated and only an estimate so it should be used only as a guide.
Tried this recipe?
Leave a comment and ⭐ rating below or tag @v.nutrition on Instagram with the hashtag #vnutritionandwellness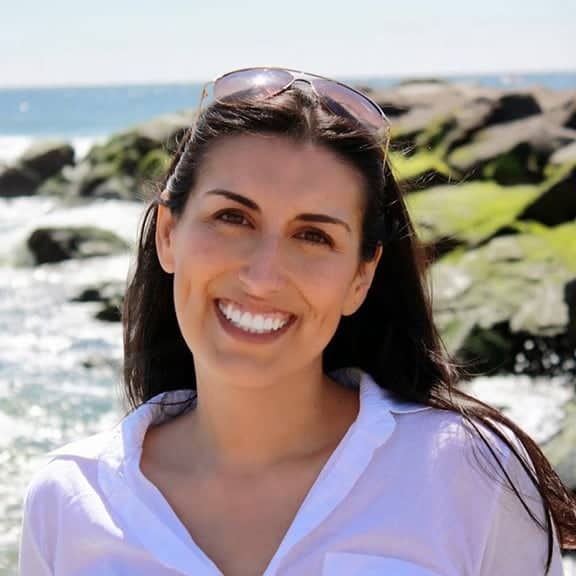 Mary Ellen Valverde MS, CNS, LDN is a Licensed Nutritionist and Certified Nutrition Specialist who empowers vegans to feel confident in creating sustainable habits that align with their values and health goals. She shares easy gluten-free plant-powered food to nourish your body + satisfy your tastebuds. Mary Ellen's recipes and nutrition info have been featured on Yahoo News, Parade, VegNews, LIVESTRONG, Dr. Axe, Greatist, LIVEKINDLY, Brit+Co, Well+Good, and more.