These secretly healthy and totally creamy Vegan Cauliflower Mashed Potatoes are the perfect cool weather or holiday side dish. This mash is so fluffy, flavorful, and scrumptious, no one will even know it's hiding cauliflower!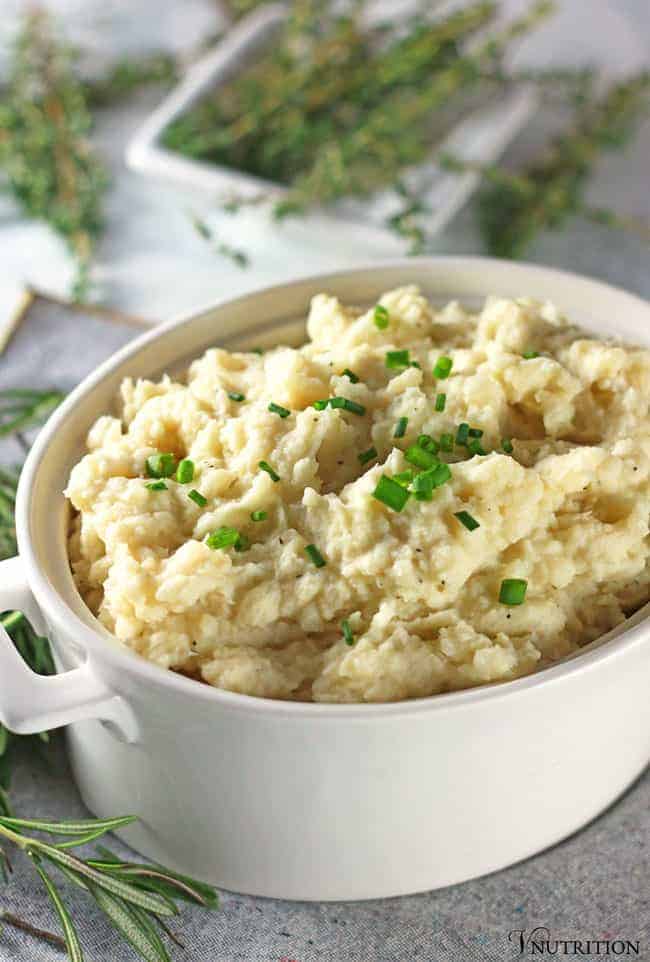 I don't know about you, but mashed potatoes are one of my all-time favorite comfort foods. This lower-carb iteration replaces some of the taters with cauliflower, reducing the calories without sacrificing any flavor.
My simple recipe for cauliflower mashed potatoes tastes just like the luscious cloud I used to bury in gravy because - unlike many other mashed cauliflower recipes out there - I still use potatoes! You honestly can't even taste the cauliflower. (Not that I would hate it if you could. Cauliflower is my JAM.)
Jump to:
Why you'll love it
Rather than turning to gobs of cream, butter, or other dairy accoutrements like cheese or crème fraîche to give these mashed potatoes their signature velvety texture, I use just a smidge of vegan butter paired with rich cashew cream.
Cauliflower itself gives the mash a creamier consistency than potatoes on their own, meaning you need less added fat to make them taste downright sinful. The addition of garlic powder and nooch bolsters the flavors I associate with traditional mashed potatoes.
This quick and easy recipe for mashies is one you should definitely bookmark for the holidays. It's right at home next to any main dish, and you can 100% go back for seconds without a lick of guilt. I personally will be having thirds, thankyouverymuch.
What's more, you can use either fresh or frozen cauliflower for this mashed potatoes recipe. Grab whichever is on sale! Word to the wise, though - frozen cauliflower is already cut into florets, meaning this simple side dish is even easier to make.
So what are you waiting for?? Let's make this sumptuous side that will actually count as veggies, okay?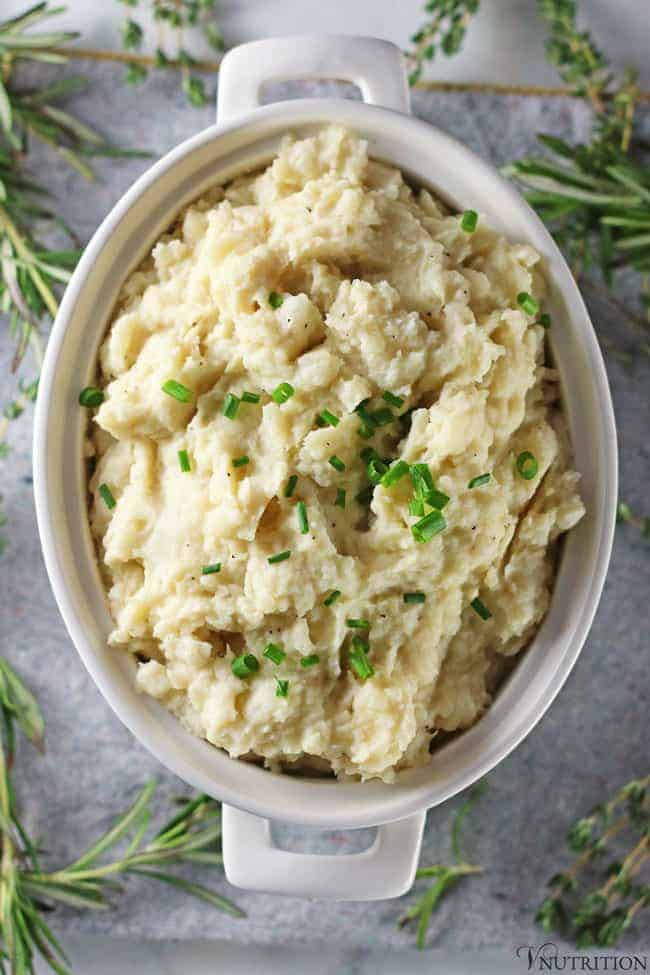 Do they really taste like mashed potatoes?
This whole experiment started because I wanted to create a recipe for mashed potatoes that I could feel better about eating. You know, something healthier but just as tasty as my childhood favorite. I'm happy to say the experiment was successful.
I've tried regular mashed cauliflower in the past, and while it tastes good, it's never been as thick, creamy and satisfying as the mashed potatoes of my youth. Oftentimes it can be watery, thin, and disappointing. Mashed cauliflower simply wouldn't do.
Then one day I had a bolt of inspiration: what if I combined mashed potatoes WITH mashed cauliflower?!? My friends, I felt like a dang nobel laureate; I'm almost convinced that my cauliflower mashed potatoes are the best invention of the 21st century.
The mashed potatoes give this heavenly mixture the perfect consistency - light, pillowy, and divine - while the cauliflower blends right in. Matt, my sweet husband, literally couldn't tell them apart from regular mashed potatoes.
So in short, YES. They honest-to-goodness taste just the way mashed potatoes should taste, but with a much happier nutrition label.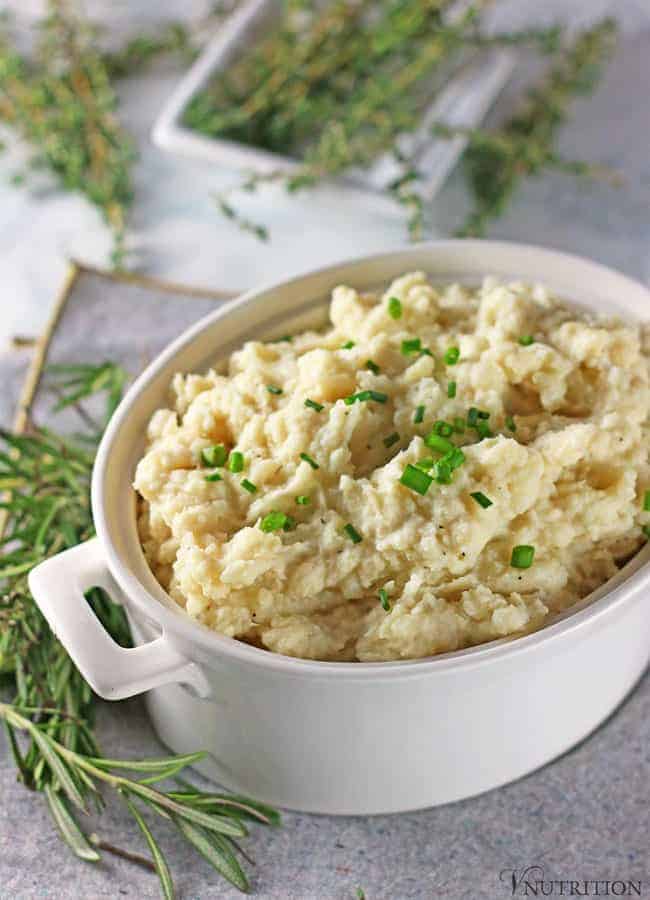 Are Vegan Cauliflower Mashed Potatoes Healthy?
You better bet your bottom dollar they are! Even though potatoes often get a bad rap, they are actually quite nutritious. Russet potatoes boast plenty of fiber, vitamins C and B6, as well as potassium and manganese. Totally tuber-lar!
Cauliflower is no slouch in the health department, either. In fact, this creamy cruciferous veg contains almost every vitamin and mineral that your body needs.
If you're worried about keeping your macros in check, you've come to the right place. These cauliflower mashed potatoes are much lower in carbs than your mama's mashies - one serving of my recipe has only 20.5 net carbs compared to a whopping 35 grams in most other recipes.
The addition of cashew cream also gives this delightful side a boost of protein, with each serving boasting a respectable 6 grams. Not bad for a starchy side!
Perhaps the most impressive, though, is the number of calories and fat you'll shave off by adding cauliflower and removing the dairy. One serving of my cauliflower mashies is about 25% fewer calories and 3 grams less fat than a traditional recipe.
Are you convinced yet? Let's get to the kitchen!
Ingredients
This simple recipe for vegan cauliflower mashed potatoes can mostly be made from your pantry. Here's everything you'll need:
Russet Potatoes - My Nana's recipe for mashed potatoes used russets, so I always use them. That said, feel free to swap in your favorite variety. Peeling is optional. Note that if you opt for wax potatoes, mashing by hand is preferred; using a mixer will yield a gummy consistency.
Cauliflower - Feel free to use fresh or frozen here! If you are breaking down the head yourself, don't toss the stem! Simply peel the thicker outer skin and then cube it like your potatoes.
Raw Cashews - Unfortunately, those tasty roasted and salted numbers in your party pantry won't do; they have to be raw. If you're fresh out, macadamia nuts will also work. If you're nut free, you can swap in more vegan butter or some coconut cream instead.
Vegan Butter - I only use one tablespoon of vegan butter in the whole batch, and it gives the cauli mash such a lovely mouthfeel. If you are oil free, you can omit it.
Nutritional Yeast - The umami, almost cheesy flavor of "nooch" is one of my favorite things in the world. If you don't have any, try subbing in some vegan bouillon instead.
Garlic Powder - This can also be subbed for fresh garlic! Each ¼ teaspoon is equal to one clove.
Salt, Pepper & Water - Pantry essentials plus tap water? I barely even count them as ingredients. Opt for Kosher salt - the larger flakes make it more forgiving if you're seasoning by eye. Freshly cracked pepper will also be more pungent than pre-ground.
How To Make
Step One: Boil veggies.
Bring a large pot of (salted) water to a boil. Add chopped potatoes and cauliflower and cook until both are cooked through and fork tender, about 12-15 minutes.
Step Two: Cashew Cream
While vegetables are cooking, add cashews and water to a high-speed blender and blend until smooth.
Step Three: Mash
When cauliflower and potatoes are cooked, drain them and add them back to the pot. Add the cashew cream and the rest of the ingredients (except chives) to pot and use a hand mixer to combine until creamy. If you don't have a hand mixer add everything to a stand-alone blender and blend until creamy.
Step Four: Add toppings and enjoy!
To feel fancy, top with chives. Otherwise, dig right in. Enjoy!
Oil Free Method
If you are following an oil or fat-restricted diet, feel free to omit the vegan butter. If you'd like, substitute with heart-healthy olive oil instead.
Alternate Equipment Methods:
No hand (or stand) mixer? No problem! Simply toss everything in a blender or a food processor instead. You can also go old school and use a potato masher - just note that the cauliflower might be slightly chunkier this way.
Serving Suggestions
These cauliflower mashed potatoes have a permanent spot on my Thanksgiving and Christmas buffets, but they're also easy enough to make on a regular weeknight.
They taste great with any number of mains and other sides, just like mashed potatoes! Try serving them with my vegan chicken strips and my shiitake mushroom gravy for a super hygge-friendly meal.
Customizations
Cauliflower mashed potatoes are just as versatile as their more traditional, carb-ier cousins. Try mixing and matching with:
Caramelized Onions
Fresh Herbs
Onion Powder
Vegan Sour Cream
If you're feeling in serious need of some comfort, you can also treat your cauli mash as a base for a bowlful of flavor. (All you dreamy people who have mashed potato bars at your weddings, I'm 100% here for it.)
Top it with any of the above, and/or reach for some tempeh crumbles, tofu crumbles, or roasted veggies. YUM.
Troubleshooting, Tips & Tricks
If you want to get a jump on your week, this is an excellent recipe for meal prepping. Feel free to make this cauliflower potato mash up to a week in advance.
If you follow my cauliflower mashed potato recipe to a "t," you'll get a pot of one of my favorite sides in just about 30 minutes. That said, I know taste is subjective! Here are some fixes for different issues you might encounter:
Want it thicker? You can make a slurry of cornstarch and water, then add it to the mix. Stirring continuously, cook for about 5 minutes over medium-low heat.
Want it to be smoother? Continue blending until you reach your desired consistency. Also, be sure that you cut the cauliflower and potatoes into evenly sized pieces so they cook uniformly. They are only ready for mashing once you can poke them through with a fork without much resistance.
Want more flavor? Check out all the ideas under the "Customizations" heading above. Also, be sure to cook the veggies in salted water to make sure you're working with a properly seasoned base.
Want it to be creamier? Add some more butter; I won't tell if you won't.
FAQs
What's the best way to reheat this cauliflower mash?
I recommend using a saucepan over medium-low heat. You might need to add a bit of water or broth to loosen it, depending on your texture preferences. Remember to stir frequently to prevent it from burning.
How long will cauli mashed potatoes last in the fridge?
If kept covered in a clean container, they should be good for 5-7 days.
Can it be frozen?
Yep! I recommend using a zip-top bag or silicone cups for freezing. Once frozen, use within a month.
Can I make it with frozen cauliflower?
You sure can! Frozen potatoes are also fine, though you may need to adjust their boil time depending on what shape you're working with.
Can I use canned potatoes?
Sure! Just remember that they are already cooked, though - you'll just want to add them in the last 3 minutes of boiling time so they can warm through.
Other Creamy Vegan Dishes
If you make this recipe and LOVE IT, please give it 5 stars ⭐⭐⭐⭐⭐!
📖 Recipe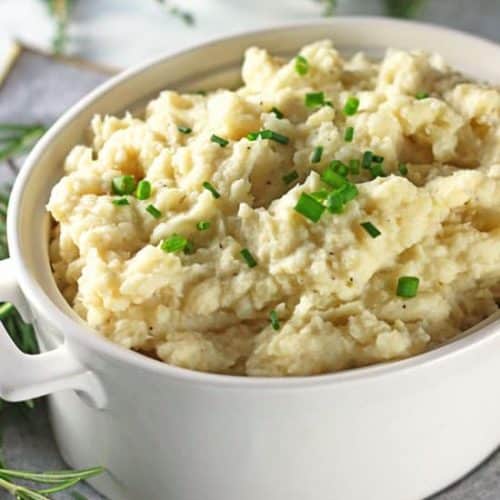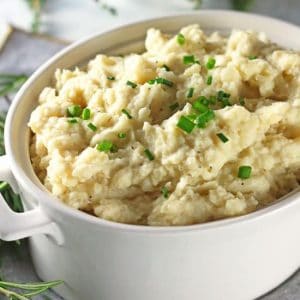 Vegan Cauliflower Mashed Potatoes
These Vegan Cauliflower Mashed Potatoes are the perfect side dish. They're so creamy and delicious, no one will even know they're hiding cauliflower!

Email Recipe & Ingredients
Ingredients
2

large

russet potatoes (about 3 cups)

chopped into about 1 inch pieces

1

head

cauliflower (about 3 cups)

chopped into about 1 inch pieces

½

cup

raw cashews

(soaked for either for 4 hours with cold water or 10 mins with boiling water)

½

cup

water

1

TB

vegan butter

½

TB

nutritional yeast

½

teaspoon

garlic powder

¼

teaspoon

salt

¼

teaspoon

pepper

2

tb

chives

(optional)
Instructions
Bring a large pot of water to a boil.

Add chopped potatoes and cauliflower and cook until both are fully cooked (about 12-15 minutes).

While vegetables are cooking, add cashews and water to a high-speed blender and blend until smooth.

When cauliflower and potatoes are cooked, drain them and add them back to pot. Add the cashew cream and the rest of the ingredients (except chives) to pot and use a hand mixer to combine until creamy. If you don't have a hand mixer add everything to a stand-alone blender and blend until creamy.

Top with chives (optional).
Notes
This makes about 4 cups of mashed potatoes
Nutrition
Calories:
158
kcal
Carbohydrates:
24.5
g
Protein:
6
g
Fat:
5
g
Fiber:
4
g
Vitamin C:
61.9
mg
Calcium:
40
mg
Iron:
1.8
mg
PLEASE NOTE: Nutritional information data is computer generated and only an estimate so it should be used only as a guide.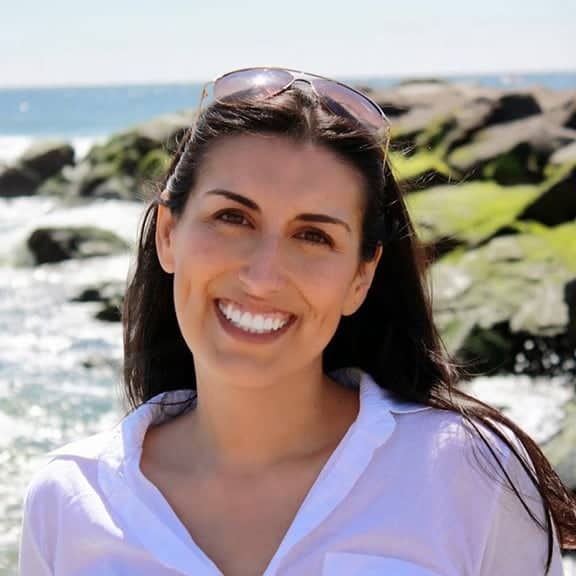 Mary Ellen Valverde MS, CNS, LDN is a Licensed Nutritionist and Certified Nutrition Specialist who empowers vegans to feel clear and confident about what is uniquely nourishing to them. Mary Ellen's recipes and nutrition information have been featured on Yahoo News, Parade, VegNews, LIVESTRONG, Dr. Axe, Greatist, LIVEKINDLY, Brit+Co, Well+Good, and more.