These Vegan Cauliflower Mashed Potatoes are the perfect side dish. They're so creamy and delicious, no one will even know they're hiding cauliflower!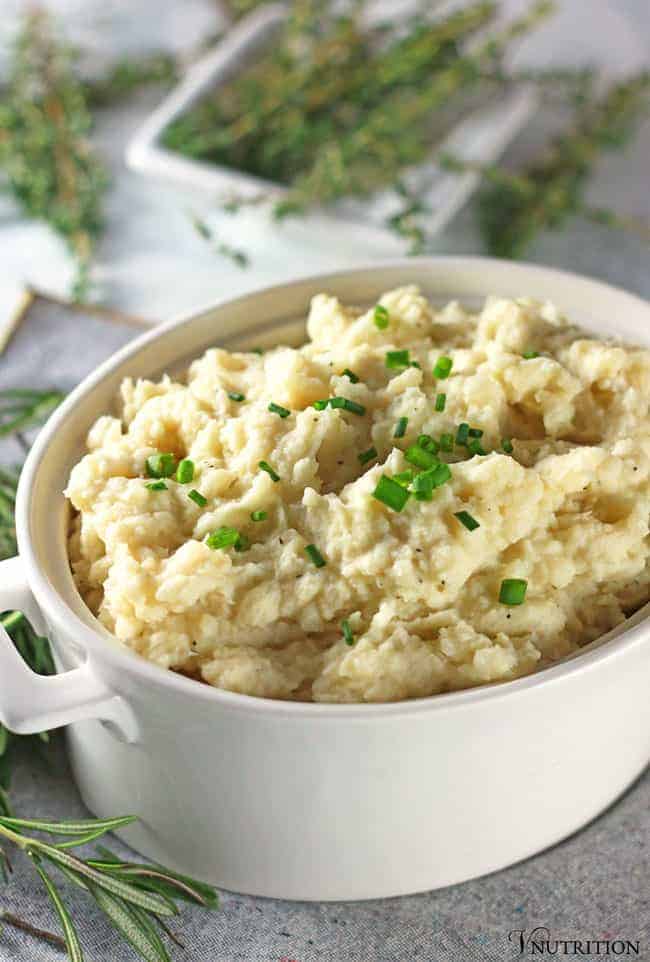 Growing up, the only time I had mashed potatoes was the holidays (Thanksgiving, Christmas, and Easter) when my nana cooked. I loved watching my nan peel the potatoes and mash them up – it was fun for me to see how actual cooking was done.
As I've shared before, my mom didn't cook so we weren't the typical meat and potatoes kind of family; we were more of the box of pasta and jar of tomato sauce kind of people. Not that I still don't eat my pasta, I just get a little more creative like with my Vegan Pumpkin Mac & Cheese.
Mashed potatoes were always a big treat for me since it was actual food and not something boxed or microwaved. I'd load up on those babies like it was my job. You know the kind of plate, tiny bit of protein and mostly stuffing, mashed potatoes, and gravy – yeah, that was me.
At the time, I thought mashed potatoes were a healthy vegetable since I didn't eat any other sort of veggie. I have since realized that might not always be the case when the potatoes are peeled and then doctored up with lots of butter and cream and then topped with about a pound of gravy (like I used to do).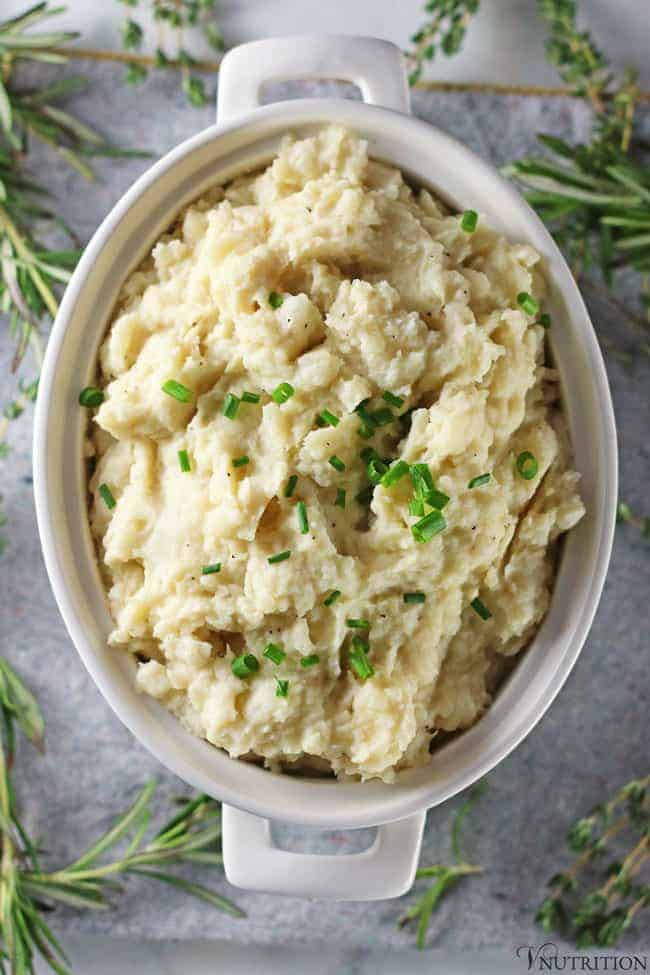 Do they really taste like Mashed Potatoes?
I wanted to create a recipe for mashed potatoes that reminds me of my nan and the holidays but that I could feel better about eating. Something healthier but still as tasty.
I have tried regular cauliflower mashed potatoes before and while I like them, they never got to be as creamy and thick and I like. Then it hit me, why not combine the two kinds of "mashed potatoes"?
So I took cauliflower and regular potatoes and mixed them together and my vegan cauliflower mashed potatoes were born!
So the question really is, do they actually taste like regular mashed potatoes? I would definitely say yes!
I gave some leftovers to my husband, Matt, and told him they were mashed potatoes. He said they were really good. Then I asked if he could taste the cauliflower and he had no idea that I even put a whole head of cauliflower in there. I even forgot myself when I was eating them.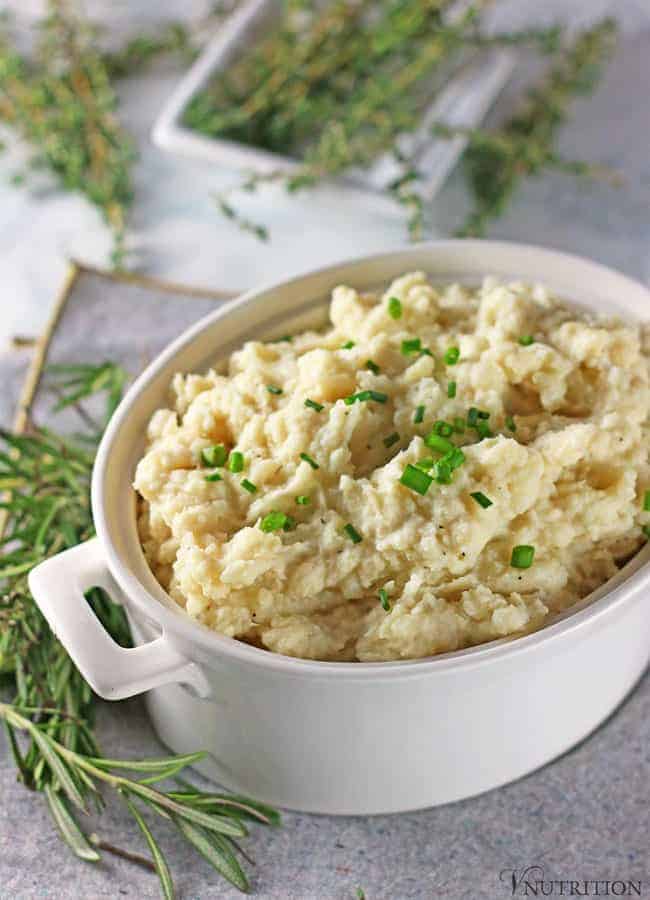 Vegan Cauliflower Mashed Potatoes
I'm really excited about how tasty this combo of cauliflower and potatoes is. I know you might be asking "how exciting can mashed potatoes be"? Well, very exciting if you're a mashed-potato lover like myself and want to eat a double serving knowing you're having a healthier yet just as tasty option as the real deal.
To make the potatoes extra creamy, I added some cashew cream which also gives them a little protein boost, unlike other mashed potatoes.
There are so many reasons to love my Vegan Cauliflower Mashed Potatoes such as:
you can't taste the cauliflower
they're healthy
they're just as creamy as regular mashed potatoes
they have fewer calories
you can have a second helping without the guilt (I will be having seconds or thirds)
Be sure to top these with a tasty gravy like my Shiitake Mushroom Gravy!
If you make these Vegan Cauliflower Mashed Potatoes, let me know what you think by ★ star rating it and leaving a comment below.
Share your pictures of any of my recipes on Instagram and use #vnutrition or tag @v.nutrition so I won't miss it!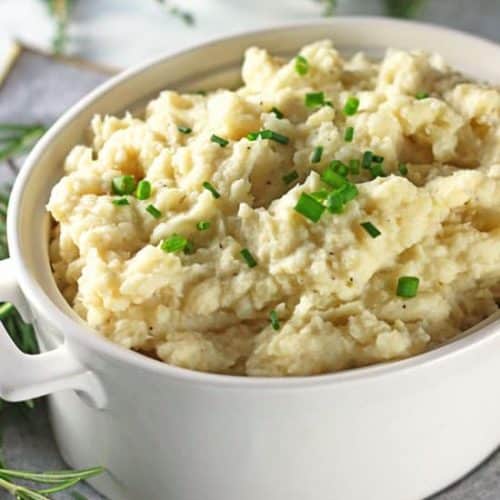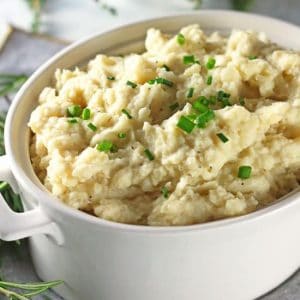 Vegan Cauliflower Mashed Potatoes
These Vegan Cauliflower Mashed Potatoes are the perfect side dish. They're so creamy and delicious, no one will even know they're hiding cauliflower!

Ingredients
2

large

russet potatoes (about 3 cups)

chopped into about 1 inch pieces

1

head

cauliflower (about 3 cups)

chopped into about 1 inch pieces

½

cup

raw cashews

(soaked for either for 4 hours with cold water or 10 mins with boiling water)

½

cup

water

1

TB

vegan butter

½

TB

nutritional yeast

½

teaspoon

garlic powder

¼

teaspoon

salt

¼

teaspoon

pepper

2

tb

chives

(optional)
Instructions
Bring a large pot of water to a boil.

Add chopped potatoes and cauliflower and cook until both are fully cooked (about 12-15 minutes).

While vegetables are cooking, add cashews and water to a high-speed blender and blend until smooth.

When cauliflower and potatoes are cooked, drain them and add them back to pot. Add the cashew cream and the rest of the ingredients (except chives) to pot and use a hand mixer to combine until creamy. If you don't have a hand mixer add everything to a stand-alone blender and blend until creamy.

Top with chives (optional).
Notes
This makes about 4 cups of mashed potatoes
Nutrition
Calories:
158
kcal
Carbohydrates:
24.5
g
Protein:
6
g
Fat:
5
g
Fiber:
4
g
Vitamin C:
61.9
mg
Calcium:
40
mg
Iron:
1.8
mg
Please Note: The nutritional information is a computer generated estimate so these numbers should be used only as a guide.
Tried this recipe? Let me know + share it!
Leave a comment and ⭐ rating below so I know you enjoyed the recipe! Tag @v.nutrition on Instagram with the hashtag #vnutritionandwellness so I can feature you!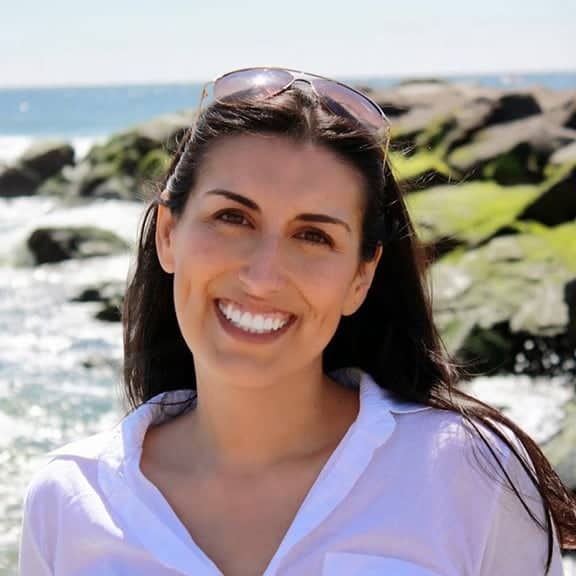 Mary Ellen Valverde MS, CNS, LDN is a Licensed Nutritionist and Certified Nutrition Specialist who empowers vegans to feel confident in creating sustainable habits that align with their values and health goals. She shares easy gluten-free plant-powered food to nourish your body + satisfy your tastebuds. Mary Ellen's recipes and nutrition info have been featured on Yahoo News, Parade, VegNews, LIVESTRONG, Dr. Axe, Greatist, LIVEKINDLY, Brit+Co, Well+Good, and more.