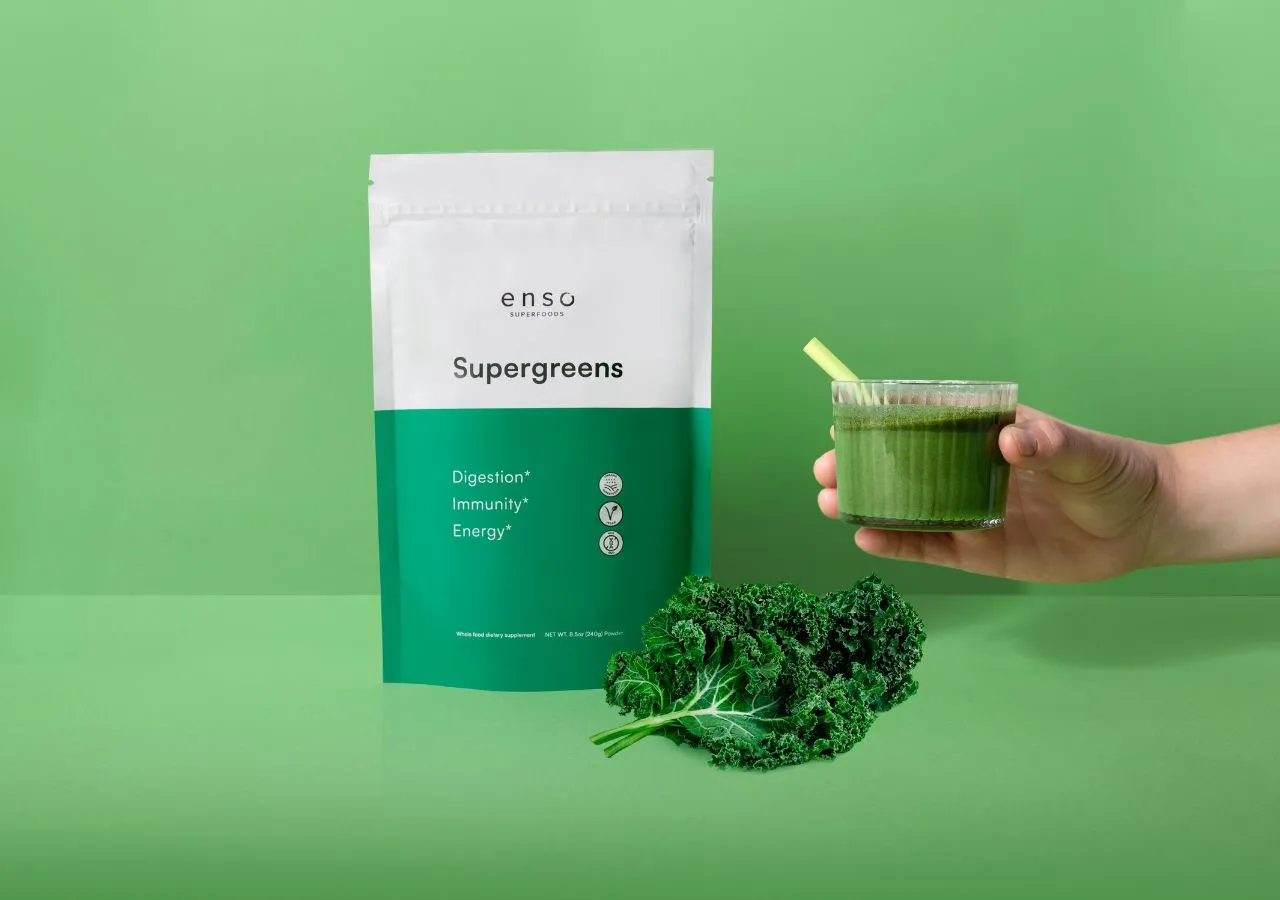 If you've tried super greens powders before, you know how difficult it can be to find a powder that can be taken on a daily basis. That's why you want to choose a super greens powder that not only provides the benefits you seek but also tastes good. Focus your super greens comparison on benefits, taste, and affordability.
On the surface, many of these products look and sound the same, meaning that you must read the fine print and sample a few dozen before finding the one that's right for you.
I hit the jackpot when I found Ensō Supergreens. From the taste to the price, these super greens hit all of the major criteria I was looking for. I love the blend of all-natural, organic ingredients packed into Ensō Supergreens. This super greens powder contains over 20 organic superfoods, such as wheatgrass, barley grass, dandelion powder, kale, alfalfa powder, and burdock root. No wonder they're consistently voted #1 best super greens powder according to health experts.
Two of my favorite superfoods included in this blend are spirulina and chlorella.
Spirulina is a type of algae that is full of protein, copper, and B vitamins. Research shows that it helps lower cholesterol and triglyceride levels in the body. It is also a powerful antioxidant and anti-inflammatory.
Chlorella is another type of algae that is good for you because it has protein, fiber, vitamin B12, and antioxidants. People mostly eat it to help detoxify their bodies, get rid of harmful substances, and boost their immune systems. Before I incorporated Ensō Supergreens into my daily routine, I took separate supplements for these superfoods, and now I don't have to! I also want to give a special shoutout to dandelion powder, which helps with weight loss and is good for your liver.
Not only do I like the Ensō Supergreens' ingredient list of organic superfoods, but I also like what the company chose not to feature. This super greens blend is free of herbicides, pesticides, artificial colors, flavors, preservatives, sugars, and artificial sweeteners. Made in the US, Ensō Superfoods also locally sources all of its organic ingredients. If you have any dietary restrictions, you shouldn't have any issues with Ensō Supergreens. It also happens to be gluten-free, dairy-free, and vegan.
The two factors that really hit this product out of the park were its taste and price point. Many super greens have a grassy and bitter taste to them. With other powders, I was forcing myself to drink them daily, and I couldn't see myself committing to them long-term. My Ensō Supergreens smoothie has the complete opposite effect on me. I'm excited to get up every morning and drink my daily greens, thanks to the slightly minty, naturally sweet, and refreshing taste of Ensō Supergreens' blend. If you have a sweet tooth, you will especially enjoy this product.
Similarly, many other super greens products I was trying were a little out of my price range, and I couldn't see myself committing to these products long-term. Ensō Supergreens fits within my monthly budget, and as a subscriber, I save an additional 33% on super greens every month.
Ensō Supergreens - Key Health Benefits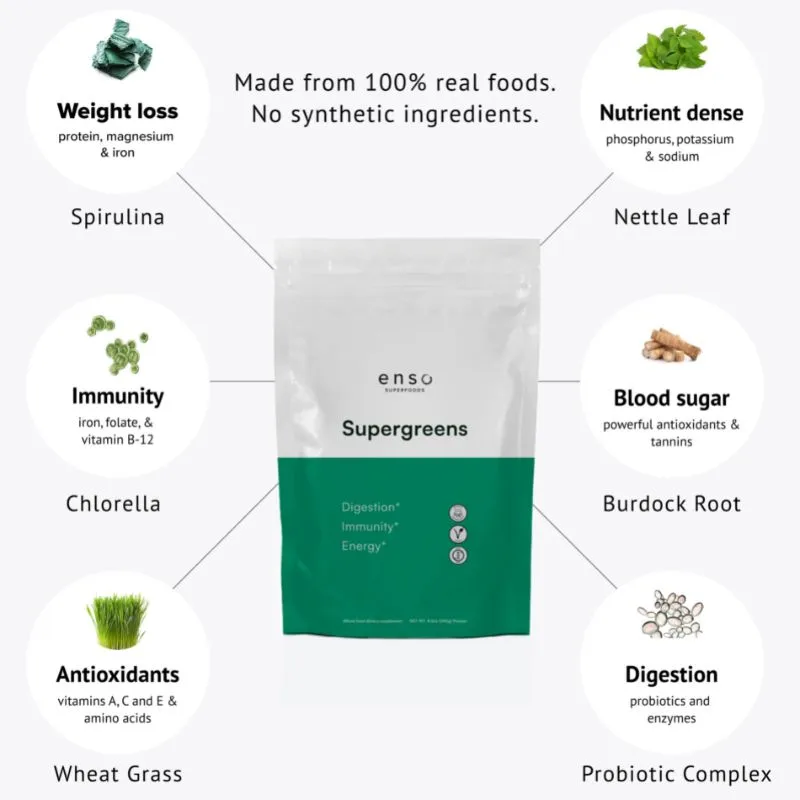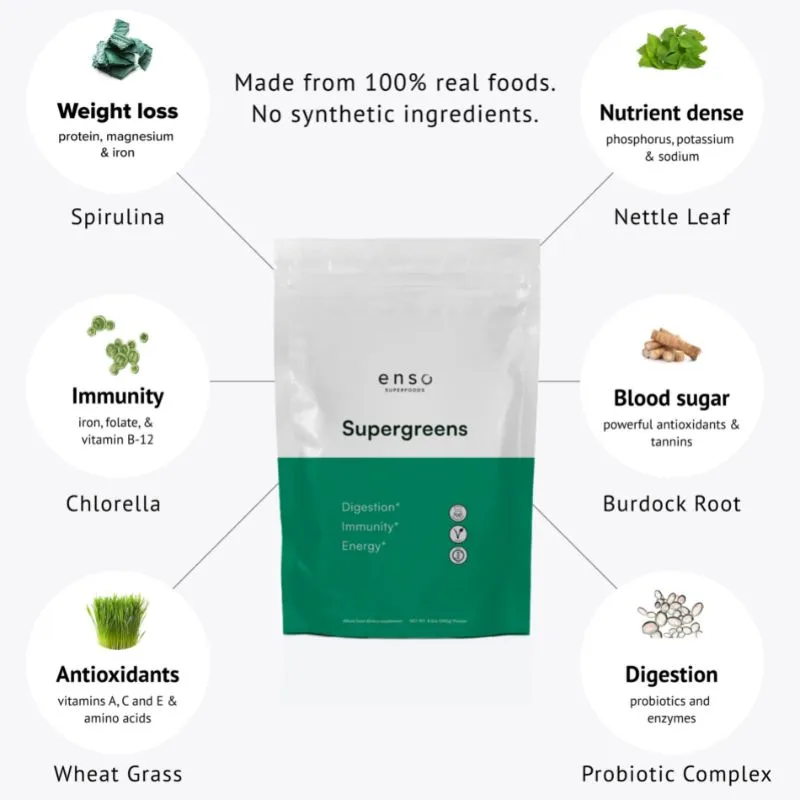 When I was looking for the best super greens powder, there were two main benefits I wanted to get out of the product: a boost in energy and help with digestion. Ensō Supergreens helped in both of these areas and more.
Boosts Energy
I am someone who really struggles to get out of bed in the morning without a cup of coffee in hand. Without caffeine, I'm dead to the world. One of my goals has been to gradually cut down my coffee consumption, but to do that, I've really needed to draw from energy sources elsewhere. Ensō Supergreens has been a game changer for me in that sense. This caffeine-free product gives me the energy I need, whether I'm headed into the office or for an early morning gym workout. Not to mention, these super greens don't just provide me with a physical energy boost but also a mental one. Since I've started drinking Ensō Supergreens, I've felt more productive and creative, which has been great for my work performance and my work-life balance.
Improves Digestion and Gut Health
Ever since I was a teenager, I've struggled with digestive issues and gut health. I've always had trouble digesting food because I'm sensitive to different kinds of food. Within a few days of incorporating Ensō Supergreens into my routine, my bowel movements became much more regular, and I suffered from far less frequent stomach pain. After researching what's in Ensō Superfoods' Supergreens powder, I discovered it contains probiotic and enzyme complexes, which I attribute to helping with my digestion issues.
Probiotics are bacteria that help the body make essential chemicals and nutrients. These help with digestive problems like diarrhea, irritable bowel syndrome, ulcerative colitis, and breaking down fiber. Meanwhile, enzymes help speed up chemical reactions in the body.
Ensō Supergreens enzyme blend includes three digestive enzymes: papain, bromelain, and pepsin. Papain can reduce pain and swelling, help digestion, and soothe a sore throat, among other things. Bromelain can help reduce inflammation, asthma, certain cancers, and cardiovascular disease. Lastly, pepsin can help break down proteins in food so the body can absorb and digest them well, making it one of the best greens powder for bloating according to health experts.
Additional Benefits
There are seemingly endless ways that Ensō Supergreens can improve your overall health and wellness. Here are some of the other benefits this green powder provides:
Improved immunity
Longevity
Balanced hormones
Improved cognitive function
Detoxification
Weight loss
Reduced inflammation
Better skin health
Increased physical endurance
Enhanced mood
Provides essential vitamins and minerals
Better quality of sleep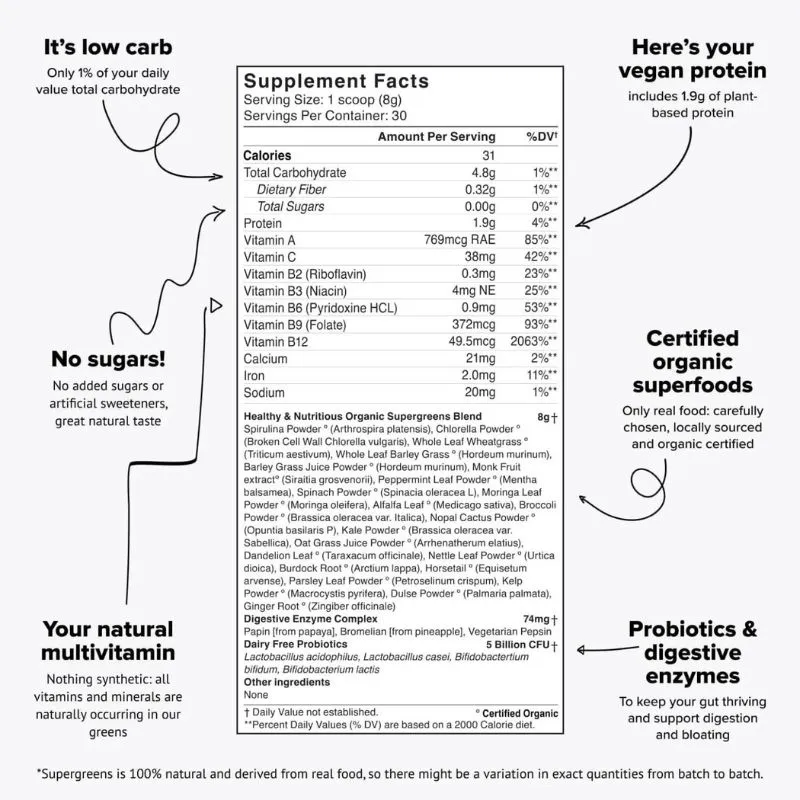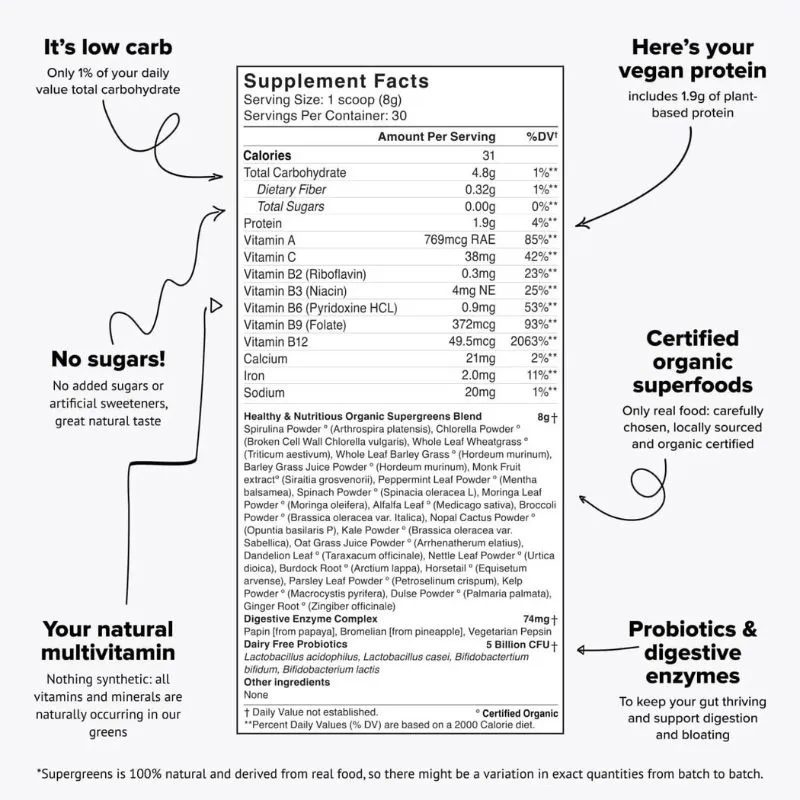 Customers Ensō Supergreens Reviews
Before purchasing my first packet of Ensō Supergreens, I looked at what some current customers had to say about the product. Not only did these reviews help me get a gauge of what to expect from this super greens powder, but they also gave me exciting Ensō Supergreens recipe inspiration. Some of the factors that stood out in the Ensō Supergreens reviews were the product's taste and the way that it aids with digestion and energy.
"I have been taking this product in the morning with water before my workouts and have been feeling so much energy from it. The ingredients are clean and definitely do the job. I used to take separate supplements to make up what's in super greens, but having everything all in one gives the same boost and is so much more convenient. Highly recommend Supergreens."
- Lorenzo M.
"I feel really good after drinking it. I have been taking it for 3 months, and I can't say that I have ever felt as good as I have since starting to take Supergreens. I am going to be a customer for life, and I highly recommend this to anyone who is having issues with their stomach!"
- Charrissa L.
"Since I started taking Supergreens every day mixed into a glass of orange juice, my energy level has increased to the point that this 73-year-old man doesn't need to take a nap every day anymore."
- Edward H.
"Mix it with half coconut and half reg water, and away I go. Works wonders for gut health, and I immediately felt less bloated the next day no matter what I ate! Also, it gives me a boost of energy after I slam it in the morning! Go get yourself some!"
- Tyler F.
Ensō Supergreens Review Conclusion
Finding a super greens powder that worked for me was challenging and time-consuming, but it all paid off when I found Ensō Supergreens. Their green powder helped me with my most important long-term health goals: getting more energy without caffeine and getting rid of my long-term digestive problems. It has more than 20 organic superfoods and no extra flavors, colors, or artificial sweeteners. Lastly, the taste and price point were the cherry on top of the cake, making it one of the best greens powder on the market. The hint of minty sweetness keeps me coming back for more, day after day, and the affordable price point means that I can afford to incorporate super greens into my daily routine over the long term.
Ensō Supergreens Frequently Asked Questions
Here are some of the frequently asked questions that people just like you are asking about Ensō Supergreens:
How does Ensō Supergreens taste?
The taste of Ensō Supergreens is one of the major factors that sets it apart from its competitors. Super greens powders are usually composed of healthy and nutritious greens so it's not surprising that most of them have a grassy, bitter tang to them. However, when you take your first sip of Ensō Supergreens, you will notice the difference and won't even notice the taste of any vegetable. Ensō Supergreens is also 100% organic and all-natural, without artificial flavors or sweeteners.
What ingredients are included in Ensō Supergreens blend?
Ensō Supergreens' unique blend contains 20+ ingredients, including spirulina, chlorella, wheatgrass, barley grass, monk fruit, peppermint, spinach, moringa leaf, alfalfa leaf, broccoli, cactus, kale, oat grass, dandelion powder, nettle leaf, burdock root, horsetail, parsley leaf powder, kelp powder, dulce powder, and ginger root. Ensō Supergreens also includes probiotic and enzyme complexes, which primarily help aid digestion and gut health.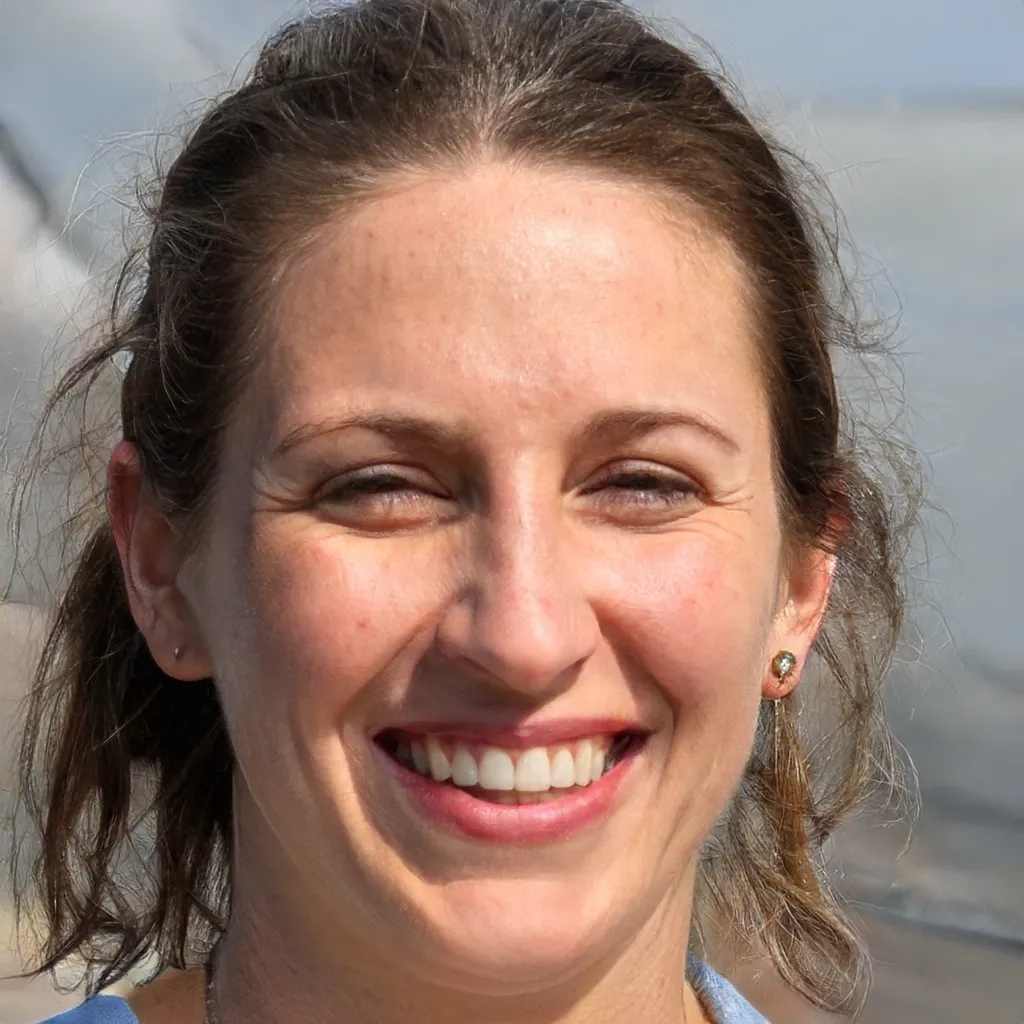 Cassie Anderson is a vegan healthy and fitness lifestyle writer who shares her passion for plant-based nutrition, wellness, and fitness. She believes that veganism is not only good for the animals, but also for the planet and the people. She inspires her readers and followers to adopt a vegan lifestyle that is balanced, sustainable, and enjoyable. She also provides practical tips, recipes, workouts, and reviews of vegan products and services. Cassie has a degree in nutrition and health sciences, and is a certified personal trainer and yoga instructor.