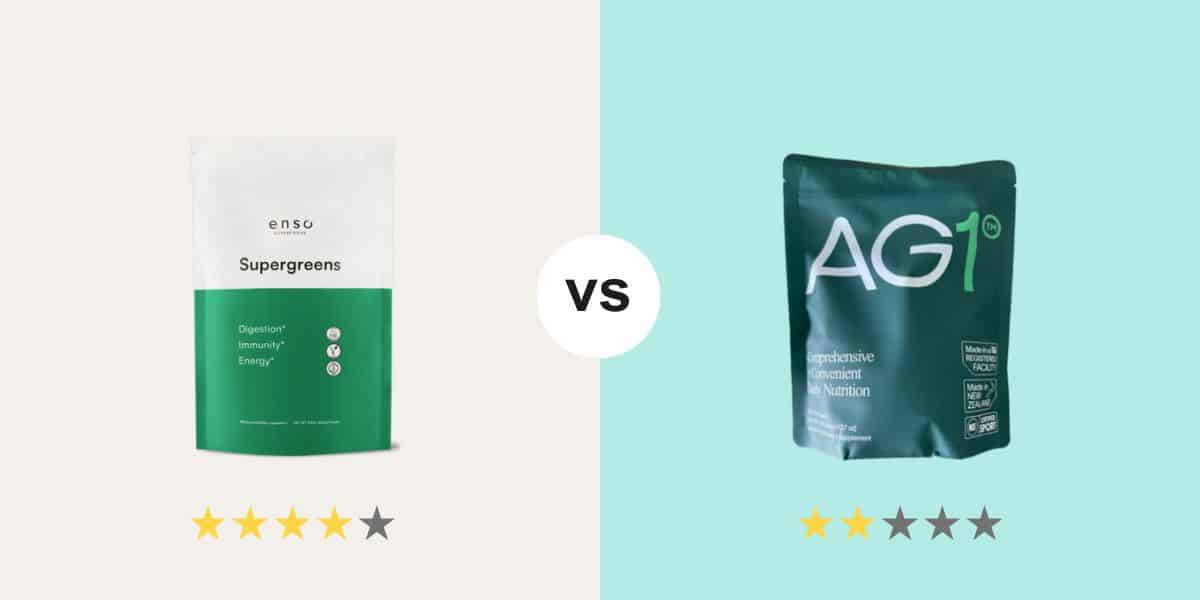 The supplement industry is exploding with "miracle" products that promise to optimize your health, boost your immunity, and increase your energy. Ensō Supergreens and Athletic Greens have become popular brands, but when we examine their efficacy, quality, and value, who emerges as the true winner?
As seasoned experts in health and nutrition, we've spent countless hours researching and scrutinizing these brands to bring you a comprehensive comparison. We'll cover key benefits, ingredients, and what we like and dislike about the greens powders. Whether you're looking to boost athletic performance or improve your daily nutrition intake, we'll show you everything you need to know about these popular brands
What Is Ensō Supergreens?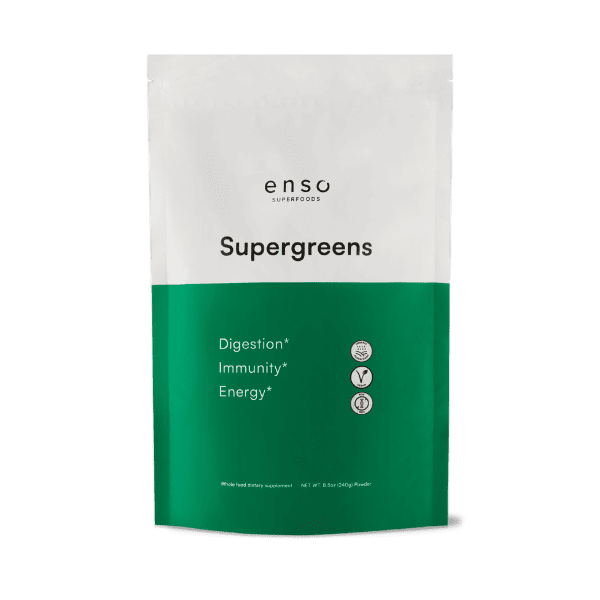 Offered by Ensō Superfoods, Ensō Supergreens is a one-stop solution to your health woes. A green supplement packed with superfoods like spirulina and chlorella, it's a comprehensive boost to busy lives that lack sufficient greens.
Ensō Supergreens stands out with over 20 organic superfood ingredients, plus probiotics and digestive enzymes, offering relief for those with gut issues and discomfort. And due to its nutrient-rich ingredients, this greens powder can also boost energy levels and immunity, which we cover in our comprehensive Ensō Supergreens review.
What is Athletic Greens (AG1)?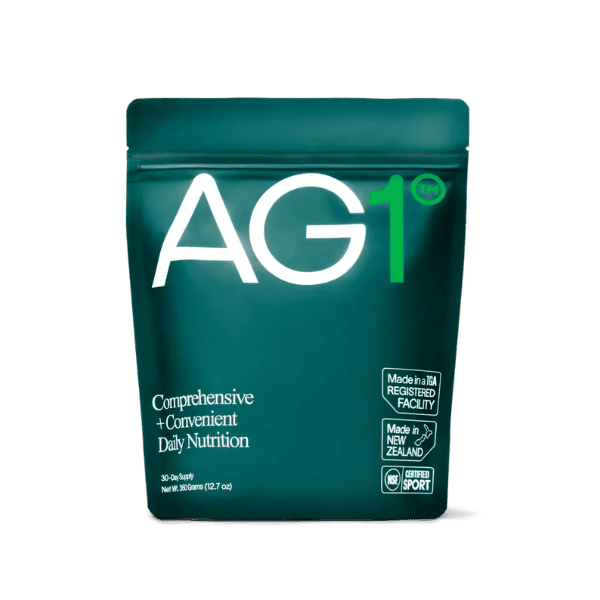 Athletic Greens AG1 relies on its longevity and marketing to charge a premium. Launched in 2010, AG1 capitalized early on but now faces several competing brands with comparable benefits (and at a better price). But with over 70 key ingredients, nutrients, and whole food ingredients, AG1 certainly has an ingredient list that few other greens powders can match.
AG1's formula includes premium ingredients like green tea extract and ashwagandha, loaded with nutrients that may otherwise be missing in your diet. Despite its trusted brand, NSF certification, probiotics, enzymes, and B vitamins, AG1's $2.63 per scoop price is quite expensive, costing more than comparable alternatives.
And like Ensō Supergreens, AG1 can promote better energy levels and immune system function when taken daily, but it'll set you back nearly twice as much.
Three Key Benefits of Ensō Supergreens vs Athletic Greens:
1. Digestive health and gut support.
Ensō Supergreens contains 7.5 billion CFU of probiotics per serving to maintain the proper balance of good and bad bacteria in the gut. A healthy gut is essential for overall health and nutrient absorption, considering it's the home to 70% of our immune system.
2. Immune system boost.
Ingredients like spirulina, wheat grass, elderberry, and reishi mushrooms provide antioxidants and nutrients to keep your immune system strong. With the daily stressors of modern life weakening our immunity, the immune-boosting power of Ensō Supergreens can help you avoid getting sick.
3. Sustained energy.
A blend of organic greens, fruits, and adaptogens like maca and ashwagandha provide natural energy to fuel you through your busy day without the crash from caffeine or sugar. The slow-burning energy from whole food ingredients results in productive and focused alertness all day long.
What We Don't Like About Athletic Greens
Athletic Greens contains stevia as a sweetener and its ingredients are not certified organic.
While Athletic Greens does contain many vitamins and minerals, some argue that a whole food based powder is superior for bioavailability and absorption.
Athletic Greens has an "earthy" taste that some find unpleasant and gritty.
At $2.64 per serving, Athletic Greens is significantly more expensive than Ensō Supergreens which starts at $1.33 per serving.
For those seeking the best "all-in-one" supplement solution to simplify their routine and genuinely support better health, we recommend Ensō Supergreens.
Why We Recommend Ensō Supergreens
While both greens powders have their pros and cons, we prefer drinking Ensō Supergreens as our daily supplement. It comes down to five clear reasons:
1. Ingredient integrity and quality.
Ensō Supergreens is made from 100% organic, whole food ingredients from sustainable farms. There are no GMOs, artificial additives, hormones, or antibiotics. Ensō controls quality from farm to jar with a commitment to ingredient purity through rigorous third-party testing.
2. Superior gut and digestive health.
The gut is central to overall health and immunity. Ensō Supergreens contains a comprehensive mix of probiotics to boost good bacteria and support gut barrier integrity and microbiome balance. Healthy digestion is fundamental to unlocking the nutrients from your diet and supplements.
3. Powerful immune support.
Antioxidant-rich superfoods like organic spirulina, wheat grass juice powder, and elderberry provide essential nutrients to strengthen your immune defenses. Your immune system protects you from disease and illness, so optimal immune function is vital to health and wellness.
4. Natural energy boost.
Rather than synthetic stimulants like caffeine which cause energy crashes, Ensō Supergreens derives energizing power from its formula of greens, fruits and adaptogenic herbs. This creates a steady flow of stamina and focus sustained throughout your day.
5. Affordability and value.
At just $1.33 per serving, Ensō Supergreens provides exceptional nutritional bang for your buck. For less than the cost of a cup of coffee, you get broad health and immunity benefits from organic, non-GMO ingredients. Athletic Greens is nearly double the cost per serving at $2.64.
For those seeking a truly effective solution to optimize daily nutrition, gut health, immunity, and natural energy, Ensō Supergreens is the clear winner. Made from the highest quality organic ingredients and backed by a 1 year money back guarantee, Ensō Supergreens dominates Athletic Greens for taste, quality, efficacy and affordability. Your health is worth the switch to Ensō Supergreens, the ultimate whole food green powder on the market today.
Frequently Asked Questions
What is better than AG1?
Ensō Supergreens is superior to AG1 in terms of ingredient quality, nutritional balance, taste, and cost-effectiveness, making it a better choice. Learn more with our comprehensive Athletic Greens alternatives guide.
Is AG1 different from Athletic Greens?
AG1 is simply the updated version of Athletic Greens, featuring the same core formula but with some improvements and packaging updates.
Is Ensō Supergreens worth it?
Ensō Supergreens is absolutely worth it. With organic ingredients, balanced nutrition, gut and immune support, it offers great value at an affordable price.
What are the side effects of AG1 greens?
Potential side effects of AG1 Greens may include upset stomach or allergies, due to certain ingredients. Always consult with a healthcare provider before starting any supplement.
Is it worth taking Athletic Greens?
While Athletic Greens offer comprehensive nutrition, its cost and non-organic ingredients are drawbacks. Alternatives like Ensō Supergreens provide better value with clear ingredient transparency.
What does Athletic Greens do to your body?
Athletic Greens provides a comprehensive blend of vitamins, minerals, probiotics, and enzymes which support overall health, immunity, and energy.
Is Athletic Greens good for weight loss?
While Athletic Greens can support weight loss as part of a balanced diet and exercise, it's not specifically designed for this purpose.
Why are Athletic Greens so expensive?
Athletic Greens' high cost can be attributed to its comprehensive formulation, brand reputation, and marketing expenses. However, equally effective and more affordable options exist like Ensō Supergreens.