This is the ultimate roundup of healthy vegan pumpkin recipes for those of us that are pumpkin obsessed once fall comes around. They're all gluten-free, dairy-free, and refined-sugar-free yet amazingly delicious!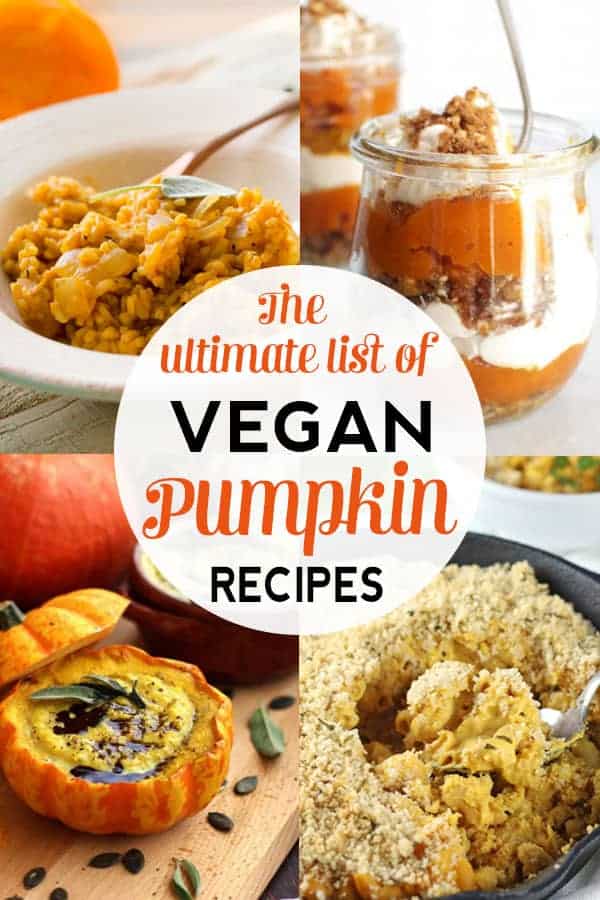 Pumpkin is an obsession of mine. Once fall comes around it's all pumpkin all the time...right up until the day after Thanksgiving. Who's with me?
Because so many people share my love of pumpkin, I wanted to make the ultimate list of healthy vegan pumpkin recipes. These recipes are all gluten-free, dairy-free and refined sugar-free.
One note on any of the oats used in these recipes, be sure to always double check that the oats you buy are certified gluten-free if you need them even if some of the recipes do not call for it.
I hope you enjoy all of these amazingly delicious vegan pumpkin Recipes! They're perfect throughout fall and I'm sure you can find a number of recipes that would be perfect on your Thanksgiving table.
Jump to:
Vegan Pumpkin Breakfast Recipes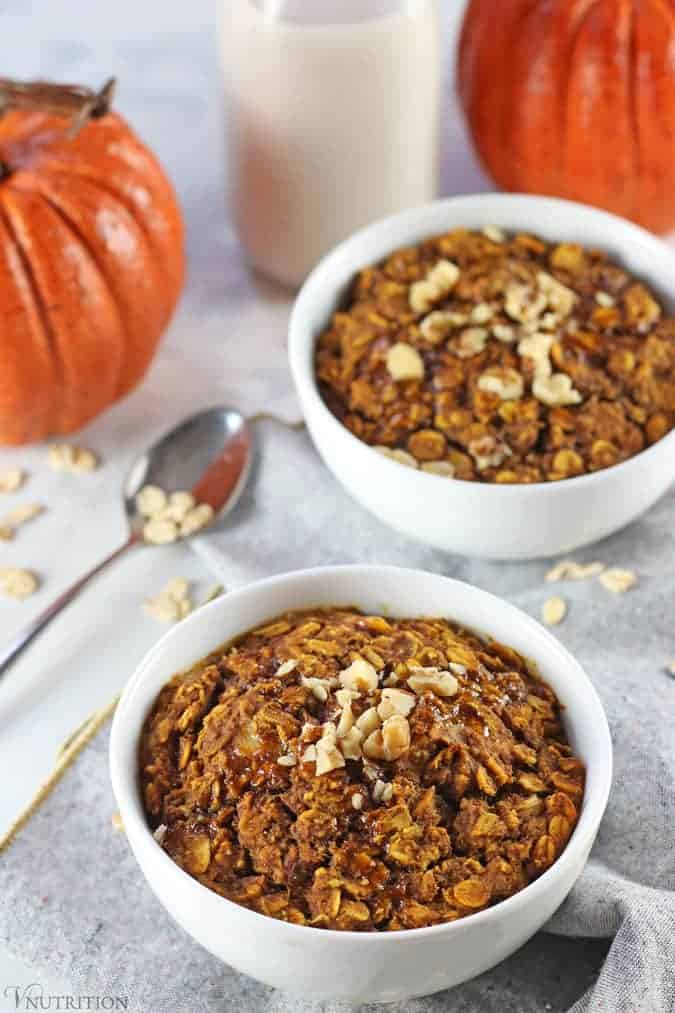 My Baked Pumpkin Oatmeal is a tasty and healthy breakfast option. Full of pumpkin goodness, it's perfect for fall or anytime you want a delicious warm breakfast.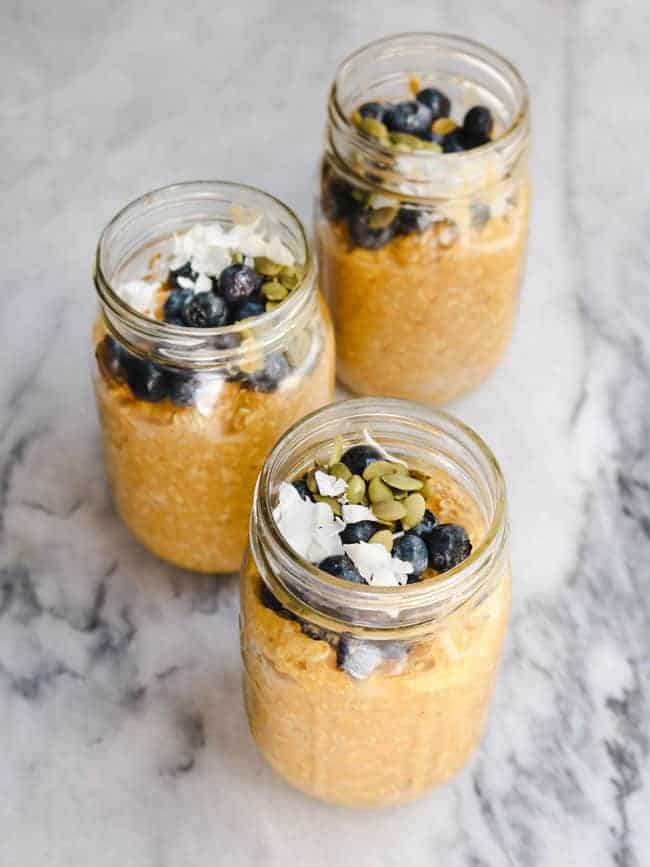 Pumpkin Spice Latte Overnight Oats from From My Bowl are healthier take on that popular coffee drink. They're easy to make and are sure to leave you full and satisfied.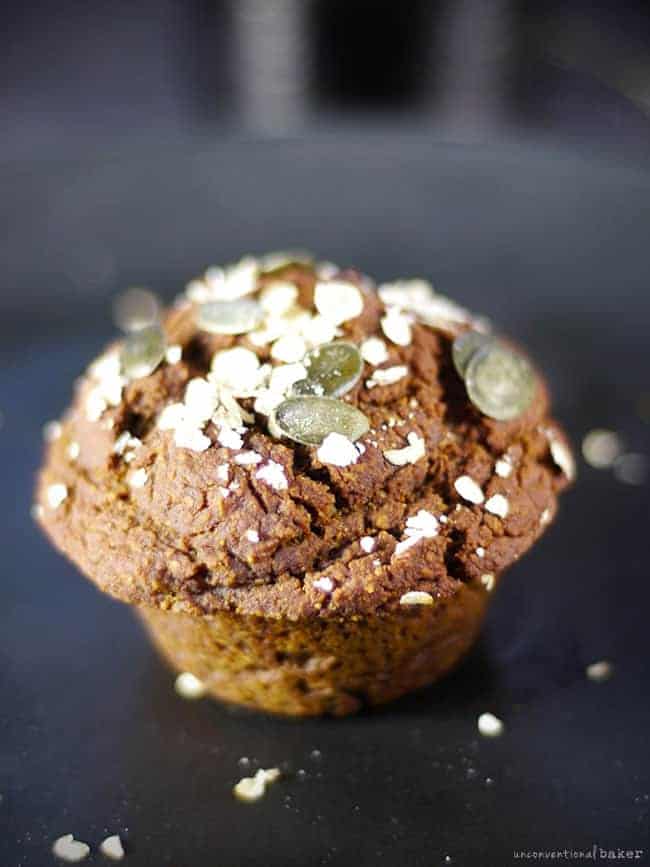 Pumpkin Molasses Breakfast Muffins from Unconventional Baker are simple, fluffy, tasty. They're egg and dairy-free and so simple to whip up.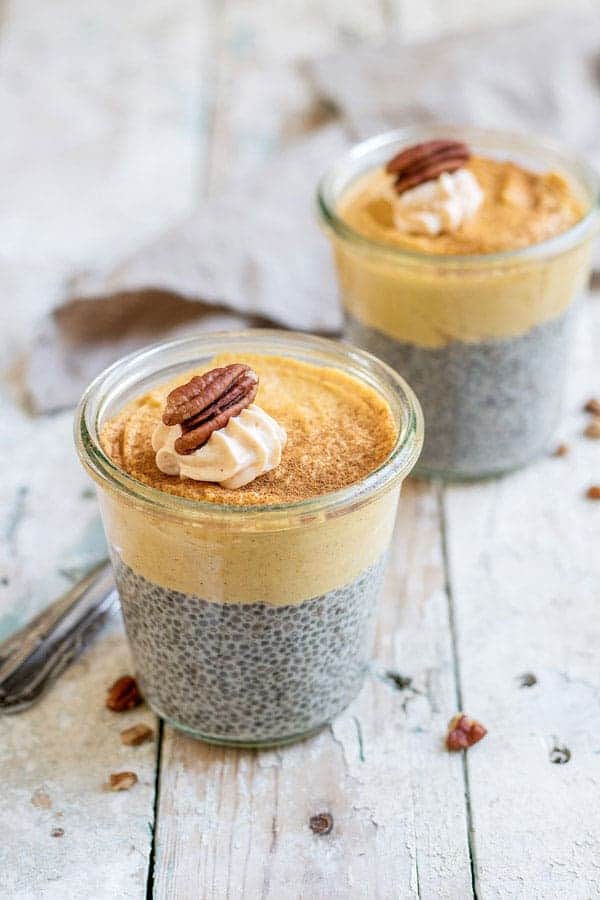 This pumpkin pie chia pudding from Choosing Chia makes a delicious breakfast, snack, or dessert. You'll love this healthy alternative to pumpkin pie!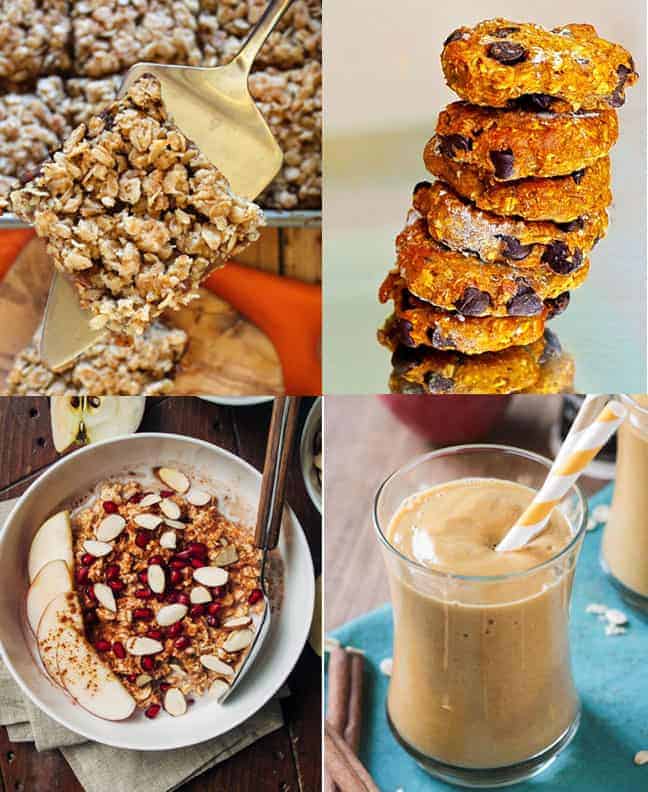 How could I pick just a few pumpkin recipes for this ultimate list of healthy vegan pumpkin recipes? Well the truth is I couldn't so here are even more tasty pumpkin recipes!
Starting from the top left (going clockwise): Gluten-Free Pumpkin Date Bars from My Darling Vegan, Pumpkin Apple Overnight Oats from Well and Full,  One Bowl Pumpkin Breakfast Cookies from Sunnyside Hanne,  Probiotic Pumpkin Pear Smoothie from Veggie Inspired.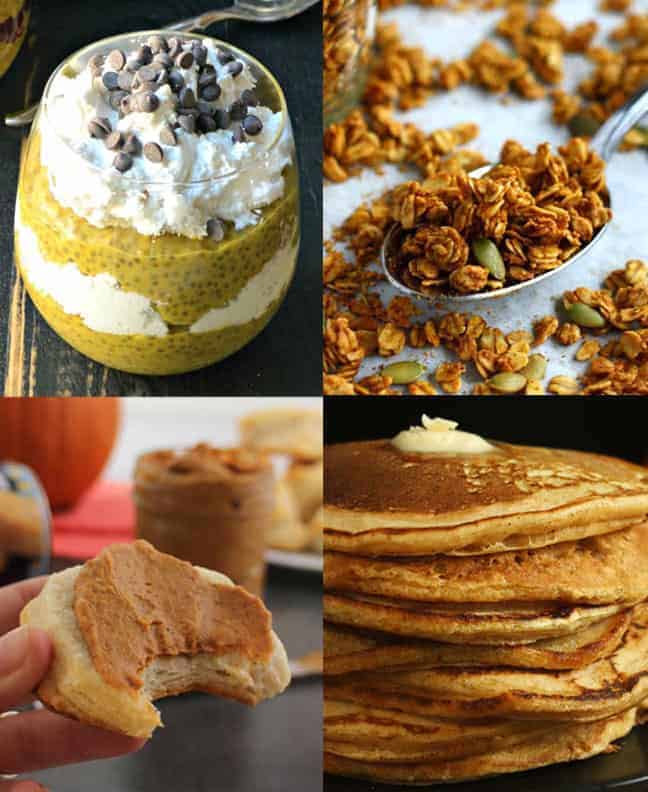 In this picture starting from the top left (going clockwise): Pumpkin Pie Chia Pudding from Veggies Save the Day, Pumpkin Spice Granola from The Pretty Bee, Pumpkin Spice Almond Butter from Glue and Glitter, Pumpkin Spiced Vegan Pancakes from Bohemian Vegan Kitchen.
Vegan Pumpkin Appetizer Recipes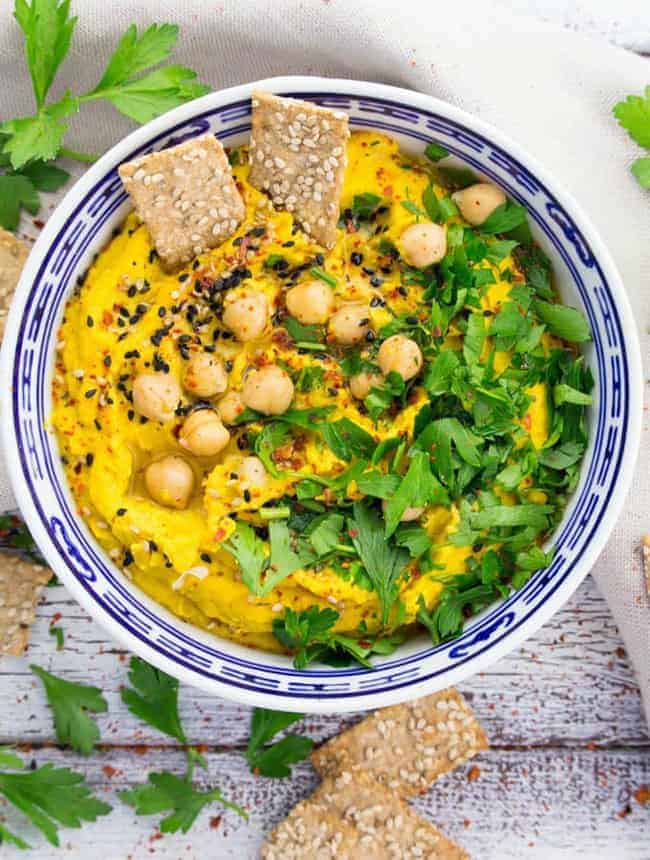 This Pumpkin Hummus from Vegan Heaven has fresh parsley and sesame seeds and is the perfect fall snack. Delicious, packed with protein, and really easy to make!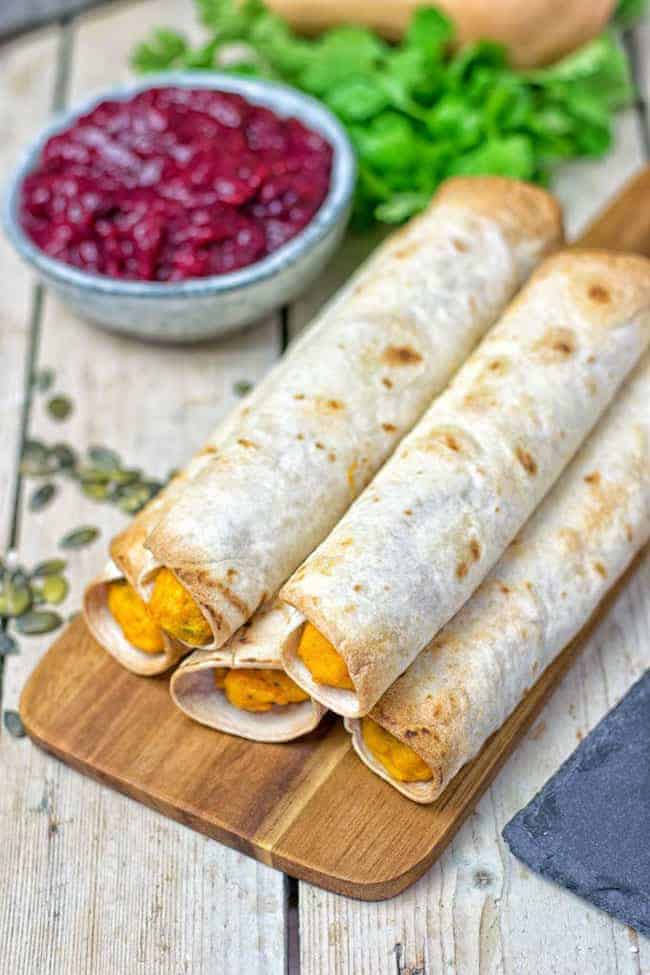 Pumpkin Vegan Cream Cheese Taquitos from Contentedness Cooking would be the perfect all appetizer for parties! Yum!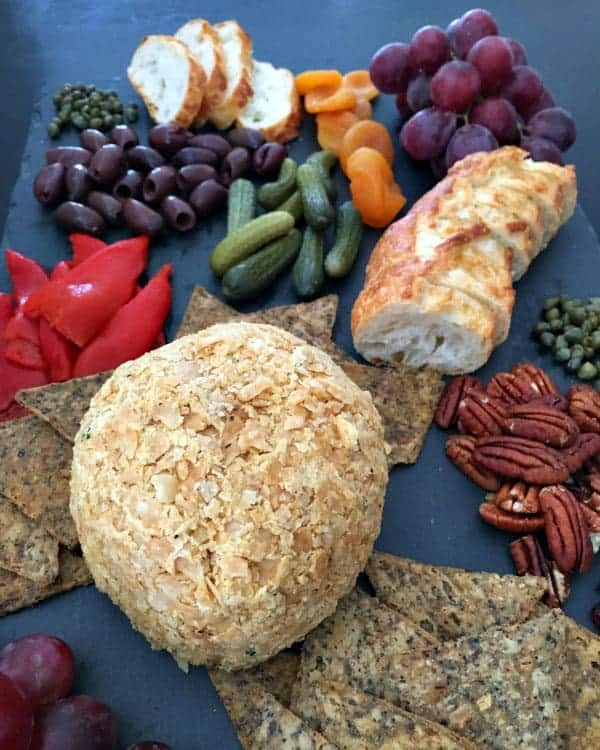 Spiced Pumpkin Basil Cheese Ball from Spabettie is an easy recipe for an impressive appetizer that brings layers of rich flavor. It would be a hit at any party!
Vegan Pumpkin Entree Recipes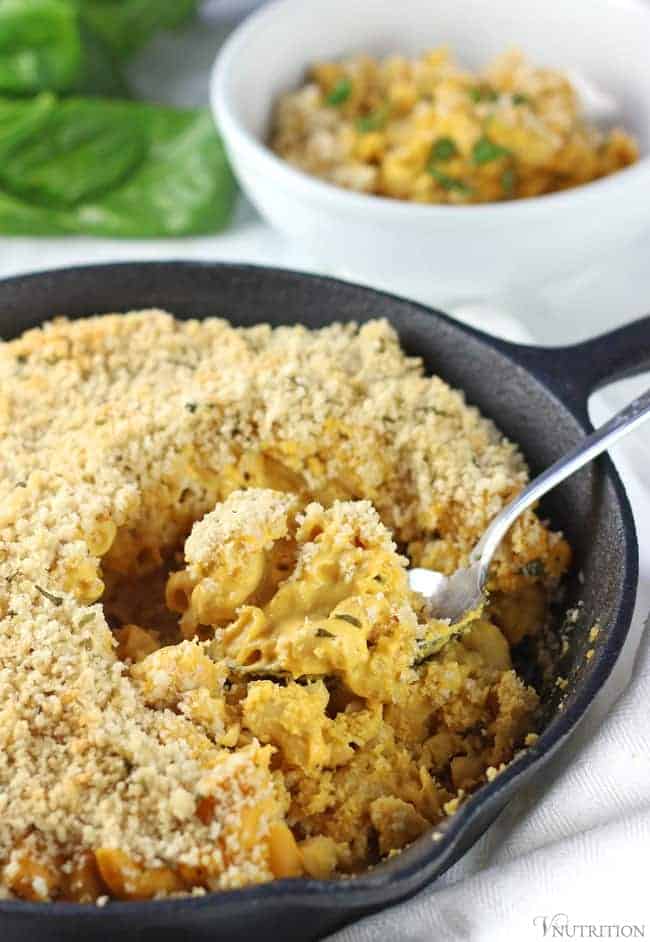 My Vegan Pumpkin Mac & Cheese is so creamy and delicious. It's the perfect dinnertime dairy-free comfort food and a great dish for the holidays. You know you want a bowl right now!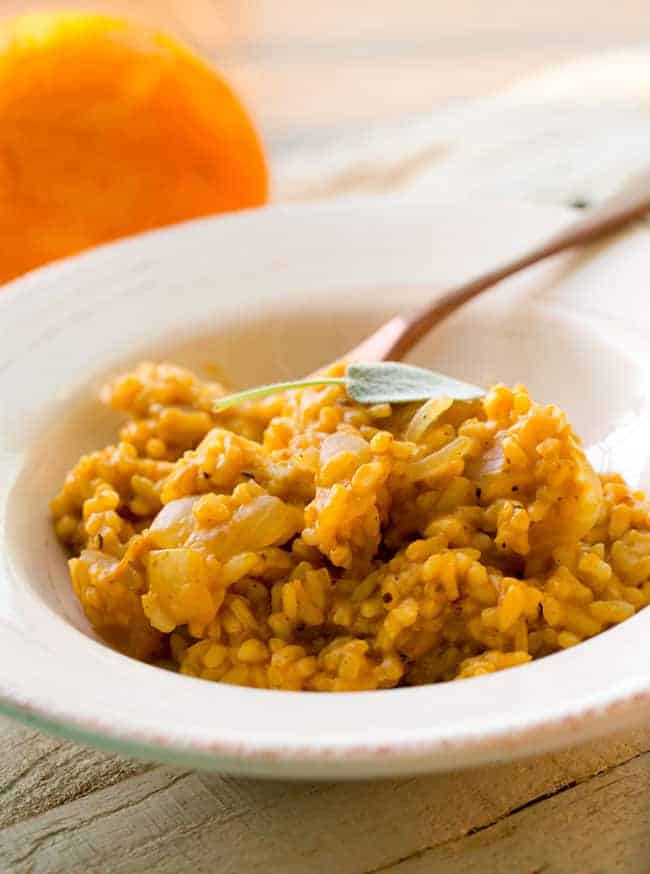 This Pumpkin Spice Risotto from Healthy Happy Life is a simple delicious comfort food. Warming pumpkin, spice and sage risotto warms your bowl and makes for a delicious vegan entree or side dish.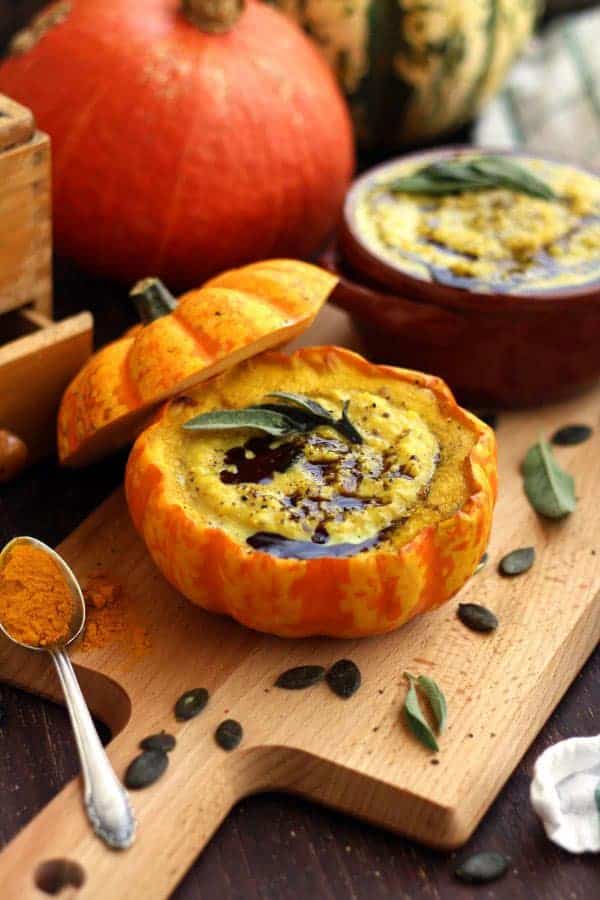 This Easy pumpkin soup with millet from Happy Kitchen Rocks is served in pumpkin bowl. It's nourishing and comforting while being gluten-free and vegan! Additional bonus, this recipe doesn't require a blender!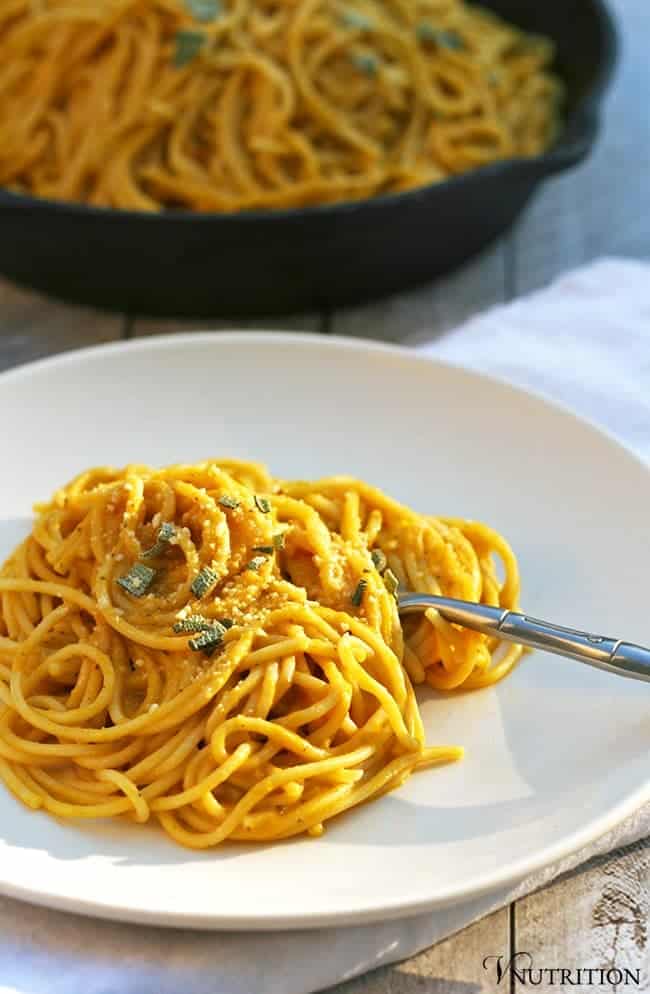 My creamy Vegan Pumpkin Pasta is perfect for fall. The sauce highlights the deliciousness of pumpkin & is rich and creamy (without the dairy). This hearty pasta will be a hit at dinner time!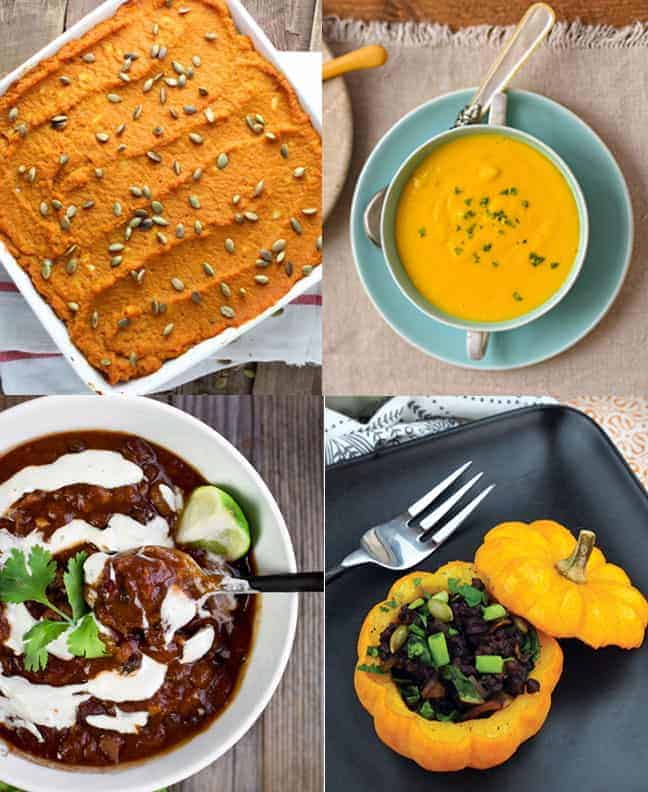 More tasty pumpkin entree recipes starting from the top left (going clockwise): Pumpkin and Lentil Shepard's Pie from It doesn't Taste Like Chicken, Thai pumpkin and coconut soup from Circus Gardner, Vegan Pumpkin Chipotle Chili from The Vegan 8, and Stuffed Mini Pumpkins from Dianne's Vegan Kitchen.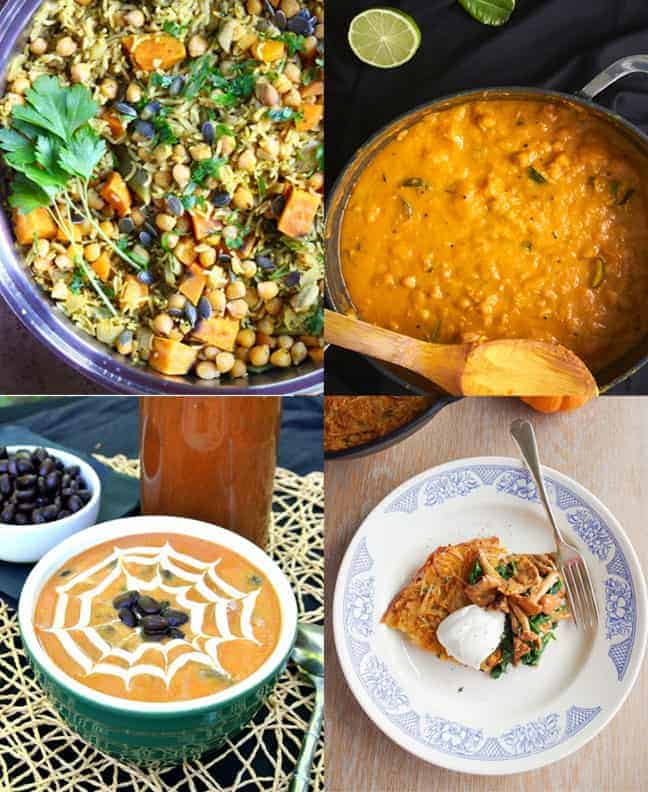 From the top left (going clockwise): Chickpea Pumpkin Biryani from Rhian's Recipes, Chickpea Butternut Pumpkin Curry from Delightful Vegans, Spicy Vegan Pumpkin Soup from Vegan in the Freezer, Pumpkin Rösti w/ Chanterelle Mushrooms & Spinach from Euphoric Vegan.
Vegan Pumpkin Dessert Recipes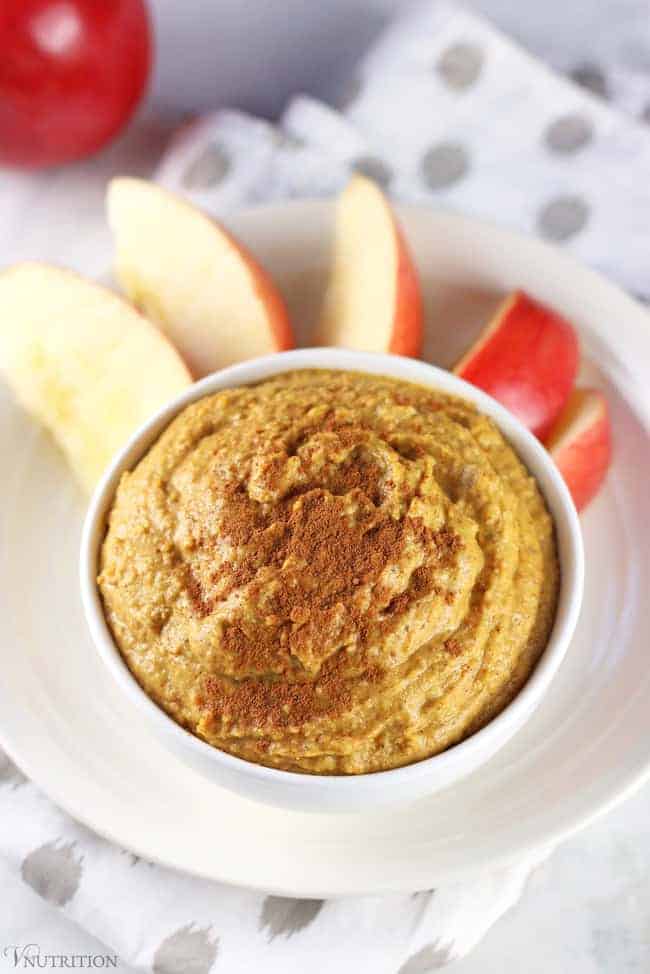 My Sweet Pumpkin Hummus is the perfect fall treat. It's easy to make and allergy friendly because it's dairy, gluten, and refined sugar free. This dip is so tasty you won't believe it's actually healthy!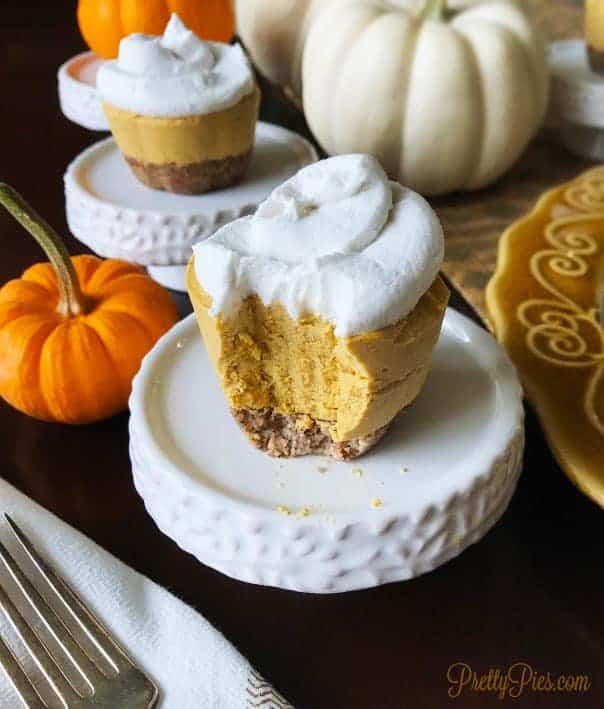 These Mini Low-Carb PumpkinCheesecakes from Pretty Pies are rich, and creamy, but guilt-free! They contain no sugar, gluten, dairy, or eggs which makes a wholesome holiday indulgence.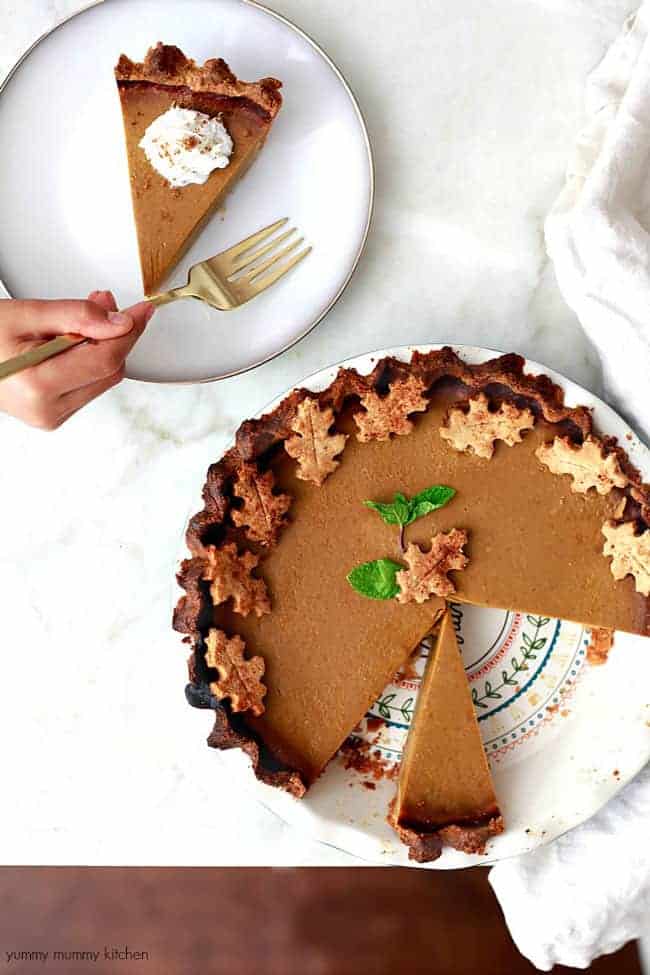 This Classic pumpkin pie from Yummy Mummy is made with a dairy free, egg free, coconut milk filling and almond flour crust! It's easy enough for a weeknight dessert and tasty enough for Thanksgiving.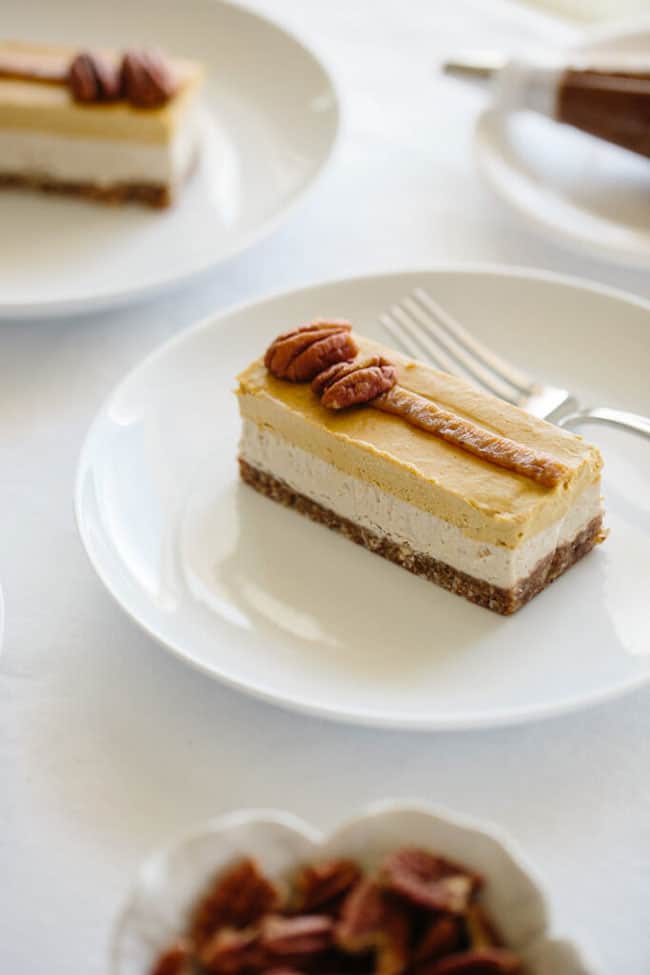 For a tasty alternative to pumpkin pie, try this raw white chocolate and pumpkin cheesecake (which is also gluten-free, vegan and paleo) from Downshiftology.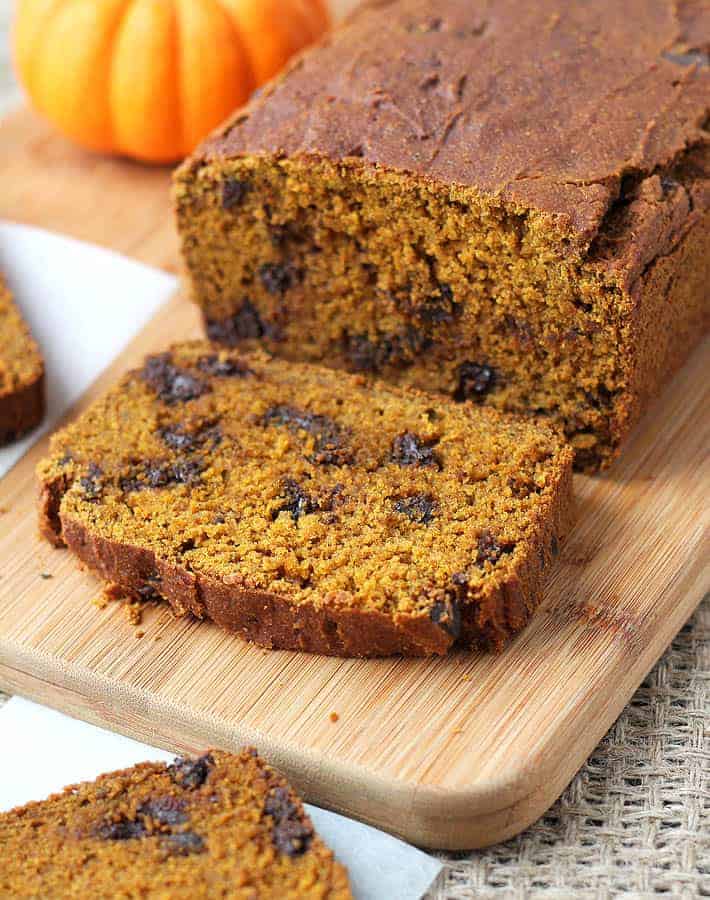 This Vegan Gluten Free Pumpkin Chocolate Chip Bread from Delightful Adventures is quick and easy and so tasty that you'll want to make over and over again!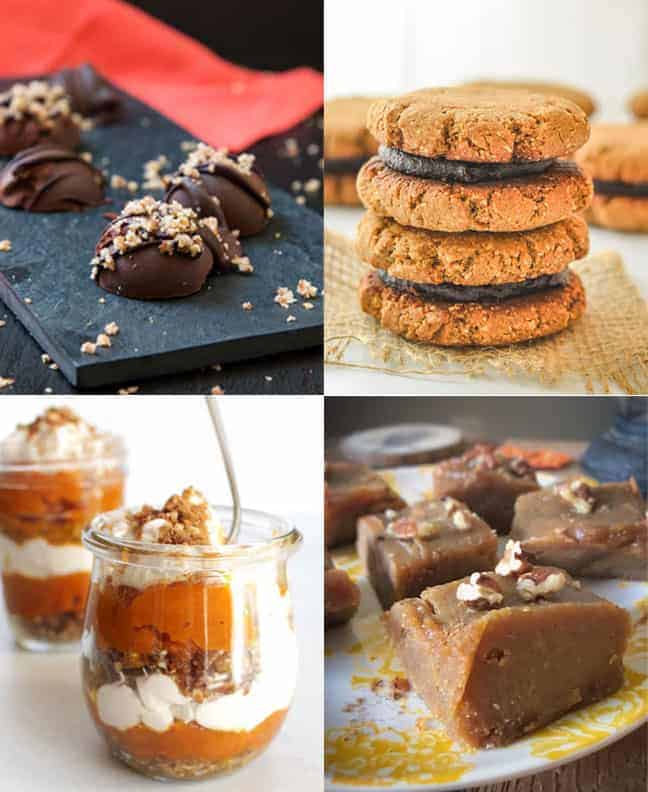 More tasty pumpkin entree recipes starting from the top left (going clockwise): No Bake Pumpkin Pie Jars from Karissa's Vegan Kitchen, Pumpkin Spice Dark Chocolate Truffles from Vegetarian Gastronomy, Pumpkin Ginger Date Cookies from A Virtual Vegan, Pumpkin Fudge from Kate and Zest.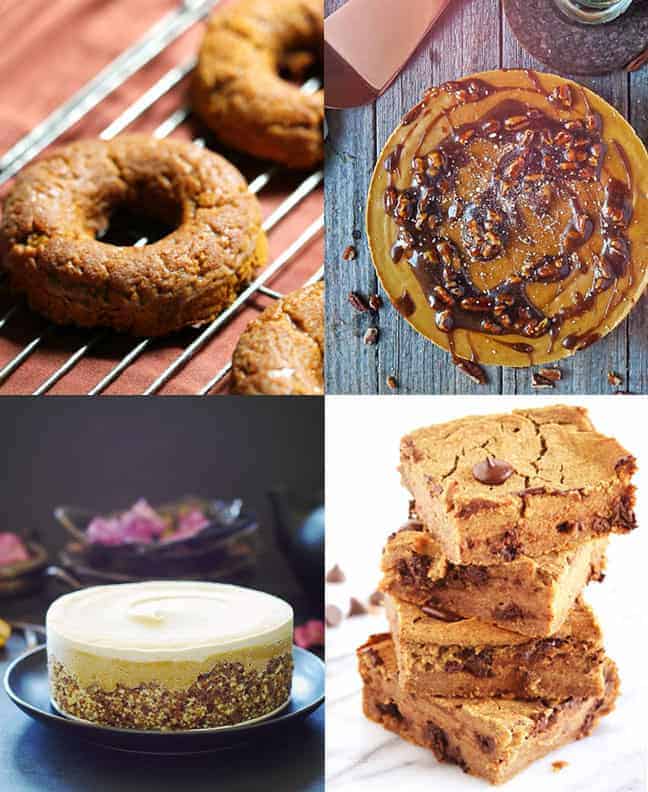 Starting from the top left (going clockwise): Cinnamon Glazed Pumpkin Doughnuts from Strength and Sunshine, Pumpkin Spice Latte Cheesecake from Plant-Tribe, Pumpkin Cheesecake from Unconventional Baker, Vegan Chocolate Chip Pumpkin Bars from Beaming Banana.
I hope you enjoyed this roundup of tasty vegan pumpkin recipes! What are some of your favorite pumpkin recipes?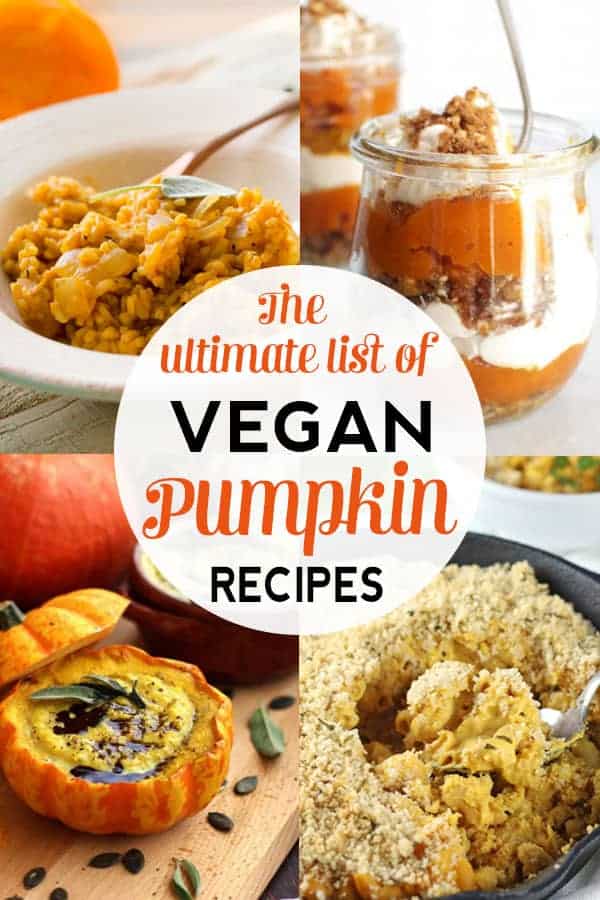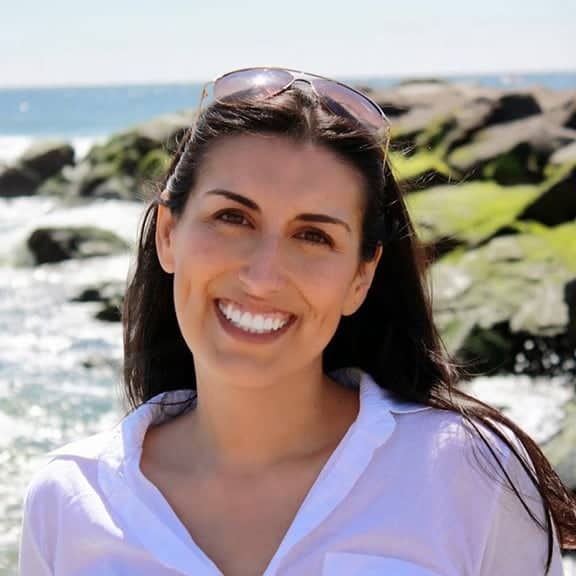 Mary Ellen Valverde MS, CNS, LDN is a Licensed Nutritionist and Certified Nutrition Specialist who empowers vegans to feel clear and confident about what is uniquely nourishing to them. Mary Ellen's recipes and nutrition information have been featured on Yahoo News, Parade, VegNews, LIVESTRONG, Dr. Axe, Greatist, LIVEKINDLY, Brit+Co, Well+Good, and more.