This Easy Vegan Jackfruit Chili is the perfect cozy meal. Loaded with plant-based goodness and zippy flavors, this is the weeknight wonder recipe you've been looking for. With just 10 minutes of prep, you can set and forget your crockpot (or Instant Pot) until dinnertime!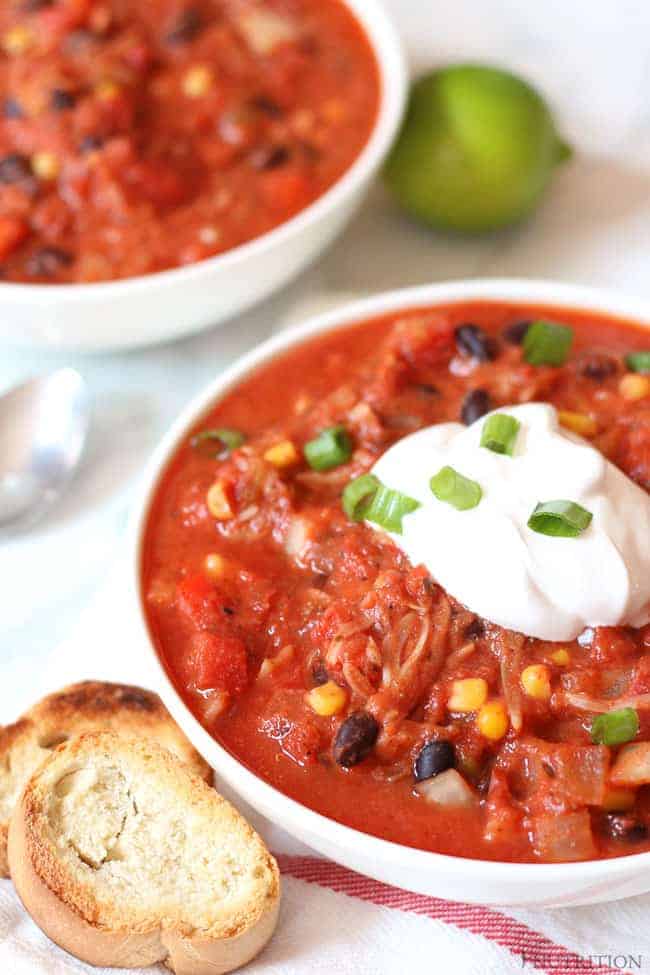 Jump to:
Why You Should Make This Recipe
When the weather turns chilly, my eternally hungry mind immediately goes to vegan chili. (Nerd alert: I LOVE HOMONYMS!)
Why, you ask? Well, here are some great reasons I love this recipe:
Wholesome and healthy. It's made entirely with whole-food ingredients like jackfuit, beans, and veggies.
Easy. This recipe is so simple, just throw everyhting in a cockpot (or Instant Pot) and you're done!
Takes only 10 Minutes (to prep). Not including the crock opt time (since you don't actually do anything durihg cooking) this recipe really only takes 10 minutes to make
Allergen-Friendly. This recipe is vegan, gluten-free, nut-free, and soy-free.
Versatile. It's an excellent way to clean out your crisper drawers becasue you can add just about any kind of veggies that might be in there. Also, this chili can be served in a bowl, over rice, tucked into a jacket potato, piled onto fries, turned into a casserole, or poured onto a plate of nachos.
Meal Prep- and Freezer-Friendly. It's great option for meal prep and it freeze well!
Comforting and Hearty. This chili totally checks all my cold-weather boxes - it is warm, hearty, and begging to be paired with vegan cheese or sour cream and a side of vegan cornbread.
If comfort food is also your jam, check out my Cashew Mac & Cheese, Pumpkin Mac and Cheese and Vegetable Bean Casserole.
Ingredients
This simple recipe for vegan jackfruit chili requires just a few ingredients, many of which are probably already in your pantry. Here is everything you'll need: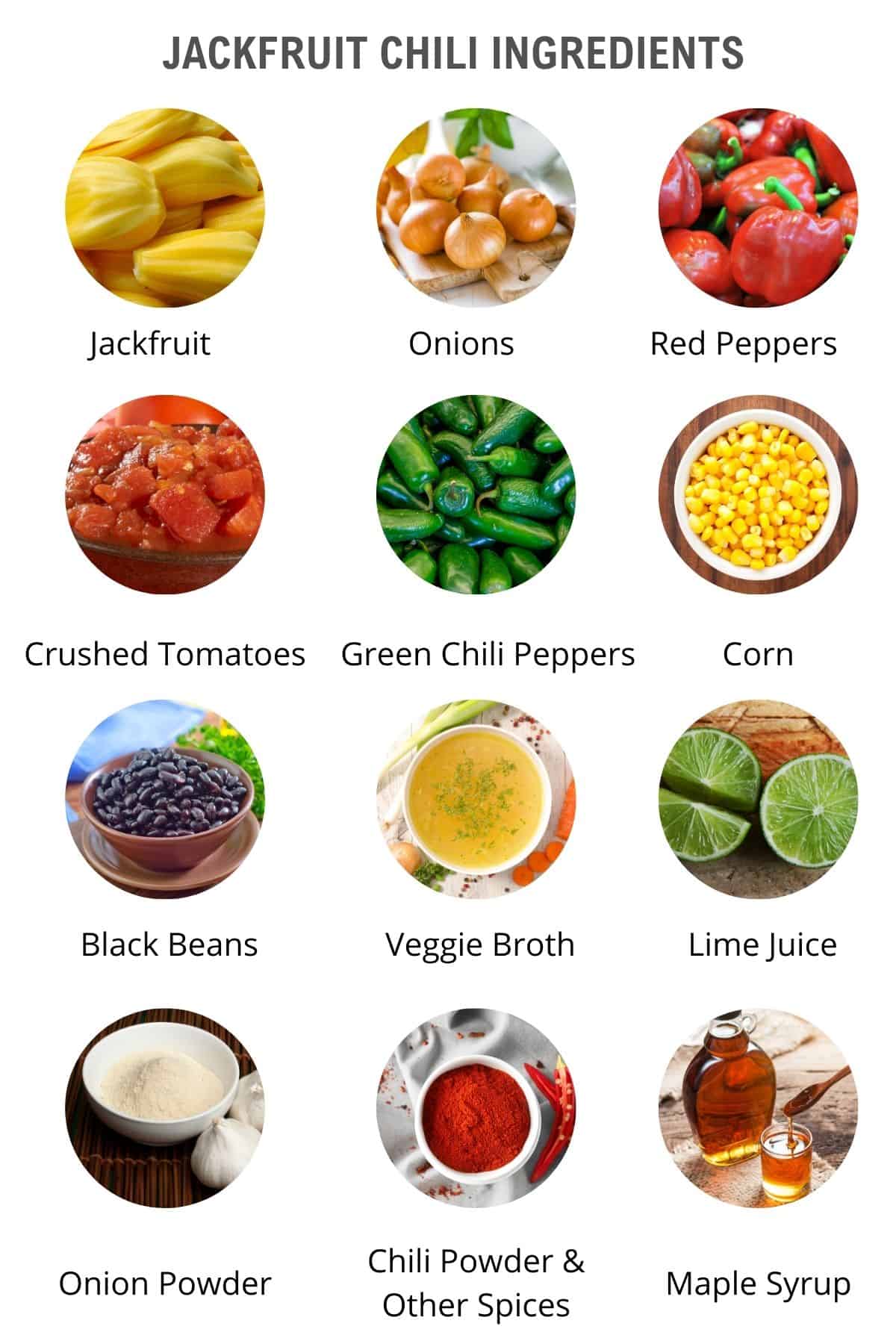 Canned Jackfruit - While you are welcome to buy a whole green jackfruit to break down yourself, I find that reaching for a tin of canned green jackfruit makes my life so much easier. Just be sure to reach for fruit packed in water or brine - not syrup.
Onion - Red, white, or yellow will all work here. Use whatever you have on hand.
Red Pepper - Feel free to swap in orange or yellow bell pepper if you prefer.
Canned Crushed Tomatoes - Thicker and chunkier than tomato sauce, but thinner than tomato paste, crushed tomatoes add a lot of flavor and heft to this jackfruit chili. If you can't find them, try swapping in a jar of marinara sauce, or blitz whole peeled tomatoes or diced tomatoes a bit with an immersion blender instead.
Tomatoes With Chili Peppers - Often sold under the brand name Ro-Tel, this is a can I love to keep on hand. Feel free to use plain diced tomatoes and some extra diced green chili peppers if you prefer.
Diced Green Chili Peppers - Canned diced green chili peppers are one of my favorite immediate flavor-boosters. They're simultaneously sweet, savory and a little bit hot, and they do wonders for this vegan chili. You can also feel free to roast, peel and chop your own if you prefer.
Corn - Feel free to use fresh corn that you cut off the cob, canned corn (drained), or frozen corn. When possible, try to reach for organic.
Black Beans - Grab canned for ease of use, being sure to drain and rinse them before using. You can also swap in any other canned beans you like - kidney beans, black eyed peas, or pintos will all do just fine.
Vegetable Broth - Canned, boxed, homemade, or Better Than Bouillon will all work great!
Lime - Fresh is best. To get the most juice from your fruit, give it a firm roll on your countertop for about 10-15 seconds before cutting open.
Garlic Powder - You can easily use fresh if you have it on hand. 1 clove = ¼ teaspoon of powder.
Oregano - Dried oregano is far more potent than fresh; if you're using fresh, increase the amount by 3x.
Chili Powder - Chili powder is usually a mix of different kinds of chili peppers, so buy a brand that you like. Feel free to increase or decrease the amount used depending on how spicy you like your food.
Paprika - Paprika comes in sweet, hot, and smoked varieties. Use whichever you prefer!
Cumin - I love the earthy aroma of cumin. If you don't have any on hand, try swapping in some taco seasoning or garam masala - they both usually have a large amount of cumin in the mix. You can also feel free to toast whole cumin seeds and pulverize them with a mortar & pestle or spice grinder.
Maple Syrup - This is my liquid sweetener of choice, but agave or plain sugar will work beautifully as well. We're just using a small amount to help balance out the acidity of the tomatoes, so you can also omit it if you prefer.
Salt & Pepper - Seasoning is everything. Use fresh cracked pepper and kosher salt for best results.
How To Make Jackfruit Chili
This simple vegan chili recipe is literally as simple as it gets. Here's how it's done:
Step 1: Add all ingredients to a crockpot and stir.
Step 2: Cook on high for 2.5-3 hours or on low for 5-6 hours.
Step 3: Adjust seasonings as needed, then dish out and enjoy! So easy, right?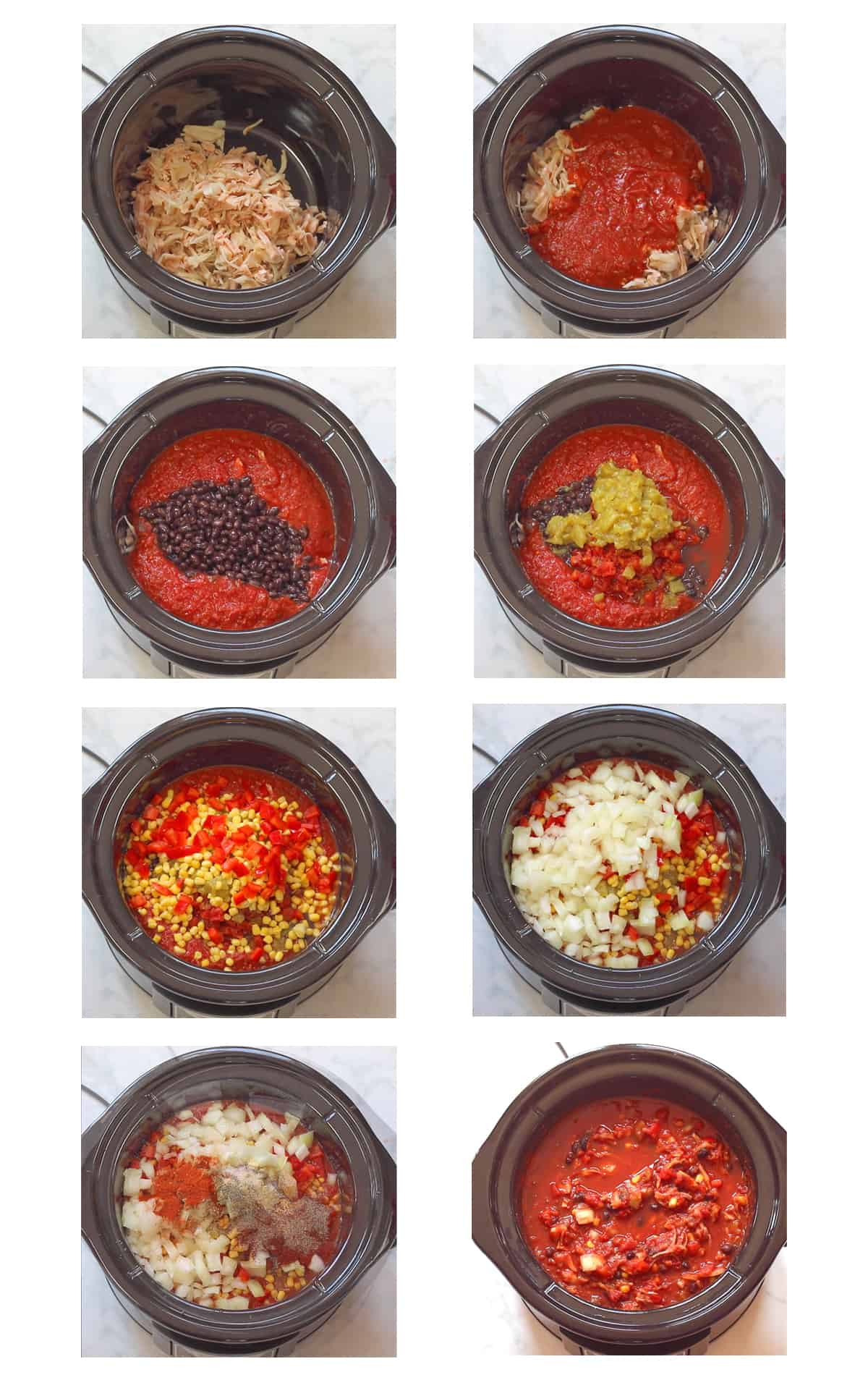 Optional Variations & Serving Suggestions
This jackfruit chili is pretty perfect on its own, but I'm all for adding whatever toppings bring you joy.
Try these toppings:
Vegan Sour Cream
Vegan Shredded Cheese
Sliced Green Onions
Fresh Cilantro
Cubed Avocado
Hot Sauce
Corn Chips
And while you can easily eat it straight from a bowl, there's more than one way to enjoy this vegan jackfruit chili!
Try it over:
Rice - white or brown, though brown boasts more fiber and nutrients.
Pasta - This is the normal way of eating chili in Cincinnati!
Quinoa - Turn it into a grain bowl!
Jacket Potatoes or Sweet Potatoes - Stretch your meal a little further by using this vegan chili as a stuffing for baked potatoes.
Or any kind of potatoes, really - Oven baked french fries, tater tots, or potato wedges all pair beautifully with vegan chili.
Chips - Chili nachos? Sign. Me. Up!
Finally, feel free to customize this vegan chili to your liking. Swap out any veggies you like, or use whatever is looking a little limp in your veggie drawer.
Here are some excellent vegetables to add/swap in:
Chopped mushrooms - they lend umami and a meaty quality.
Any kind of pepper - bell peppers, poblanos, jalapeños if you like it hot... the options are pretty endless.
Cubed sweet potatoes (or regular potatoes)
Carrots
Peeled and cubed winter squash
If you come up with a winning combination the world should know about, be sure to let me know in the comments below or tag me in your Instagram shots so I can cheer on your creativity!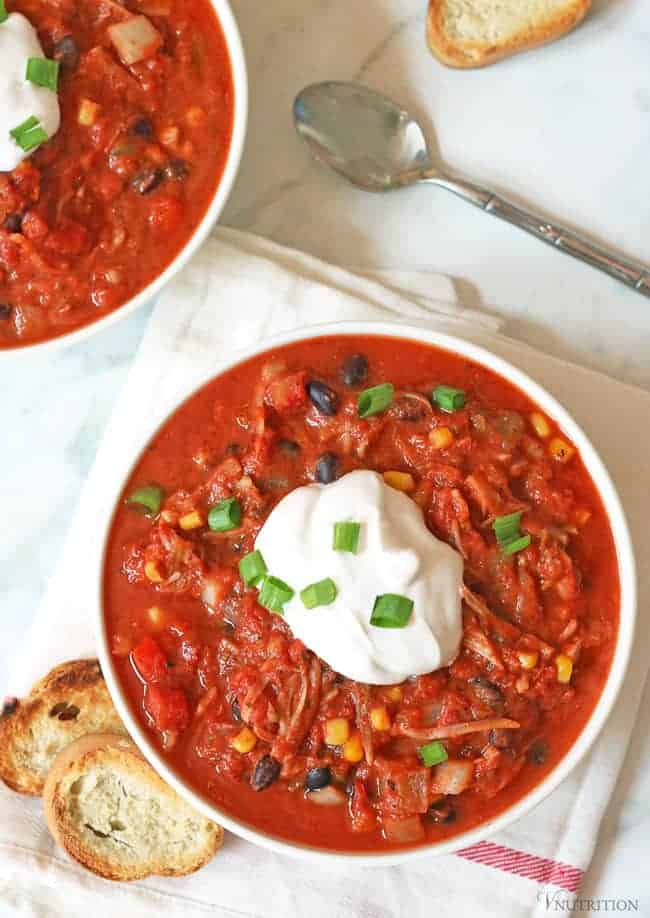 Equipment
One thing I love about this vegan jackfruit chili is that I can set it up in my crockpot or instant pot and walk away - how easy is that?!?
Crockpot - A regular ol' crockpot (a.k.a. a slow cooker) will do the trick.
Instant Pot - While this is technically a slow-cooker vegan chili recipe, you can totally make it in the Instant Pot instead. Just switch it over to the slow cook function and cover it with a tempered glass lid (or any pot lid that will fit it)!
Expert Tips
Buy canned jackfruit for ease. Popping open a can and draining it is a little easier (ok, a LOT easier) than working with a whole jackfruit.
Feel free to cook on the stovetop instead. Don't have an Instant Pot or Crockpot? Don't fret! Just use a heavy-bottomed Dutch oven or stockpot instead. Add all ingredients, mix, set over low heat, cover, and go about your day. Note that this will go a little faster than if you were to slow cook it, so check and stir after about every hour.
Let the flavors meld. There's something about pasta sauces, soups, and this jackfruit chili that loves a little time to rest. While you can eat it straight from the pot, your chili will taste a little better on day 2.
Set up a bar. Instead of garnishing everyone's bowl of vegan chili yourself, set out all the fixin's and let your kids/husband/guests all help themselves. Bonus points if you keep the crockpot on the counter set to warm, so they can even do the ladling for themselves. Who knew chili night was a form of self care?
FAQs
Can I make this ahead of time?
Absolutely! This vegan jackfruit chili will last for up to a week in the fridge if stored in a clean, airtight container.
Can I freeze jackfruit chili?
Sure! It should freeze well for up to 3 months. Note that some of the beans may break during defrosting, which can add a bit of extra starch to the broth. Add a little water to loosen it up if needed during the reheating process.
What is the best way to shred jackfruit?
Feel free to use your fingers to peel it into strips, or use my preferred method of shredding it using two forks. You can also try using a hand mixer with the beater attachments!
Ooops, I started making this too late. Is there any way to speed things up?
That happens to the best of us! If you're working with a slow cooker, jack the heat up to high and cut the cooking time in half. If you're working with an Instant Pot, you can use the Pressure Cook function - cook on high for 10 minutes, then do a quick release. Kaboom! Dinner is served in almost no time at all.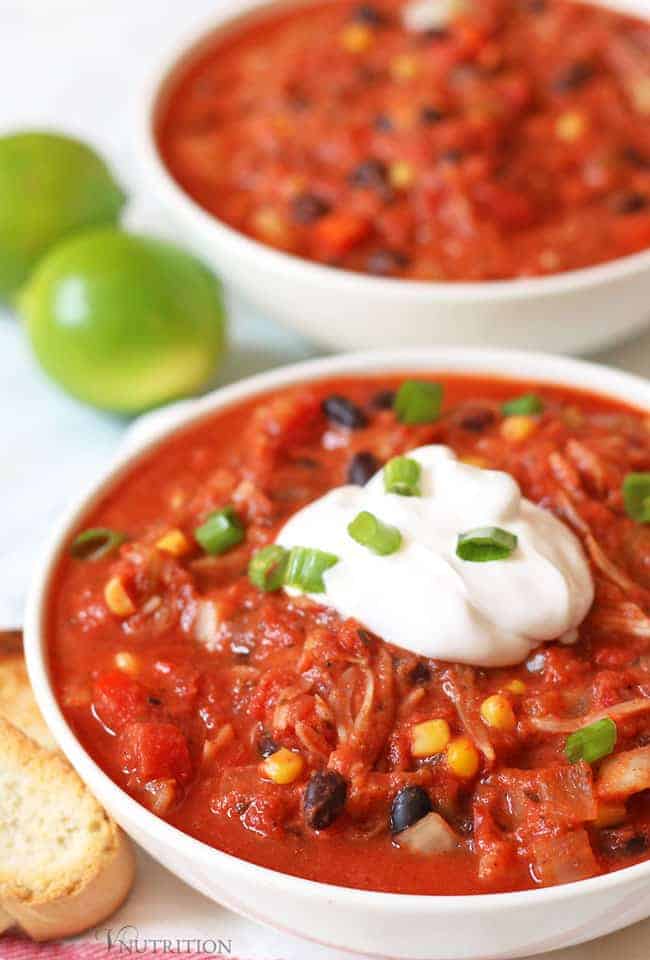 Other cozy soup recipes
[mv_video doNotAutoplayNorOptimizePlacement="false" doNotOptimizePlacement="false" jsonLd="true" key="e4ccmxnmbdsrqjxlqvli" ratio="16:9" thumbnail="https://mediavine-res.cloudinary.com/v1508349569/kvgjkz7herzgvvhoayqe.jpg" title=" Jackfruit Chili" volume="70"]
If you make this recipe and LOVE IT, please give it 5 stars ⭐⭐⭐⭐⭐!
📖 Recipe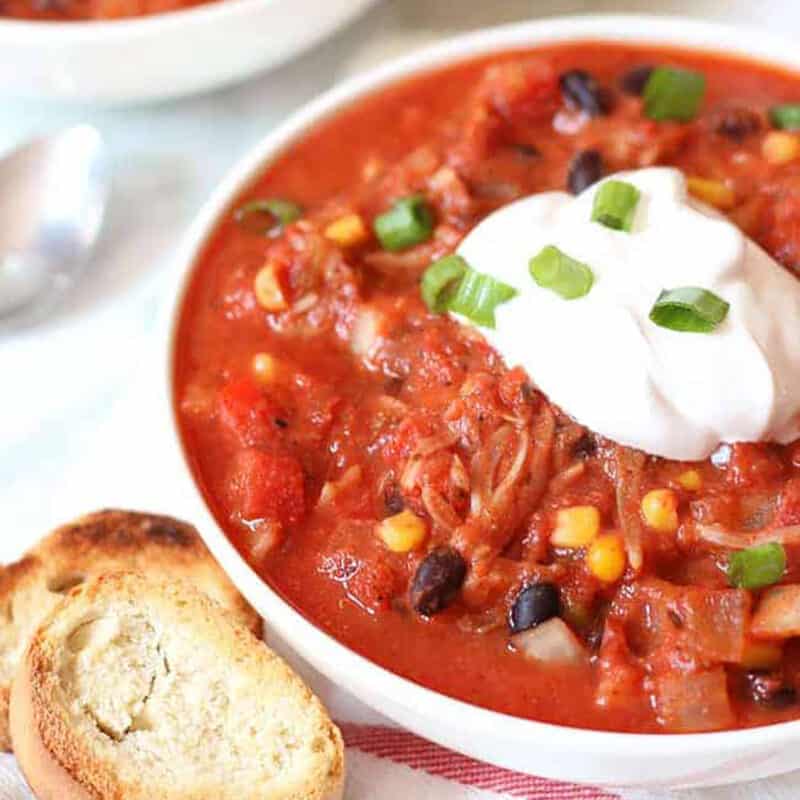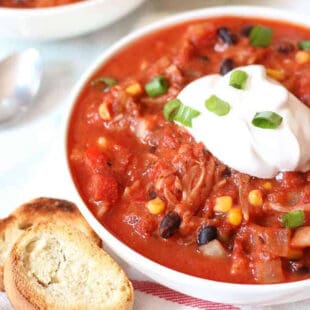 Vegan Jackfruit Chili
This Easy Slow-Cooker Vegan Jackfruit Chili is the perfect cozy meal for football season. Loaded with plant-based goodness and zippy flavors, this is the winter weeknight wonder recipe you've been looking for. With just 10 minutes of prep, you can set and forget your crockpot (or Instant Pot) until dinnertime!
Email Recipe & Ingredients
Ingredients  
20

oz

jackfruit

(in water or brine - not syrup)

1

onion

chopped

1

red pepper

chopped (about ½ a cup)

2

20oz cans

crushed tomatoes

1

10 oz can

tomatoes with chili peppers

4

oz

diced green chili peppers

(I used canned)

1

cup

corn

(preferably organic)

1

15.5 oz can

black beans

drained and rinsed

1

cup

vegetable broth

juice of one lime

1.5

TB

garlic powder

1

teaspoon

oregano

0.5-2

TB

chili powder

(depending on how spicy you like things)

1

teaspoon

paprika

2

teaspoon

cumin

1

TB

maple syrup

1

teaspoon

salt

1

teaspoon

pepper
Toppings (optional)
vegan sour cream

vegan cheese shreds

scallions
Instructions 
Rinse and drain jackfruit. Pull apart a bit. (see notes)

Add all ingredients to crockpot.

Cook on high for 2.5-3 hours or on low for 5-6 hours. 
Notes
Note on jackfruit: If you're not into the seeds you can discard them. Another option is to add the jackfruit to a food processor and process a few times until it resembles pulled pork. 
Nutrition
Calories:
188
kcal
Carbohydrates:
42
g
Protein:
10
g
Fat:
1.75
g
Vitamin A:
2000
IU
Vitamin C:
39.6
mg
Calcium:
120
mg
Iron:
4.6
mg
PLEASE NOTE: Nutritional information data is computer generated and only an estimate so it should be used only as a guide.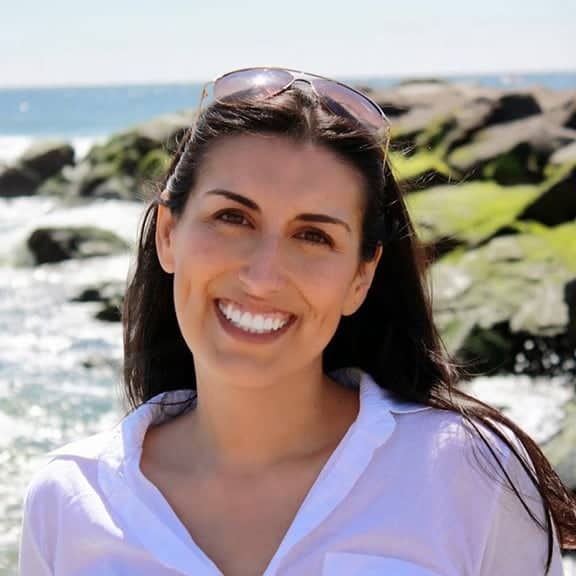 Mary Ellen Valverde MS, CNS, LDN is a Licensed Nutritionist and Certified Nutrition Specialist who empowers vegans to feel clear and confident about what is uniquely nourishing to them. Mary Ellen's recipes and nutrition information have been featured on Yahoo News, Parade, VegNews, LIVESTRONG, Dr. Axe, Greatist, LIVEKINDLY, Brit+Co, Well+Good, and more.