This Jackfruit Chili is slow cooked in a crockpot to bring out all of its delicious flavors. Jackfruit takes the place of meat in this plant-based vegan chili. It's the perfect cozy meal for cooler weather.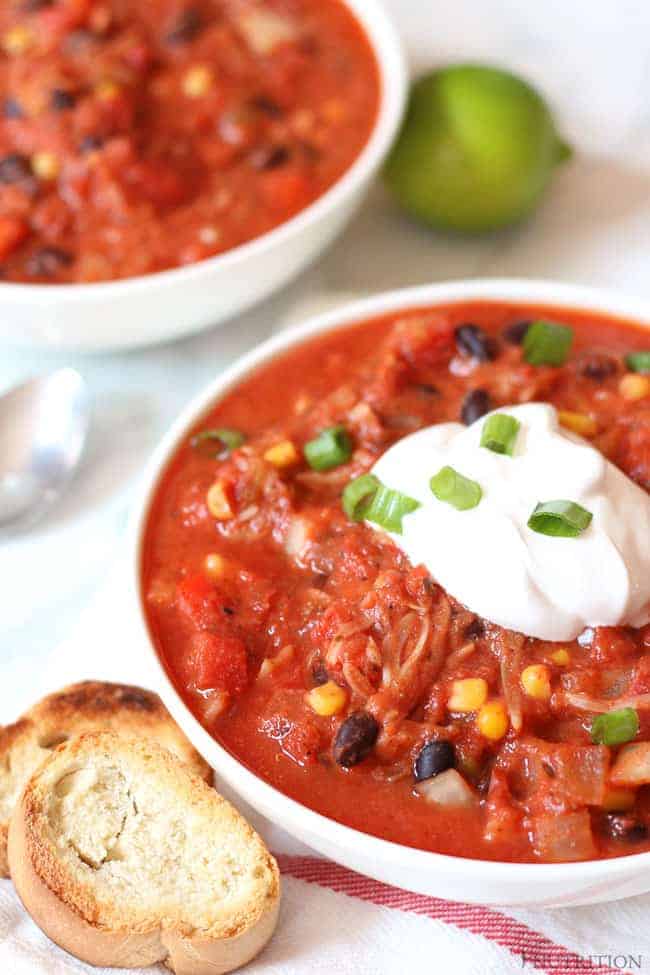 Chili is a staple for me once things get a bit chilly (do you like what I did there?). It's so easy to make and can be really comforting too.
Comfort food is my life – if it's yours too, check out my Pumpkin Mac and Cheese and Vegetable Bean Casserole.
I usually just throw any veggies I have on hand into my chili and cook them up but this time around I wanted to try something different. I had some jackfruit on hand so I figured why not try a Jackfruit Chili?
People use jackfruit in place of pulled pork so I thought it might work as a meat substitute in chili.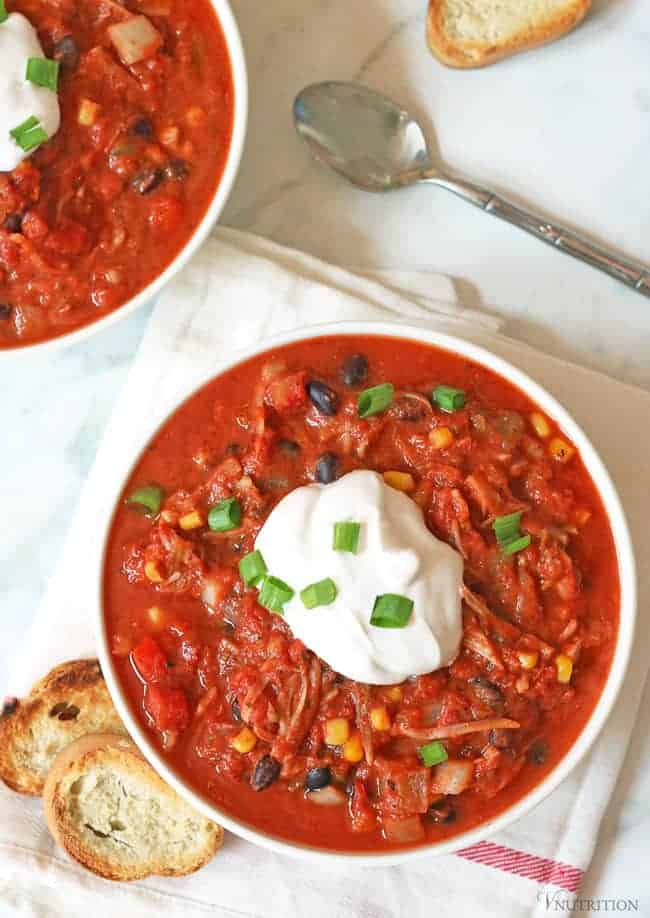 The Crockpot – My weekend Friend
Is it odd that I am just now embracing my crockpot? For some reason, crockpots used to make me nervous.
I thought I'd forget it was on and would burn right through the counter top. Needless to say that never happened.
I love waking up on a Sunday and making crockpot chili on a cold day. It's ready by lunchtime (or dinner if I put it on in the afternoon).
The slow cooker really brings out the depth of flavor of all the veggies and leftovers are even tastier!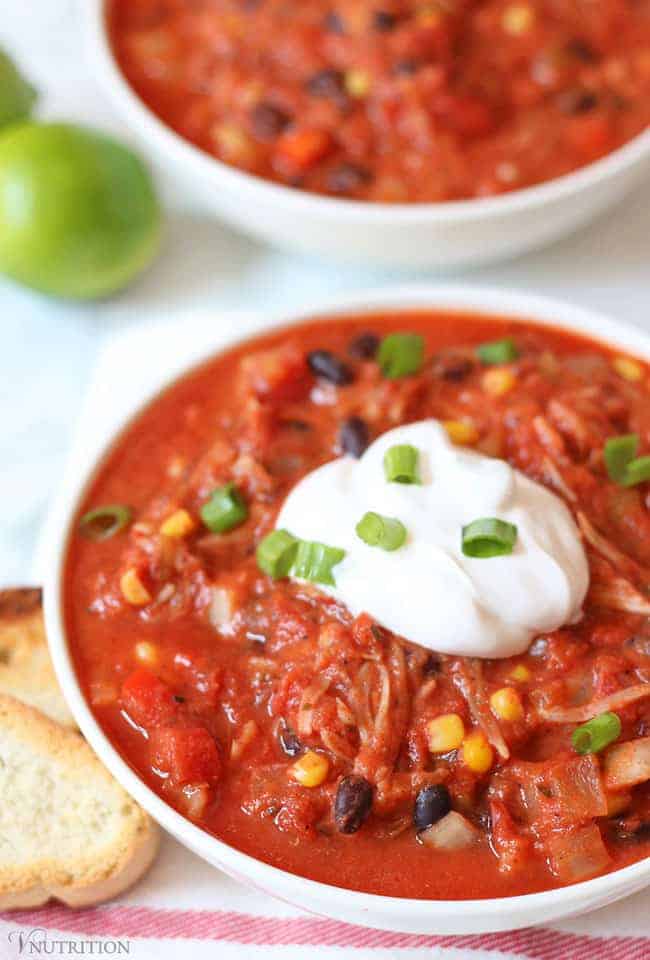 Jackfruit – the "Meaty" Fruit
"That jackfruit is so hot right now" said in the voice of Mugatu from Zoolander. Who else knows what I'm talking about…besides my sister? Jackfruit does seem all the rage with vegans so I wanted to give it a go too.
I first had jackfruit at Native Foods in Chicago when I visited there a few years ago. I was nervous to try it at first because it looked a lot like meat.
I'm so glad I did though because it was delicious. Side note, I also just realized I used "nervous" twice in this post, I guess I'm just a nervous type of gal (although not with hot spices or rollercoasters – bring that stuff on!).
When I use jackfruit I like to take out the harder parts and seeds out and just use the stringy part when I cook to keep it smooth but feel free to use if you like.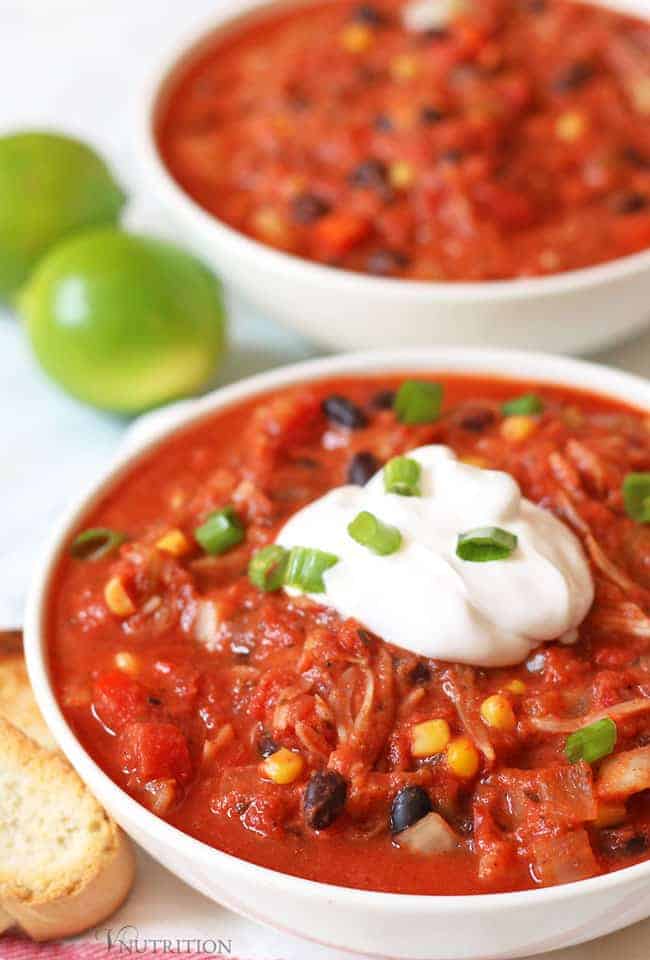 Vegan Jackfruit Chili
This chili is perfect on its own but I've also had it over rice, pasta, and quinoa and it's tasty that way too.
Other reasons I love my Jackfruit Chili:
it's hearty, spicy, and warming
crockpot cooking is easy
it's perfect for football season
cook once and have tasty leftovers for lunch the next day
it's really unique so you'll impress family and friends with your cool jackfruit knowledge
This Jackfruit Chili is slow cooked in a crockpot to bring out all of its delicious flavors.
Click To Tweet
Share your pictures of my recipes on Instagram and use #vnutrition or tag @v.nutrition so I won't miss it! Post your photos on the VNutrition Facebook Page as well!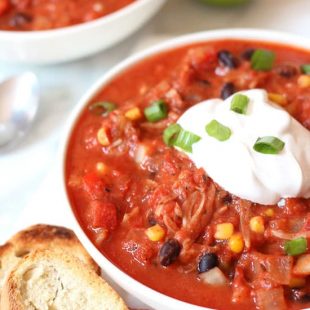 Jackfruit Chili
This Jackfruit Chili is slow cooked in a crockpot to bring out all of its delicious flavors. It's the perfect cozy meal for cooler weather.

Cook Time
2
hours
30
minutes
Total Time
2
hours
45
minutes
Ingredients
20

oz

jackfruit

(in water or brine - not syrup)

1

onion

chopped

1

red pepper

chopped (about 1/2 a cup)

2

20oz cans

crushed tomatoes

1

10 oz can

tomatoes with chili peppers

4

oz

diced green chili peppers

(I used canned)

1

cup

corn

(preferably organic)

1

15.5 oz can

black beans

drained and rinsed

1

cup

vegetable broth

juice of one lime

1.5

TB

garlic powder

1

tsp

oregano

0.5-2

TB

chili powder

(depending on how spicy you like things)

1

tsp

paprika

2

tsp

cumin

1

TB

maple syrup

1

tsp

salt

1

tsp

pepper
Toppings (optional)
vegan sour cream

vegan cheese shreds

scallions
Instructions
Rinse and drain jackfruit. Pull apart and discard any hard parts or seeds.

Add all ingredients to crockpot.

Cook on high for 2.5-3 hours or on low for 5-6 hours.
Recipe Notes
I've frozen some of this and enjoyed it reheated as well.
Nutrition Facts
Jackfruit Chili
Amount Per Serving
Calories 188
Calories from Fat 16
% Daily Value*
Total Fat 1.75g 3%
Total Carbohydrates 42g 14%
Protein 10g 20%
* Percent Daily Values are based on a 2000 calorie diet.
What are some of your favorite cozy meals?
You may also enjoy...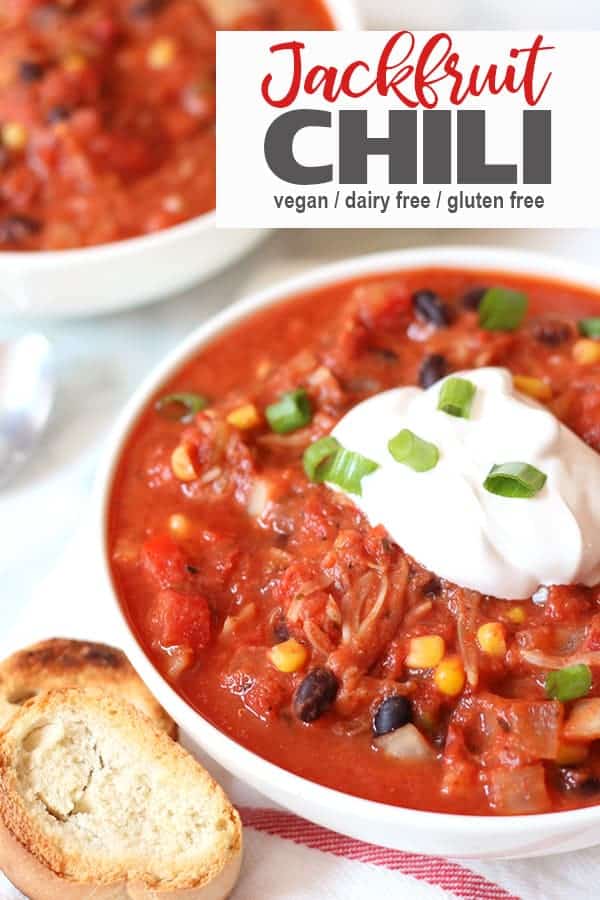 Mary Ellen Valverde MS CNS LDN received her Master's degree in Human Nutrition from the University of Bridgeport. As a Certified Nutrition Specialist, Mary Ellen helps fight chronic disease through a plant-based diet and uses a functional approach to nutrition and wellness to help uncover the root cause of imbalances that may be impacting health.