This Lentil Quinoa with Asparagus and Peas is a gluten-free and tasty whole-foods dish using spring produce. It's a one-pot meal so there's not much clean up - it's a win-win!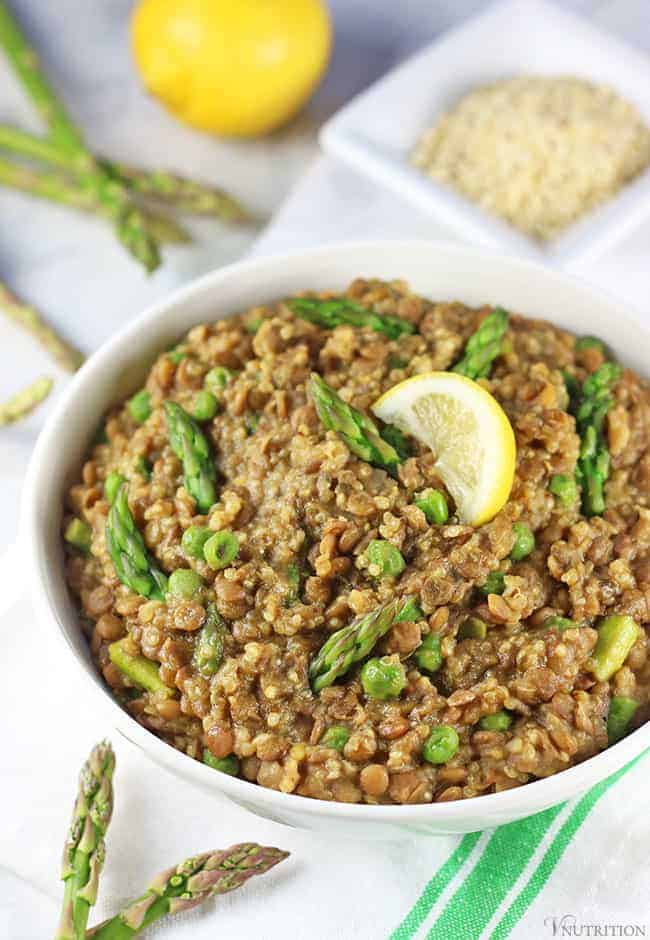 Jump to:
Hello, Spring!
When spring arrives I get so excited that the cold winter is over...but every year I'm reminded that just because it's technically spring, the weather does not have to cooperate.
We'll still have some chilly days ahead here in the northeast (whether I like it or not) so my Lentil Quinoa recipe today is both spring-ish and cozy.
I've been craving lots of comfort meals like my creamy Vegan Pumpkin Pasta and my Vegetable Bean Casserole because of the chilly weather we've been having on and off for the past few weeks. And while I've really been enjoying those recipes, I wanted to add some spring veggies into the mix to keep my meals more seasonal.
Spring veggies include onion, leeks, peas, asparagus, artichokes, spinach, and rhubarb to name a few.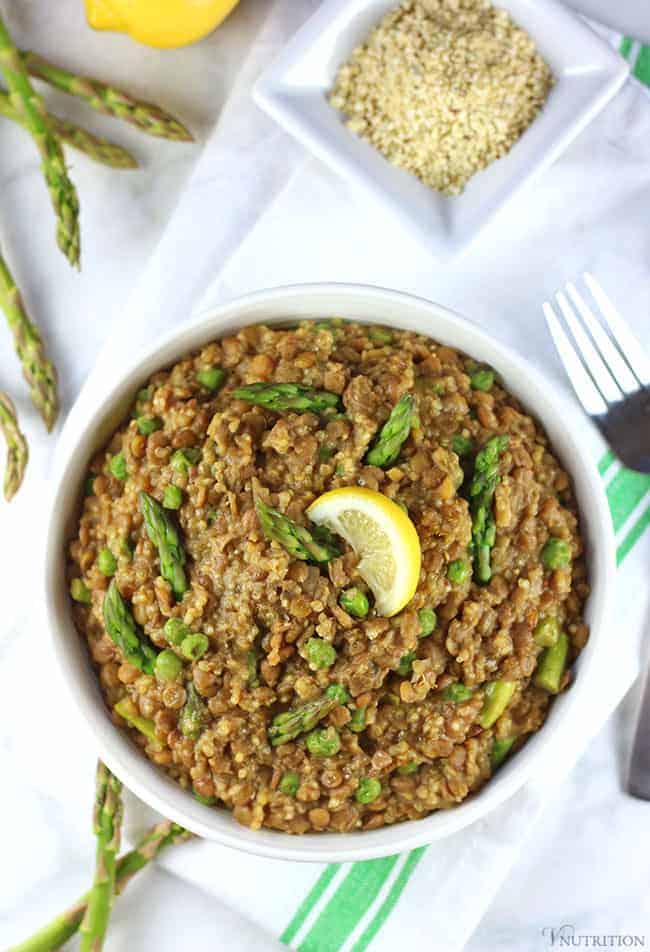 Healthy Lentils
Lentils are one of my favorite beans. They're easy to make and they're actually easier to digest than other beans which could be beneficial to know for those who are having a little more digestive issues while adding beans to their diet. I actually take digestive enzymes with most of my cooked meals to aid in digestion.
Lentils and aren't as big as other beans so I've always felt they are less "beany" if that makes any sense (which maybe it doesn't, I'm a little weird). I bring this up because while sometimes people don't like larger beans like white beans or kidney beans, lentils might be an option as a "starter" bean for anyone trying to add more beans to their diet.
Nutrition-wise, lentils a great source of:
dietary fiber
potassium
vegan protein
iron
vitamin B6
magnesium
zinc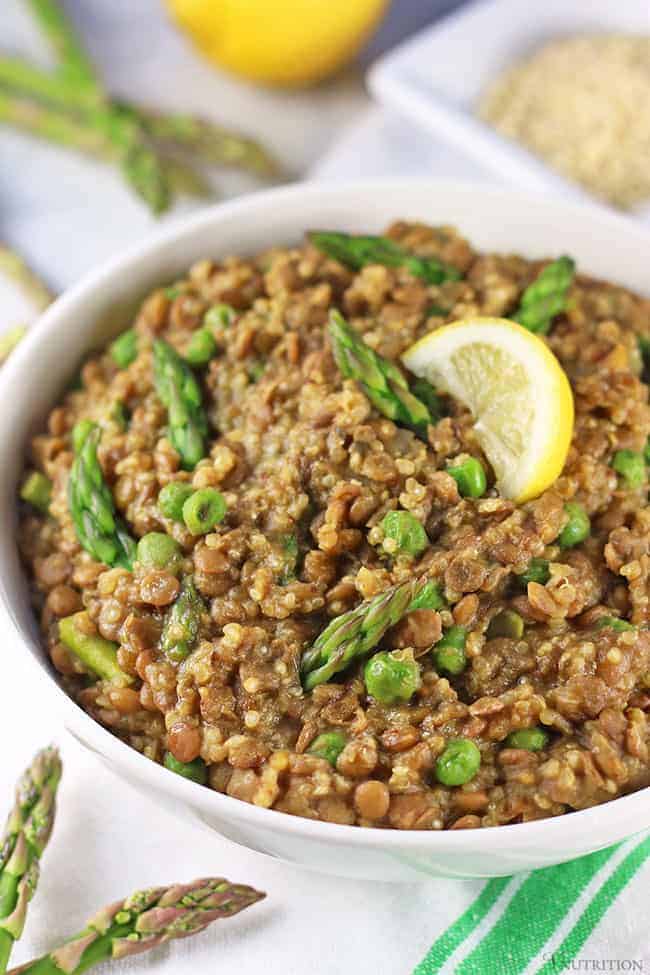 Lentil Quinoa with Asparagus and Peas
For this dish, I chose to use asparagus and peas. I thought the flavors and textures would go nicely with the beans and grains. To keep things cozy and a bit creamy, I cooked them with some coconut milk.
To season my Lentil Quinoa, I added in lemon juice (lemon always says spring/summer to me), Dijon mustard, and dried parsley. I think all the flavors come together well and I am excited to share the recipe with you.
Of course, I top it with some of my Parmesan Cheese Alternative too because I'm obsessed with that stuff.
This is a one-pot dish for those of you who don't like to do too many dishes...so I guess that would be everyone!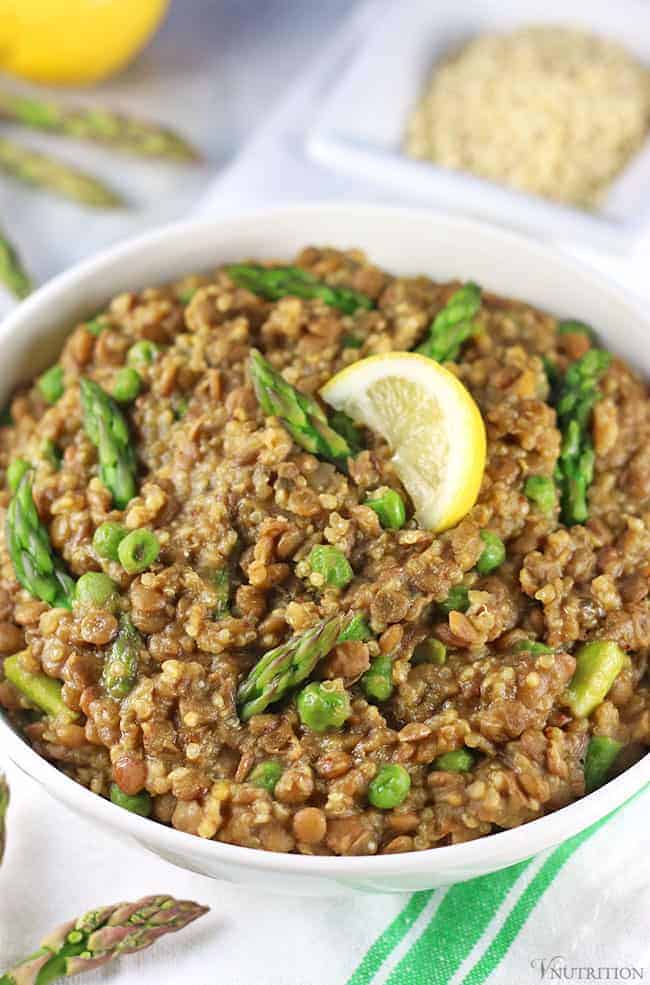 If you make this One-Pot Lentil Quinoa recipe, let me know what you think by ★ star rating it and leaving a comment below.
📖 Recipe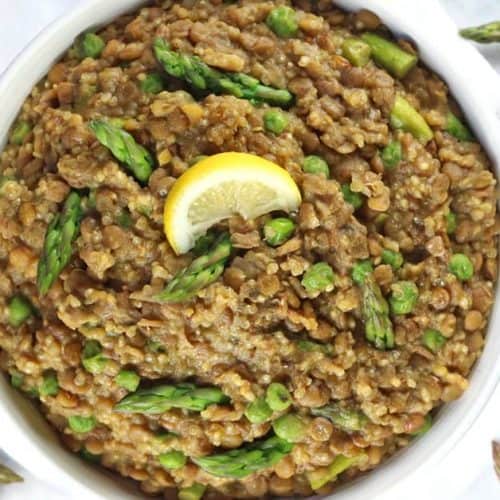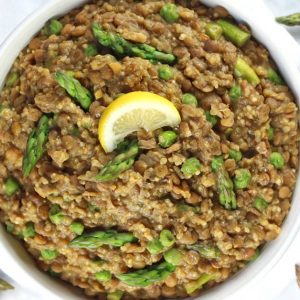 Lentil Quinoa with Asparagus and Peas
This Lentil Quinoa with Asparagus and Peas is a tasty whole-foods dish using spring produce. It's a one-pot meal so there's not much cleanup – it's a win-win!

Email Recipe & Ingredients
Instructions
In a large saute pan (that has a lid) or pot, add olive oil, onion, and garlic and cook until onion translucent (about 3-5 min). If using veggie broth instead of oil, add enough broth to just cover the bottom of the pan and add more if/when needed.

Add 2.5 cups of vegetable broth and lentils. Bring to a boil, cover and cook on medium-low heat for 15-20 minutes until lentils are tender. They don't have to be fully cooked because they will continue to cook with the other ingredient but you want them mostly done.

Add quinoa and coconut milk, cover, and cook for another 15-17 minutes. Make sure to check every so often stir, and if needed, add a bit more broth so nothing is sticking to the bottom of the pan/pot.

Add in nutritional yeast, lemon, Dijon, parsley, and tamari and stir.

Add asparagus and peas (and more vegetable broth if needed - I've put in anywhere from ¼-1/2 a cup - don't put too much at once, you don't want too liquid) and cook uncovered for about 5-10 minutes (stirring frequently) until asparagus is tender and as much of the liquid has been evaporated for your liking.

Enjoy!
Nutrition
Calories:
466
kcal
Carbohydrates:
50
g
Protein:
19
g
Fat:
22
g
Fiber:
9
g
PLEASE NOTE: Nutritional information data is computer generated and only an estimate so it should be used only as a guide.
Like my One-Pot Lentil Quinoa recipe? You might also enjoy...
Are you a bean fan? What's your favorite bean?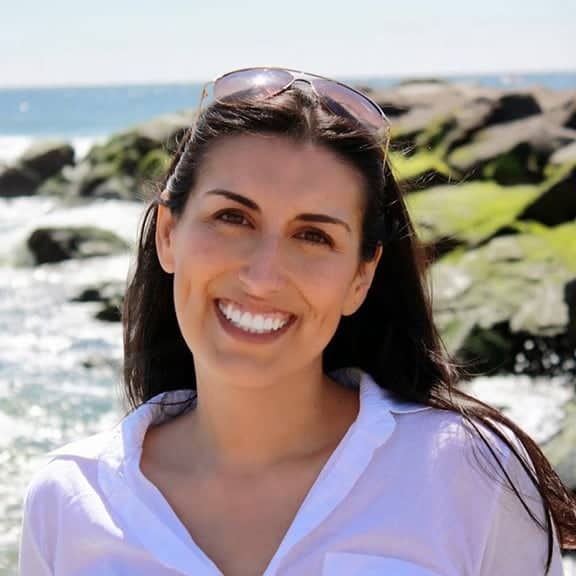 Mary Ellen Valverde MS, CNS, LDN is a Licensed Nutritionist and Certified Nutrition Specialist who empowers vegans to feel clear and confident about what is uniquely nourishing to them. Mary Ellen's recipes and nutrition information have been featured on Yahoo News, Parade, VegNews, LIVESTRONG, Dr. Axe, Greatist, LIVEKINDLY, Brit+Co, Well+Good, and more.