If you're in a lunch rut, I'm here to help with my Mediterranean-inspired Greek Quinoa Salad. Whole-grain quinoa combines forces with crunchy cucumbers, peppery arugula, piquant red onions, punchy sun-dried tomatoes, briny kalamata olives, and vegan feta cheese for a healthy gluten-free bowl of goodness that'll transport you to your favorite beachside café.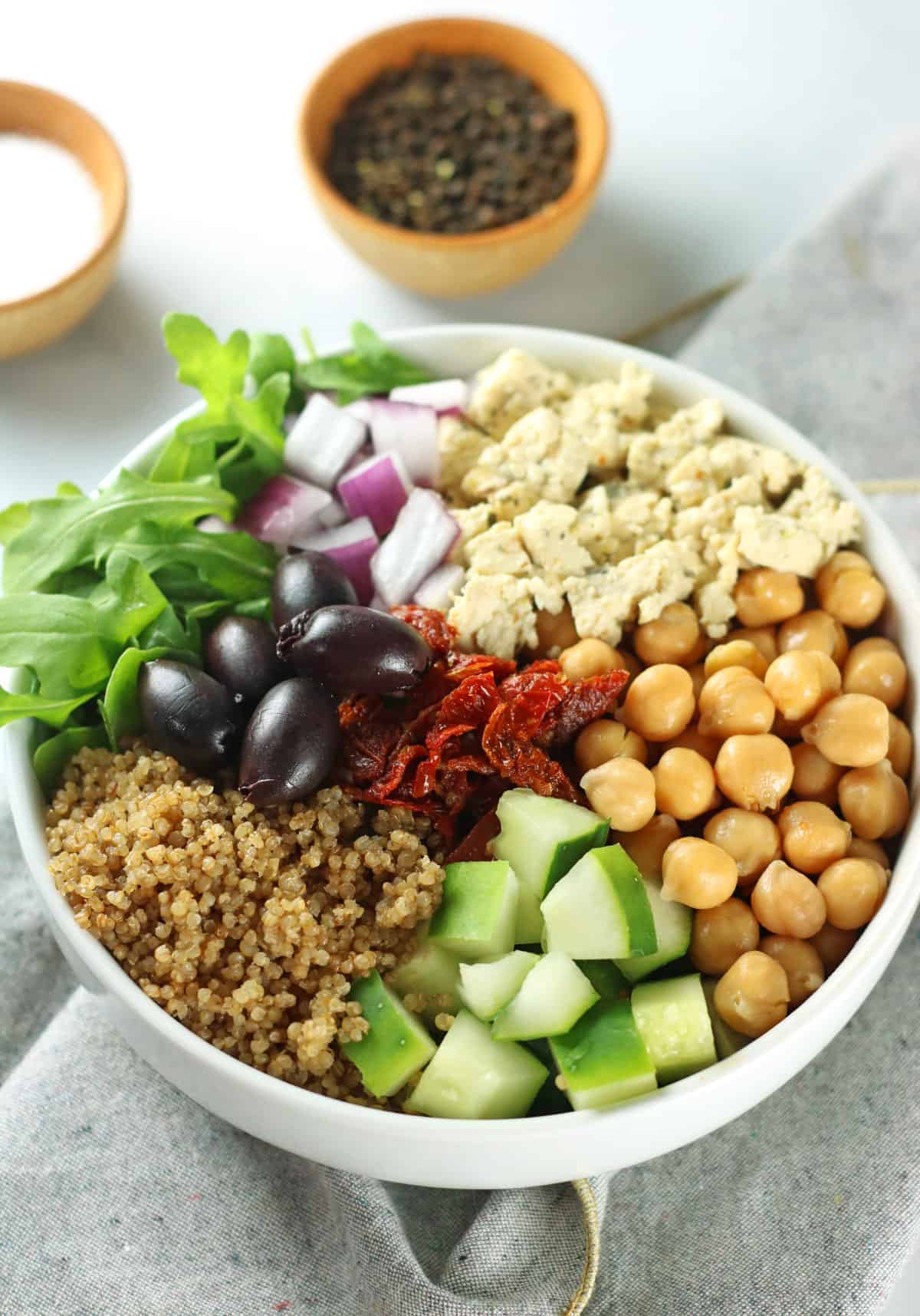 I love a fresh, crunchy, veggie-packed salad in the summer.  It's such a great way to cool down when the weather heats up. And as an added bonus, you don't have to cook!
This vegan Greek quinoa salad has all the flavors that transport me to a sunny villa in Mykonos, which is just what I need during my lunch break.
This quick and tasty salad is a perfect solution for your lunch or dinner needs, and has all the nutrition to carry you through till your next meal.
It's also incredibly uncomplicated - chop a few veggies, stir together the dressing and add in some pre-cooked quinoa (which you'll have on hand if you use my Vegan Meal Prep Tips).
To finish it all off, simply top with a generous handful of my Tofu Feta. Word to the wise: Don't skimp on the feta, it makes the dish!
Jump to: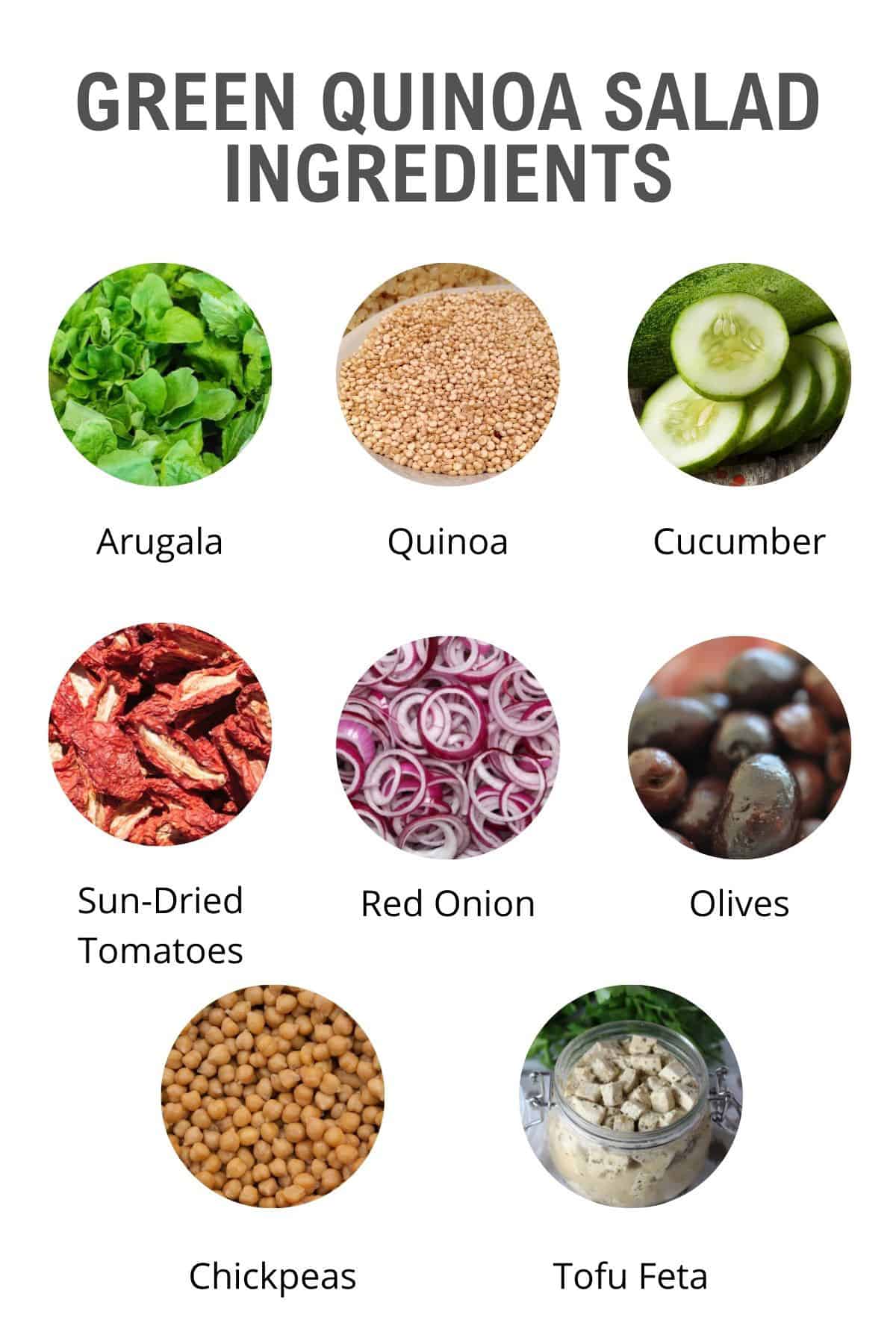 What's in This Mediterranean Quinoa Salad?
Quinoa - I love the nutty flavor and added heft that quinoa brings to a salad. I used white quinoa in this recipe, but any color quinoa will do. Whatever color you choose, just remember to rinse it thoroughly before cooking to prevent any bitterness.
Arugula - Perhaps my favorite green of all time (and that's really saying something!) arugula, or "rocket," adds a ton of peppery flavor that I find intoxicating. Feel free to swap in your favorite green here - spinach or watercress would both be excellent subs.
Cucumber - Nothing screams summer quite like a fresh cucumber. Opt for a seedless variety for faster chopping, or halve the cuke vertically first to scoop out the seeds with a spoon.
Sun-Dried Tomatoes - These little flavor bombs pack a heck of an umami punch. You can purchase them either packed in olive oil (resulting in a softer mouthfeel), or simply bagged. If you purchase the ones in olive oil, use the oil to make the dressing below!
Red Onion - Raw red onion is one of my favorite spicy, piquant flavors and offers such a gorgeous hue to the salad. If you prefer, you can swap in a sweet yellow onion like Vidalia.
Kalamata Olives - Kalamata olives have an unmistakable flavor that I love. You can also swap in any other olive you prefer. Regardless of variety, be sure to pit them before chopping.
Chickpeas - Buying your own dried chickpeas and cooking them in bulk on your meal prep day will cut down on expenses, but you can also opt to purchase a can of chickpeas for ease of use. Simply drain and rinse before adding to the salad. NOTE: If you want, save the canned chickpea liquid. Known as aquafaba, this stuff is liquid gold when it comes to vegan baking and egg substitutions.
Citrus Dressing
Extra Virgin Olive Oil - When it comes to olive oil for raw applications, I find that cold-pressed tastes best. Don't fret though; any EVOO you have in the pantry will do just fine.
Lime Juice - As always, I recommend you opt for fresh citrus for the best flavor. Feel free to sub in lemon juice! To get the juiciest bang for your citrus buck, give the fruit a firm roll on the counter before slicing in half.
Red Wine Vinegar - With a deliciously tangy flavor, red wine vinegar is unmistakable. If you need to use a substitute, I recommend white wine vinegar.
Garlic Powder - I consider garlic powder my secret weapon. Not only does it protect against vampires just as well as the raw stuff, it also keeps me from having to peel and chop garlic. That's a win-win-win.
Oregano - Perhaps the only herb that tastes more like itself when dried, this is one you should keep in the pantry at all times. It is also a frequent flyer for Mexican, Italian, and Spanish cuisine!
Salt & Pepper - Seasoning is important, friends. Don't forget to taste before you toss, adjusting the salt as needed. For the most gradual seasoning, I find kosher salt to be the easiest to work with.
How to Make
This tasty quinoa salad recipe couldn't be easier to pull off. You can also make life easier with a bit of meal prep: keeping cooked chickpeas and grains plus pre-chopped veggies in the fridge makes healthy eating a no-brainer. The dressing can be made up to 5 days in advance.
Step One: Prep. Chop all veggies. Drain and rinse chickpeas. Add veggies, chickpeas, and quinoa to a large bowl and mix to combine.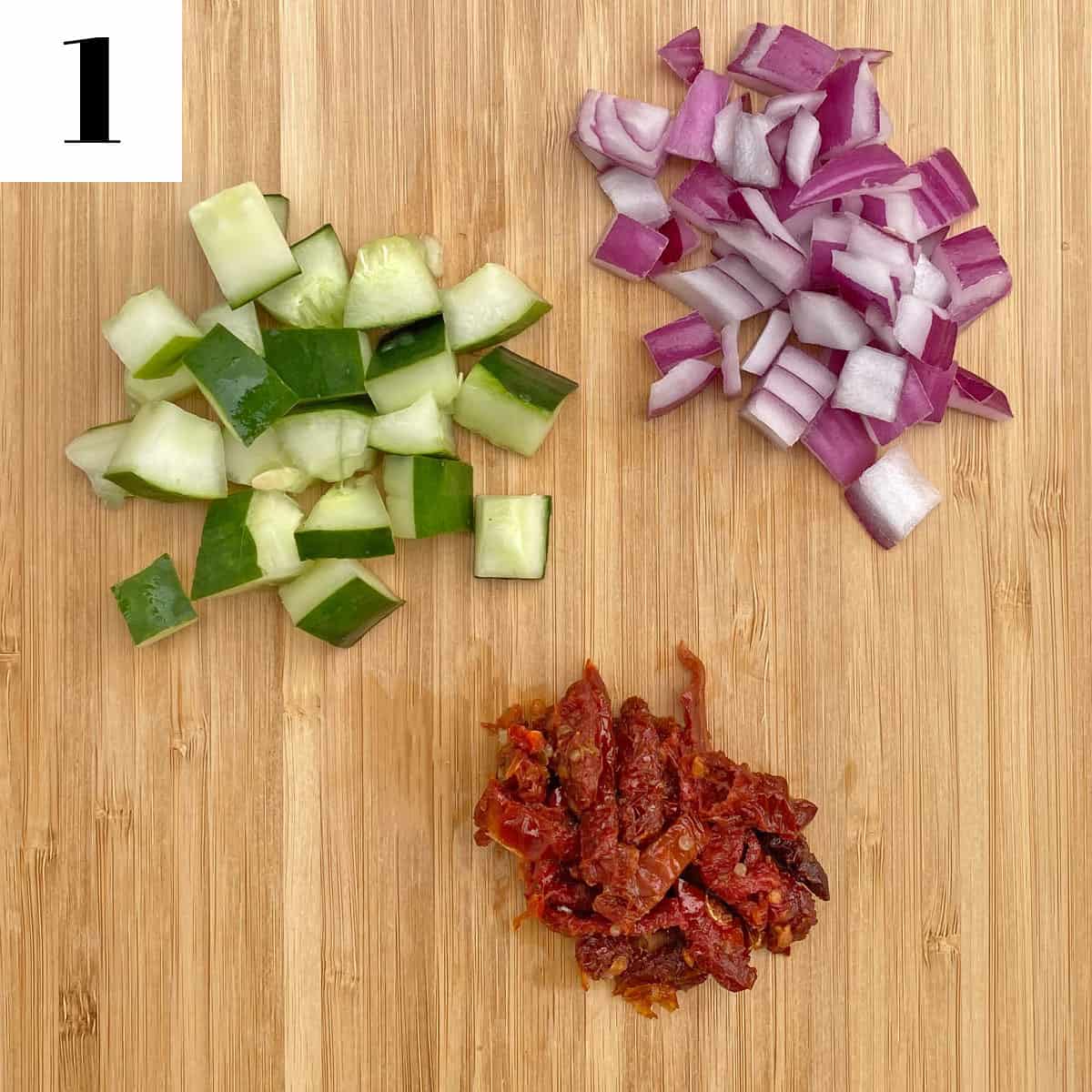 Step Two: Salad Dressing. Add all dressing ingredients to a bowl and whisk vigorously to combine. Alternately, place all ingredients in a sealable jar, close the lid and shake like the Dickens.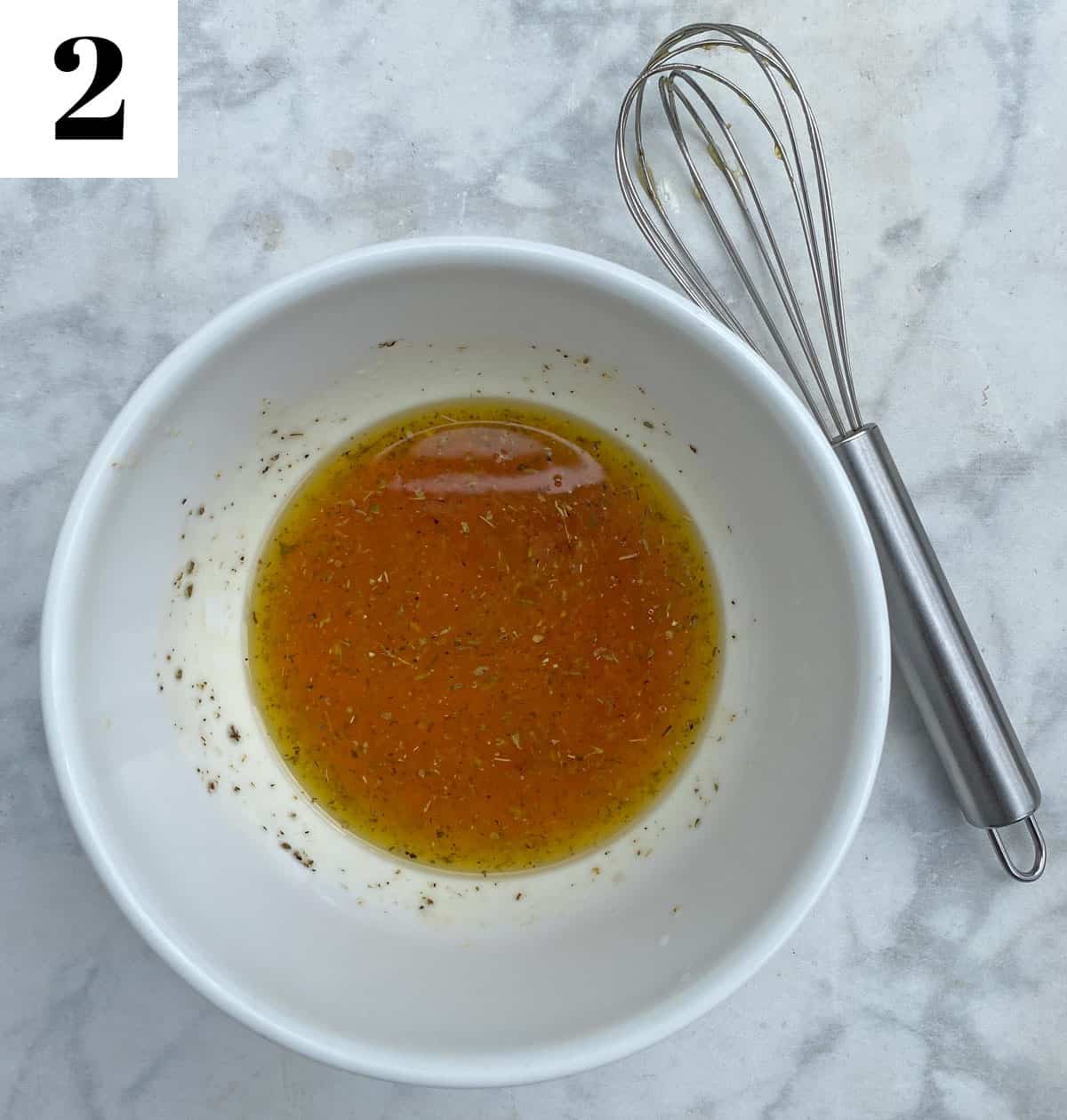 Step Three: Assembly. Drizzle on the salad dressing, then gently toss until the salad is well dressed. Crumble tofu feta on top and dig in!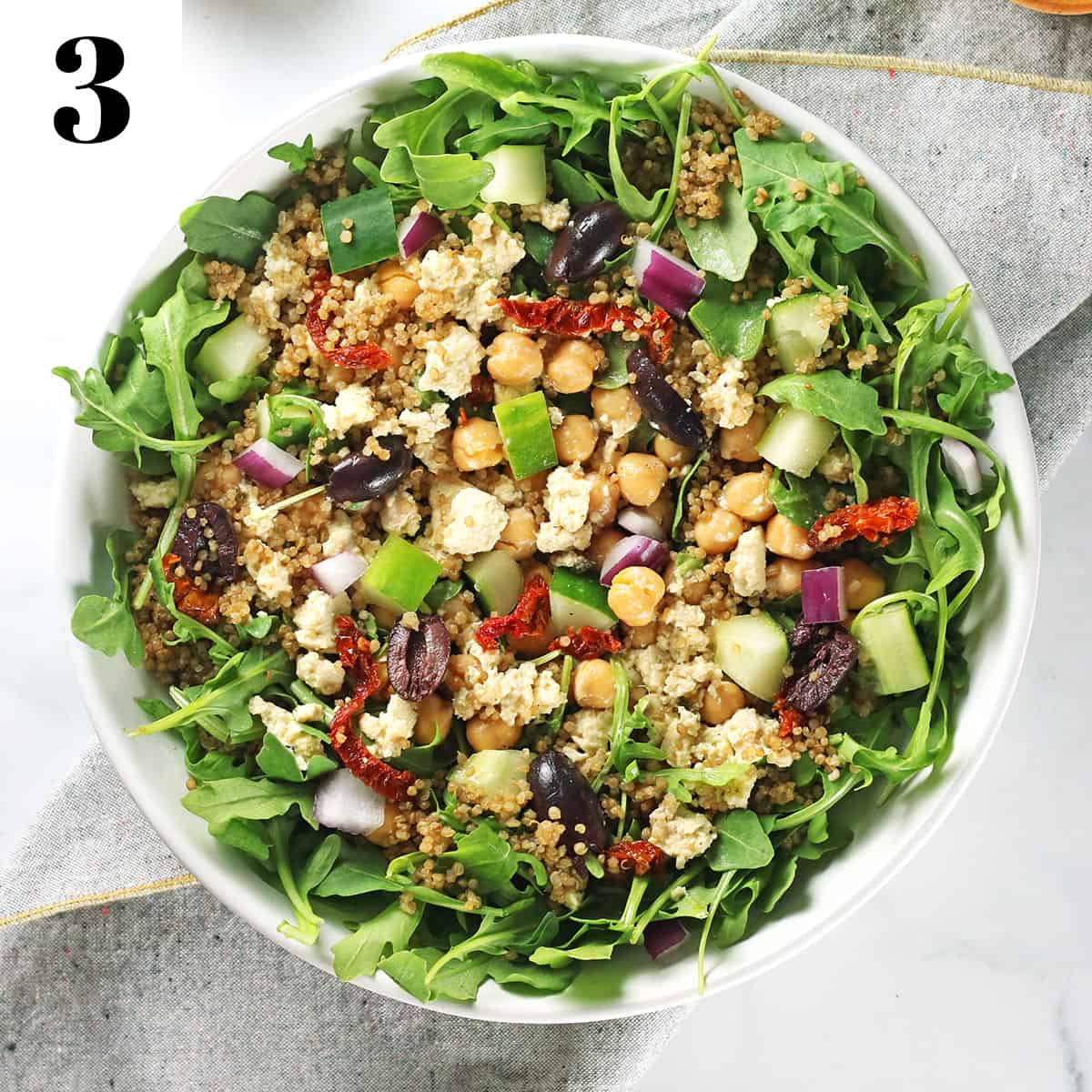 Is This Quinoa Salad Healthy?
Heck to the Yeah! This bold, bright and beautiful salad has all the hallmarks of what I consider to be a perfect meal. Why, you ask? Well, check this out:
Quinoa is a complete protein containing all 9 of the essential amino acids. That's awesome! You'll get a whopping 13 grams of protein with a single serving of this salad. It also just happens to be entirely gluten free - hooray!
With just one serving of this salad, you'll get your full daily dose of vitamin A and almost ¼ of your vitamin C and iron!
This salad is also loaded with fiber, with one serving meeting about ⅓ of your daily requirements.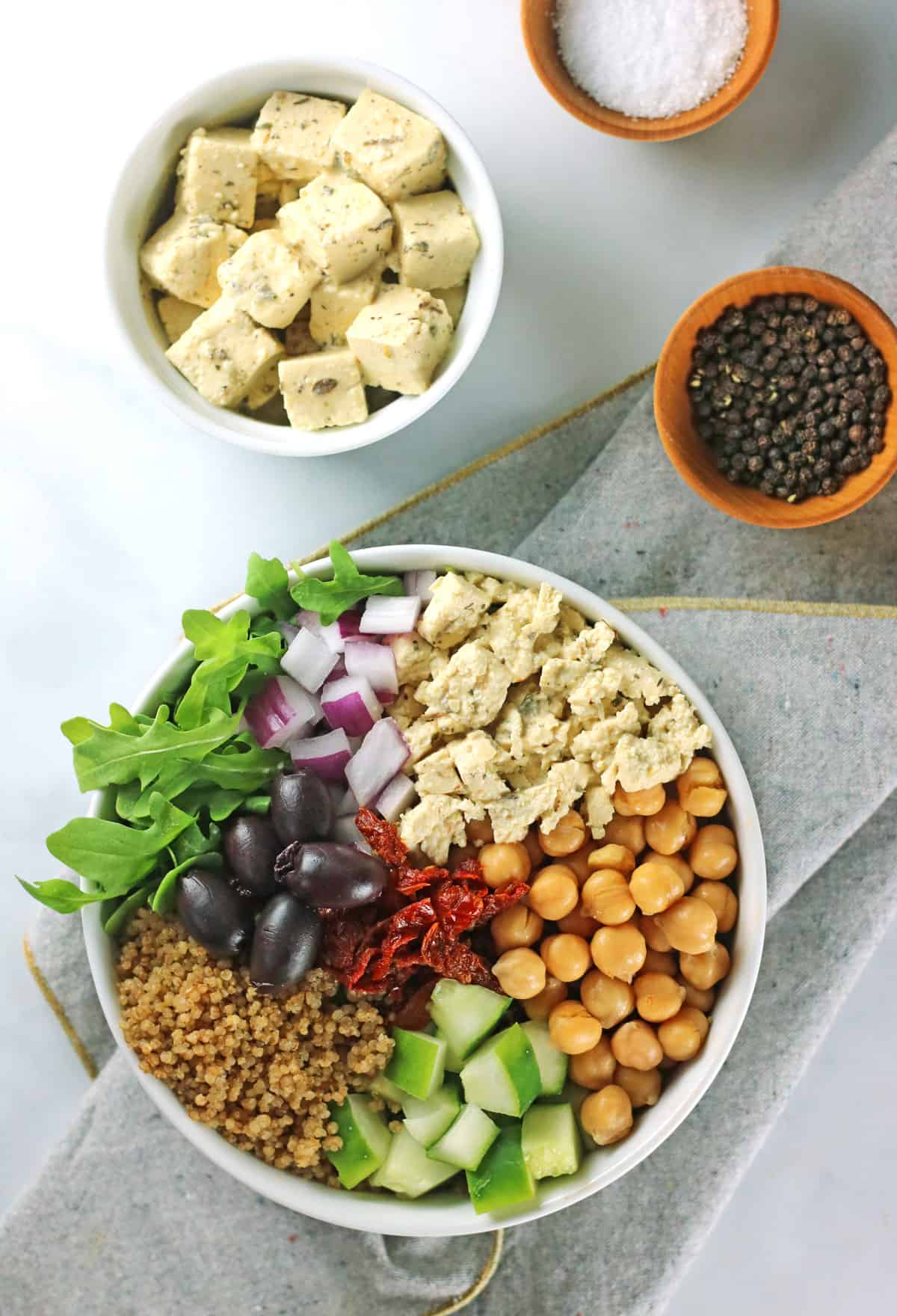 So to recap: this Greek quinoa salad is tasty, beautiful, AND healthy. Are you convinced yet?!?
Ways to Customize it
This Mediterranean-inspired Greek quinoa salad is a delight just the way it is written. But if you, like me, are a fan of ordering off the menu, this section is for you! Here are a few ways to make this salad all your own:
Add in other veggies. Roasted or grilled zucchini, summer squash, eggplant, or broccoli all sound amazing.
Use your favorite olives. I love me some kalamatas, but maybe they aren't your jam. Swap in another type of olive, omit them altogether, or trade them out for another briny bite like capers, caper berries or chopped pickled veggies like giardinera!
Try another dressing. My Hummus Dressing would be amazing on this. Just sayin'.
Speaking of hummus, add a swoosh to the side of your bowl for a bit of creamy richness.
Use a different grain. I love the flavor and consistency of quinoa, but there's nothing stopping you from trading it out for your own favorite whole grain. Barley, wheat berries, brown rice, farro, bulgur, freekeh... the list goes on!
No matter how you toss it, this Mediterranean-style vegan quinoa salad is going to be tasty as heck. Get after it!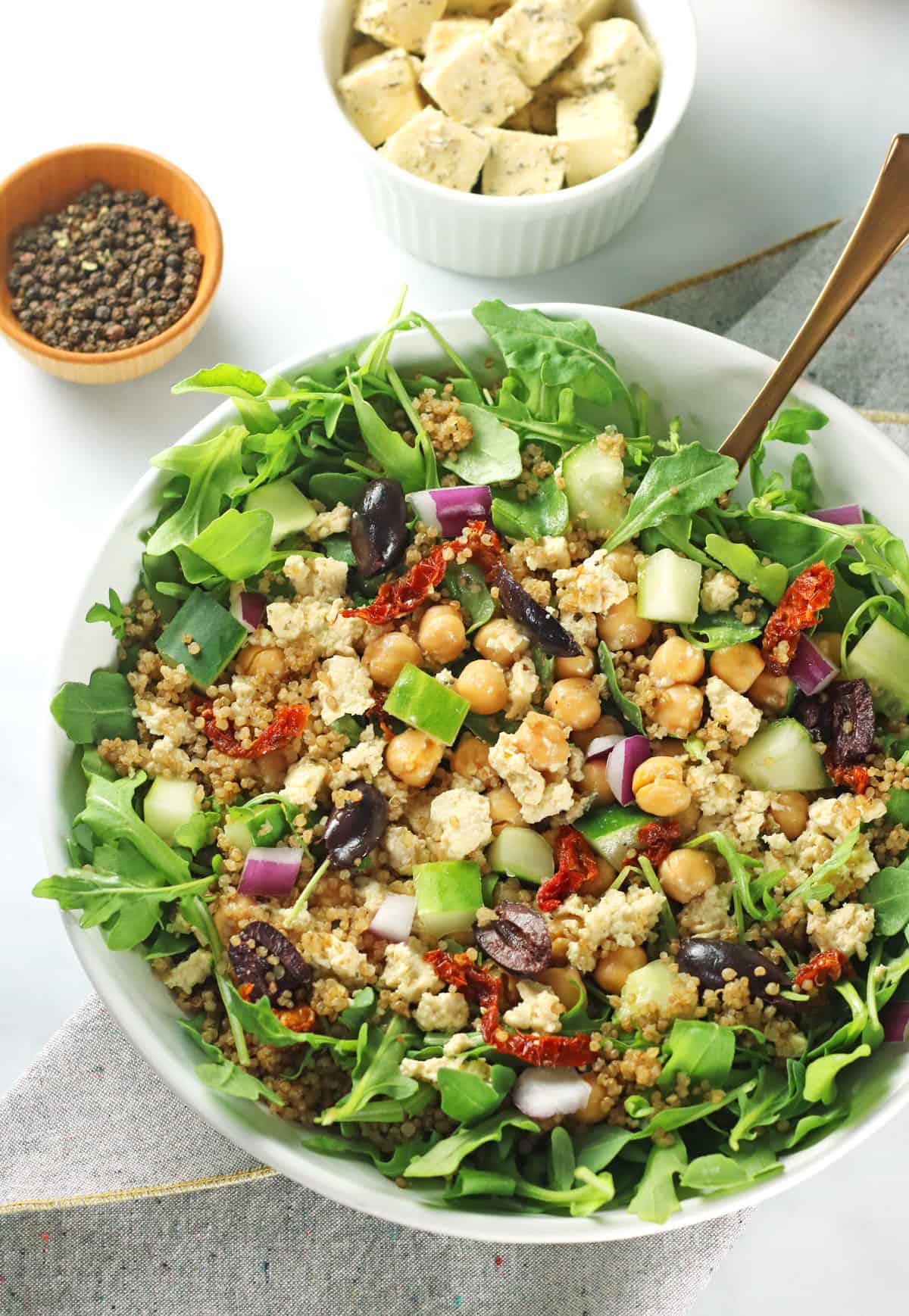 How long can this salad stay in the fridge?
Any leftovers should last for 4-5 days in the fridge. For best results, leave the arugula out until you're ready to toss. Or try using this mason jar salad technique.
What can I prep ahead of time?
There's a lot you can do to make this salad ahead of time. Cook the quinoa and chickpeas, marinate the tofu feta, chop veggies, and make the salad dressing. It's a meal prepper's dream!
How many calories in a Mediterranean quinoa salad?
While I use a computer program to generate these nutritional facts, the closest approximation I can offer is that each serving has about 500 calories of healthy whole foods!
Other tasty recipes:
Glass Noodle Salad Bowls - These yummy bowls are loaded with fresh vegetables, tofu, glass noodles, and a tangy sauce. Naturally gluten-free, the colorful bowls have plenty of nutrients and can be enjoyed for weekday lunches or family dinners!
Easy Chickpea Thai-Inspired Quinoa Salad - This Chickpea Thai Quinoa Salad is gluten-free, easy to make, and deliciously healthy. This salad combines quinoa, chickpeas, carrots, cabbage & cilantro and is topped with a creamy peanut sauce for a quick meal.
Buffalo Soy Curls Salad - Add a kick to mealtime with this vegan buffalo chicken salad. It's delicious, easy to make, and filled with plant-based goodness!
If you make this recipe and LOVE IT, please give it 5 stars ⭐⭐⭐⭐⭐!
📖 Recipe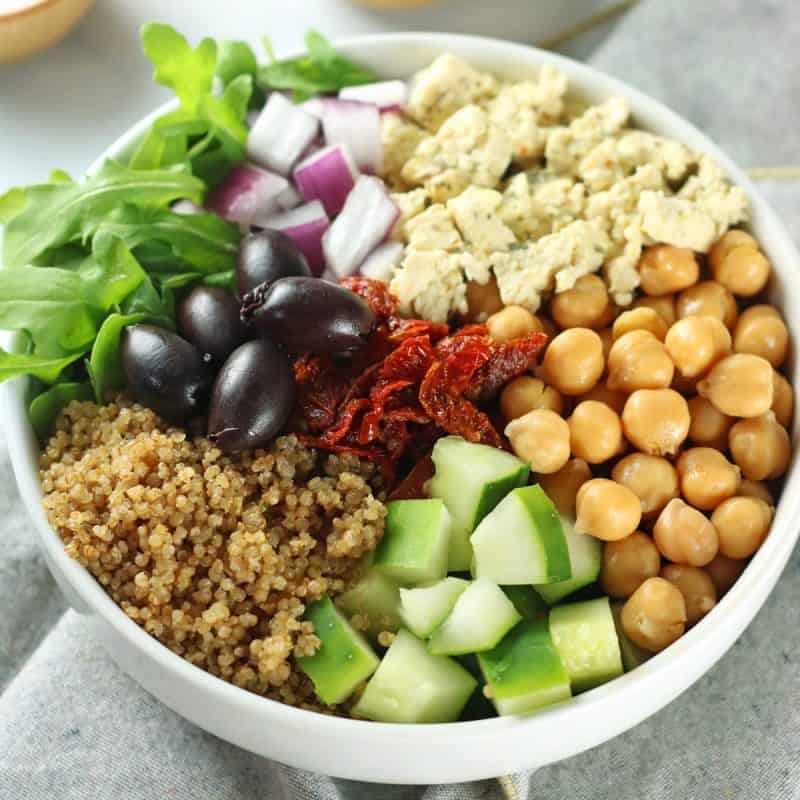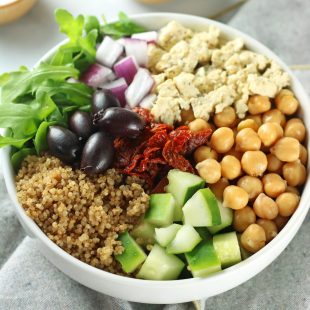 Mediterranean Quinoa Salad
If you're in a lunch rut, I'm here to help with my Mediterranean-inspired Greek Quinoa Salad. Whole-grain quinoa combines forces with crunchy cucumbers, peppery arugula, piquant red onions, punchy sun-dried tomatoes, briny kalamata olives, and vegan feta cheese for a healthy bowl of goodness that'll transport you to your favorite beachside café.
Email Recipe & Ingredients
Ingredients  
2

cups

cooked quinoa

4

cups

arugula

1

large cucumber

chopped

.5

cups

sun-dried tomatoes

chopped

1

small red onion

chopped

.5

cups

kalamata olives

or other olive of choice

1.5

cups

chickpeas

cooked (or one 15oz can drained and rinsed)

1

cup

tofu feta

crumbled
Instructions 
Add all ingredients for salad in a bowl (except for the tofu feta) and mix gently.

Mix dressing ingredients in separate bowl and add to salad.

Top with tofu feta and enjoy!
Nutrition
Calories:
513
kcal
Carbohydrates:
52
g
Protein:
19
g
Fat:
27
g
Saturated Fat:
4
g
Polyunsaturated Fat:
6
g
Monounsaturated Fat:
17
g
Sodium:
319
mg
Potassium:
1050
mg
Fiber:
11
g
Sugar:
12
g
Vitamin A:
745
IU
Vitamin C:
16
mg
Calcium:
202
mg
Iron:
6
mg
PLEASE NOTE: Nutritional information data is computer generated and only an estimate so it should be used only as a guide.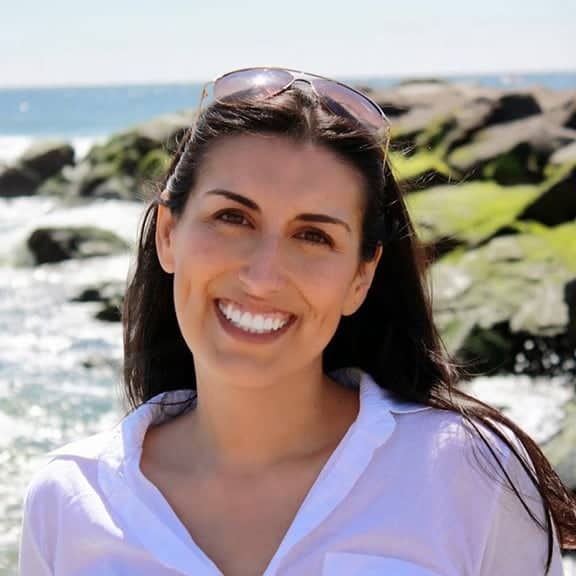 Mary Ellen Valverde MS, CNS, LDN is a Licensed Nutritionist and Certified Nutrition Specialist who empowers vegans to feel clear and confident about what is uniquely nourishing to them. Mary Ellen's recipes and nutrition information have been featured on Yahoo News, Parade, VegNews, LIVESTRONG, Dr. Axe, Greatist, LIVEKINDLY, Brit+Co, Well+Good, and more.