Crank up the heat in your dinner with this Tofu in Chili Garlic Sauce! It's perfect for spice-lovers and it's so easy that you can have it on the table in about 15 minutes.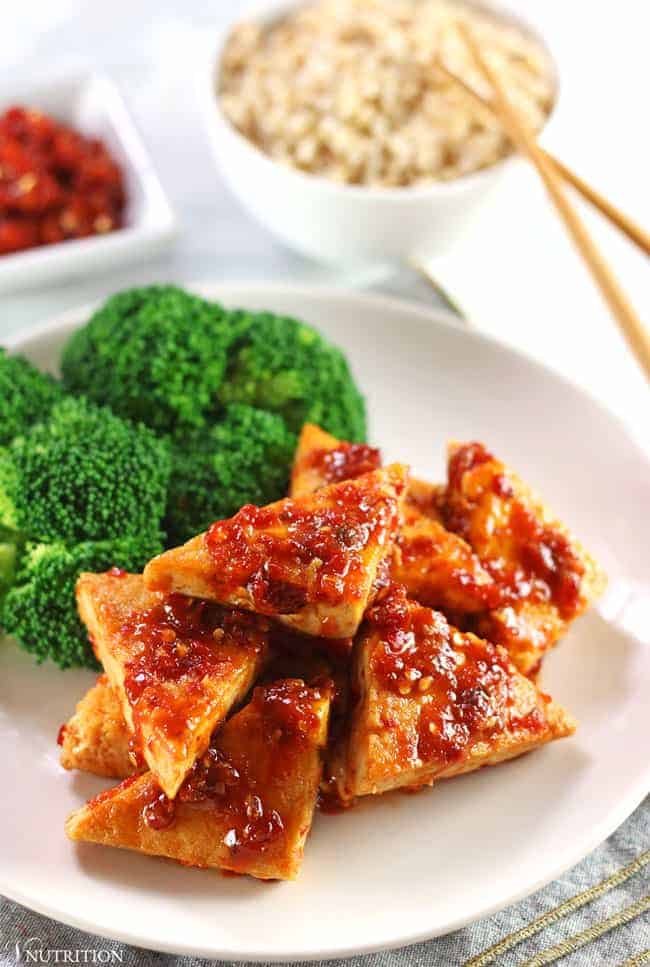 Do you like some heat in your foods? If you've been reading my blog for a while, you know I do! I love anything and everything hot: Buffalo Quinoa Balls, Spicy Sesame Noodles, and Buffalo Chick'n Rice Skillet are just a few of the spicy recipes I've shared.
Most of the time I add a small amount of heat to my recipes because I know everyone is not as hot-crazed as I am. Today, however, I have a no-nonsense, lets-get-this-spicy-party-started meal for you hot & spicy people – my Tofu in Chili Garlic Sauce.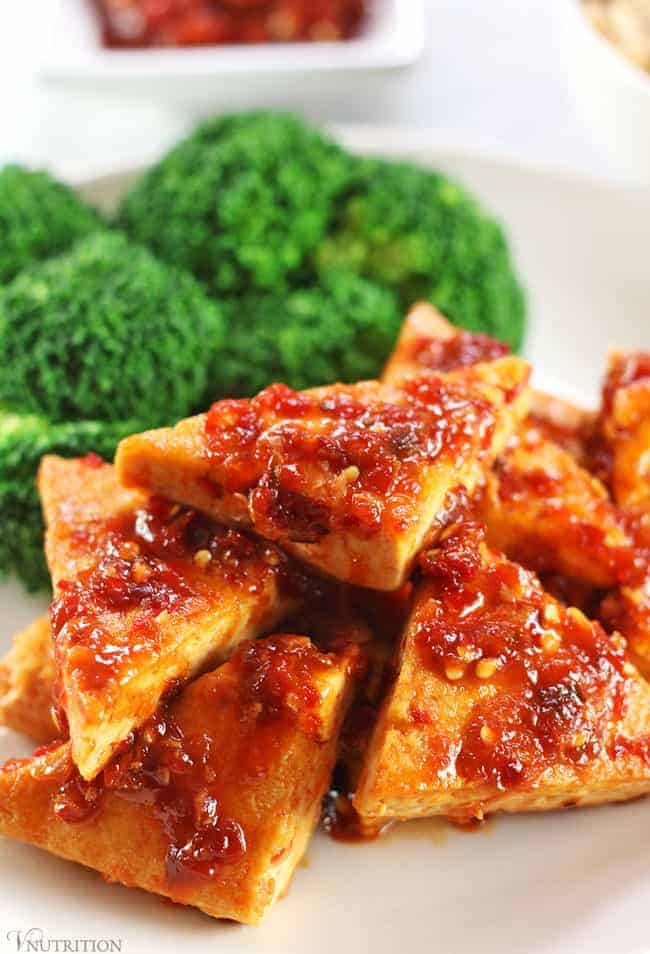 Sambal Oelek – My Spicy Friend
I used Sambal Oelek for the heat in this Tofu in Chili Garlic Sauce. Sambal is a sauce originating in Southeast Asia and made of hot red chili peppers with some salt and vinegar. It's one of my Vegan Kitchen Staples.
Most store-bought brands do contain preservatives so if you're not into that, you could make your own. I found this recipe that looks good. I'm going to try it soon but for now, I don't use it all the time so I don't stress too much about the store-bought kind.
I use sambal oelek in many of my recipes to add a little heat. Try adding it to:
curries
tomato sauce
rice dishes
soups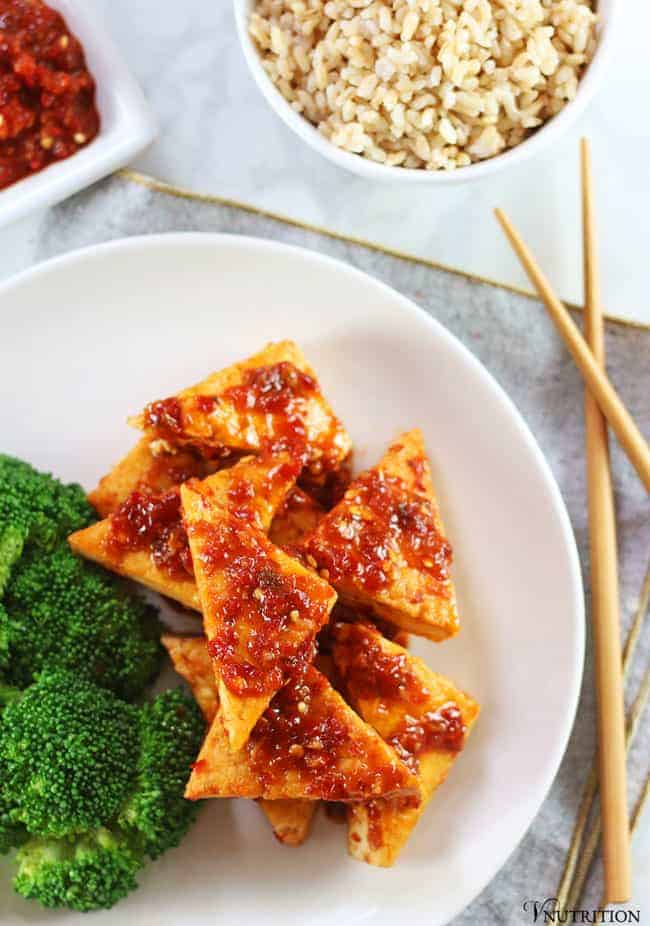 Tofu in Chili Garlic Sauce
This recipe actually came to me by accident. I was making some tofu and I wanted to add a little spice to the sauce. I tipped the bottle of sambal oelek over my sauce base to add a tiny bit and a whole bunch fell into the sauce. Never one to shy away from a little extra heat (and let's be honest, I was being lazy not wanting to spend the 1 minute redoing the sauce), I decided to buckle up and try the tofu.
I'm so glad that I did because, although it was hot, it was also delicious. I had to tone down the heat a bit for the recipe, even for you hot-sauce lovers out there because it was almost too overwhelming even for me. But don't worry, this Tofu in Chili Garlic Sauce is still hot!
For those of you with less of an inclination towards heat, you can cut down to 1 TB. It will still be just as tasty, though not as spicy.
For those of you not into tofu I've use this sauce on veggies like broccoli and and bok choy and really enjoyed it too.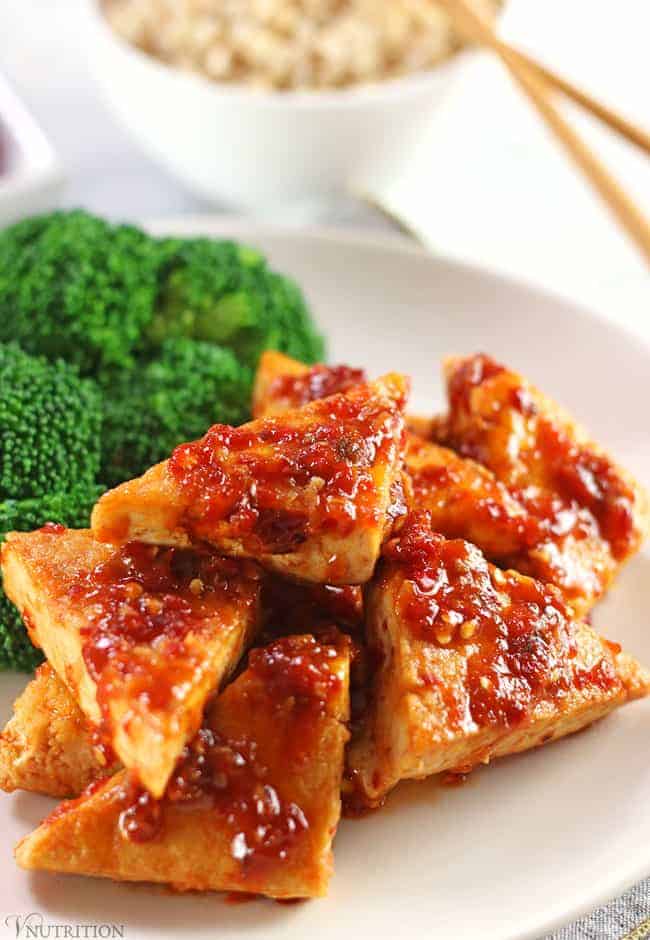 If you make this Tofu in Chili Garlic Sauce recipe, let me know what you think by ★ star rating it and leaving a comment below.
Share your pictures of any of my recipes on Instagram and use #vnutrition or tag @v.nutrition so I won't miss it!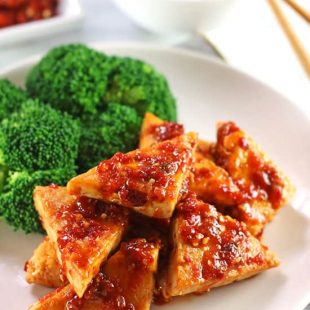 Tofu in Chili Garlic Sauce
Crank up the heat in your dinner with this Tofu in Chili Garlic Sauce! It's perfect for spice-lovers and on the table in about 15 minutes!
Instructions
Cut the pressed tofu into squares or rectangles. I cut it in half through the middle first keeping the same shape but making it thinner, then I cut them into triangles.

Heat olive oil in a non-stick pan and fry the tofu on medium heat about 5 minutes. Flip tofu and cook for another 5 minutes until both sides are browned.

While tofu is cooking, combine all sauce ingredients in a bowl, whisk, and set aside.

Once tofu is cooked transfer to a plate.

Add the sauce to the pan and heat on medium until bubbling.

Add tofu back into the pan with sauce and cook for 1 minute.
Recipe Notes
If you don't like things too hot, use only 1TB of sambal oelek. 
Nutrition Facts
Tofu in Chili Garlic Sauce
Amount Per Serving
Calories 254
Calories from Fat 162
% Daily Value*
Fat 18g28%
Carbohydrates 7.5g3%
Protein 19g38%
Calcium 350mg35%
Iron 3.6mg20%
* Percent Daily Values are based on a 2000 calorie diet.
You may also like…
Mary Ellen Valverde MS, CNS, LDN is a Licensed Nutritionist and Certified Nutrition Specialist. By uniting her functional nutrition education with her passion for plants, Mary Ellen offers a completely holistic and science-based approach to designing a healthy, plant-based life.
When she's not working with clients or creating new vegan meals for her blog, you can find Mary Ellen doting on her two rescue shih tzus, creating the perfect vegan mac & cheese, or exploring the world with her husband.