Vampire bite cupcakes are perfect for Halloween or watching your favorite scary movies! These cupcakes are filled with strawberry jam to scare everyone that takes a bite!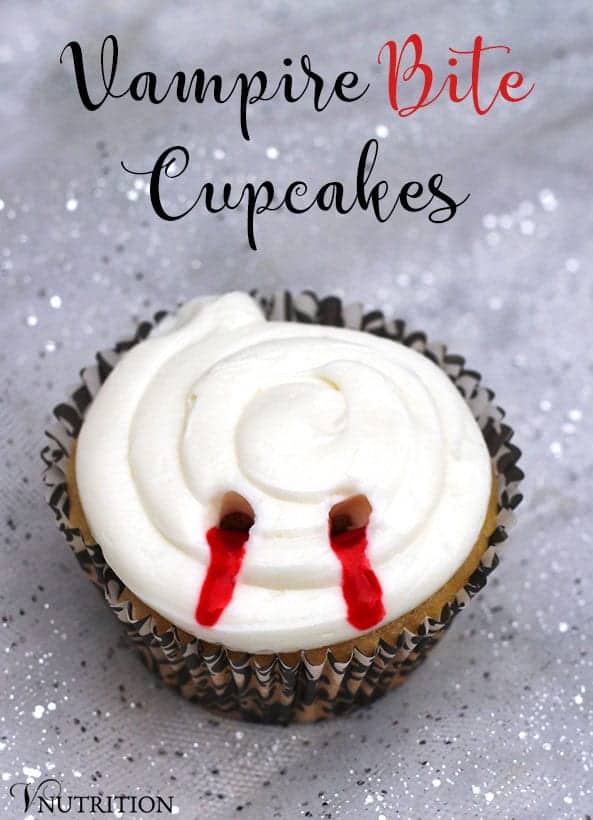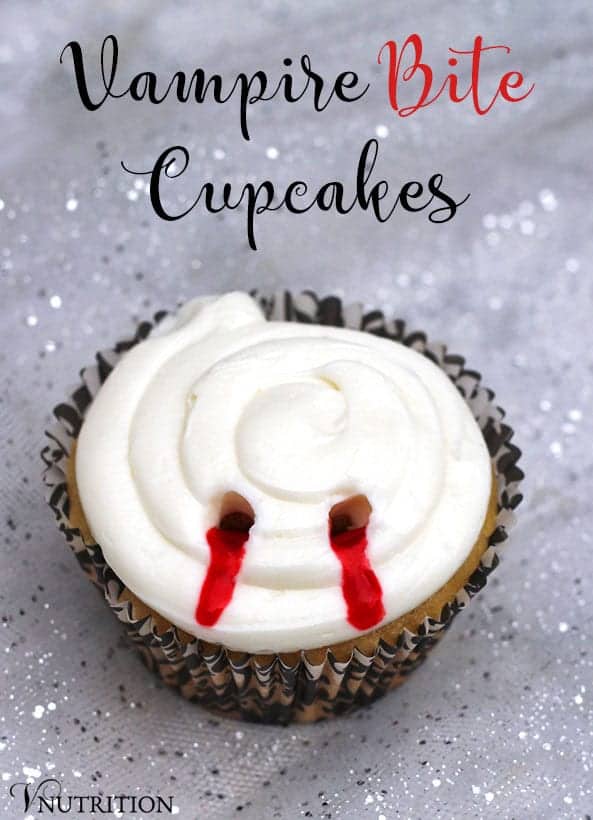 I've never been into scary monster/ghost/killer movies. I remember being at my friend's sleepover when I was about 10 and while everyone watching a scary movie I hid in my sleeping bag (like that would protect me).  Freddy Kruger was another main reason I didn't sleep for months in grammar school.
One "monster" that I've always been fascinated with is a vampire. For some reason I've never been too scared to watch those movies. Vampires seem alluring and mysterious – more of a cool killer which for some reason is okay with me. I love Interview with a Vampire, The Lost Boys, Bram Stoker's Dracula, and of course the Twilight movies. I even took the photos with a sparkly background because I love how vampires sparkle in the sunlight in the Twilight series.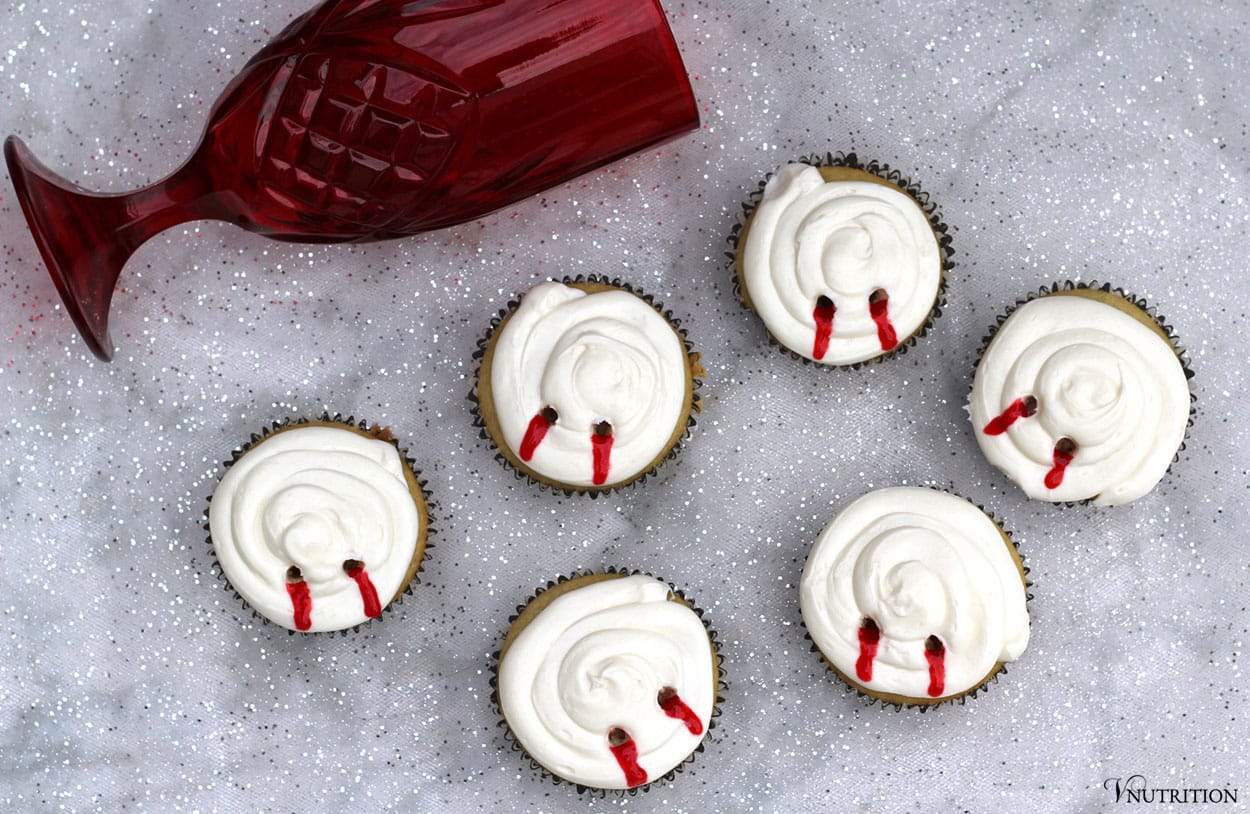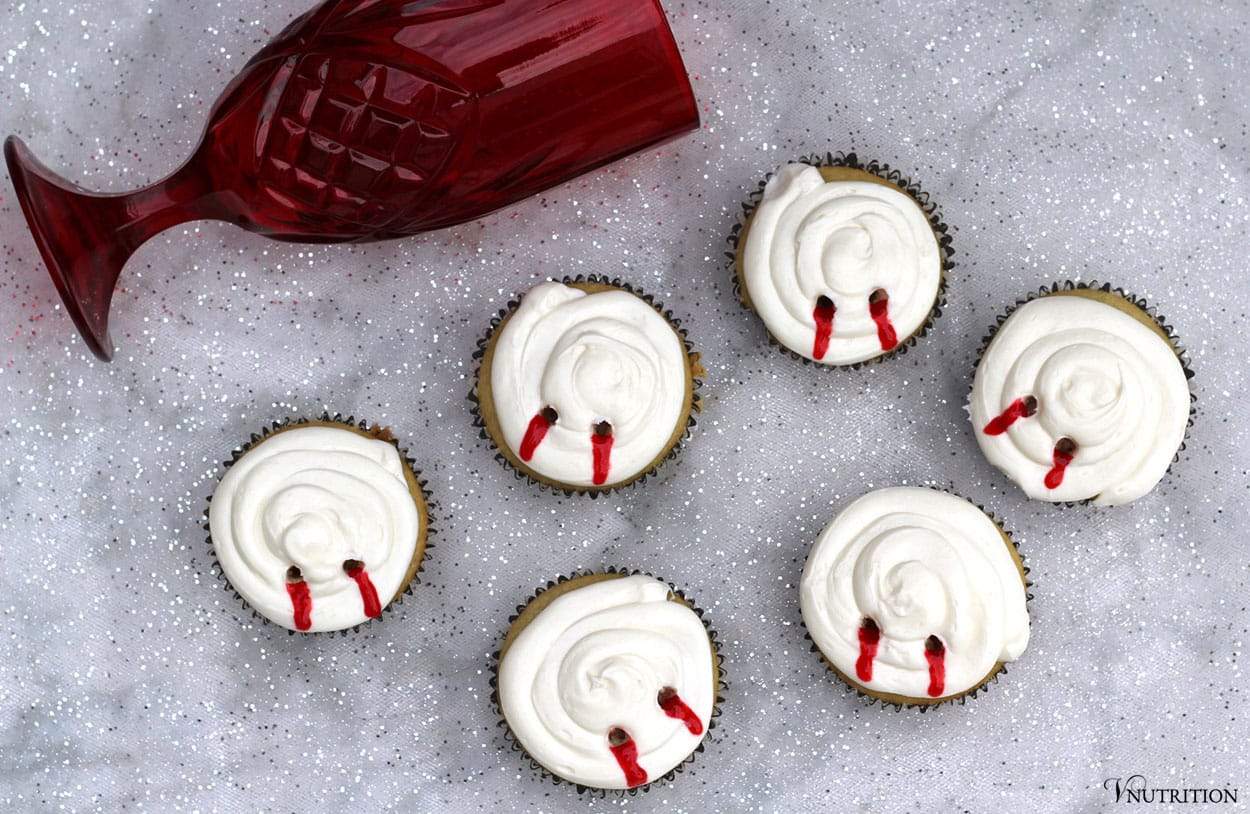 Vampire Bite Cupcakes
These cupcakes are an ode to my vampires. I kept them simple and only did little bite marks – I feel they're almost scarier that way. People will wonder, what's that inside the cupcakes? Blood? Nah, it's just strawberry jam. I actually put my Strawberry Chia Jam in the middle of these cupcakes and when you take a bite, all the strawberry goodness comes out too!
You know I try to  post healthy recipes on my blog but there should always be room in your life for treats! Using my chia jam rather than store bough brands will take the high fructose corn syrup out of this recipe so that's a healthy addition to make you feel better lol.
While you brave souls watch other really scary movies, I'll be having a few of these vampire bite cupcakes and will be watching my favorite vampire movies… as well as a few others that are more my speed: It's the Great Pumpkin Charlie Brown, The Worst Witch, Monster Squad, Beetlejuice and maybe even a little Hocus Pocus. If you're like me and want some other not-so-scary treats, check out my Baked Pumpkin Oatmeal or Creamy Pumpkin & Sage Pasta!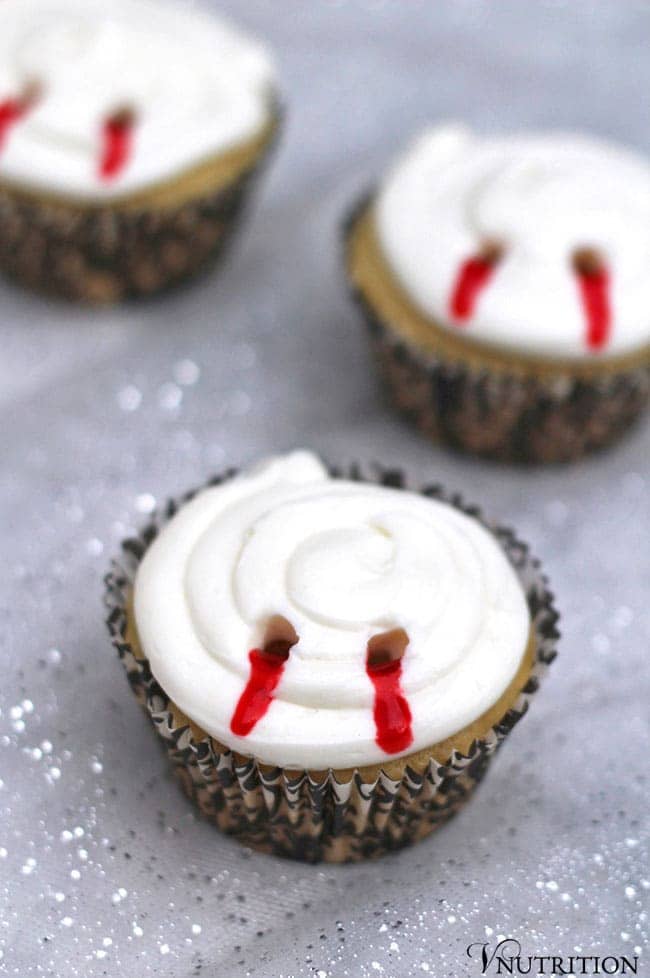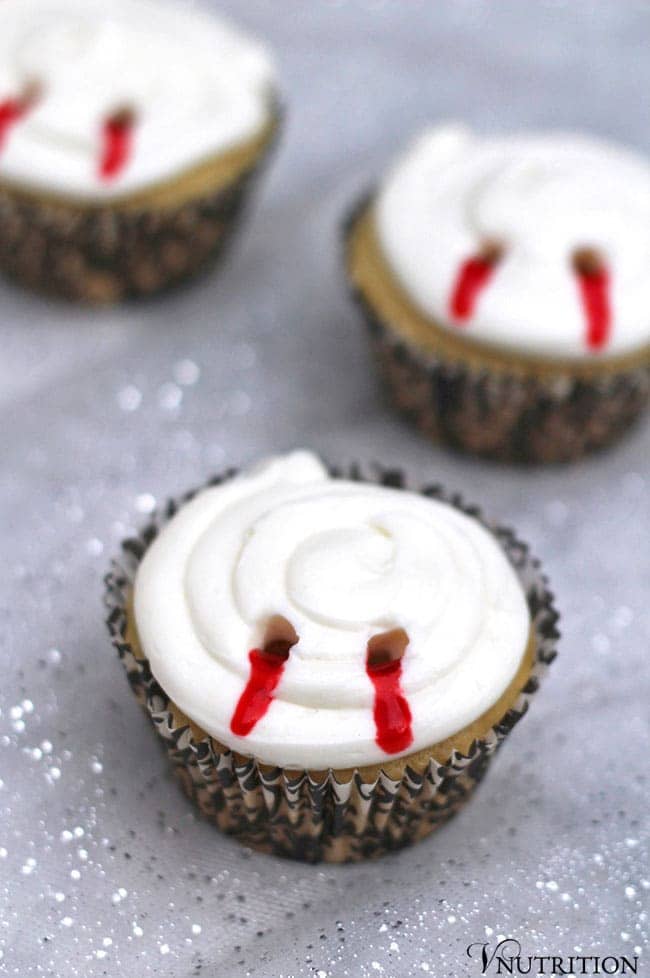 These Vampire Bite Cupcakes are filled with jam to scare everyone that takes a bite!
Click To Tweet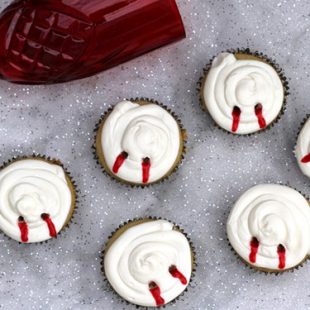 Vampire Bite Cupcakes
Ingredients
1

c

almond or other non-dairy milk

1

tsp

apple cider vinegar

1 1/2

c

all purpose flour

1

tsp

baking powder

1/2

tsp

baking soda

1/2

tsp

salt

3/4

c

white sugar

2

tsp

vanilla extract

1/3

c

vegetable oil

1/4 - 1/2

c

strawberry jam

Vegan vanilla icing of choice
Instructions
Preheat over to 350 degrees F

Combine milk and apple cider vinegar, put to the side and let sit.

Mix together flour, baking powder, baking soda, & salt.

In a separate bowl mix together sugar, vanilla, and oil.

Add all those ingredients together and whisk until smooth.

Bake cupcakes for about 25 minutes or until toothpick comes out clean.

After cupcakes have cooled, cut a little hole at the top of each, add a tsp of jam into hole and put top of the cut out cupcake back on top.

Ice the cupcakes.

Take a straw and poke 2 holes at the top of the cupcakes.

Mix a tiny bit of water with some jam so it's more fluid then drip jam out of holes to look like blood.
Like my recipe? It would be so wonderful if you could give it some love by sharing it!  
You may also like: