Ramen noodles are good for more than just soup! Switch things up and make a healthy & colorful Vegan Ramen Noodle Salad in 10 minutes with gluten-free rice noodles, crunchy shredded veggies, and a zesty oil-free dressing!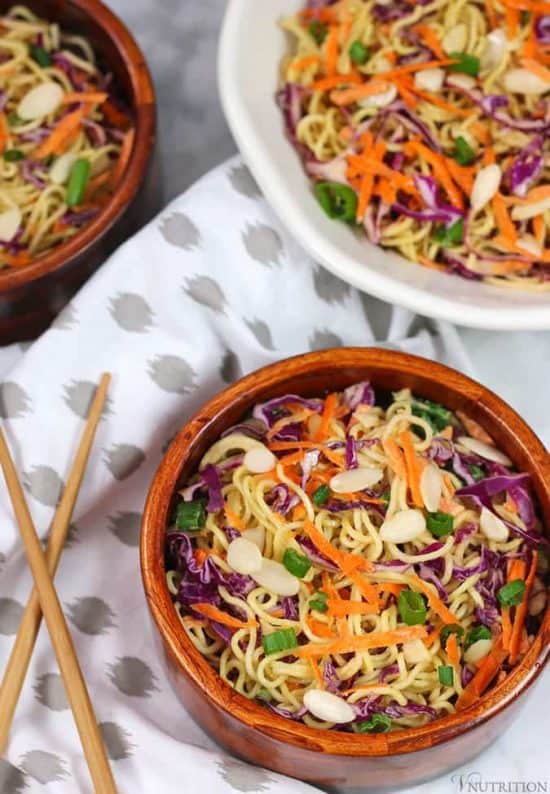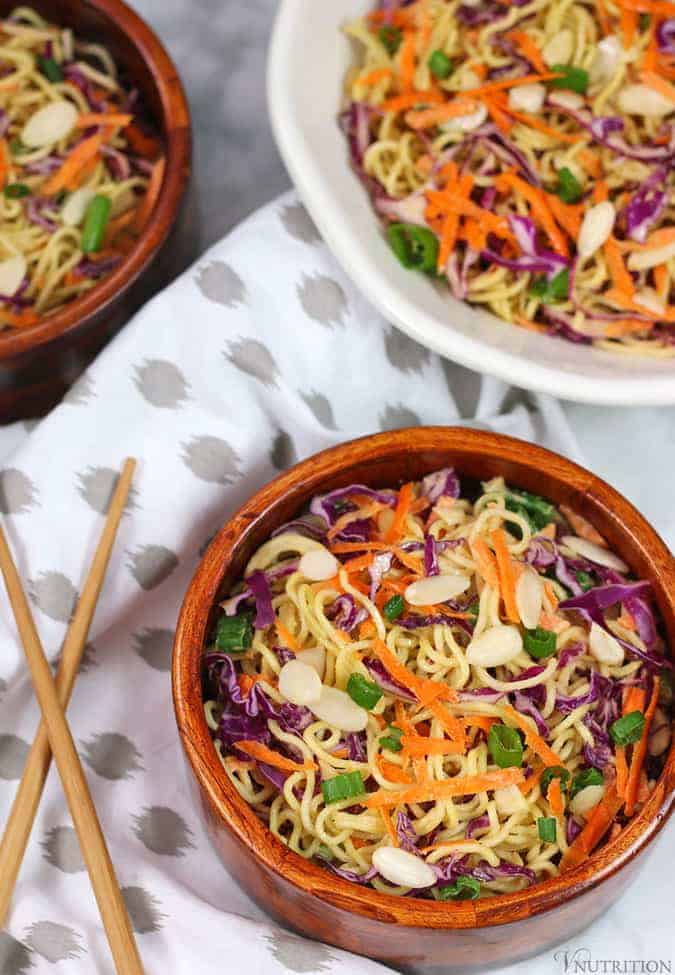 This ramen noodle salad is a perfect dish to take to picnics, BBQs, pot lucks, or even for a regular lunchtime meal. It is great served cold or at room temperature, and it doesn't wilt after you dress it.
This noodle salad is based on a recipe that my friend always brought to our get-togethers. I wanted to health-ify the salad a bit and I think it's even better than the original!
I've had so many people tell me this salad was a hit at their gatherings. They love how everyone enjoys it - both vegans and omnivores alike. Here's why:
It's cool and crunchy, making it excellent fare for hot weather. The yummy peanut dressing is creamy, salty, sweet and spicy, making it totally addictive. And best of all? It's naturally vegan, gluten-free and HEALTHY. What's not to love??
Jump to:
Are Regular Ramen Noodles Vegan?
Most ramen noodles are made from just a few ingredients such as wheat flour, water, salt, and vegtable oil which are vegan.
The seasoning packet that goes with ramen noodles, however, is often not vegan. These heavily processed powders can contain beef, chicken, or fish. But don't worry, you can chuck the seasoning packet because we're not going to use it.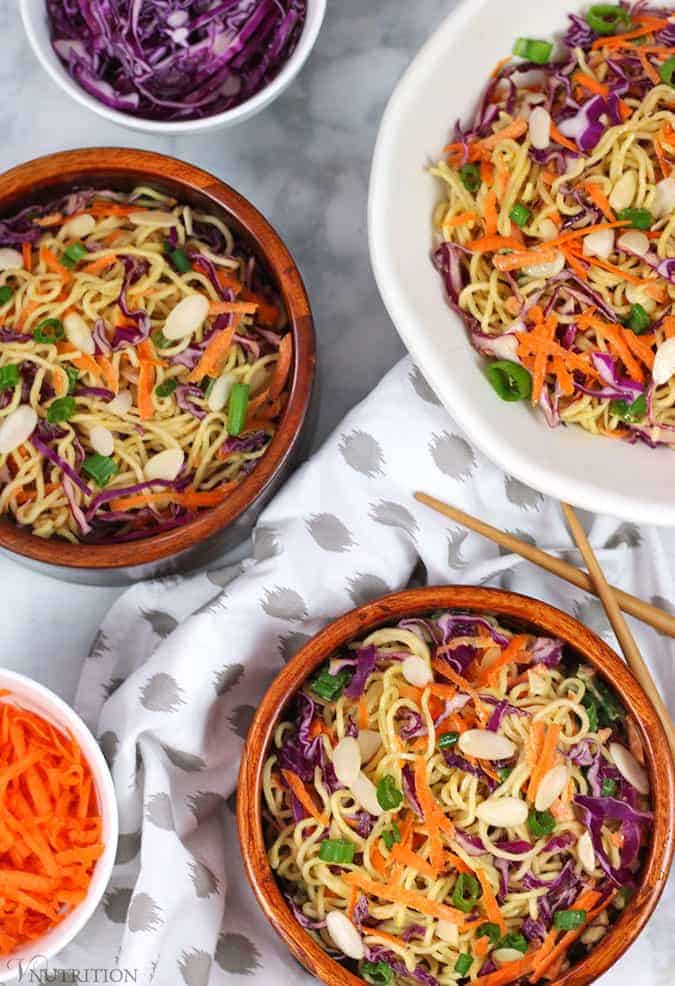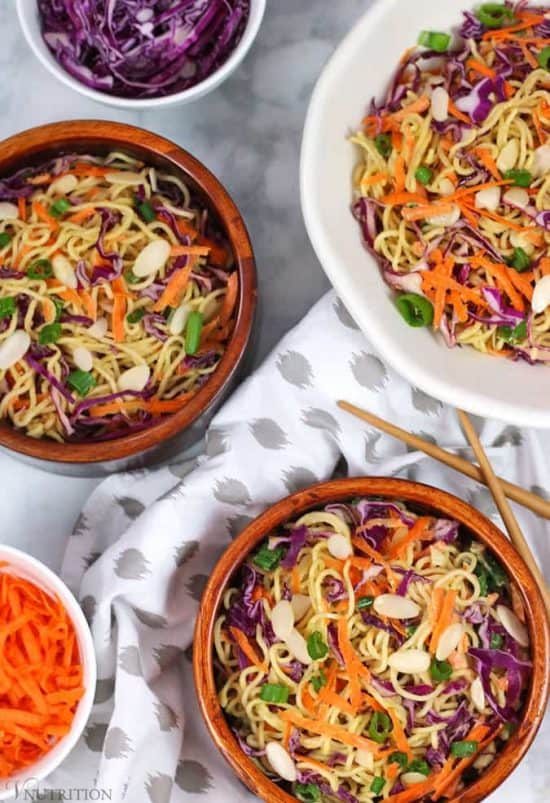 Creating a Healthy Alternative
From what I remember of my friend's ramen noodle salad recipe, it contained fried noodles, oil- and sugar-packed dressing, and only a few veggies. While the salad tasted really good, all the unhealthy elements made it difficult to fully enjoy.
I knew there had to be a way to make a delectable vegan noodle salad that I could feel good about. Here are the changes I made for my healthy recipe:
Using organic brown rice noodles instead of fried, processed white flour noodles. Not only did this swap save on empty, oil-laden calories, it also made the ramen salad gluten-free!
Adding lots more colorful veggies, with all their crunchy, vitamin- and mineral-packed goodness.
Subbing a small amount of pure, unrefined maple syrup instead of white sugar for a lower glycemic impact.
Making the dressing oil-free.
These swaps were easy to make, and if I'm being honest, I think they made the salad even better than the original! (Shhhh, don't tell my friend!)
What's in this dish?
Ramen Noodles - I opted to use brown rice ramen noodles to both boost the fiber content and remove the gluten and unnecessary oil from the original. That said, feel free to use any ramen noodles you prefer to buy. Be sure to boil them according to package directions, as different brands will take different amounts of time.
Red Cabbage - This is where the "salad" part of my ramen noodle salad comes into play. I love the beautiful color (and resulting healthy anthocyanins) of red cabbage, but you can easily swap in green cabbage if you prefer.
Carrot - Any color of carrots will work here. I just love the added crunch and sweetness they add to the noodles.
Scallions - Fresh green onions are a mild flavor I associate with many types of Asian cuisine. Don't forget to use both the white AND the green parts! If alliums aren't your thing, you can omit them.
Slivered Almonds - Healthy fats and added crunch? Yes please! Feel free to swap in chopped peanuts or cashews instead.
Smooth Peanut Butter - Be sure to opt for natural peanut butter here, where the only ingredients are peanuts and salt. Avoid any hydrogenated fats and added sugars. For easy mixing, I recommend allowing it to come to room temperature. If you are allergic to peanuts, you can swap in almond butter, cashew butter or sunbutter instead!
Lime - Fresh lime juice gives the peanut dressing a much needed dose of bright acidity. For even more lime flavor, grate a bit of the zest in as well. To get the most juice out of your limes, roll them firmly on the countertop for 10-15 seconds prior to cutting.
Apple Cider Vinegar - If you're only going to have one kind of vinegar on hand, my favorite is apple cider vinegar. If possible, get the organic, raw variety that still has the "mother" intact for the most probiotic benefit. You can also swap in mild rice wine vinegar if you prefer!
Maple Syrup - This is my personal sweetener of choice. Feel free to substitute agave nectar or date syrup instead.
Tamari - Tamari is a gluten-free type of soy sauce. If gluten is not a concern for you, regular or low-sodium soy sauce will also work. If you are allergic to soy, try using liquid aminos or coconut aminos instead.
Garlic Powder & Onion Powder - This is one of my favorite kitchen shortcuts. Powdered alliums make life so much simpler! You can get a huge hit of flavor without having sticky, smelly fingers or having to bawl your eyes out. Win, win.
How to make Ramen Noodle Salad
This easy recipe is so simple, I kind of feel silly writing out the instructions. Here's what you need to do:
Step One: Prep Veggies and Noodles
Using either a mandoline, a food processor, a box grater or a sharp knife and cutting board, slice your veggies into shreds. Boil and drain your noodles.
TIP: Short on time? Buy a package of pre-shredded cole slaw mix to get your cabbage and carrots without needing to bust out the food processor!
Step Two: Make Dressing
Add all dressing ingredients together in a bowl or glass. Whisk until combined.
Step Three: Assemble
Place all the veggies and noodles into a bowl. Pour the dressing over top and toss to combine. Enjoy!
Customize It To Your Liking
This vegan ramen noodle salad is a favorite of mine not only because of how simple it is to make but also because it is so easy to customize! Here are a few ideas to help you make this salad your own:
Add other shredded veggies that are languishing in your crisper drawer. Snap peas, green beans, and bell peppers all come to mind, but feel free to experiment. Let me know what veggies you love to add in the comments below!
Change the flavor profile by adding fresh herbs. I love cilantro, Thai basil, regular basil, or mint for this recipe.
Add or change the nuts/seeds - Swap out the peanut butter for something that works for you. Cashew butter, almond butter, sunflower butter, or tahini all work. For added crunch, any chopped and roasted nuts or seeds like pumpkin & sunflower will do!
Make it spicy - drizzle a little sriracha or sambal oelek into the dressing to give it some heat. You can also add sliced or diced jalapeño peppers to the salad for some fresh spice.
Add protein - grilled tofu, baked tofu, chickpeas, tempeh, soy curls, and steamed edamame are all great ways to add more protein to this salad.
This list isn't intended to be comprehensive, rather is just a jumping off point for your own creativity. Feel free to have fun with it!
Prep Tips
Embrace store-bought time savers: I like to make things as easy as possible so I often purchase pre-shredded/grated vegetables. It makes life even easier and if I have any leftovers, they're perfect for other wraps or salads.
Using the right equipment: If I can't find all the veggies pre-shredded, I'll use my mandolin or food processor to shred them. It only takes a few minutes and much less hassle than cutting them. Be sure to check out my tools for a plant-based kitchen post for more on that).
Meal Prep for success: If you know you're going to be in a rush the day you make the salad, you can pre-shred the veggies and pre-make the dressing the day before so all you have to do the day of is cook the noodles, throw everything into a bowl, and you're done!
Don't let them stick: If you opt to pre-cook your noodles, give them a light drizzle of olive oil and toss them before storing them in the fridge. This will keep them from clumping together into a ball.
Frequently Asked Questions:
Can I make this ramen noodle salad ahead of time?
Absolutely! I think it's the perfect potluck dish because it can stay at room temperature for several hours and the veggies won't get soggy or wilt on you after dressing. Any leftovers will keep in the fridge for up to a week, if you have that kind of self control. I certainly don't.
What if I have a peanut allergy?
No problem! Simply swap in an alternative nut or seed butter in the dressing. Cashew and almond butter are my personal favorites, but tahini or sunflower seed butter will absolutely do the trick if all nuts are off the table.
What about a soy allergy?
Simply swap in liquid aminos (which contain gluten) or coconut aminos (which do not) in place of the soy sauce.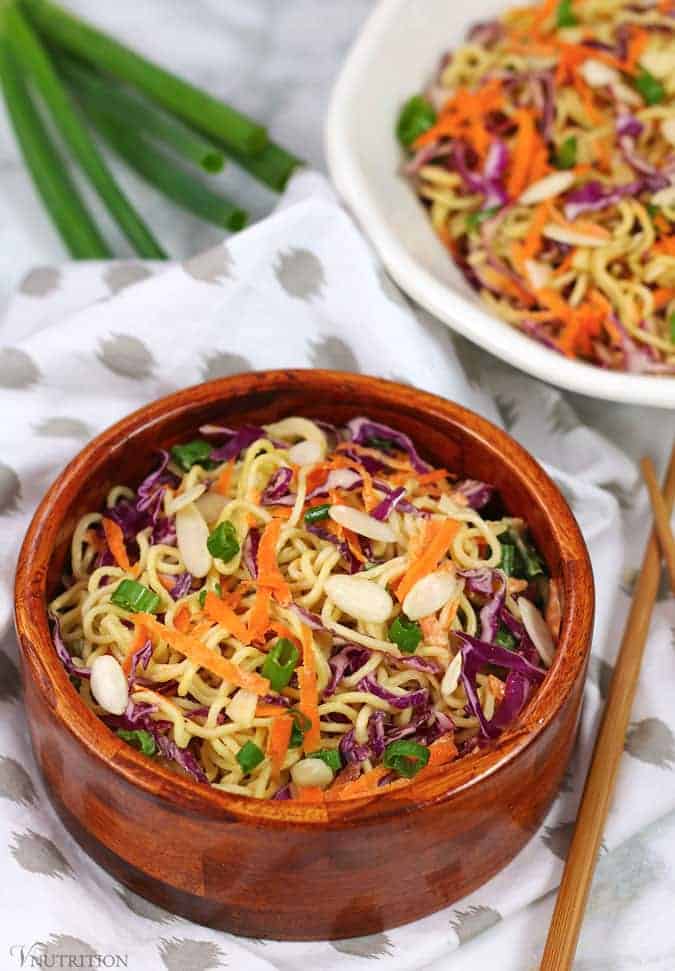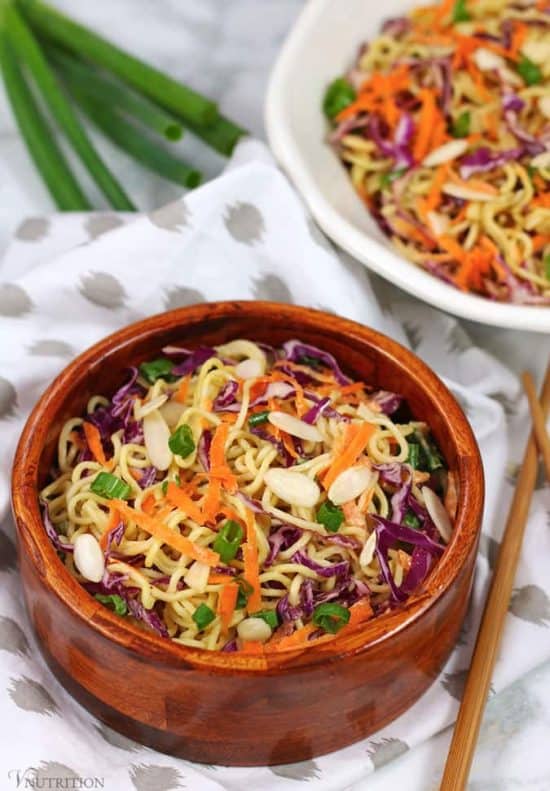 Other Salad Recipes You Might Enjoy
If you're looking for some more tasty food to bring to a BBQ or potluck, try these out:
[mv_video doNotAutoplayNorOptimizePlacement="false" doNotOptimizePlacement="false" jsonLd="true" key="vx6lw4n0vtrzvrdtemta" ratio="16:9" thumbnail="https://mediavine-res.cloudinary.com/v1508350216/nyfpilfxsefap0kldn63.jpg" title="Vegan Ramen Noodle Salad" volume="70"]
If you make this recipe and LOVE IT, please give it 5 stars ⭐⭐⭐⭐⭐!
📖 Recipe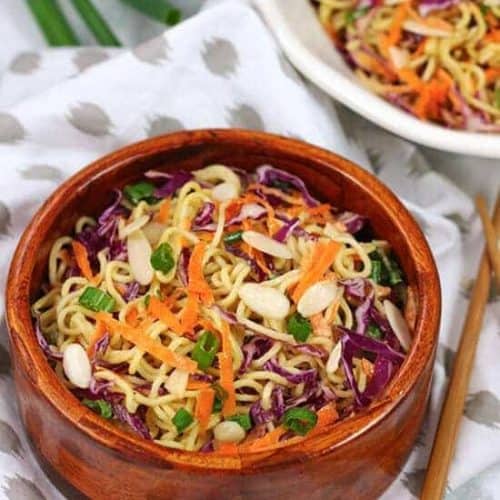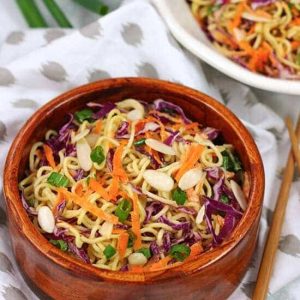 Vegan Ramen Noodle Salad
This colorful Vegan Ramen Noodle Salad is perfect for BBQs, potlucks or even to brighten a regular meal. It's so easy to make, healthy and a fun twist on lunch or dinner.
Email Recipe & Ingredients
Ingredients
Ramen Noodle Salad
1

pack (8oz)

ramen noodles

cooked, just slightly al dente*

3

cups

red cabbage

shredded

1

cup

carrot

grated

5

scallion stalks

sliced

¼

cup

slivered almonds
Instructions
Add all salad ingredients to a large bowl.

In a separate bowl, whisk salad dressing ingredients. If the dressing is too thick for your liking, feel free to add a little more warm water until you get the consistency you desire.
Notes
*

I used non-fried brown rice ramen but you can use any kind you would like
**If you pre-cook the noodles, add a little olive oil to them before putting them in the fridge so they don't stick together.
Nutrition
Calories:
185.5
kcal
Carbohydrates:
20.8
g
Protein:
6.4
g
Fat:
9
g
Fiber:
3.5
g
Vitamin A:
7500
IU
Vitamin C:
37.1
mg
Calcium:
70
mg
Iron:
1.3
mg
PLEASE NOTE: Nutritional information data is computer generated and only an estimate so it should be used only as a guide.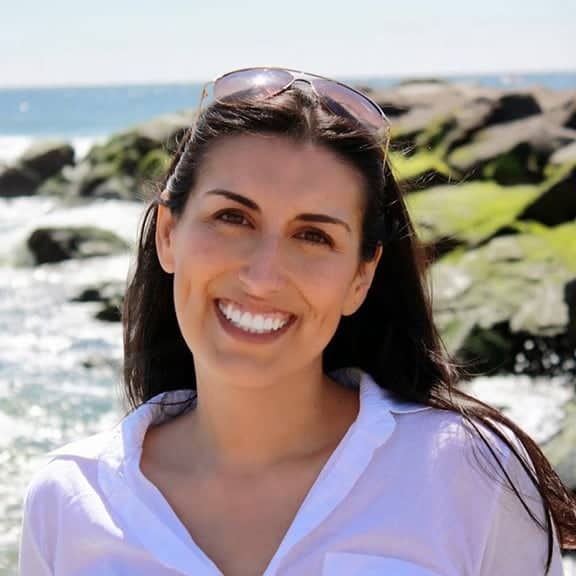 Mary Ellen Valverde MS, CNS, LDN is a Licensed Nutritionist and Certified Nutrition Specialist who empowers vegans to feel clear and confident about what is uniquely nourishing to them. Mary Ellen's recipes and nutrition information have been featured on Yahoo News, Parade, VegNews, LIVESTRONG, Dr. Axe, Greatist, LIVEKINDLY, Brit+Co, Well+Good, and more.