Need some help with Vegan Meal Prep? I'm sharing my top 5 tips to get you started with food preparation to make mealtimes easier.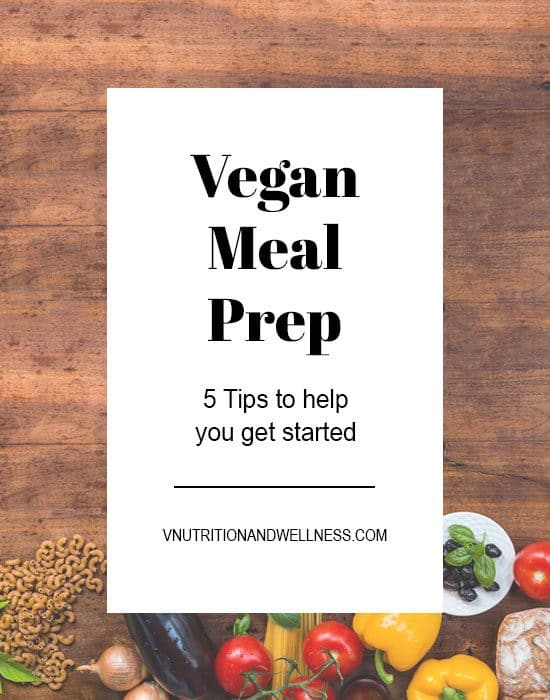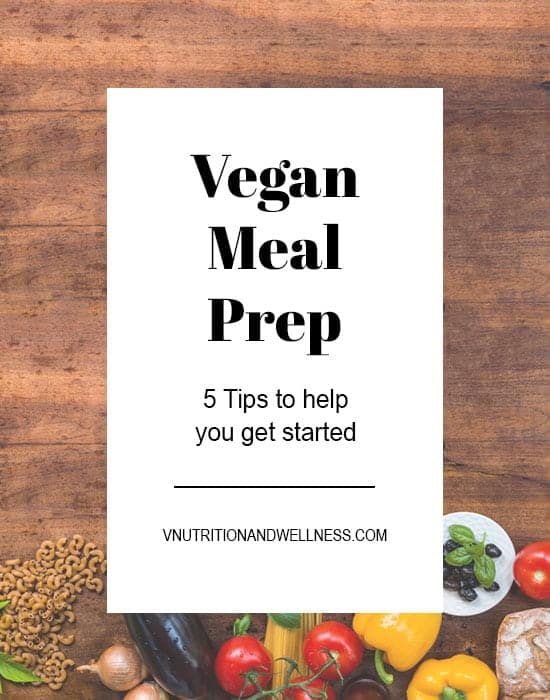 I'll be straight with you. Meal prep is NOT my favorite thing in the world. I tried hardcore meal prepping for a while and I just couldn't stick with it. BUT there are certain aspects of meal prepping that are really helpful and that's why I started doing my own version.
Most people do not have time to spend hours in the kitchen a day. I have so many other things going on during the week that I like breakfast to be fast, lunch to be pre-made, and dinners to be easy.
Taking some time on Sundays to prepare some of my food really does help. If you need some help with meal planning before the meal prep, check out my
If you need some help with meal planning before the vegan meal prep, check out my Vegan Meal Planning post!
Jump to:
5 Easy Vegan Meal Prep Tips
I put together some of my favorite Meal Prep Tips that I thought might help you as well. They're nothing overwhelming so I hope they help you to make easier and healthy vegan meals.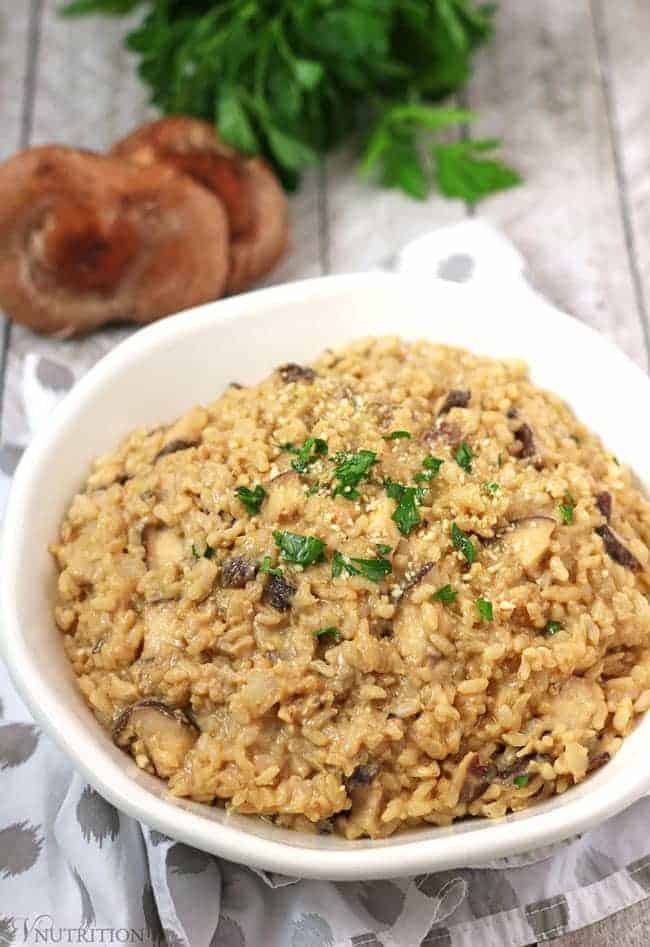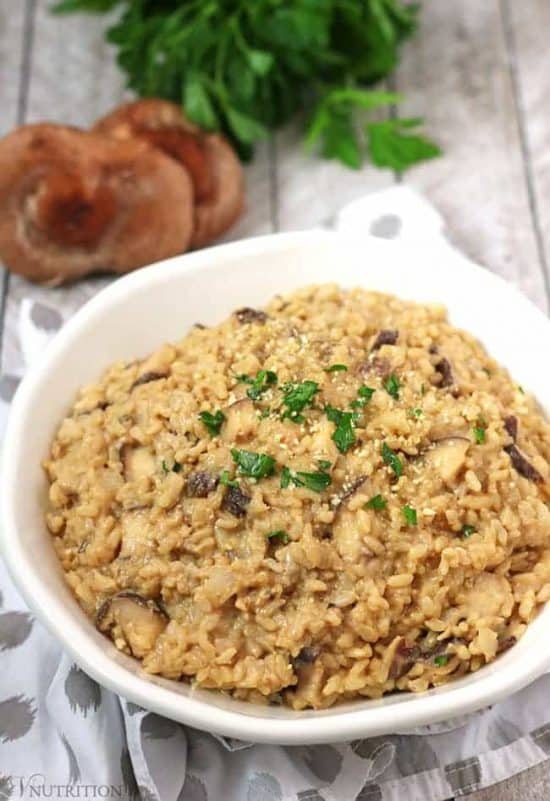 1. Pre-made Grains
I use whole grains in many of my recipes. I'm not a low-carb person and I feel better when I eat them. At the same time, we need to remember to eat the right kinds of carbs. Whole grains fuel us and contribute B vitamins, minerals like iron, magnesium, and selenium, as well as fiber, unlike refined and processed grains or pasta that could spike blood sugar levels and give us empty calories.
Keep in mind that everyone's body is very different so be sure to listen to what your body is saying when you eat specific foods. Sorry for the digression - the nutritionist in me needs to explain why all carbs are not evil.
What I do on Sunday is make a whole batch of grains for the rest of the week. I do my Vegan Meal Planning and then decide what grain I should cook. If I'll be making things like my Buffalo Chick'n Rice Skillet, Easy Vegan Mushroom Risotto (shown above) or my Vegetable Bean Casserole, I'll make brown rice.
If I'm feeling like having something like my One-Pot Lentil Quinoa or Southwest Quinoa, I make quinoa. And if I'm making one of my bowls, I pick whichever grain I'm feeling like having that week because bowls can be really versatile. There are lots of grains to choose from other than brown rice and quinoa. You can switch things up with farro, amaranth, or buckwheat.
I make brown rice and other grains in my rice cooker and while that's cooking I can get other prep work done! Even if I do nothing else, I make sure I cook my grains on Sunday.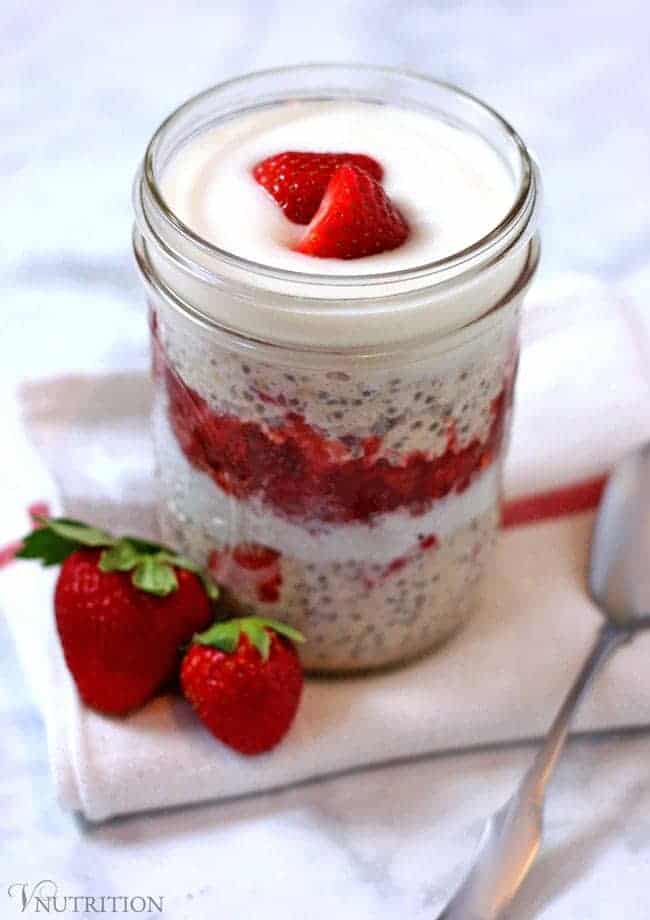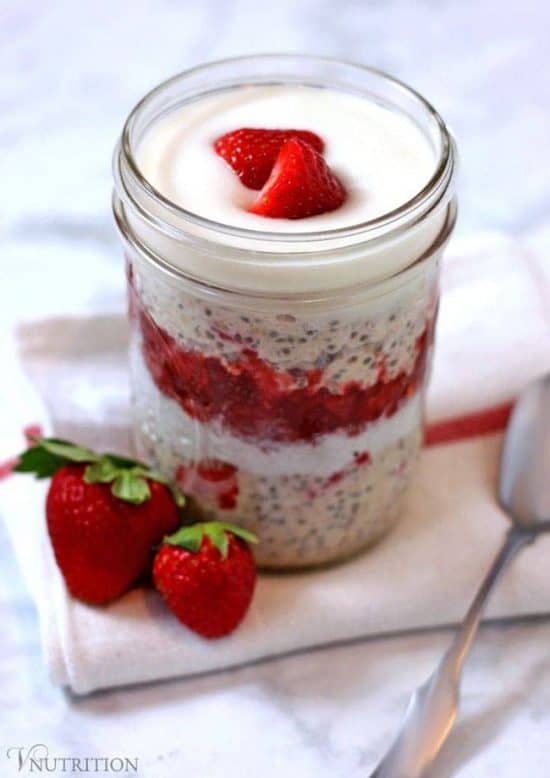 2. Breakfast Simplified
During the week breakfast has to be simple for me. I don't have much time in the morning so making something complicated won't work. I try to have breakfast ready to grab and go. Premaking overnight oats is one way to ensure I have a quick and healthy breakfast.
My two easiest overnight oat recipes are my Peanut Butter Chocolate Overnight Oats and Lemon Overnight Oats but if you want to get a little fancy, you'll love my Blueberry Lemon Cheesecake Overnight Oats and Strawberries and Cream Overnight Oats (shown above).
I also make smoothies on workday mornings. What I found to be easy for me is buying 2 small personal blenders (like these from Bella). I keep one base at work and another base as well as the cups at home.
In the morning I throw in all of my smoothie ingredients into a cup and then blend it when I get to work. I can even put the ingredients in the cup the night before if I know I'll be in a rush.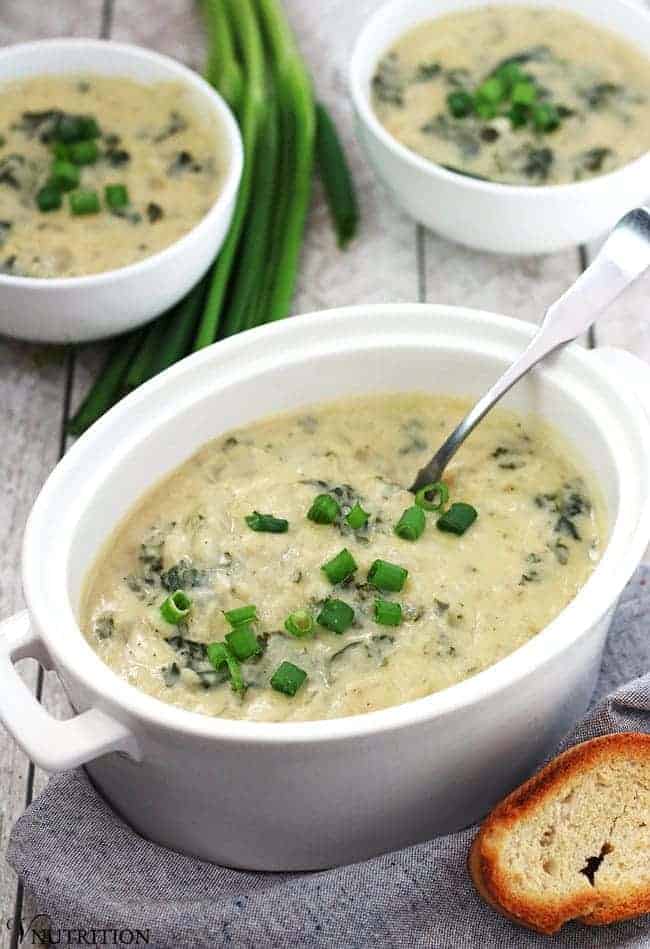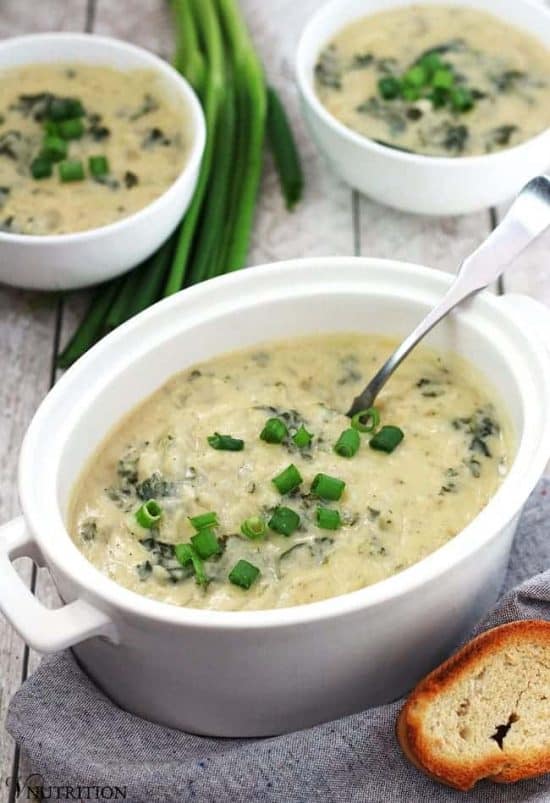 3. Lunch Made Easier
Lunch is another meal I like to have prepared. Sometimes I will have leftovers from the previous night's dinner but most of the time I'll pre-make my meals. The easiest meals for me to make for lunch are soups and salads.
I purchase a large tub of organic salad greens and bring that to work with the rest of the ingredients that I prepared for the salad. I'll add protein (beans, pre-cooked tofu, nuts/seeds), cooked or raw veggies, and maybe a grain like quinoa. I whip up a big batch of salad dressing on Sunday that I'll have for the week.
I'll also make a big pot of soup like my Roasted Tomato Chickpea Soup or Vegan Colcannon Soup (seen above) so I have it all ready to heat up at work. Small glass Pyrex jars are great for portioning out the soup and re-heating at work.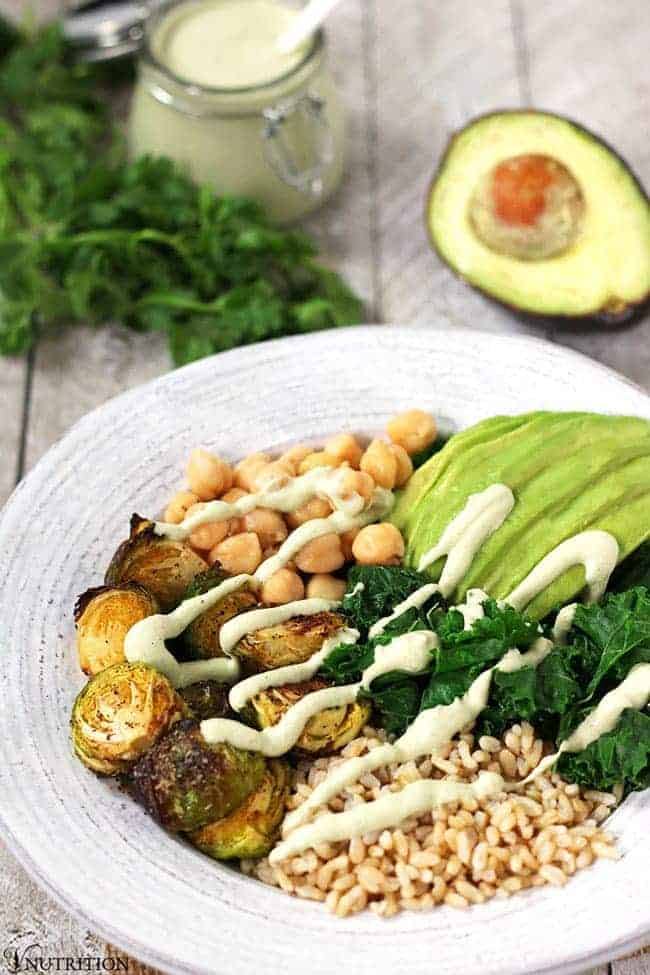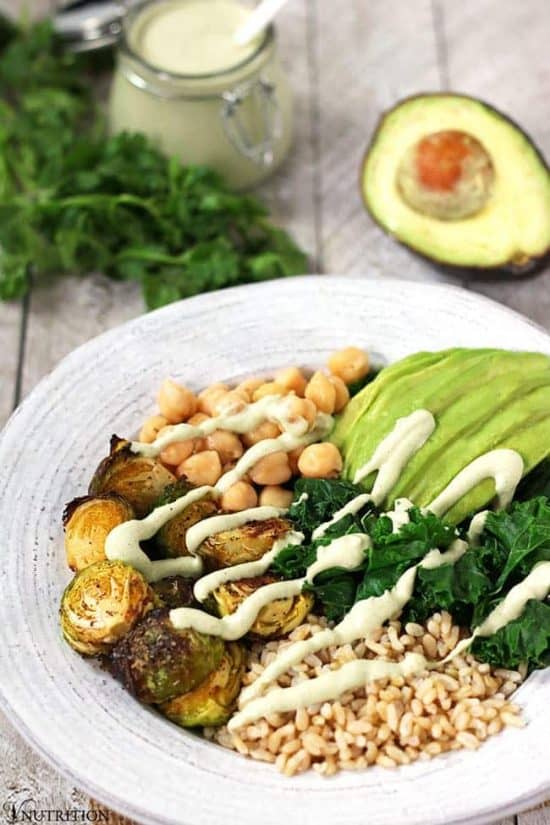 4. Pre-cook Veggies
One of my favorite things to do for vegan meal prep is pre-cooking my veggies. Roasting them is my preferred method because of all the flavors that come out through the roasting process. I use roasted veggies in my weekly salads and for my dinner bowls like my Green Power Bowl (above).
It's easy to chop some veggies (and even easier to buy them pre-chopped) and throw them in the oven with some salt, pepper, and olive oil for 30-40 minutes. Then voila, you have veggies ready for the week! I switch up the veggies I use every week so I don't get bored but I especially love roasted carrots and squashes for salads and Brussels sprouts and sweet potatoes for bowls.
When it gets too hot for the oven, I steam or grill up the veggies instead. When I still want that roasted taste when it's summertime, I'll use my toaster oven and do the roasting in small batches so the kitchen doesn't get unbearably hot.
It's easy to set a timer and roast the veggies then do other prep while the vegetables are roasting.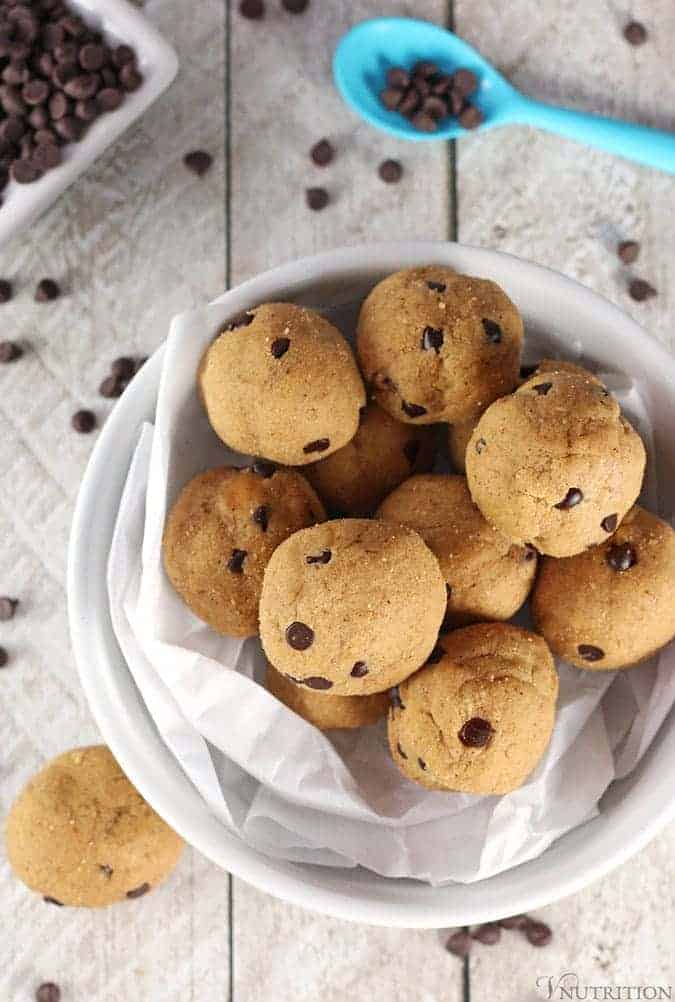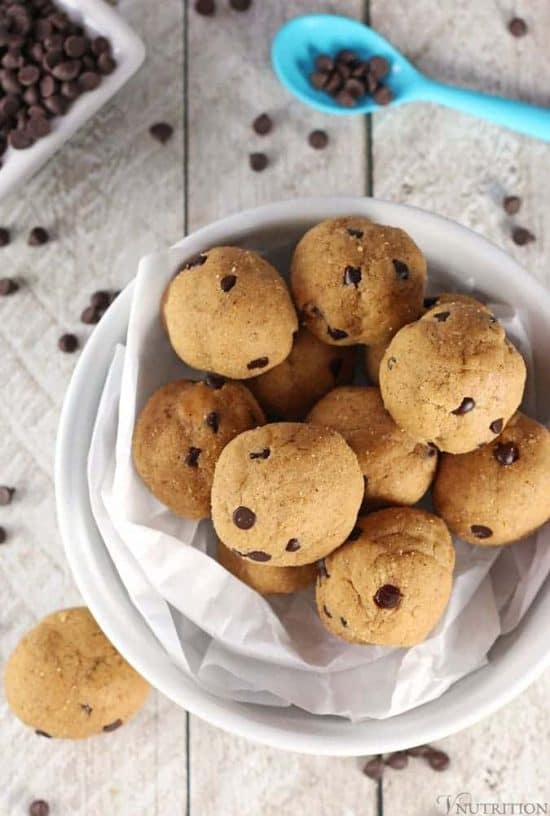 5. Get your Snacks Ready
I love to have easy snacks on hand at all times (no one wants me to get hangry). I make protein balls (like my Cookie Dough Protein Balls) during my vegan meal prep to have a tasty snack to bring to work for the week. They don't require any cooking and are perfect when you need a sweet treat but want to keep things healthy.
I'll usually have one or two balls as a mid-afternoon or pre/post-workout snack. I find it really helpful to have these babies around so I do not get too hungry and make poor eating choices.
Hummus and dips are other great snacks. I love eating those with carrot or celery sticks and it really hits the spot. If I get the snacking urge at work or after dinner, I know I have a healthy pre-made snack instead of reaching for some Oreos, potato chips, or (enter your favorite naughty treat here). I also keep nuts around to make sure I have a quick protein-filled snack whenever I need it.
What are some of your favorite vegan meal prep ideas?
You may also like...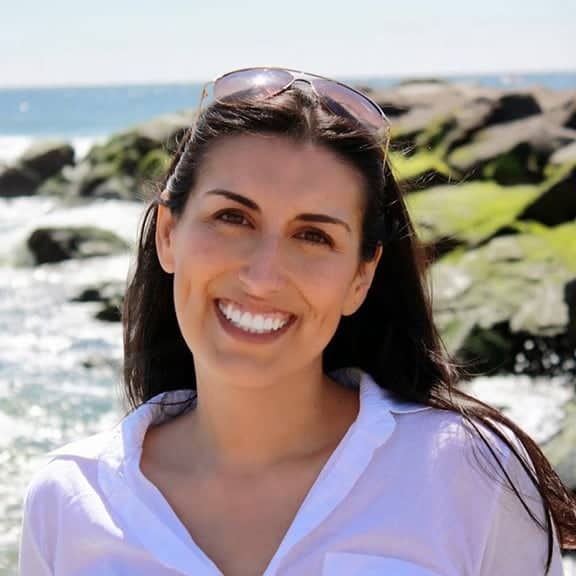 Mary Ellen Valverde MS, CNS, LDN is a Licensed Nutritionist and Certified Nutrition Specialist who empowers vegans to feel clear and confident about what is uniquely nourishing to them. Mary Ellen's recipes and nutrition information have been featured on Yahoo News, Parade, VegNews, LIVESTRONG, Dr. Axe, Greatist, LIVEKINDLY, Brit+Co, Well+Good, and more.