This vegan Hungarian Red Lentil Soup is so simple to make and uses easy to find ingredients. Have a comforting, healthy dinner on the table fast with this dairy-free, gluten-free and oil-free bowl of deliciousness!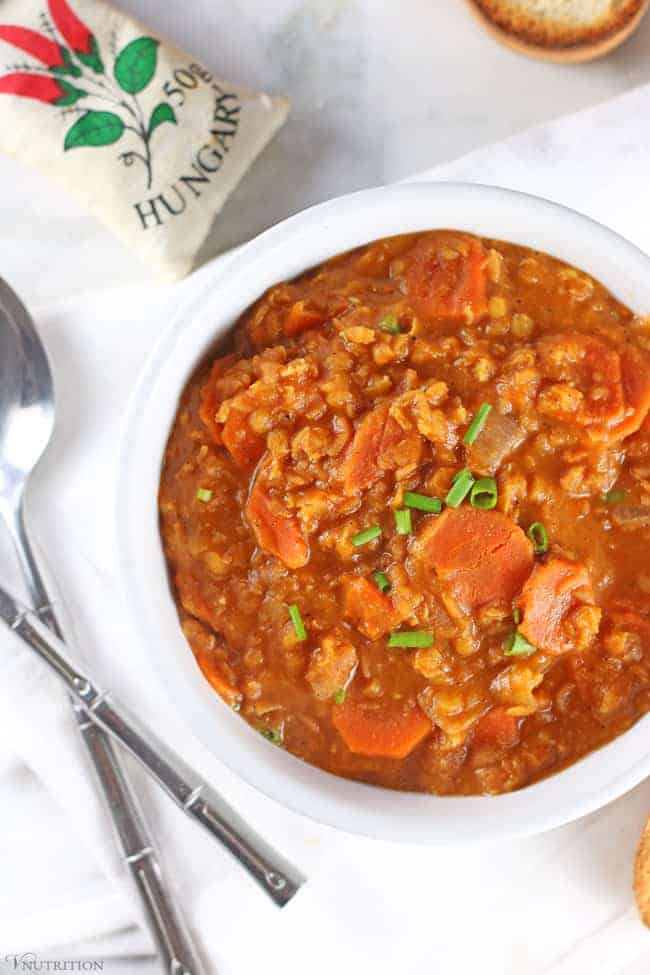 I'm always on the lookout for healthy recipes that can be made quickly. So when I was asked to review The Vegan 8 cookbook I was really interested in sharing this Hungarian Red Lentil Soup recipe with you.
A few things called to me about this recipe:
I've visited Hungary a few times and I love the country. Budapest is an amazing beautiful and vibrant city. I was excited to use the paprika I brought home from there in this soup!
The ingredients in this recipe are easy to find. No searching around the grocery store for any weird ingredients. I was lucky to have some Hungarian paprika from my travels, but really any sweet paprika will do.
This recipe was was really easy to make. Aside from a little chopping the only other things I had to do were open up a few cans and throw in the spices.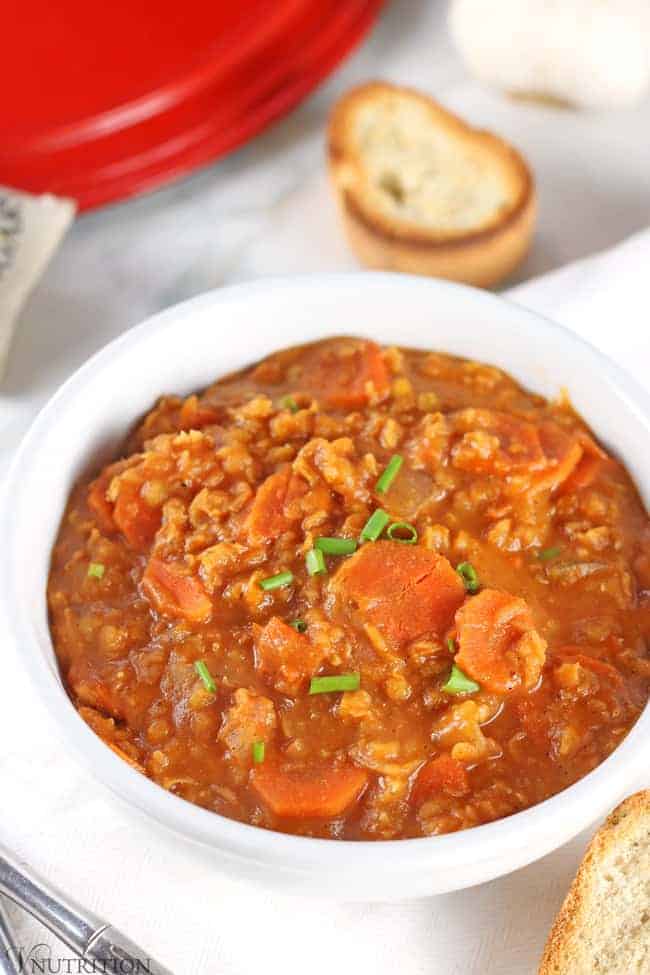 This Hungarian Red Lentil Soup recipe comes from The Vegan 8, by Brandi Doming. You may have heard about or visited Brandi's blog, The Vegan 8.
The book is based on easy-to-make recipes featuring 8 ingredients or less (not counting salt, pepper or water or anything optional). How refreshing does that sound?
Just like her blog, Brandi focuses the recipes in her book on comforting foods and classic dishes we all love, but are made easier and without a huge list of ingredients.
This book is for anybody who wants to incorporate more veggies or meatless meals in their diet without sacrificing flavor. There are no salads, green smoothies, tofu or superfoods, only regular food that appeals to everybody.
The recipes in The Vegan 8 are categorized by meal and the chapters include:
The Vegan 8 Kitchen
Breakfast
Scrumptious Snacks & Appetizers

Time-Crunch Lunches

Sauces & Dressings
Easy Entrees
Comforting Soups & Stews
Crowd-Pleasing Desserts
Vegan 8 Staples
Her recipes are all dairy-free and many are oil-free, gluten-free, and nut-free.
Other recipes I have my eye on in the book are:
Double Chocolate Fluffy Pancakes
Skillet Baked Mac & Cheese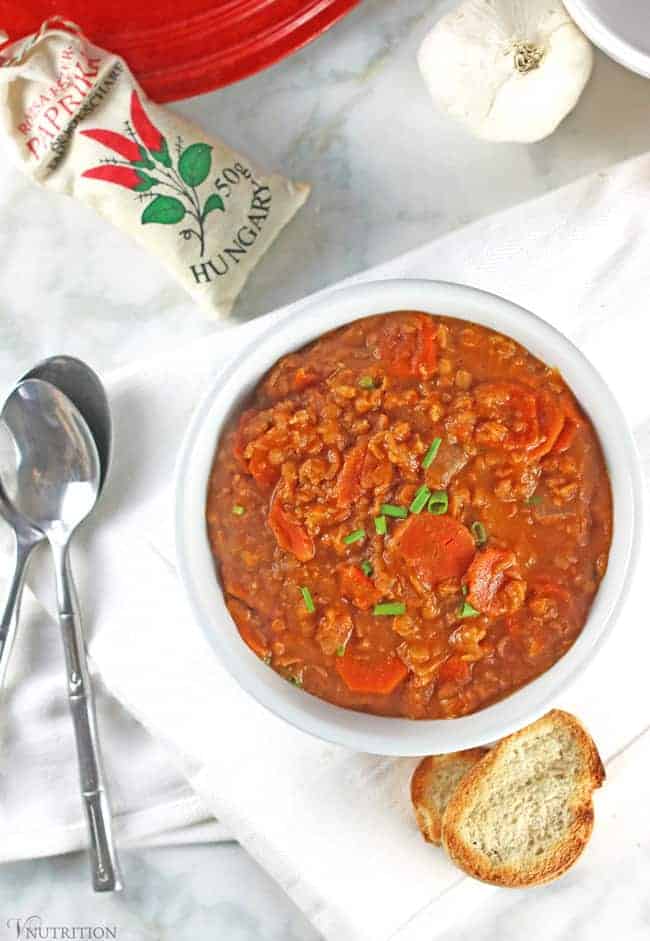 Hungarian Red Lentil Soup
This Hungarian Red Lentil Soup makes such a great meal for those wanting to get a health dinner on the table fast.
Nutritionally, lentils contain lots of iron, potassium, and vitamin B6. They're also a great source of protein as well as fiber.
Lentils have been shown to aid in weight loss, improve/maintain heart health, combat blood sugar fluctuations and improve digestive health.
Lentils are also one of the easiest beans on your digestive system so I tell a lot of my clients to start with them when adding beans to their diet.
Impressive, huh? Makes you want to eat more of these guys right?
I really enjoy this soup because it's:
easy to make
healthy
satisfying
totally delicious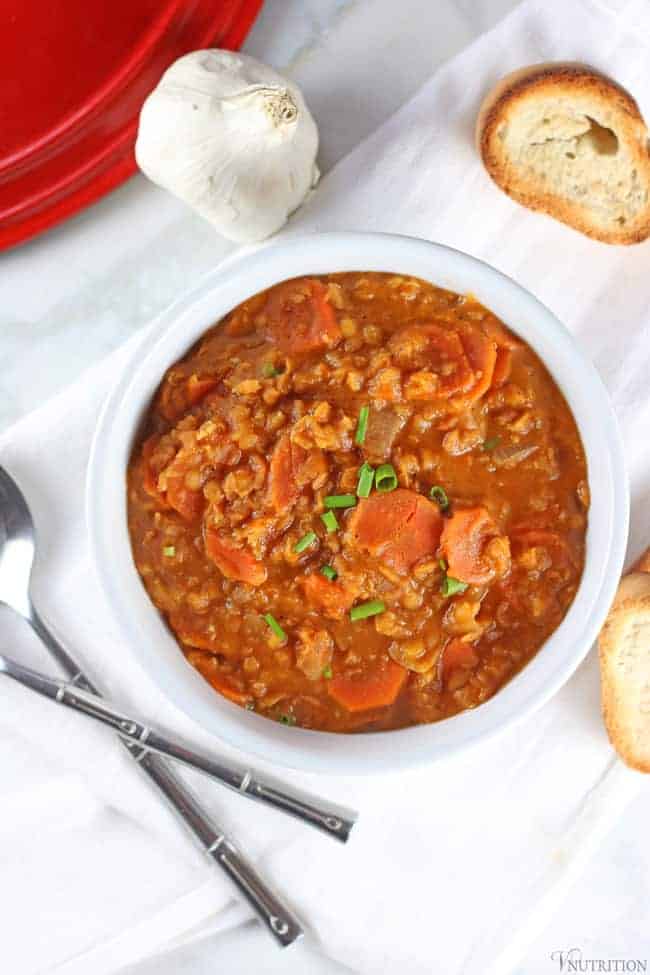 If you make this Hungarian Red Lentil Soup recipe, let me know what you think by ★ star rating it and leaving a comment below.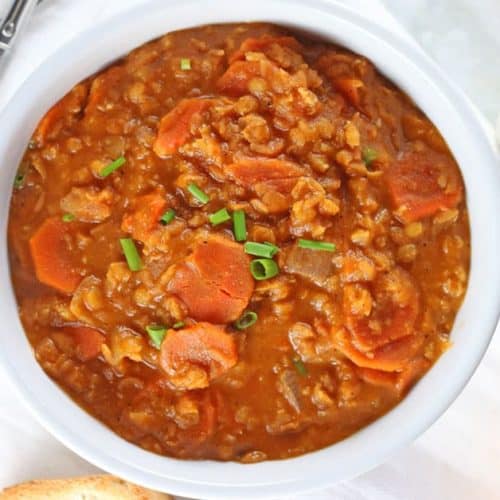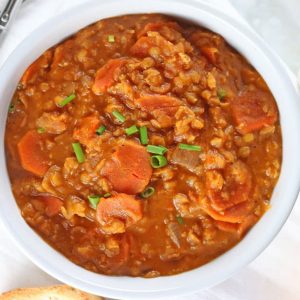 Hungarian Red Lentil Soup
This vegan Hungarian Red Lentil Soup is so simple to make and uses easy to find ingredients. Have a comforting, healthy dinner on the table fast with this dairy-free, gluten-free and oil-free bowl of deliciousness!

This recipe was printed with permission from Brandi Doming/The Vegan 8/Oxmoor House Press 2018.
Ingredients
1

cup

yellow onion

diced

3

medium sized carrots

cut into ¼ inch slices

3

cloves

garlic

minced

1

cup

dry red lentils

rinsed well with cold water

6

tablespoon

tomato paste

2

tablespoon

Hungarian sweet paprika

(see notes)

1

teaspoon

dry mustard

1.5

teaspoon

salt

.25

teaspoon

black pepper

1

cup

canned "lite" coconut milk

well shaken (see notes)
Instructions
Add the onion, carrots, garlic, and 1 cup water to a medium pot over medium heat. Bring to a simmer, and cook for 8 minutes, stirring a couple of times during, or until the veggies are tender but not overly so.

Remove the pan from the heat, and add the lentils, 2 1⁄2 cups (600g) water, tomato paste, paprika, dry mustard, salt, and pepper. Stir well, and bring to a boil over high heat. Cover, reduce the heat to low, and simmer for 10 minutes.

Add the milk, and increase the heat to medium-low; cook 5 to 10 minutes or until the lentils are tender yet still firm, and the soup thickens some. Stir often, and do not overcook, as you don't want the lentils to become mushy. Taste and add more salt, if desired. Serve immediately.
Notes
Make sure the paprika you are using is not hot paprika. If you can't find Hungarian paprika, any sweet paprika will work.
For the milk, it is important to use a creamy milk like cashew or "lite" coconut milk here for best results. The "lite" coconut milk is very creamy but yields no coconut taste. Almond and rice milks don't do well, and definitely don't use full-fat coconut, as it is too rich and thick and will ruin the flavor.
Nutrition
Calories:
223
kcal
Carbohydrates:
37.3
g
Protein:
12
g
Fat:
4.6
g
Sodium:
878
mg
Fiber:
8
g
Sugar:
5.9
g
Vitamin A:
4700
IU
Vitamin C:
5.8
mg
Calcium:
50
mg
Iron:
13.6
mg
Please Note: The nutritional information is a computer generated estimate so these numbers should be used only as a guide.
Tried this recipe? Let me know + share it!
Leave a comment and ⭐ rating below so I know you enjoyed the recipe! Tag @v.nutrition on Instagram with the hashtag #vnutritionandwellness so I can feature you!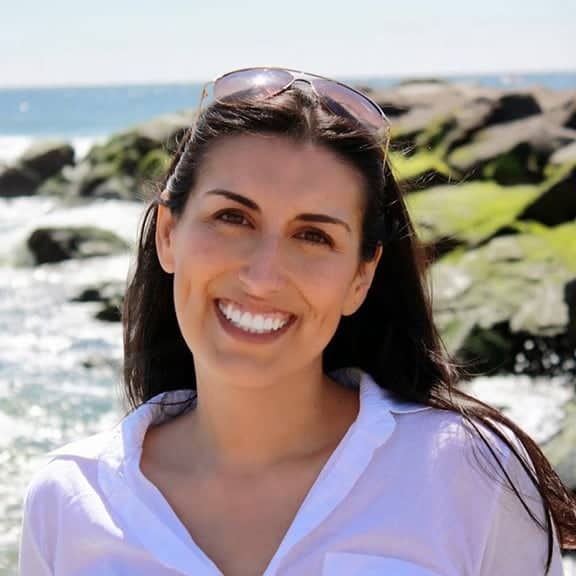 Mary Ellen Valverde MS, CNS, LDN is a Licensed Nutritionist and Certified Nutrition Specialist who empowers vegans to feel confident in creating sustainable habits that align with their values and health goals. She shares easy gluten-free plant-powered food to nourish your body + satisfy your tastebuds. Mary Ellen's recipes and nutrition info have been featured on Yahoo News, Parade, VegNews, LIVESTRONG, Dr. Axe, Greatist, LIVEKINDLY, Brit+Co, Well+Good, and more.