You won't miss the dairy one bit in this 20-minute creamy Vegan Cashew Mac and Cheese. This cashew cheese sauce is velvety and perfect for a quick and healthy weeknight meal. Just blend everything together and toss with pasta!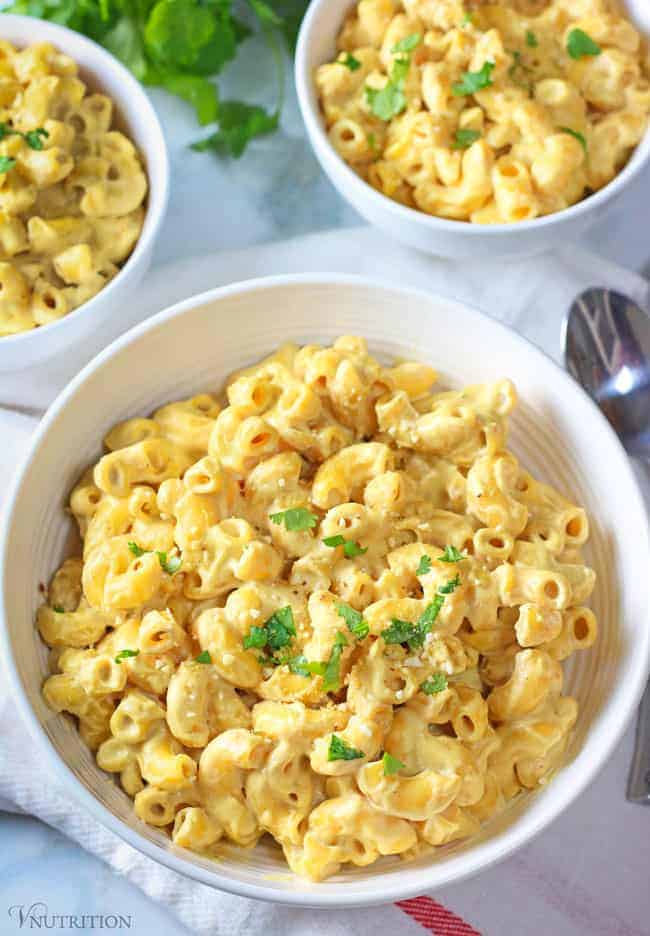 If you, like me, like to reach for creamy, "cheesy" carbs when you want a little comfort, you're going to love this vegan mac and cheese. I swear it's so good, you won't even miss the dairy!
While you could definitely reach for a box of vegan mac and cheese made with powder, I suggest giving this "from scratch" recipe a try. It's barely more work but is so much better tasting (and better for you).
Don't get me wrong, I still love my store-bought boxed vegan mac and cheese every once in a while, but now I prefer to eat whole foods as much as possible. Oh, and this creamy mac and cheese beats the boxed brands by a mile!
Jump to:
Why I Love This Recipe
I like whipping up big batches of this cashew mac and cheese for myself and using it throughout the week. This way I have some on hand anytime I'm in a cheesy mood.
This cashew mac and cheese recipe:
Is creamy & delicious - just like the non-vegan versions
Takes just 20 minutes to make - so easy!
Uses primarily pantry items - no trips to the grocery store
Is versatile - use the cashew cheese sauce on other dishes, or add any number of veggies or extra plant-based protein to customize your bowl. Check out the "Variations" section for more ideas!
Once you make this yummy, healthy, and hearty vegan mac and cheese recipe I have a feeling it will be on permanent rotation at your house; it certainly is at mine!
Ingredients and Substitutions
While it might sound like a tough undertaking, this vegan cashew mac and cheese requires mostly basic vegan pantry ingredients to make. Here's what you'll need:
Elbow Noodles - Technically speaking, macaroni is an elbow shaped pasta. That said, I'm not the shapes police! Feel free to swap in any other short noodle shape, subbing in gluten-free noodles when necessary.
Raw Unsalted Cashews - To make the sauce creamy. You can substitute macadamia nuts if you don't have cashews.
Nutritional Yeast - Nutritional yeast is the darling of the vegan world because of its umami, cheese-like flavor.
Lemon Juice - While you might have a bottle of lemon juice on hand, I'm here to plead the case for using fresh citrus. Once you taste the difference, I have a feeling you'll want to keep lemons in your crisper drawer at all times. To get the most juice from your lemons, give them a firm roll on the countertop for 10-15 seconds before cutting.
Coconut Milk - Use full-fat, canned coconut milk here for best results.
Dijon Mustard - If you don't have any on hand, spicy brown mustard, yellow mustard, or even mustard powder can be used in its place.
Garlic Powder & Onion Powder - Dried, granulated alliums are massive flavor builders that require exactly zero prep. Hooray for weeknight wins!
Pimento Peppers - These mild and sweet peppers can be found at just about any grocery store; either canned or jarred is fine! Just be sure to drain them before using. Roasted red bell peppers are also completely acceptable.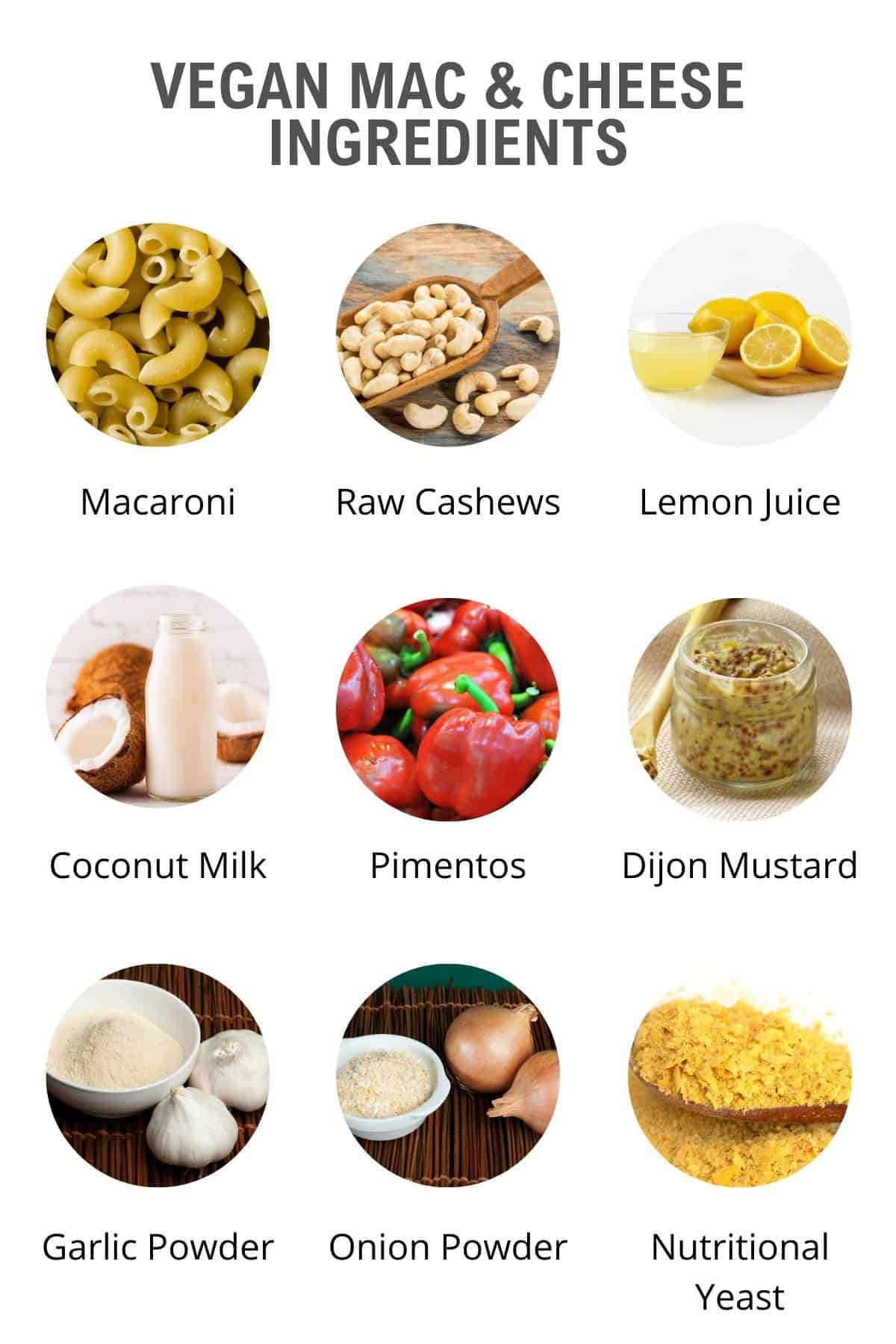 How to Make
This vegan cashew cheese sauce is incredibly easy to make as long as you have a powerful blender.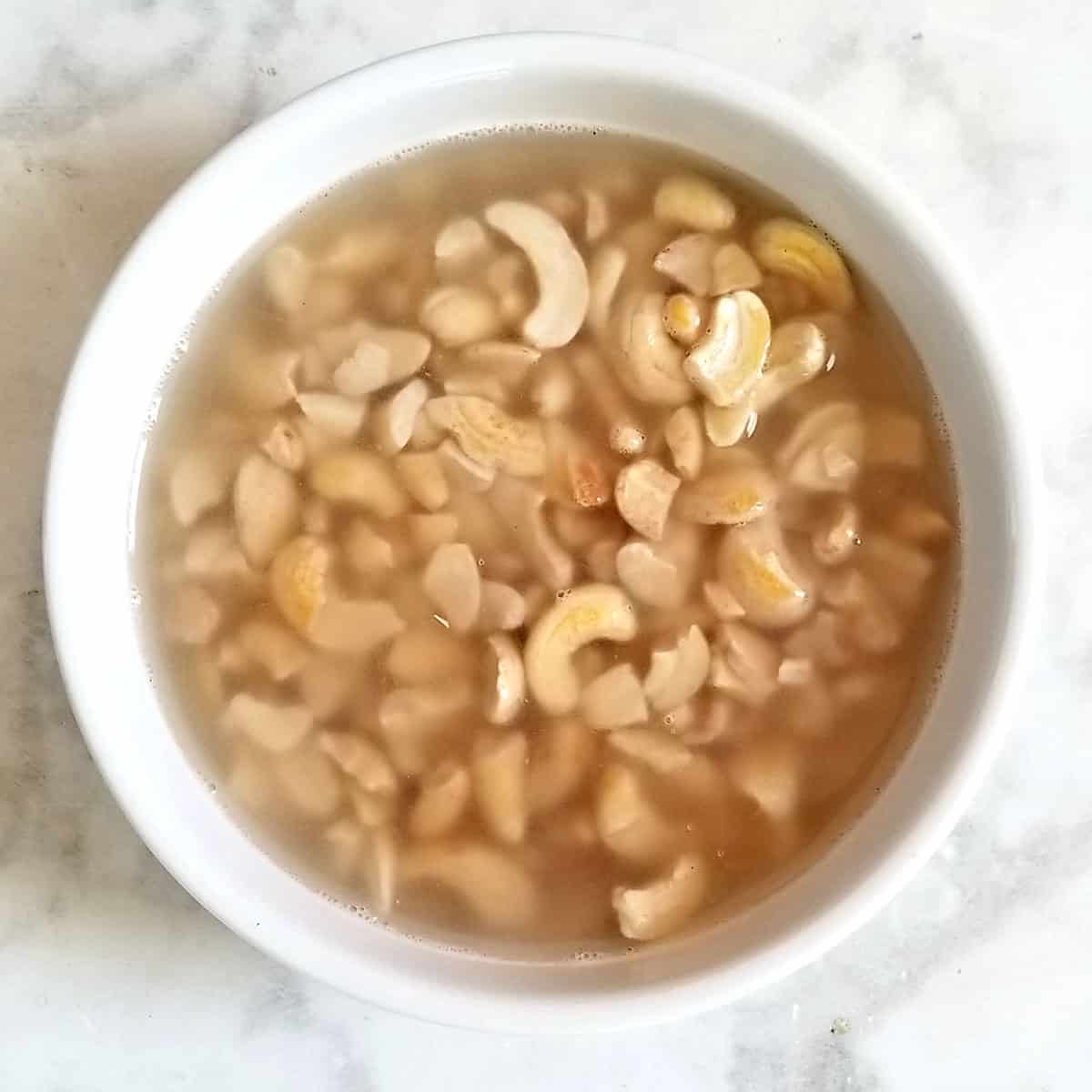 Step 1: Soak your cashews in hot water for 10 minutes.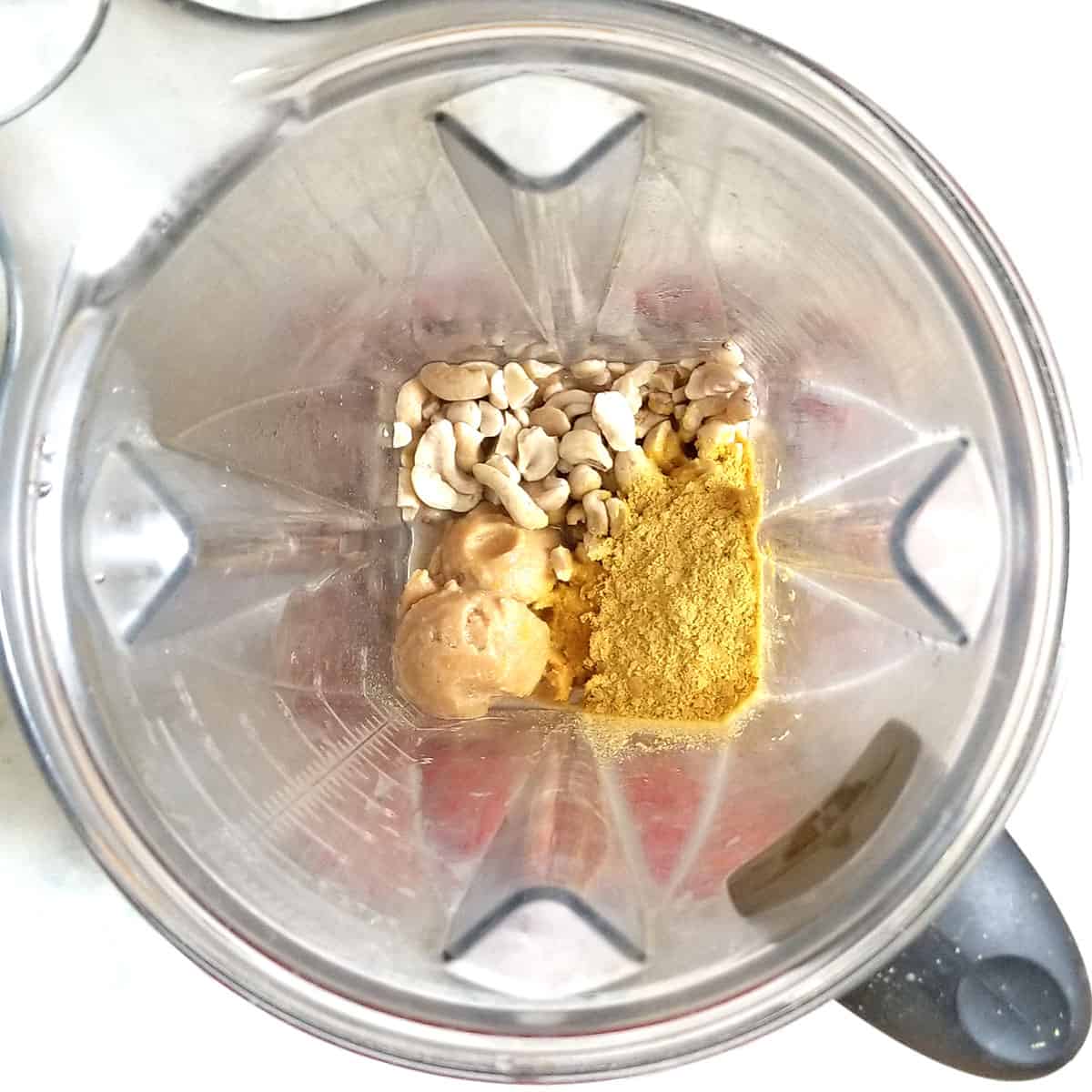 Step 2: Add all the ingredients into a high-speed blender.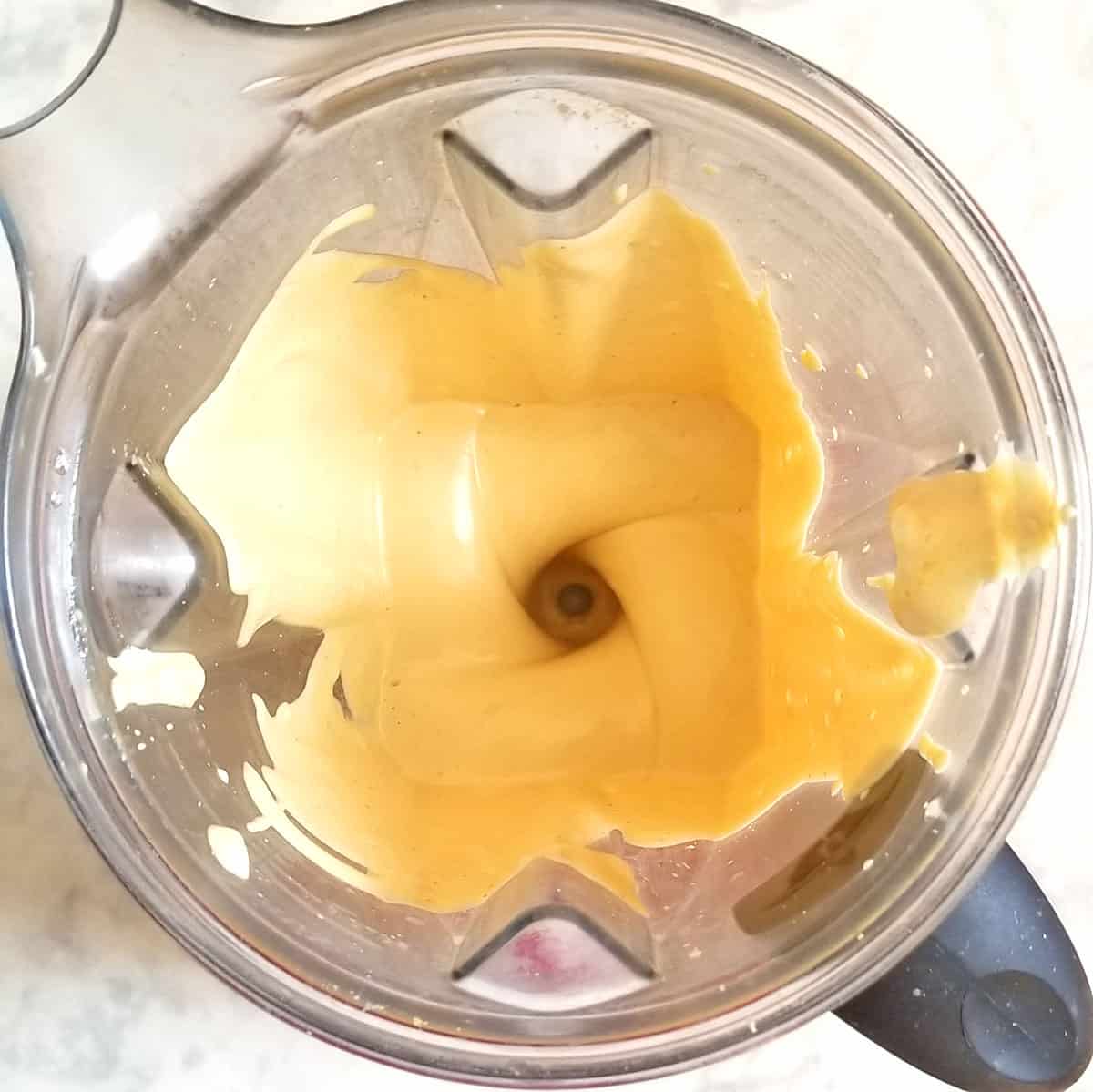 Step 3: Blend until smooth! Start with ½ a cup of water and 4 tablespoons of nutritional yeast and add more of either if needed.
PRO TIPS: It's better to add the water a little at a time to get a nice consistency – you don't want it too watered down. Also, sometimes the nutritional yeast flavor can be a little too much for some people so add up gradually.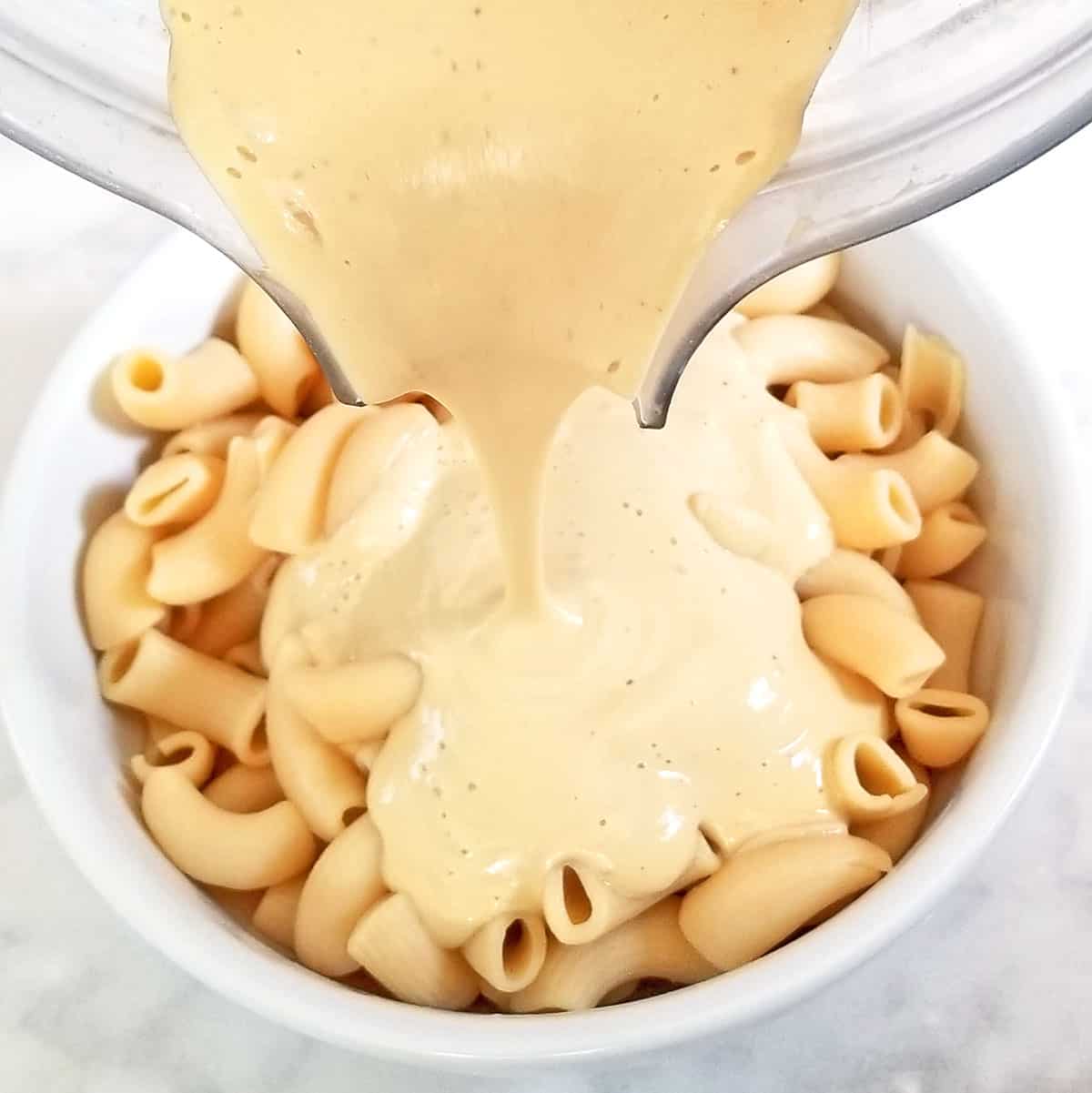 Step 4: To turn the sauce into a full-blown vegan mac and cheese, simply boil your pasta of choice according to package directions. Drain and mix with the cashew cheese sauce. Top with some vegan parmesan and BOOM! Vegan comfort food is served.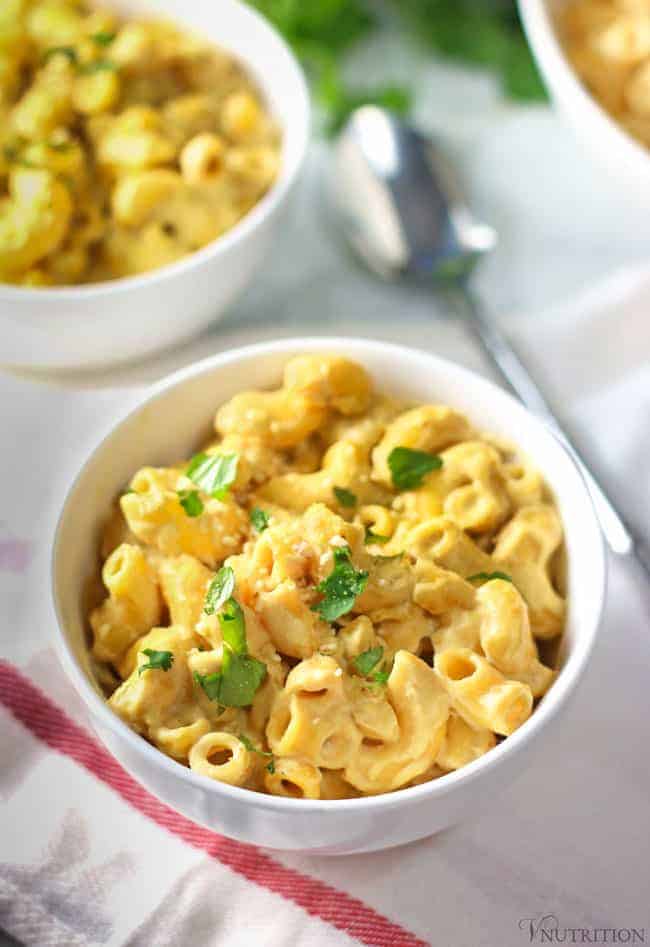 Optional Variations
Admittedly, mac and cheese doesn't have the healthiest of reputations. But with a few simple swaps, this vegan cashew mac and cheese is a real game changer.
At just 240 calories per serving, my vegan mac is filled with fiber and protein and is much lower in fat than traditional mac and cheese. You can also feel free to doctor it up to boost your nutritional game.
My personal favorite way to make Mac and Cheese into a true "meal" rather than just a side is to add veggies and a plant-based protein to it.
Some of the veggies I love most with this macaroni and cheese are:
Roasted or pan-fried brussels sprouts
Roasted or steamed broccoli or cauliflower
Sautéed spinach or kale
Frozen peas - dump them in from frozen and cook for about 2 minutes.
But honestly, you can't go wrong with any veggie you like! Vegetables + pasta + vegan cheese = happy camper.
Some plant-based protein sources you could add are:
Marinated Tofu (that can be baked, air-fried, or pan-fried)
Beans such as chickpeas or white beans
Other Ways to Use This Cheesy Cashew Sauce
I like whipping up big batches of this cashew cheese sauce for myself and using it throughout the week. This way I have some on hand anytime I'm in a cheesy mood.
You can also make the vegan cashew cheese sauce and use it for a number of other dishes. It tastes great on:
veggies (I particularly love it on broccoli - try it with the kids!)
baked potatoes/fries (like these Potato Wedges)
veggie burgers
buddha bowls
nachos
or anything you want cheesier!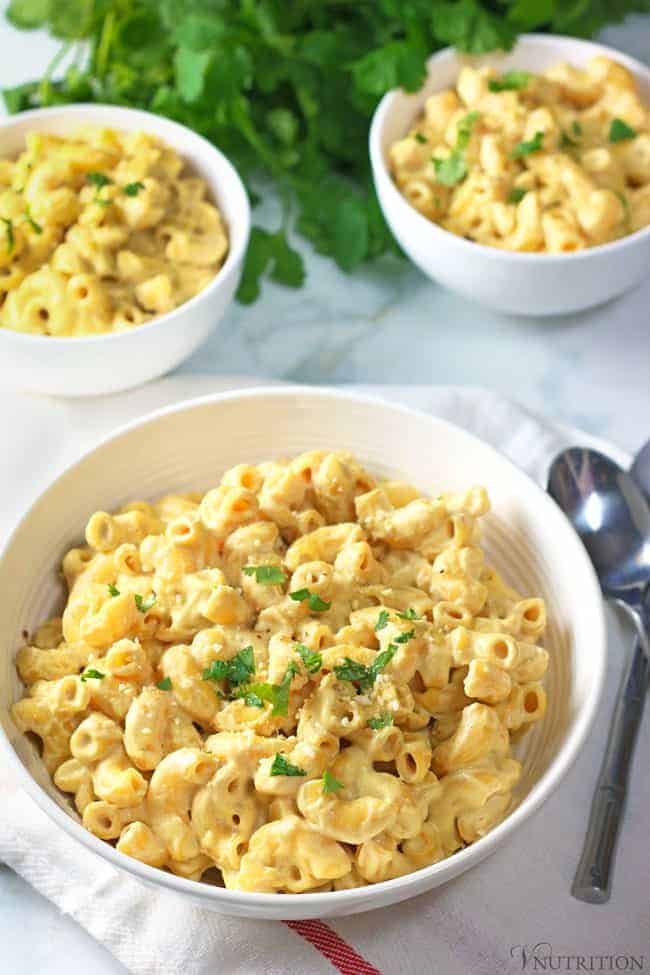 Expert Tips & Tricks
Making this vegan cashew mac and cheese is super simple and takes just 20 minutes to get on the table. That said, I've assembled some of my best tips and troubleshooting tricks to make sure your cashew cheese sauce comes out perfectly:
Add the water slowly. I suggest starting with just ½ cup of water to begin blending, then add it as needed until you get the right consistency. You want it to be thick enough to stick to the noodles, so use patience and good judgement.
Start slow with the nooch. While I'm a gee-dang nutritional yeast fiend, the cheesy, umami flavor of it can be a little abrasive for newbies. Start with just 4 tablespoons, then increase as needed for more of a cheesy flavor.
If you're freezer meal prepping, undercook the pasta a bit. The cashew cheese sauce is an excellent candidate for freezing, and even the completed cashew mac and cheese can be frozen after tossing together. However, I suggest that you undercook your noodles by a couple of minutes so that they don't become mushy when you go to reheat them.
Frequently Asked Questions
How do you make this vegan mac and cheese look yellow?
The pimentos and nutritional yeast will give the cashew cheese sauce a natural yellow color. If you want to boost the color more to make it look like the blue box version, feel free to add a teaspoon of mild paprika and a pinch of turmeric.
Can this recipe be frozen?
The cashew cheese sauce freezes particularly well, so feel free to make a batch to keep on ice. While I recommend freezing the sauce separately from the pasta, you can freeze them together. Just be sure to undercook your noodles by about 2 minutes to ensure they don't get mushy on reheating.
What can you sub for cashews?
Cashews make the best cream, but if you're allergic you can opt for macadamia nuts instead. Just be sure to choose raw, unsalted nuts!
Can this be made without nuts?
Since nuts are the primary way to get a "creamy" consistency, I recommend that you opt for a different recipe. That said, you could try raw sunflower seeds - just be sure they're raw and you soak them beforehand.
How do you make it gluten-free?
The sauce is already gluten-free. Simply opt for gluten-free pasta!
How long will my leftovers last in fridge?
While my Vegan Mac and Cheese can last up to 4 days in the fridge, it's so tasty that I have a hard time believing it will last that long.
What's the best way to reheat this vegan mac and cheese?
Simply add your leftovers to a saucepan over low heat and add a little extra milk or water. The cashew cheese sauce burns relatively easily, so it's important to stir the sauce (or the coated pasta) continuously.
Can Vegans Really Eat Pasta?
Heck yeah they can! I LOVE pasta, and, contrary to popular "knowledge," most pastas are made completely vegan. While egg noodles are off the table, just about every other kind of pasta is perfectly acceptable to eat.
Nowadays, there's a ton of pasta to choose from. Not only are there about a gazillion different shapes and sizes of pasta, but there are also a bunch of different ways to serve pasta as you can see in this vegan pasta post.
Chickpea, lentil, quinoa, or brown rice pastas are usually my go-to options for gluten-free pasta. If gluten isn't a problem for you, I recommend opting for whole wheat pasta to get an extra dose of fiber and whole grains into your diet.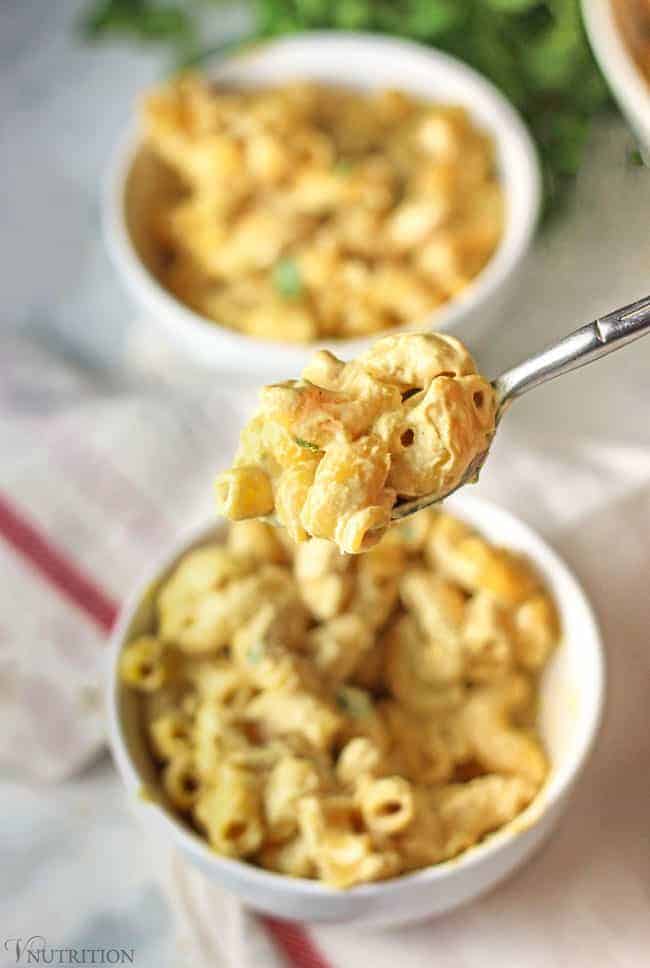 [mv_video doNotAutoplayNorOptimizePlacement="false" doNotOptimizePlacement="false" jsonLd="true" key="hwv4f1nlif4pm3yndwhh" ratio="16:9" thumbnail="https://mediavine-res.cloudinary.com/v1626450616/lsumvgjwphwydfwzw6v8.jpg" title="Vegan Mac and Cheese with Creamy Cashew Cheese Sauce" volume="70"]
More amazing vegan macaroni and cheese recipes
If you make this recipe and LOVE IT, please give it 5 stars ⭐⭐⭐⭐⭐!
📖 Recipe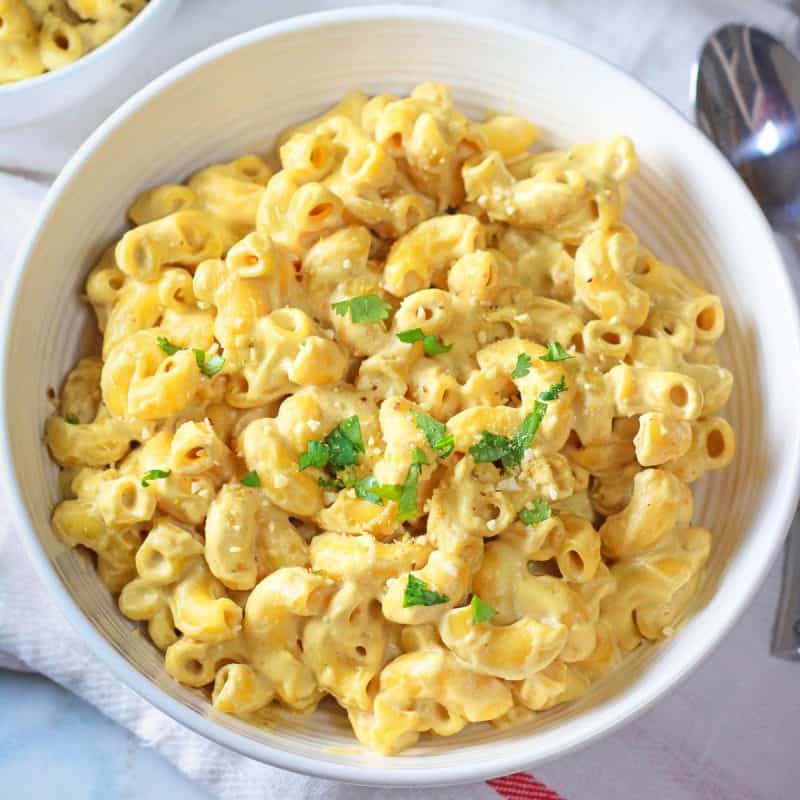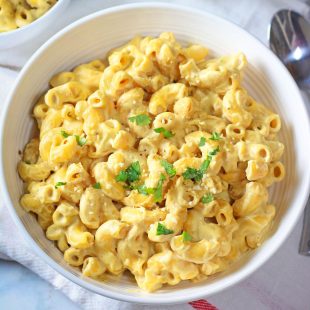 Vegan Cashew Mac and Cheese
You won't miss the dairy in this creamy Vegan Cashew Mac and Cheese. Cashews make this sauce velvety and perfect for a quick yet healthy weeknight meal.
Email Recipe & Ingredients
Ingredients
12

oz

pasta

(gf if needed)

1

cup

raw cashews

soaked in water for at least 1-2 hours or in boiling water for 10 minutes (see notes)

½

cup

water

(more if needed)

3

tablespoon

lemon juice

3

tablespoon

coconut cream

(see notes)

2

tablespoon

white miso paste

(or 1 Tb salt but trust me the miso makes it fab)

2

tablespoon

diced pimentos

1

teaspoon

garlic powder

2

teaspoon

onion powder

4-6

tablespoon

nutritional yeast

1

teaspoon

dijon mustard
Instructions
Cook pasta to package directions.

Blend all of the ingredients together in a high-speed blender. Add more water or nutritional yeast if needed.*

Drain pasta and top with sauce and toppings.
Optional Additions
Broccoli, cauliflower, brussels sprouts or other veggies of choice
Notes
Blending Tips: When blending the sauce, it's better to add the water a little at a time to get a nice consistency – you don't want it too watered down. Also sometimes the nutritional yeast flavor can be a little too much for some people so add up gradually. I use a high-speed blender like a Vitamix when blending cashews.
Coconut Cream: To get the coconut cream, put a can of coconut milk in the fridge for 5-10 minutes. Open the can and scoop out the hard creamy part.
Substitutions for:
Cashews - macadamia nuts. Please note, you can try subbing soaked sunflower seeds in place of nuts, however, I have not tried it this way so I can't say for sure how it will turn out.
Coconut Cream - any dairy-free milk
Lemon juice - apple cider vinegar
Diced pimentos - red bell pepper
Nutrition info is for the sauce only.
The sauce will last for up to 4 days in the fridge, 2 months in the freezer.
To reheat the sauce, add a little more milk or water to thin it out and heat on low for only a few minutes.
Nutrition
Calories:
240
kcal
Carbohydrates:
16.5
g
Protein:
13.25
g
Fat:
15
g
Fiber:
4.5
g
Iron:
2.9
mg
PLEASE NOTE: Nutritional information data is computer generated and only an estimate so it should be used only as a guide.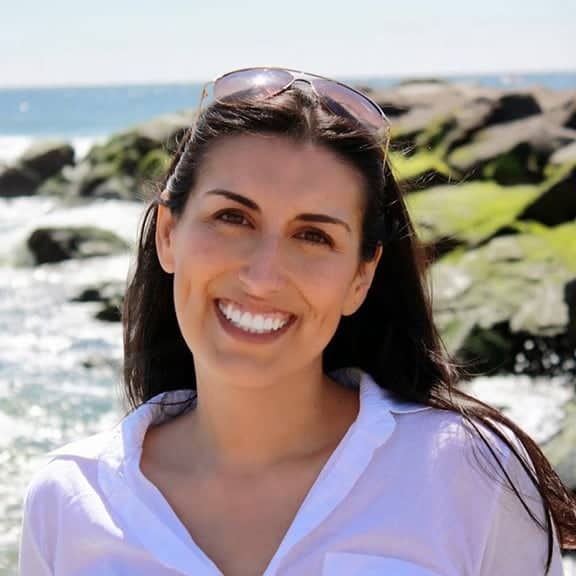 Mary Ellen Valverde MS, CNS, LDN is a Licensed Nutritionist and Certified Nutrition Specialist who empowers vegans to feel clear and confident about what is uniquely nourishing to them. Mary Ellen's recipes and nutrition information have been featured on Yahoo News, Parade, VegNews, LIVESTRONG, Dr. Axe, Greatist, LIVEKINDLY, Brit+Co, Well+Good, and more.