You won't miss the dairy in this Creamy Vegan Mac and Cheese. The cashews make this sauce velvety and perfect for a quick yet healthy weeknight meal.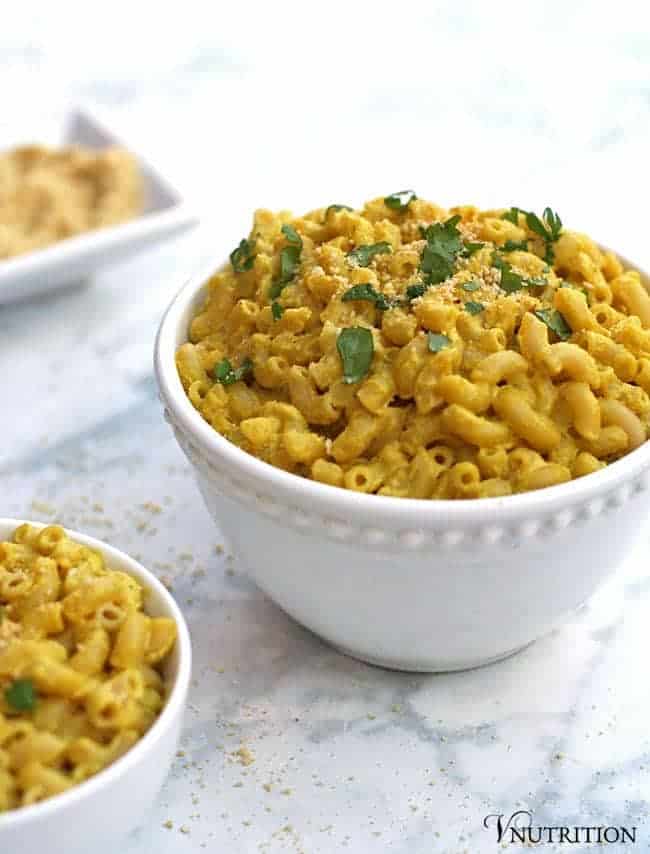 As I have said before, growing up my mom didn't really cook much. The one thing I do remember "cooking" with her and loving is boxed mac and cheese. Mac and Cheese has always been my comfort food. Anytime I'm cold, sad, or stressed, I crave some mac and cheese. And although we didn't make the pasta or sauce from scratch, it was nice helping my mom with the "cooking".
After going vegan, I did the whole pre-made boxed vegan mac and cheese. It was easier for me because that's what I was used to even when I ate dairy. After a while though, I realized I could make a healthier version and I set out to do just that.  Don't get me wrong, I still love my store bought boxed vegan mac and cheese every once in a while but since I'm studying nutrition I like to like to use whole foods as much as possible… and this cheesy sauce beats the boxed brands!
I figured cashews would be the best base as I've seen it used before and I love the creaminess of anything cashew related. Cashews offer protein, healthy fat, and a nice dose of magnesium.
I like whipping up big batches of this sauce for myself and using it throughout the week. I can make it for less money than most store-bought kind. Plus, I have some on hand anytime I'm in a cheesy mood – the sauce is also great on veggies (I love it on broccoli – try it with the kids!).
You won't miss the dairy in this Creamy Vegan Mac and Cheese!
Click To Tweet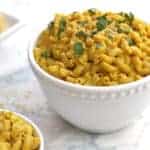 Creamy Vegan Mac and Cheese
Ingredients
12

oz

pasta

(gf if needed)

1

cup

raw

, unsalted cashews soaked in water for at least 1-2 hours then drained

2

tablespoons

white miso paste

(or 1 Tb salt but trust me the miso makes it fab)

2

tsp

onion powder

6

tablespoons

nutritional yeast

6

tablespoons

lemon juice

about 1/2 to 3/4 or more cup of water

1/4

teaspoon

chili powder and 1/4 teaspoon turmeric

(makes it more of the cheddary color)

Top with fresh parsley and vegan parmesan cheese
Instructions
Cook pasta to package directions.

Blend all of the ingredients together in a high speed blender starting with only 1/2 a cup of water. Add more if you need. It's better to add the water a little at a time to get a nice consistency – you don't want it too watered down.

If you're serving with hot pasta. I recommend blending the sauce right before you plate, You won't need to heat up the sauce because the blender should have heated it a bit and the pasta will heat it more.
Recipe Notes
There may be a little sauce left over. If so save it for veggies later in the week! To reheat the sauce, add a little water to thin it out and heat on low for only a few minutes.
You may also like…


Like my vegan mac and cheese recipe? It would be so wonderful if you could give it some love by sharing!