These Vegan Crab Cakes are made with hearts of palm and artichokes, giving your full license to enjoy seafood flavors in a plant-based way. These savory crabless cakes are finger-licking delicious and can be used as an entrée, appetizer, or sandwich filling!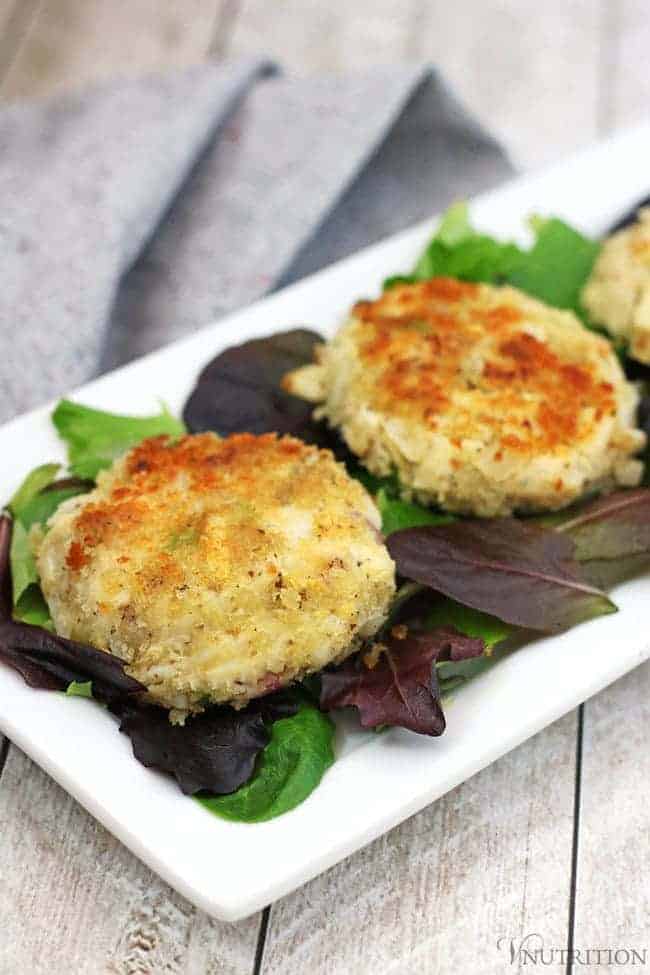 Jump to:
Why You'll Love This Recipe
Being vegan doesn't mean you can't enjoy the taste of seafood. These vegan hearts of palm cakes are unbelievably delicious and easy to make.
These patties are
Wholesome and Healthy - Made from hearts of palm and artichokes, these vegan crab cakes are low in calories and gluten-free.
Versatile - If you thought these plant-based crab cakes were just for apps, you're wrong! They're also perfect as an entrée when served with vegan drawn butter and a steamed veggie (like asparagus!), but you can also use them in sandwiches (vegan po'boy, anyone?) with some remoulade or vegan tartar sauce, or even on salads to create a vegan crab louie. Of course, you can still use them as an appetizer or hors d'oeuvre, too.
Light and Flaky - These crabless vegan crab cakes have an incredible texture that really does act as a convincing dupe for their non-plant-based counterparts! Add them to your springtime brunch rotation to impress your friends and family.
Ingredients & Substitutions
Vegans can create just about anything out of plant-based ingredients so why not crab cakes?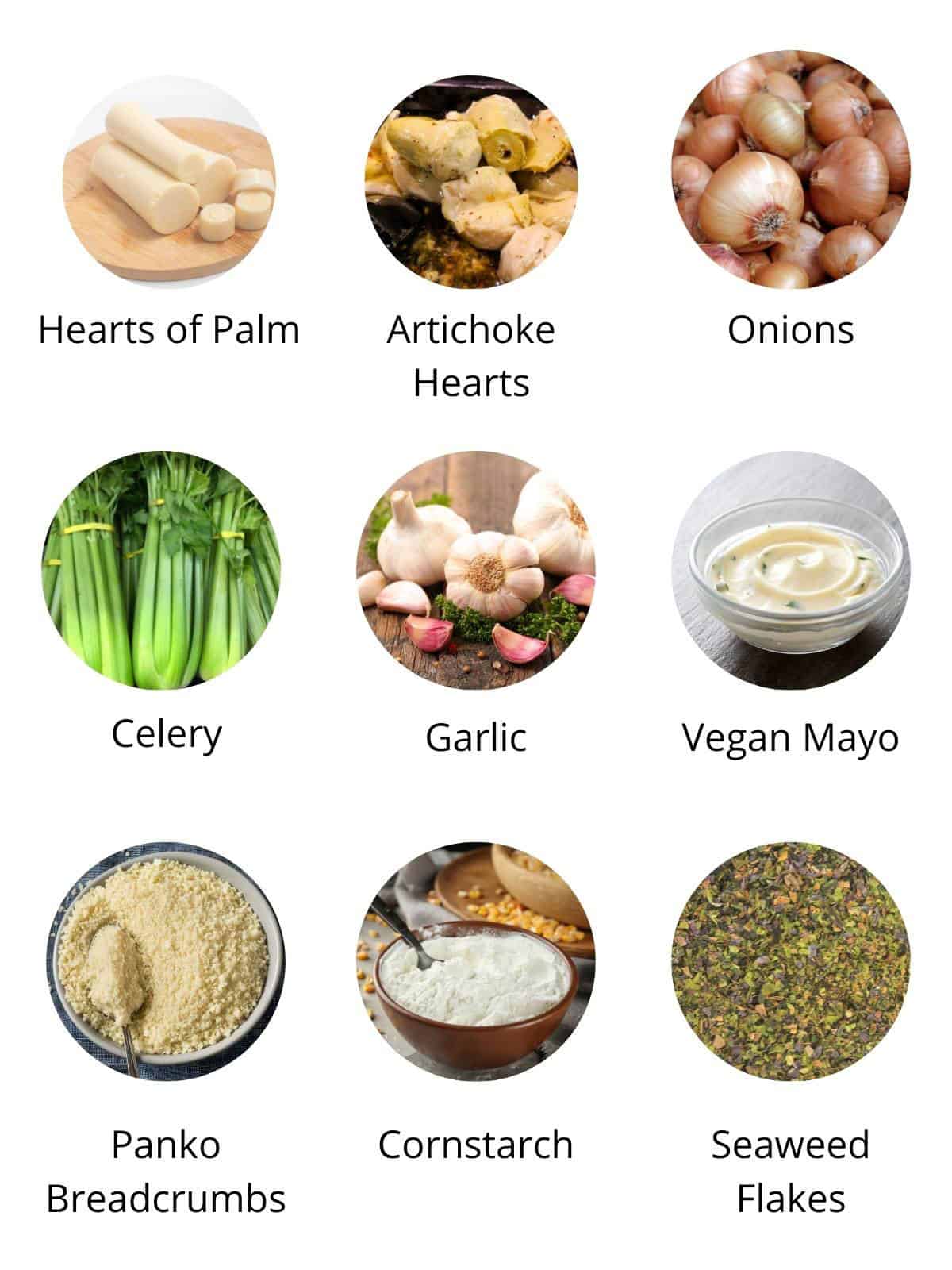 HEARTS OF PALM - Canned hearts of palm are easy to find at any national grocery store. Chopping or shredding the veggies gives the same texture as you would get in a traditional crab cake.
ARTICHOKE HEARTS - Another canned item to the rescue! These help replicate crab-like texture, as well as add some earthy flavor. For the best results, I suggest reaching for marinated artichoke hearts, but in a pinch, you can use frozen ones or plain ones that have been packed in water.
OTHER VEGETABLES - Onions, garlic, and celery add classic crab cake flavor, plus a healthy dose of crunchy texture.
OLD BAY SEASONING - If you live anywhere that seafood is eaten often, I'm certain you know of the iconic yellow tinned Old Bay. The seasoning adds traditional flavors that we associate with fish to these vegan crab cakes. It includes celery seed, paprika, mustard, salt, red pepper, black pepper, and others which remain secret from McCormick, the company that makes Old Bay.
SEAWEED FLAKES - The quickest way to add seafood flavors to your meals is by using a vegetable that comes from the sea: seaweed! It doesn't just adds seafood flavor to the cakes but is also an excellent source of natural iodine in your food.
VEGAN MAYO: Mayo brings everything together perfectly as a binder. You can get vegan mayo from any grocery store, or you can feel free to make your own!
PANKO: To get that crispy layer on the cakes, you can't skip the Japanese-style breadcrumbs known as panko. If you're gluten-free, there's usually at least one GF panko option available at the supermarket.
CORNSTARCH: This helps to bind the ingredients, as well as encouraging that gorgeous golden color we all crave from fried foods. If corn isn't on the menu, try swapping it for twice as much arrowroot powder.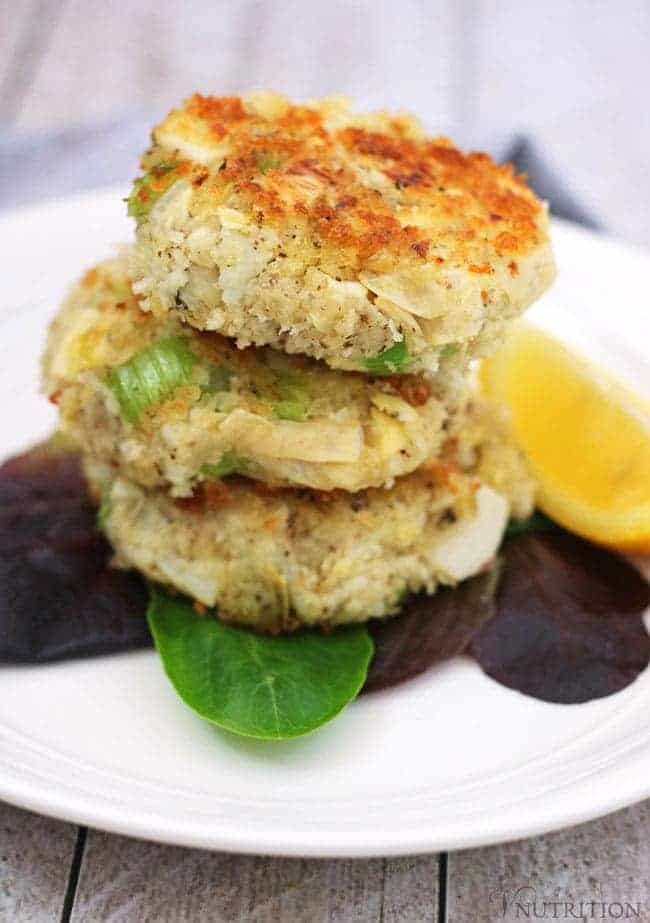 How To Make
Step 1: Sauté onion and celery in a skillet until they are soft. Add in garlic and sauté for an additional minute. Remove the patties from heat and let them cool.
Step 2: Add all ingredients except for panko in a large bowl and mix well. Add the vegetable mixture and ¼ cup of panko and mix until everything is combined. Divide the mixture into eight equal portions and shape them in small patties with your hands.
Step 3: Coat the patties with panko breadcrumbs and place them in the freezer for 20 minutes to firm them up. Do not skip this step or they might fall apart while cooking.
Step 4: Heat oil and fry the patties until they are golden brown. Enjoy!
TIP: Want to get a jump on your meal prep? Feel free to shape and coat the crabless patties in panko, then pop them in the freezer for up to a month! That way, you can fry up these delicious, crispy beauties whenever the urge hits.
Serving Ideas
One of the best things about these vegan crab cakes is that you can use them in a variety of different ways:
As an appetizer with your favorite dipping sauce, like vegan tartar sauce, remoulade, vegan drawn butter, or cocktail sauce.
As a main course alongside steamed or roasted veggies and a grain.
On salads, preferably with vegan Thousand Island to make a vegan version of a crab louie!
As a patty on toasted burger buns. I suggest adding butter lettuce, sliced onion and tomato, and a jazzed-up vegan mayo for the full crab shack experience.
Atop pasta, like my Lemon One-Pot Pasta.
Optional Variations
These delightfully convincing crabless crab cakes are pretty perfect as written, but you know my stance — everyone should be able to make their own perfect meals! Here are a few ideas for customization to get the wheels turning:
Different types of seaweed. While you might be most familiar with what is known as nori (the seaweed used to wrap sushi), there is quite the variety available. You can buy:

Sheets of Nori (often packaged as "roasted seaweed snacks") and then crumple or chop them.
Dried Wakame, which has more of a silky texture.
Dulse is perhaps my favorite type of seaweed, as it tastes a lot like bacon. Note that dulse is saltier than other types of sea veggies, so you may need to adjust your seasoning. It has a reddish purple tint that I find captivating.
Wispy strands of Arame. There's no need to chop them!
Flaked Ao-Nori, which is a lighter green cousin of the dark nori you are likely familiar with.
Lacy Ogo-Nori, with deep purple hues.

Make them cajun! New Englanders may think they have a lock on the crab cake game, but folks from Louisiana would be quick to disagree. Try swapping in some spicy cajun seasoning (like Tony Chachere's) in place of the Old Bay and trade out the celery for some bell pepper.
Expert Tips
Don't forget to freeze the crabless patties! This will help to ensure that they don't fall apart when you're cooking them.
Get a jump start with meal prep. The heart of palm and artichoke mixture can be made and refrigerated up to 3 days in advance. You can also prep the vegan crab cakes up to the point of freezing, then leave them for up to a month!
Make sure to cool them to room temperature before refrigerating leftovers. If you try to put them up while they're still hot, you'll get condensation in the container. Condensation and crispy are sadly not friends. 🙁
FAQs
Can you make these heart of palm cakes in advance?
You can make the veggie mixture up to 3 days ahead of time and keep it in the fridge, then coat the patties with breadcrumbs, freeze, and fry. You can also feel free to assemble the crabless crab cakes and roll them in panko, then pop them in the freezer for up to a month.
Can vegan crab cakes be frozen?
Yes, once you coat them with panko you can freeze them up to 1 month and then fry or bake.
Can they be baked?
Yes, preheat the oven to 400 F. Bake for 20 minutes, flipping halfway.
Can they be air-fried?
Sure! Preheat the fryer to 400F. Cook for 7-8 minutes, flip, then return to the fryer for another 7-8 minutes.
How do you reheat these vegan crabless crab cakes?
You can reheat them in a pan with a little oil, or preheat the oven or toaster oven to 350F and bake them for about 10 mins.
Cookbook Review: Veganize It! by Robin Robertson
This recipe is from Robin Robertson's book Veganize It.
I've talked about vegan kitchen staples before and I love how Robin gives us easy, basic, and inexpensive vegan recipes like these delicious crabless crab cakes.
In the first chapter, Robin gives excellent advice on how to stock a vegan pantry, including a discussion on what different ingredients can do. With more than 150 recipes and so many beautiful color photos (which I love), I think this would be a great book for new vegans as well as seasoned vegans looking for more inspiration.
The book chapters are separated into sections like dairy- & egg-free favorites, plant-based meats, vegan versions of seafood, condiments, sauces & dressings, and vegan sweets, just to name a few! Get your book today so you can Veganize It too!
More Tasty Vegan Dupes
If you make this recipe and LOVE IT, please give it 5 stars ⭐⭐⭐⭐⭐!
📖 Recipe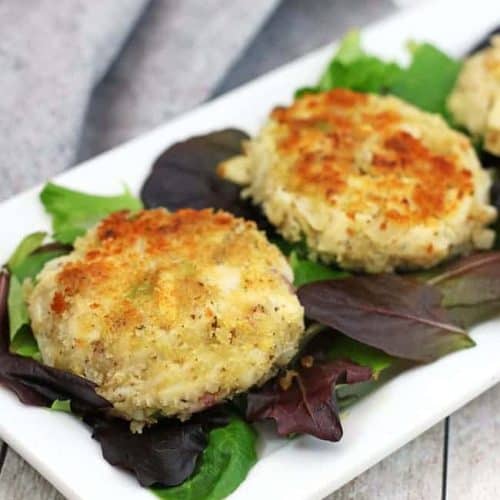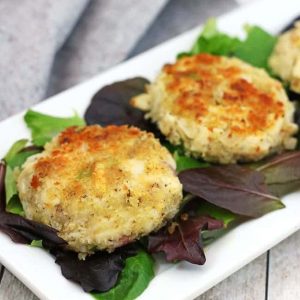 Vegan Crab Cakes
These delectable cakes are crisp on the outside and moist and flaky on the inside with a flavor that is remarkably similar to traditional crab cakes thanks to Old Bay seasoning and a dash of nori flakes. This recipe makes six to eight cakes (depending on how big you like them) that can be enjoyed as a main dish, in sandwiches(they're even good cold!), or as a component. Text excerpted from VEGANIZE IT! © 2017 by Robin Robertson. Reproduced by permission of Houghton Mifflin Harcourt. All rights reserved.
Email Recipe & Ingredients
Ingredients  
1

tablespoon

olive oil

plus more for frying (see notes for oil-free cooking)

½

cup

minced onion

¼

cup

minced celery

2

teaspoons

minced garlic

1 (14 oz)

jar

of hearts of palm

well drained, patted dry, and roughly chopped

1

(6oz)

jar of marinated artichoke hearts

well drained, patted dry, and roughly chopped

2

teaspoons

Old Bay seasoning

1

tablespoon

cornstarch

1

teaspoon

nori or dulse flakes

¼

cup

vegan mayo

¾

cup

gluten free panko bread crumbs

or regular panko breadcrumbs if not gf

Lemon wedges

for serving
Instructions 
Heat the oil in a large skillet over medium-high heat. Add the onion and celery and cook until softened, 5 minutes. Add the garlic and cook for 1 minute longer. Remove from the heat and set aside to cool.

In a large bowl, combine the hearts of palm, artichoke hearts, Old Bay seasoning, cornstarch, nori flakes, and mayo. Add the cooled onion mixture and ¼ cup of the panko, and mix well.

Divide the mixture into 6 to 8 portions and shape into small patties.

Place the remaining ½ cup panko in a shallow bowl. Coat the patties with the bread crumbs and refrigerate or freeze for 20 minutes or longer.

Heat a thin layer of oil in a medium skillet over medium-high heat until hot and shimmering.

Carefully place the patties in the skillet and cook until golden brown on each side, 3 to 4 minutes per side. Transfer the cooked patties to a plate. Serve hot with lemon wedges.
Notes
Air Fryer Instructions: Preheat the fryer to 400F. Cook for 7-8 minutes, flip, then return to the fryer for another 7-8 minutes. Oven Instructions: Preheat the oven to 400 F. Place patties onto a baking sheet covered in parchment paper. Bake for 20 minutes, flipping halfway. Storage: These vegan crab cakes can be stored in the fridge for up to 4 days or frozen for up to 1 month. Reheating: You can reheat them in a pan with a little oil, or preheat the oven or toaster oven to 350F and bake them for about 10 mins. 
Nutrition
Calories:
111
kcal
Carbohydrates:
13
g
Protein:
4
g
Fat:
5.9
g
Fiber:
4.5
g
Vitamin C:
7.1
mg
Calcium:
40
mg
Iron:
1.7
mg
PLEASE NOTE: Nutritional information data is computer generated and only an estimate so it should be used only as a guide.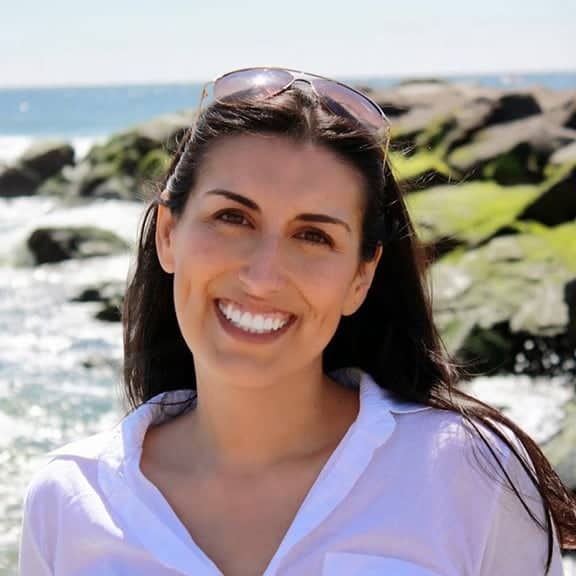 Mary Ellen Valverde MS, CNS, LDN is a Licensed Nutritionist and Certified Nutrition Specialist who empowers vegans to feel clear and confident about what is uniquely nourishing to them. Mary Ellen's recipes and nutrition information have been featured on Yahoo News, Parade, VegNews, LIVESTRONG, Dr. Axe, Greatist, LIVEKINDLY, Brit+Co, Well+Good, and more.