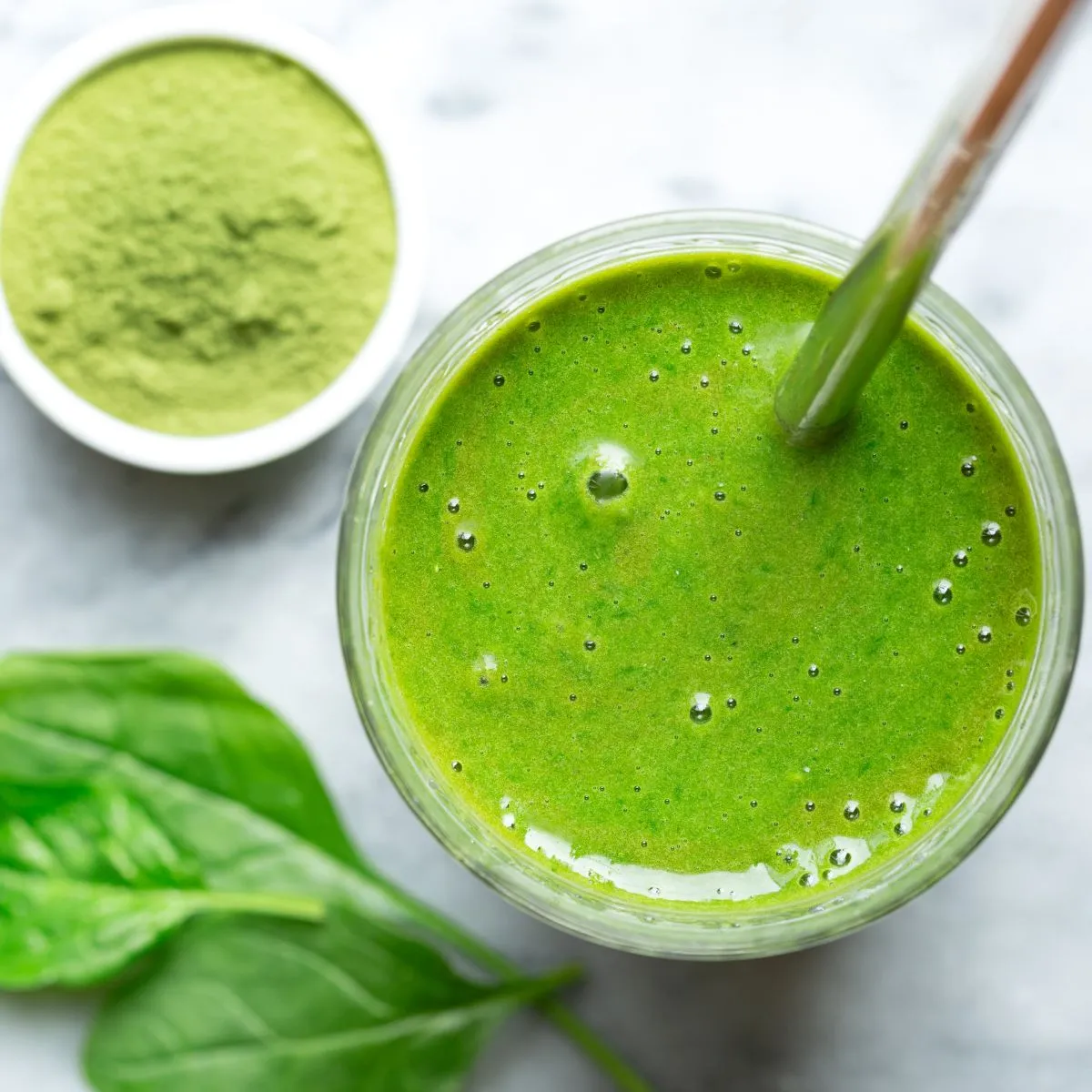 Green powders have taken the market by storm recently. But what has driven the need for a greens powder supplement? It turns out it's our health. Vegetables and fruits are a fundamental part of our wellness and longevity, but sometimes it's tough to eat the recommended 2.5 cups of veggies per day. That's where finding the best green powers comes in.
How do you know which to choose with so many on the market? Let's look at the healthiest, most delicious greens supplement out there.
Why Take A Greens Supplement?
Studies show that eating fruits and vegetables can reduce the risk of diseases such as cancer, stroke, heart failure, diabetes, and digestive ailments. But according to the Centers for Disease Control and Prevention (CDC), only one in 10 adults eat enough fruits and veggies.
Instead of battling deficiencies or turning to caffeine or sugar to boost our energy, a greens supplement is much healthier and more convenient. Add a scoop of the best greens supplement into a smoothie, fruit juice, or plain water to get a shot of vegetable nutrients and balance your diet.
Do a quick online search for a greens supplement, and you'll find dozens of products claiming incredible health benefits and endless ingredients. Because a good greens supplement can be hard to find, we've narrowed it down to organic products suitable for all diets and containing a healthy dose of nutrients without fillers.
Top 3 Greens Supplements:
Ensō Supergreens
Raw Organic Perfect Food Green Superfood by Garden of Life
Amazing Grass Greens Blend Superfood
Top 8 Best Greens Supplements of 2023
Here are the highest-rated greens supplements, plus their pros and cons, to help you make the right choice for your diet.
1. Ensō Supergreens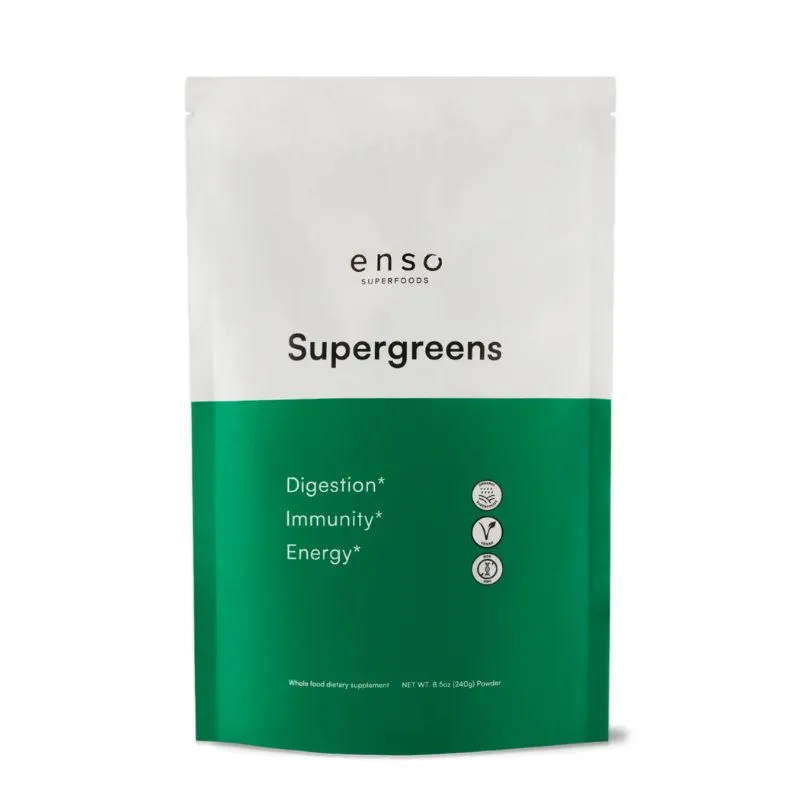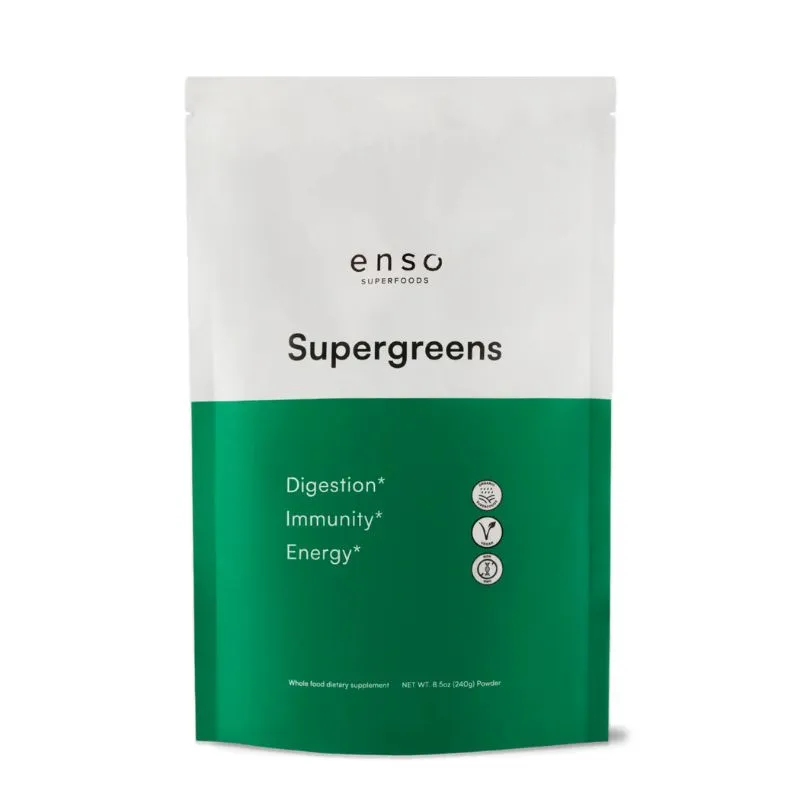 Ensō Supergreens takes the lead on the best greens supplement list even though it's a relatively new product in the superfoods market. First, it meets all expectations: it's made in the USA using non-GMO ingredients. It contains no artificial sweeteners or filler ingredients. It's a nutrient-dense greens supplement containing digestive enzymes and five billion CFU probiotics, giving you beneficial gut flora that can help with weight loss.
On top of that, it has a fresh, naturally-sweetened mint flavor that agrees with most palates and blends well in smoothies. You won't find Ensō Supergreens in stores, but can get free shipping and a money-back guarantee when you buy Supergreens online.
Pros
Dairy-free probiotics
Gluten-free
Vegan-friendly
Made in the USA
Third-party tested
GMP (good manufacturing practice) certified
Sugar-free
Caffeine-free
Nut-free
Non-GMO
Refreshing peppermint taste
Cons
Available in only one flavor
Available online only
Bottom Line: Ensō Supergreens is a great place to start your superfood journey. Its clean, minty, naturally sweetened flavor agrees with almost every palate and blends readily into beverages. However, it comes at a higher price point, but it's well worth it.
2. Raw Organic Perfect Food Green Superfood Original Powder by Garden of Life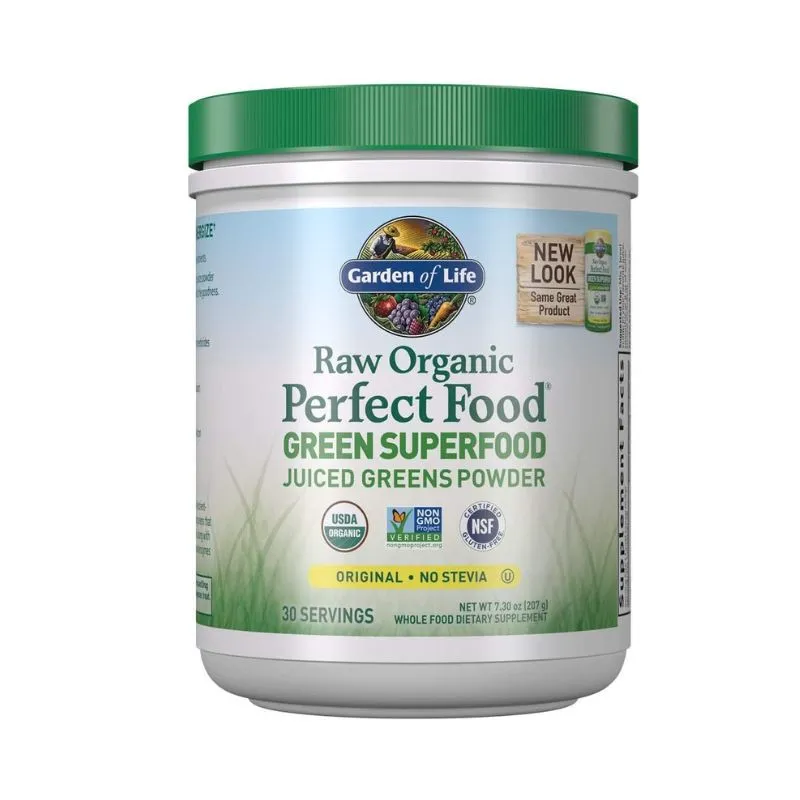 Garden of Life's Raw Organic Perfect Food Green Superfood Original Powder is a juiced green powder, meaning that it's made from nutrient-rich greens, buds, and sprouts. They are juiced, dried at low temperature, and powdered to lock in the nutrients. Sprouted grains and legumes are a powerful source of vitamins and minerals.
This product comes a close second to Ensō Supergreens, differing only in probiotics and ingredients. This blend contains certified organic ingredients with no fillers or sweeteners, but it has only 1.5 billion CFU probiotics compared to Ensō's 5 billion.
Pros
Caffeine-free
Non-GMO
Vegan-friendly
Third-party tested
GMP Certified
Includes sprouted grains and legumes (quinoa, millet, garbanzo beans, pumpkin seeds, lentils)
It contains prebiotics to boost gut health
Contains no fillers
Cons
Contains fewer probiotics
It has no digestive enzymes
Contains stevia
Produced outside the USA
The manufacturing facility also processes milk, eggs, soy, nuts, and wheat
Requires further testing and certifications
Bottom Line: Raw Organic Perfect Food is a unique greens supplement that includes sprouted grains in its ingredients, making it easier to digest. However, it contains stevia and could be on the sweeter side.
Order Your Ensō Supergreens Today!
3. Amazing Grass Greens Blend Superfood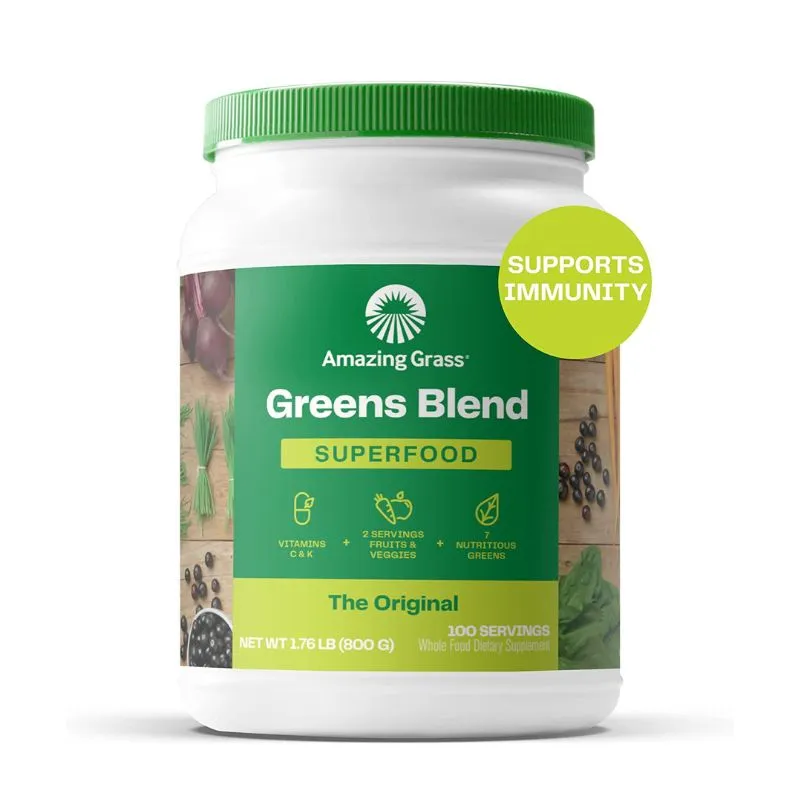 Even though Amazing Grass Greens Blend Superfood is available in only one flavor, reviewers love its taste. It makes the best greens supplement list because of its non-GMO, gluten, caffeine, and sugar-free ingredients and because it blends very easily with juice, smoothies, and water.
If you live a fast-paced lifestyle, this quality is a game-changer. It means you can whip up your greens supplement drink in seconds, on the go, in your water bottle or portable blender. One scoop of Amazing Grass offers about two servings of your recommended fruit and vegetable intake, plus an energy boost from well-balanced ingredients.
Pros
Pocket-friendly price
Numerous superfood ingredients (wheat grass, alfalfa, spirulina, broccoli, spinach, flax seeds, etc.)
Gluten-free
Caffeine and sugar-free
Non-GMO
Cons
Fewer superfood ingredients than similar products
Not 100% organic
Not third-party tested
Not GMP certified
It doesn't show the probiotics CFU count
Contains stevia
Grainy taste from ground flaxseed
Bottom Line: Amazing Grass Greens Blend Superfood is a delicious greens supplement that whips up quickly. Its ingredients improve your overall well-being. But given its lack of certifications, it may contain fillers or unnecessary ingredients.
4. Athletic Greens AG1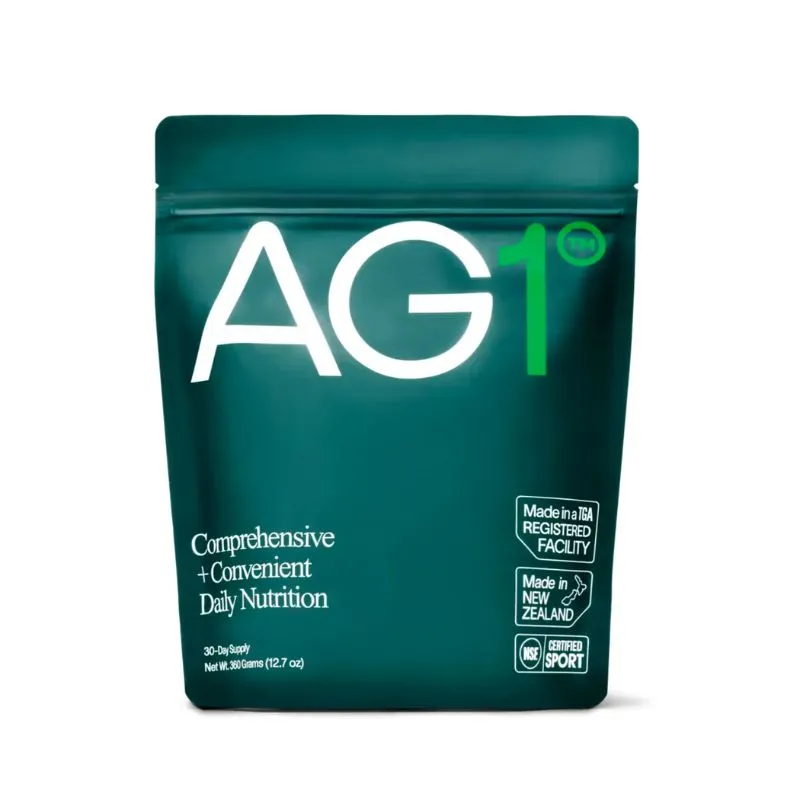 Athletic Greens AG1 is rare because it's NSF Certified for Sport, meaning athletes can use this greens supplement without worrying about banned substances. It is rigorously tested to ensure its ingredients are free of contamination and designed to boost energy and recovery.
AG1 contains 7.2 billion CFU probiotics and adaptogens to manage stress and fatigue. AG1 also has a range of B vitamins and minerals but also contains inulin which may disagree with a FODMAP diet. A word of caution: if you're looking for a greens supplement to add to your diet, consider your current intake of vitamins and minerals. Taking AG1 could exceed your recommended daily allowance (RDA) if you already get enough nutrients from food sources.
Pros
Vegan and allergen friendly
Well-rounded ingredients for athletes
Non-GMO
Third-party tested
GMP Certified
NSF Certified for Sport
Cons
Not made in the USA
It may be unsuitable for FODMAP diets
Contains stevia
It contains caffeine from cocoa and tea extracts
May clump after mixing
Bottom Line: Athletic Greens AG1 is a balanced, nutritious greens supplement designed for athletes. It can top up your vitamin and mineral requirements and improve post-workout recovery. But it may overload an already healthy diet with micronutrients.
5. Green Vibrance By Vibrant Health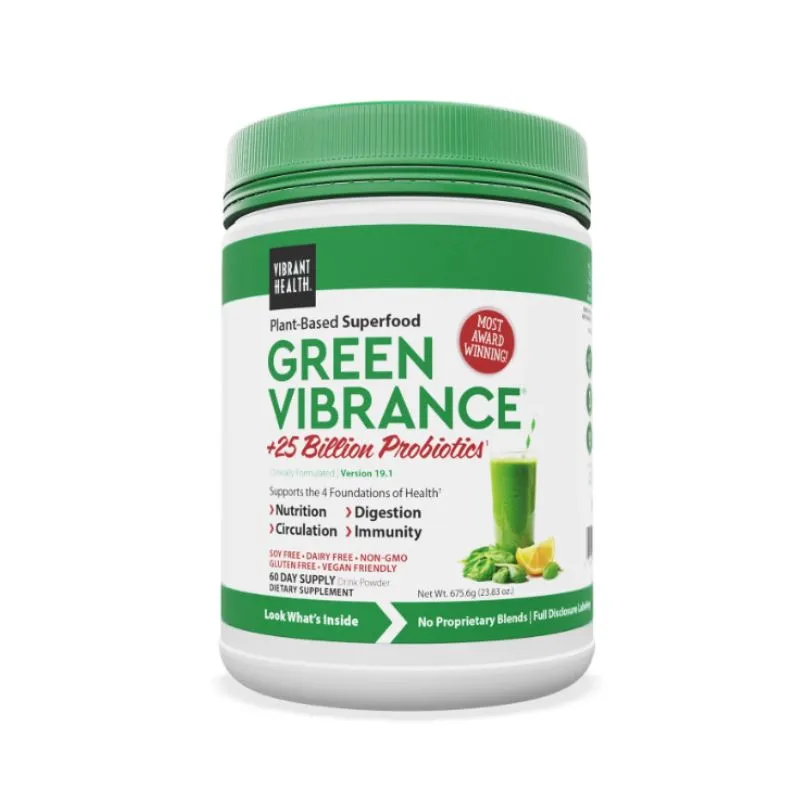 Vibrant Health's Green Vibrance has been in the greens supplement market for decades and packs a serious punch in its nutritional benefits. It has 25 billion CFU probiotics and over 40 superfood ingredients.
So, why is it fifth on the best greens supplement list? Unlike other greens powders that you can keep in your pantry, countertop, or medicine cabinet, Green Vibrance needs refrigeration to preserve its active ingredients. You must also wait 30 to 45 minutes after a meal to take this greens supplement.
Green Vibrance is an excellent addition to your diet if you can manage these extra steps.
Pros
Powerful nutritional value
Wide variety of superfood ingredients
High in probiotics
It contains digestive enzymes, adaptogens, and fibers
Non-GMO
Vegan-friendly
Caffeine, gluten, and dairy-free
Cons
Not made in the USA
More expensive
Grassy taste
Contains processed vitamins
May interfere with blood thinning medications
Bottom Line: Green Vibrance by Vibrant Health punches above its weight in probiotics, but it requires refrigeration. It may be unsuitable if you're taking other medications, so check with your doctor before using this greens supplement.
6. Your Super Super Green Mix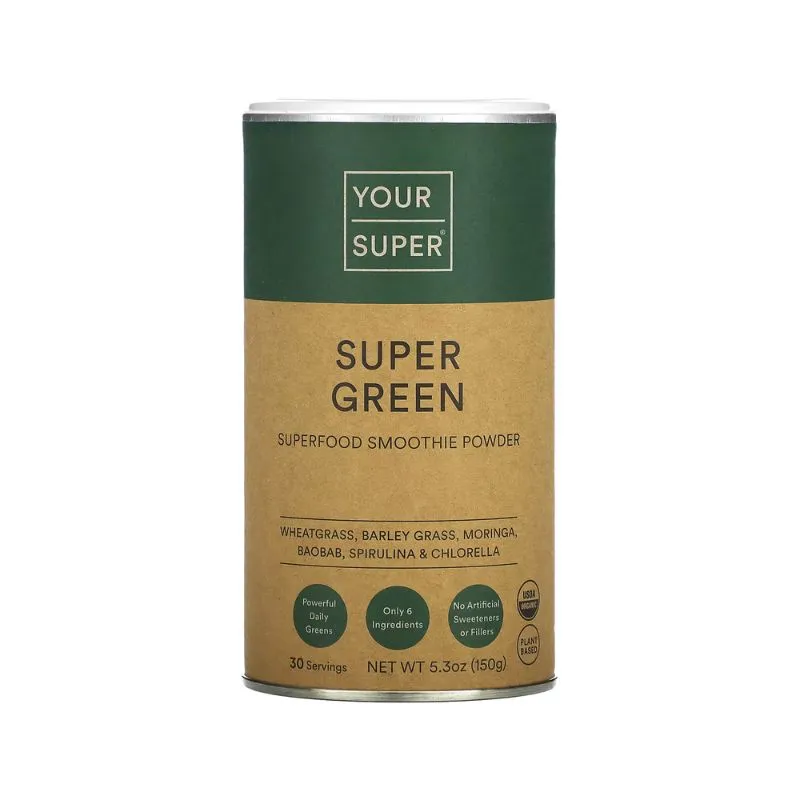 The Super Green Mix by Your Super is just right if you want a minimalistic greens supplement. This no-fuss blend has only six ingredients: baobab, barley grass, spirulina, chlorella, and moringa.
These superfoods efficiently boost your vegetable RDA, making this product ideal for beginners. It also comes in a sustainable package made from recycled paper and fibers, a bonus for environmentally-conscious consumers.
The Super Green Mix also has a grainier texture that doesn't do well in liquids but works better when added to your dishes. You may also need to take more of this greens supplement because of its low nutrient levels per dose compared to other products.
Pros
Pocket-friendly price
100% organic ingredients
Gluten and dairy-free
GMP Certified
Third-party tested
No-frills product
Non-plastic sustainable packaging
Cons
A limited variety of ingredients means low nutrients per dose
Not made in the USA
May break apart in beverages
Bottom Line: Your Super's Super Green Mix is a good entry for new greens supplement users because it's affordable, has simple but powerful ingredients, and tops up your required veggies. However, it doesn't blend as well as other greens supplements.
7. Dr. Mercola's Organic Fermented Greens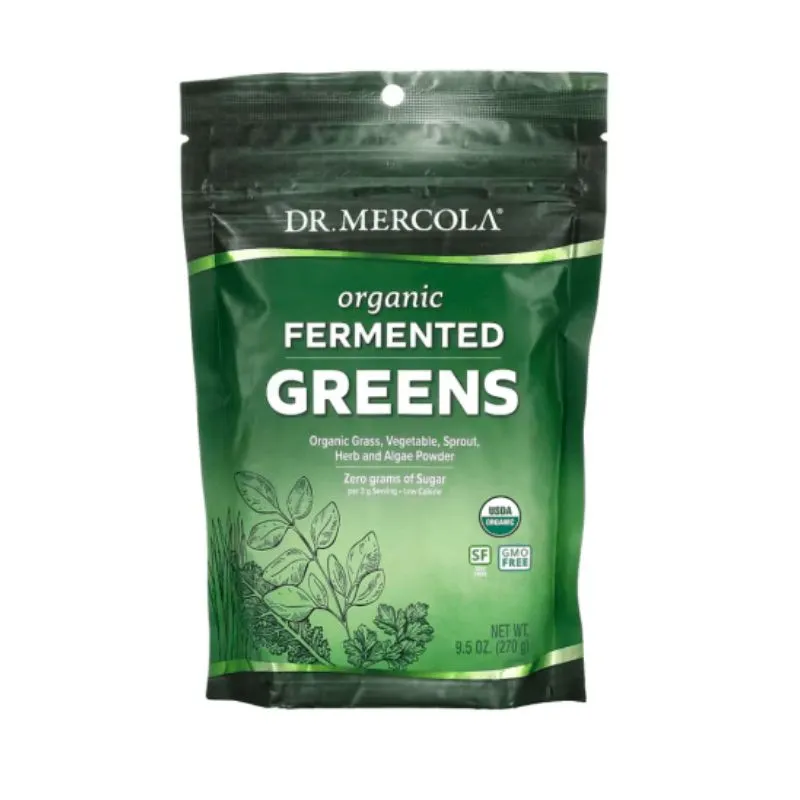 Dr. Mercola's Organic Fermented Greens takes advantage of fermentation to unlock superfood nutrients. Fermented foods are easier to absorb in the body and can help prevent heart disease, cancer, allergies, and diabetes.
This blend combines fermented vegetables, grasses, sprouts, strawberries, blueberries, elderberries, and pomegranates. If you don't like the taste of fermented foods but want the benefits, Dr. Mercola's greens supplement is the right fit for you. It also includes yerba mate, matcha, and stevia, so it may not be ideal if you're avoiding caffeine or sweeteners.
Pros
Vegan and keto friendly
Increased nutrients through fermentation
Over 20 organic ingredients
A long history of quality since 2001
Soy and gluten-free
GMP Certified
Cons
Contains no probiotics
Contains caffeine
Maybe on the sweeter side
Small recommended serving size (3g once a day)
Bottom Line: Dr. Mercola's Organic Fermented Greens adds a twist to greens supplements through fermentation. It has no digestive enzymes, although the ingredients are already naturally broken down for easier absorption. It may have a distinct flavor from monk fruit and stevia.
8. Ora's Easy Being Green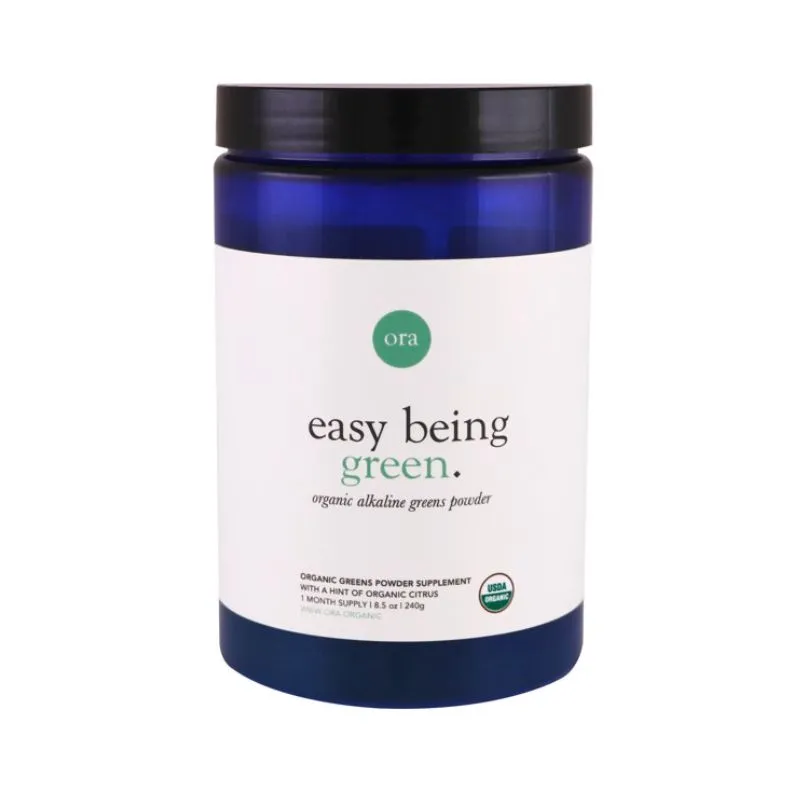 Ora's Easy Being Green is a noteworthy contender in the best greens supplement list with over 20 powerful ingredients. In addition to the usual superfoods like oat grass, broccoli, kale, and spirulina, it contains bibhitaki, haritaki, and amla, three powerful sources of antioxidants.
Easy Being Green is all-organic, gluten-free, and has no fillers or artificial sweeteners. It's also packaged in convenient sachet portions rather than scooping the powder from a jar. Although it lacks probiotics, this product is one to watch as its popularity grows.
Pros
Vegan-friendly
Non-GMO
Third-party tested
Caffeine, gluten, and dairy-free
Balanced ingredients with no fillers
Pre-measured in sachets rather than scoops
Cons
No probiotics
Not made in the USA
May worsen GI problems
May interfere with blood thinning medications
Bottom Line: Easy Being Green is the ideal greens supplement to increase your vitamin and mineral intake. It contains enough nutrients per serving to support a generally balanced diet. This product would significantly improve if probiotics were also available.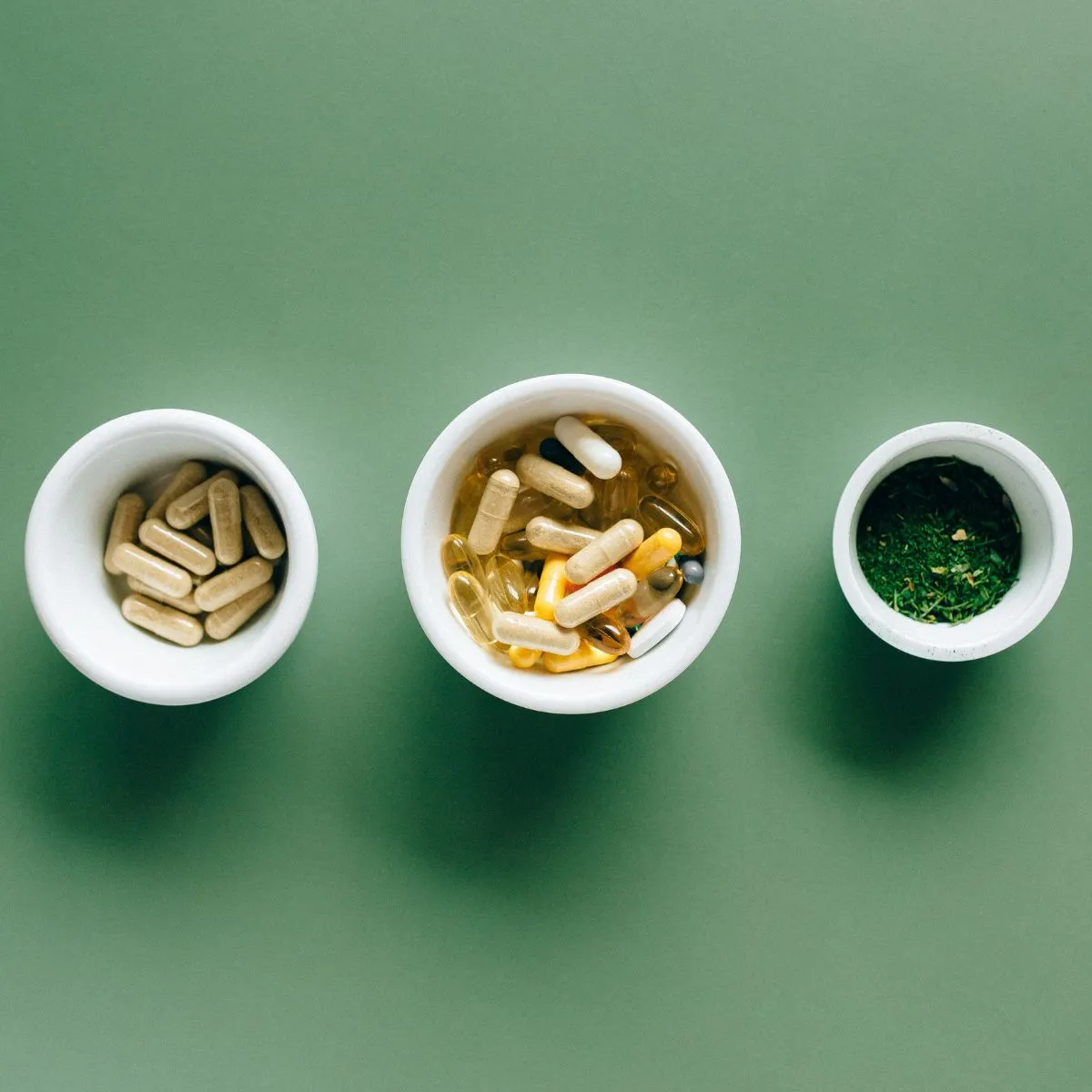 Key Considerations for Super Greens Powder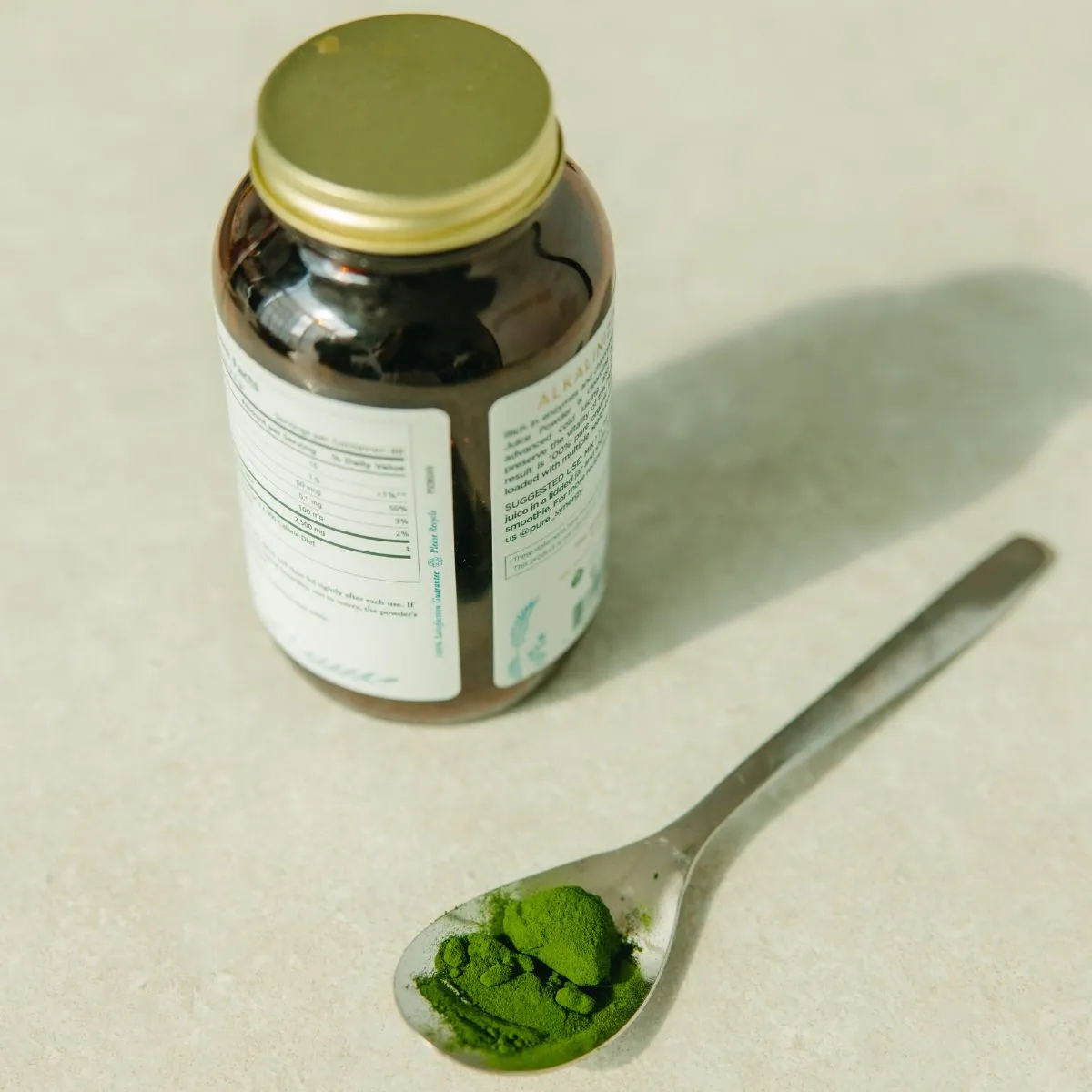 All these products sound impressive, but how do you choose the right greens powder for your particular needs? Here are some essential tips to remember.
1. Ingredients
When it comes to green powders, more ingredients aren't always better. Consider the ingredients as a whole and keep a lookout for the following:
What to Look For
Superfood vegetables, algae, herbs, and grasses, e.g., broccoli, spirulina, ginger, alfalfa, wheatgrass, etc.
At least 5 billion CFU probiotics
Prebiotics, sprouted, and fermented ingredients as a bonus.
What to Avoid
Added or fortified vitamins
Artificial sweeteners and flavors
Caffeine
2. Additives
Most greens supplements have a distinct flavor ranging from earthy and grassy to bitter. They may also lose some nutritional value during processing. Some supplements turn to additives and thickeners to improve mouth feel and satiation. Watch for lecithin, xanthan gum, inulin, guar gum, and carrageenan in your greens supplement.
3. Organic Certification
A certified organic greens supplement means that it meets USDA standards such as:
At least 95% organic content
No use of genetic engineering or synthetic fertilizers
Accurate product labeling, etc.
4. Sourcing
Since the FDA doesn't regulate dietary supplements, ensure that your greens powder passes Good Manufacturing Practice (GMP) certification. GMP compliance means the product meets the highest sourcing, manufacturing, packaging, and storage standards.
5. Price
A greens supplement costs between $20 and $40, but some can cost upwards of $100. Check the number of servings (24, 30, 60, or 90) and calculate the price per ounce to get the best value for your money.
6. Taste
Go for a greens supplement that matches your palate and preferred method of consumption. For example, fruit juice or smoothies can mask a strong, earthy flavor. But if you want to mix it with plain water, milk, or tea, look for more subdued tastes or flavorful ingredients like ginger or peppermint.
Benefits of Using A Greens Supplement
Research shows promising results about the benefits of greens supplements on various health outcomes. Here are the top five proven advantages of adding a greens supplement to your diet.
Better Digestion
The powerful antioxidants found in a greens supplement can promote healthy gut flora and reduce inflammation. Other ingredients like probiotics and digestive enzymes can reduce bloating. A greens supplement rarely causes bloating because it typically contains much less fiber than the recommended daily amount, about 2g to 5g out of 25g.
Improved Immunity
Similarly, a healthy gut microbiota has links to improved immunity. A greens supplement containing probiotics promotes good intestinal bacteria and keeps harmful microorganisms at bay.
Protection from Chronic Disease
Chronic diseases like diabetes, high blood pressure, and Alzheimer's are linked to oxidative stress that damages DNA and proteins. Antioxidants in fruits and vegetables delay or stop oxidative stress, reducing your risk of developing chronic health conditions. Choose the best greens supplement with high antioxidant content to maximize this benefit.
Improved Heart Health
A greens supplement containing vitamins can keep your heart healthy, particularly vitamin K. Green leafy vegetables like spinach and kale are the leading sources of Vitamin K, often included in the best green supplements today.
Increased Energy
A greens supplement is naturally energizing because it combines powerful nutrients for your overall well-being. In one double-blind study, participants taking one tablespoon of a greens supplement per day reported higher energy levels than the placebo group.
Detoxification
Blue-green algae like chlorella may help the body effectively eliminate toxins such as heavy metals. Patients with implants for dental work or bone recovery can take a greens supplement rich in algae superfoods to neutralize and eliminate toxins.
Final Thoughts
While experts recommend eating more plants in our diets, many don't heed the call. A high-quality greens supplement is one way to unleash your health potential. Numerous greens powders are available in the market, so take your time to choose the best fit for your needs. Speak to your doctor about the benefits of taking a greens powder to boost your nutrition.

Order your Ensō Supergreens and find out why it's the best greens supplement!