Medically reviewed by Megan Hilbert, MS, RDN
Greens powders combine concentrated superfoods and other powerhouse ingredients to provide nutrients and potent health benefits. If you're looking for a product you can trust, Ensō Supergreens is best-in-class.
Top Greens Powders At a Glance
Best Overall - Ensō Supergreens
Runner Up - Garden of Life
Third Pick - Amazing Grass
Over the past several years, supplements known as super greens powders have taken the fitness world by storm, dominating social media and advertisements alike. Driven by a growing need for convenient, affordable ways to add critical vitamins, minerals, and other nutrients to different diets, the number of greens powders available has exploded at an unprecedented rate. And, with gastrointestinal issues on the rise and only 9% of American adults consuming the recommended daily allowance of fruits and vegetables, it's no wonder why.
The prebiotic and probiotic content in some green powders have been shown to improve gut health markers and digestion in small studies. Green powders often contain large amounts of polyphenols and other plant compounds that our gut microbiota love.

Megan Hilbert, MS, RDN
With the greens powder industry's rapid rate of expansion, however, it can seem all but impossible for the average buyer to know which brand to trust. While most greens powders contain a more-or-less similar fruit and vegetable blend, other factors like probiotics and digestive enzymes can mean the difference between a "good enough" powder and the best greens powder for your specific health needs.
Because of these nuances–and because we believe in the value of these products–we've worked with registered dietitians to compile a list of the eight best greens powders of 2023. Throughout this article, we'll give you all of the information you need to choose for yourself which product to trust, from the essential ingredients to look out for to how much different greens powders cost.
The 8 Best Super Greens Powders
Now that you have a firm grasp of our methodology and values, it's time to dive into our final rankings. While the supplement market contains countless respectable brands and companies, our search for the best greens powder meant limiting ourselves to only eight final contenders. So, while we understand that many customers may be loyal to their current product (which may or may not be on this list), these eight are, in our expert opinion, the best the industry has to offer.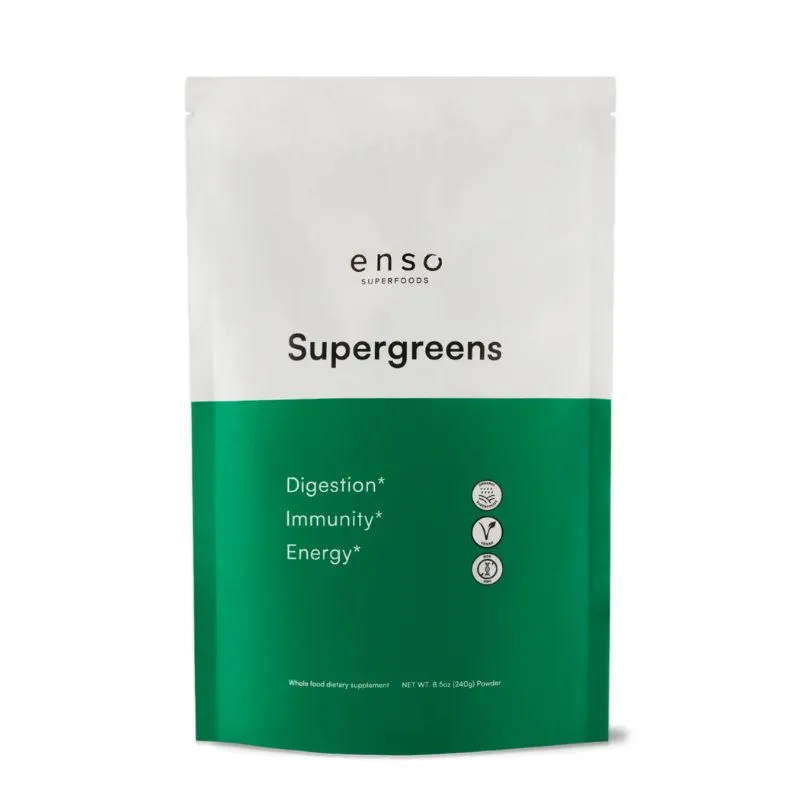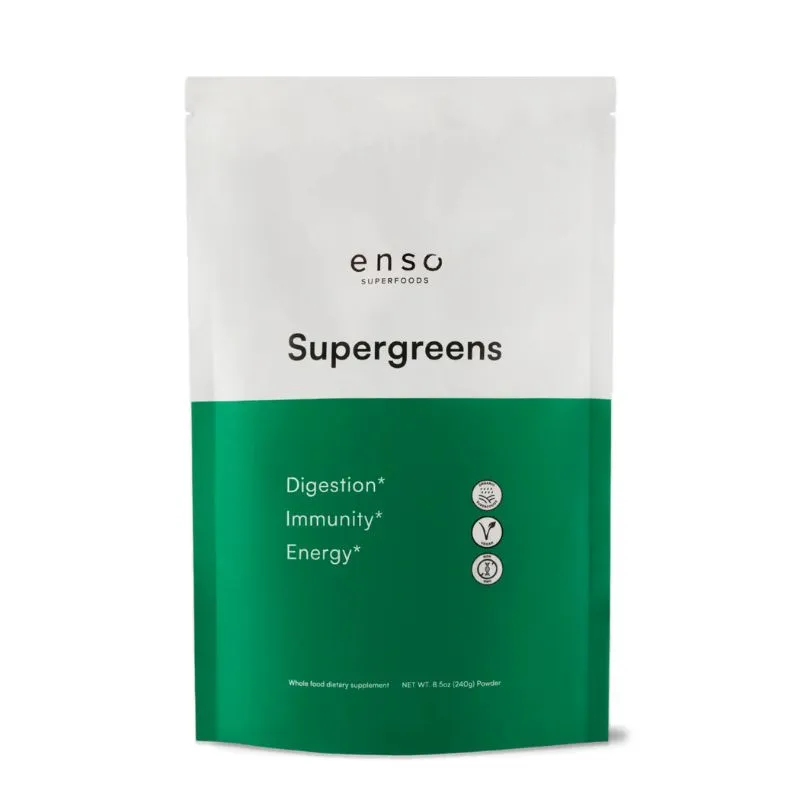 On our first draft of this list, I initially placed Ensō Supergreens in a respectable–but not dazzling–second place. After we handed it over to our registered dietitians for review, however, their research and insights made us reconsider. Ironically, it was Ensō Supergreens' uncomplicated excellence that made it our dietitians' pick–the same reason we placed it third during our first pass.
Specifically, Ensō Supergreens operates by the very simple principle of "exactly enough." Rather than filling their products with outrageous amounts of vitamins and minerals that look good on a label but mostly just pass through your system, Ensō focuses on providing an almost elegant formula–one that maximizes the potential of each of the 20+ ingredients in every scoop. Not only does this focus on efficiency mean a more balanced, complete nutrient profile, but it also means lower costs ($1.33 per serving) and fewer unnecessary ingredients to potentially trigger an unexpected reaction.
As an added bonus, Ensō Supergreens genuinely tastes delicious. Admittedly, I'm a fan of mint in most forms, but many other customer reviews also indicated this was the best-tasting greens powder they had tried. Even better, Ensō Supergreens achieves this flavor through natural monk fruit extract, meaning you don't need to worry about artificial flavors or gut-disrupting chemical sweeteners.
Finally, Ensō Superfoods' commitment to sourcing only the best organic ingredients–combined with its United States-based manufacturing–ensures a consistent, high-quality product free of any impurities or contaminants. Taken together, these qualities helped change our perspective on what constitutes the "best" greens powder, forcing us to reevaluate what really mattered in a nutritional supplement.
Pros
Dairy-free probiotics
Gluten-free
Vegan-friendly
Made in the USA
Third-party tested
GMP (good manufacturing practice) certified
Sugar-free
Caffeine-free
Nut-free
Non-GMO
Refreshing peppermint taste
Cons
Available in only one flavor
Available online only
Bottom Line: Ensō Supergreens is a great place to start your superfood journey. Its clean, minty, naturally sweetened flavor agrees with almost every palate and blends readily into beverages. However, it comes at a higher price point, but it's well worth it.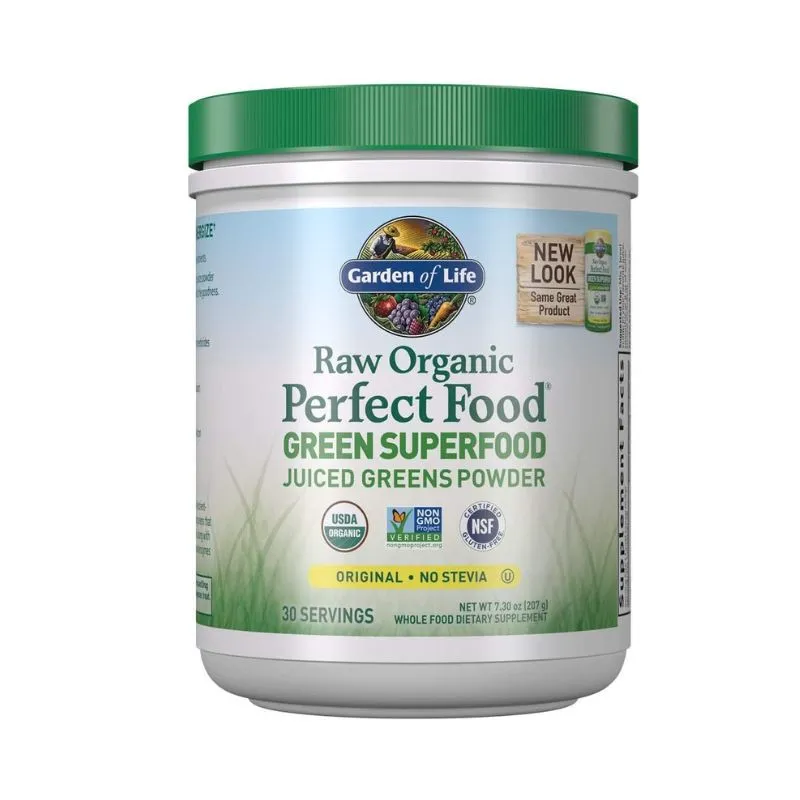 I'll be honest: the writer in me wanted to take points off of this product due to its name alone. That said, I ultimately had to respect Garden of Life's dedication to pure, organic greens and other produce while building its formula. Because the company uses a "juiced" greens powder method, meaning it juices nutrient-rich greens, buds, sprouts, and other ingredients, then dehydrates and concentrates that juice, they're able to offer an impressive nutrient profile while limiting itself to only organic materials.
To top off the natural goodness of its ingredients, Garden of Life's Raw Organic Perfect Food Green Superfood Original Green Powder adds 1.5 billion CFU probiotics and digestive enzymes, as well as natural flavors pulled from whole fruits like apples and lemons. Despite having only one gram of naturally-occurring sugars, many reviews for Garden of Life mention how sweet the different flavors can be due to its inclusion of stevia. Though we didn't find this sweetness overpowering in our personal experience with the product, we nonetheless understand that people have different palates. If you tend to dislike sweeter flavors, consider opting for Garden of Life's completely unsweetened base formula.
Finally, Garden of Life's greens powder costs only $34.29 for a 30-serving pack, putting its price per serving at $1.14–one of the lowest on this list. For those looking for an affordable option for an organic greens powder, this makes Garden of Life one of our top choices (silly name or not).
Pros
Caffeine-free
Non-GMO
Vegan-friendly
Third-party tested
GMP Certified
Includes sprouted grains and legumes (quinoa, millet, garbanzo beans, pumpkin seeds, lentils)
$34.29 per 30-serving pack
Contains no fillers
Cons
Contains fewer probiotics than some other powders
Contains stevia
Produced outside the USA
The manufacturing facility also processes milk, eggs, soy, nuts, and wheat
Requires further testing and certifications
Bottom Line: Garden of Life's Raw Organic Perfect Food takes a unique approach to greens powders by dehydrating different juices to build its nutrient profile. While this method provides a comprehensive list of vitamins and minerals, it also may introduce potential allergens or food triggers, so we suggest carefully reading the label before deciding to buy.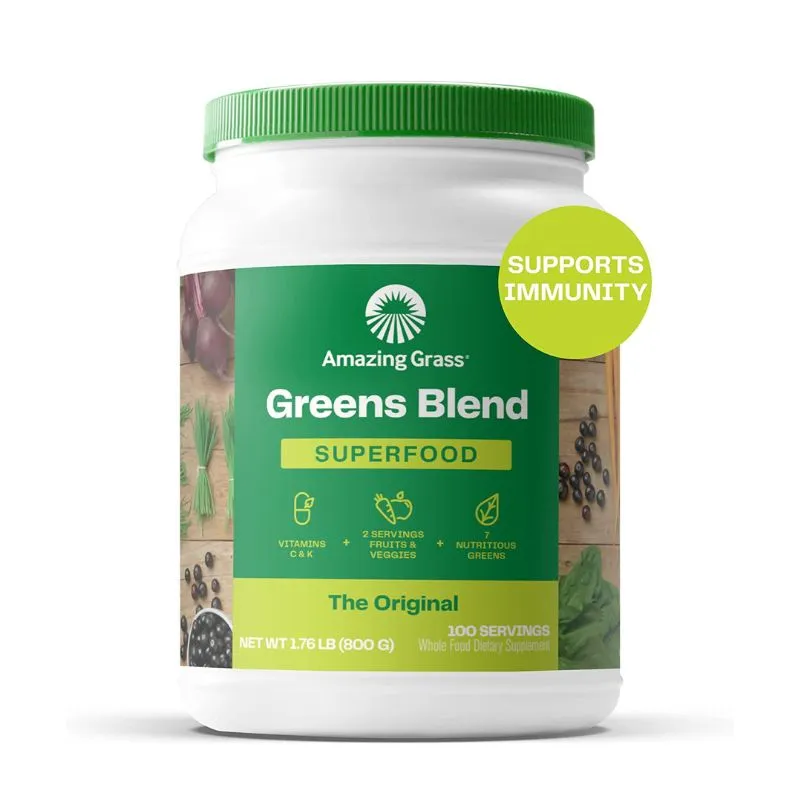 First founded in 2002, Amazing Grass has been a staple of the greens powder industry for more than two decades. Despite its seniority in the industry, it still maintains an admirable willingness to adapt and change depending on customer needs. And, while the Amazing Grass Greens Blend Superfood uses a solid ingredient list and balanced nutrient profile, we were most impressed by its excellent flavor and the ease with which it blended. Unlike many other green powders which feature a prominent grassy taste, this blend understands that most people don't want to have to suffer through their daily supplement routine.
Even so, this impressive flavor suffers from its use of stevia to achieve sweetness. While initially hailed as the perfect sugar substitute, many studies have since outlined worrying risks and considerations about stevia due to its incorporation of erythritol and sugar alcohols, including everything from bloating and nausea to increased risk of hormone disruption.
That said, many people stomach stevia perfectly well, and current data indicate that secondary complications are rare. If you live a fast-paced lifestyle, the convenience and benefits offered by Amazing Grass's flavor and blend-ability likely outweigh potential risks, but we suggest starting slow and gauging your reaction to the product.
Luckily, Amazing Grass prices its original blend at aggressively low rates, offering an unmatched $0.54 per serving. While this affordability is made possible primarily through a simpler ingredient list, it nonetheless goes a long way for those looking to protect their wallets.
Pros
Extremely pocket-friendly price
Numerous superfood ingredients (wheat grass, alfalfa, spirulina, broccoli, spinach, flax seeds, etc.)
Gluten-free
Caffeine and sugar-free
Non-GMO
Cons
Fewer superfood ingredients than similar products
Not 100% organic
Not third-party tested
Not GMP certified
It doesn't show the probiotics CFU count
Contains stevia
Grainy texture from ground flaxseed
Bottom Line: Amazing Grass Greens Blend Superfood offers a delicious, inexpensive product with numerous benefits and a handful of drawbacks, such as its use of stevia and simplistic ingredient list. Even so, the company's aggressive pricing and respectable customer reviews make it one of the most balanced offerings on our list.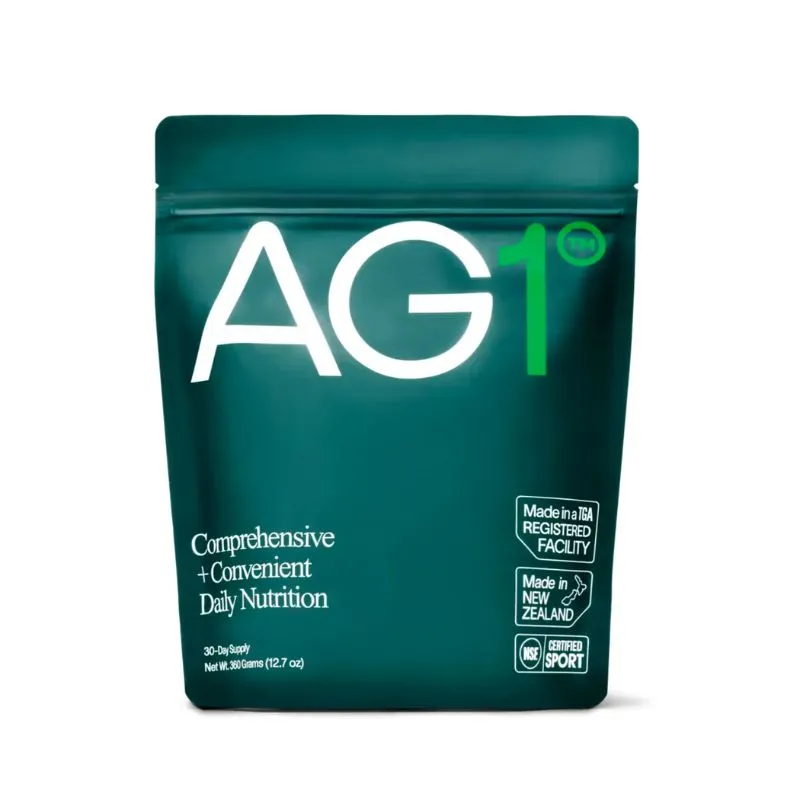 If you've spent any time researching different greens powders, you've probably seen countless ads and testimonials for Athletic Greens AG1–and it's no wonder. As one of the industry's founding companies, Athletic Greens combined a consistent, quality product with excellent marketing to dominate the early years of greens powder popularity. Even today, their product rests firmly near the top of most lists you'll find due to continued product quality and impressive visibility across social media.
Still, while Athletic Greens AG1 may have been one of the first to get its product right back in 2010, its competitors have come a long way in the past thirteen years. Previously the final say in terms of quality and certifications, many other greens powders have since developed impressive formulas of their own, several of which surpass AG1 due to their clean, minimalist approach to nutrition.
Regardless, Athletic Greens AG1 is still a respected veteran in the industry, and it's likely that many of you reading this list are current customers of their brand. With NSF Certification for Sport, a powerful probiotics and digestive enzymes complex, and substantial amounts of B vitamins, AG1's formula holds up to even the strictest scrutiny. Where they begin to fall flat, however, is in regard to unnecessary ingredients and price.
Substantially more expensive than newer, "hungrier" brands, AG1 leverages its excellent marketing to maintain a $2.63 price-per-serving–higher than almost any other powder on our list. Additionally, AG1's inclusion of stimulants like green tea extract and adaptogens such as ashwagandha make it questionable for those wanting a more streamlined product.
Pros
Vegan and allergen friendly
Athlete-focused formula
Non-GMO
Third-party tested
GMP Certified
NSF Certified for Sport
Cons
It may be unsuitable for FODMAP diets
More expensive than the market standard
Contains stevia
It contains caffeine from cocoa and tea extracts
May clump after mixing
Bottom Line: Athletic Greens AG1 enjoys its status as an industry staple for a reason. Impeccable manufacturing standards, potent amounts of each nutrient, and strong branding make them, unquestionably, a solid choice for anyone seeking a trustworthy greens powder. Even so, other greens powders of similar (or better) quality now exist, with many boasting a much lower price-per-serving.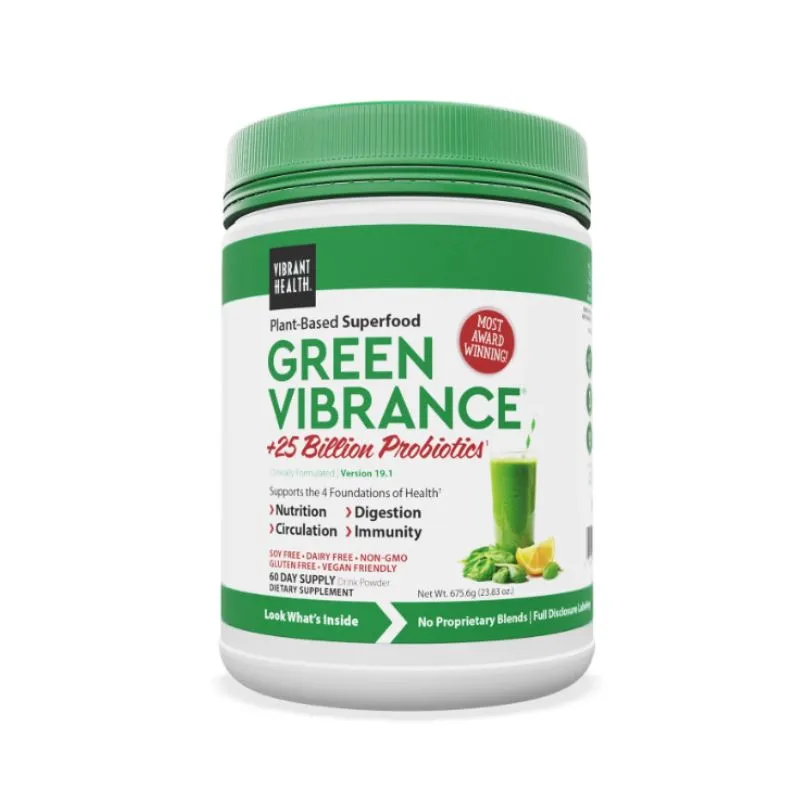 A tiny operation first founded in 1992, Vibrant Health's Green Vibrance helped shape the greens powder industry into what it is today. With a comprehensive list of more than 40 superfoods and a staggering 25 billion CFU probiotics, the company doesn't pull any punches about adding ingredients to its powder. Despite the unique benefits of so many premium ingredients, the veteran green powder does come with certain unique drawbacks, as well.
Specifically, Green Vibrance requires more preparation and planning to use efficiently. Unlike more modern, shelf-stable greens powders, Vibrant Health's formula requires constant refrigeration due to several sensitive ingredients. Additionally, the company suggests that its customers wait at least 30 to 45 minutes after eating to consume the powder, making it far less convenient than the scoop-and-mix availability of most greens powders.
Still, Green Vibrance's powerhouse nutrition profile and respectable price point of $1.32 per serving make it an excellent choice for those willing to sacrifice a small amount of convenience.
Pros
Powerful nutritional value
Wide variety of superfood ingredients
High in probiotics
It contains digestive enzymes, adaptogens, and fibers
Non-GMO
Vegan-friendly
Caffeine, gluten, and dairy-free
Cons
Not made in the USA
Grassy taste
Contains processed vitamins
May interfere with blood thinning medications
Requires refrigeration
30-45 minute delay between eating and taking the powder
Bottom Line: Vibrant Health's Green Vibrance powder offers a titanic amount of probiotics and nutrient diversity, making it a solid choice for those looking to take drastic measures to ensure better health. Still, its complicated methods of storage and consumption make it less than ideal for those seeking a more convenient choice.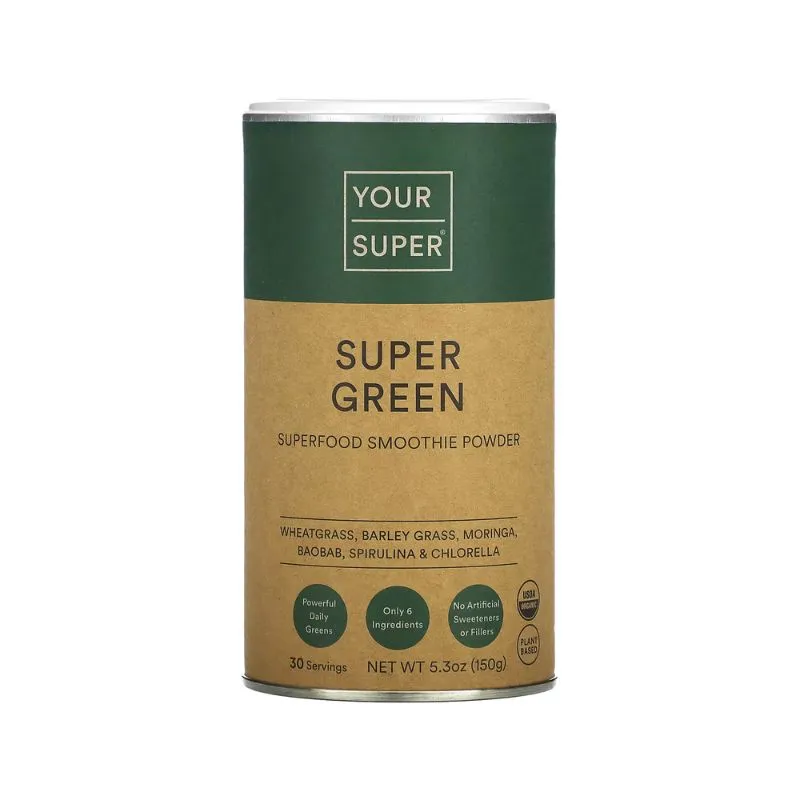 In comparison to other, maximalist products on the market, the Super Green Mix by Your Super takes a minimalistic, streamlined approach to the supplement business by using only six ingredients in its super greens powder. Even so, the six ingredients they do include pack a punch, with baobab (used as a panacea in traditional medicines), barley grass, spirulina, and moringa.
While these ingredients all provide considerable health benefits, some may cause issues for individuals with certain chronic illnesses or those taking prescription medications.
Specifically, some studies indicate possible complications with supplements using moringa root, though more research is needed to confirm or rule out specific risks.
Still, at only $0.89 per serving, Your Super's blend trades nutrient complexity for affordability and simplicity, making it an excellent choice for those seeking a basic, inexpensive product. As a final consideration, many customer reviews mention this blend's somewhat grainy texture and failure to fully blend with liquids, making it questionable for those who prioritize flavor and the drinking experience.
Pros
Pocket-friendly price
100% organic ingredients
Gluten and dairy-free
GMP Certified
Third-party tested
No-frills product
Non-plastic sustainable packaging
Cons
A limited variety of ingredients means low nutrients per dose
Not made in the USA
May break apart in beverages
Potential complications due to moringa root
Bottom Line: With a rock-bottom price and only six ingredients, Your Super Super Greens sets the industry standard for simplicity. Still, for those wanting a more comprehensive nutrient profile, probiotics, or other features, this product may fail to impress.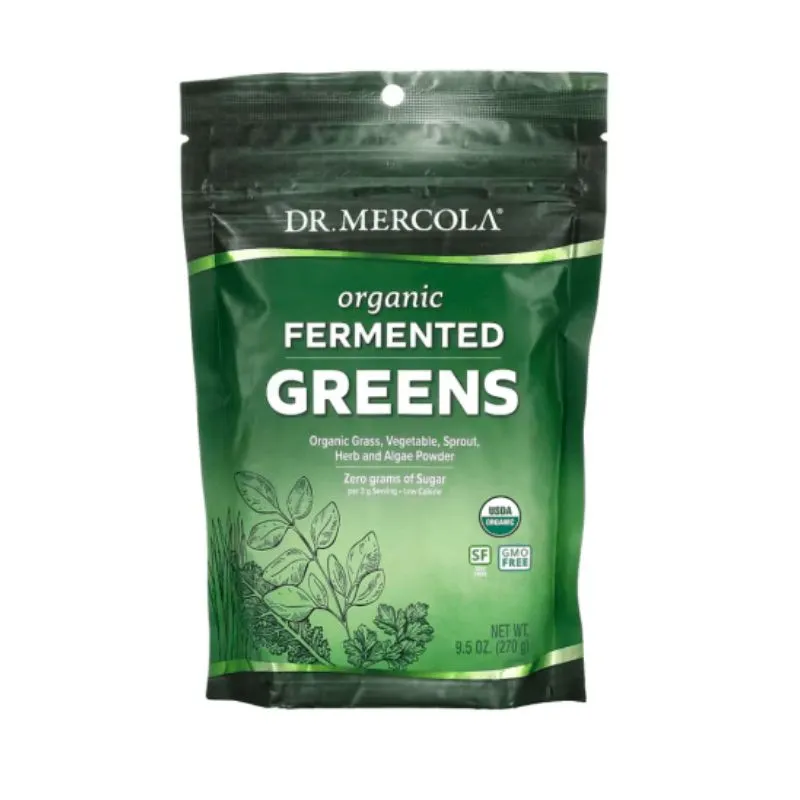 One of the more interesting products on our list, Dr. Mercola's Organic Fermented Greens harnesses the power of fermentation to provide an impressive list of nutrients. Though relatively unique in the greens powder industry, the potent health benefits of fermented foods have been well-documented for decades, with many cultures using them in traditional medicine for millennia.
By combining fermented vegetables, grasses, sprouts, strawberries, blueberries, elderberries, and pomegranates, this blend succeeds in providing all the powerful health benefits of fermented products without the typical taste. For those with a more delicate palate, this may be the best of both worlds. Still, Dr. Mercola's Organic Fermented Greens fell short in a few other important categories, namely due to its inclusion of stevia and caffeinated additives like yerba mate and matcha.
Still, for individuals who don't suffer adverse reactions to stimulants or artificial sugars, Dr. Mercola provides some of the most comprehensive gut support in the industry.
Pros
Vegan and keto friendly
Increased nutrients through fermentation
Over 20 organic ingredients
A long history of quality since 2001
Soy and gluten-free
GMP Certified
Cons
Contains no probiotics
Contains caffeine
Maybe on the sweeter side
Small recommended serving size (3g once a day)
Bottom Line: Dr. Mercola's Organic Fermented Greens adds a twist to greens supplements through fermentation. It has no digestive enzymes, although the ingredients are already naturally broken down for easier absorption. It may have a distinct flavor from monk fruit and stevia.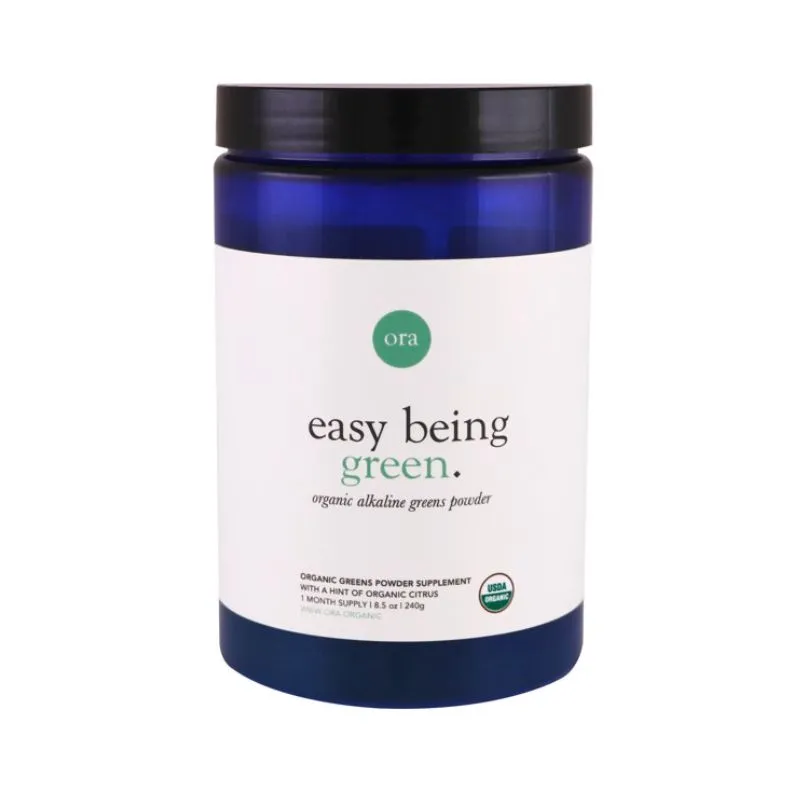 Sitting at the middle of the pack in terms of ingredient quantity, Ora's Easy Being Green incorporates more than 20 potent superfood ingredients such as oat grass, broccoli, kale, and spirulina. Additionally, Ora's greens powder capitalizes on the antioxidant benefits of bibhitaki, haritaki, and amla–three plant-based ingredients traditionally used in Ayurvedic medicine.
This relationship with traditional medicines isn't by accident, as Ora's Easy Being Green actively advertises itself as a holistic option rooted in Ayurvedic ideals. Even so, this blend does include adaptogens like ashwagandha to provide extra benefits. While this may be an advantage for some customers, others with certain sensitivities or those taking prescription medications may want to opt for a simpler product.
Regarding customer reviews, many mention this greens powder's excellent taste and blend-ability, and our tests matched those accounts. Although subtle, the slightly sweet, vegetal taste of Easy Being Green paired beautifully with multiple types of juices and shakes.
Pros
Vegan-friendly
Non-GMO
Third-party tested
Caffeine, gluten, and dairy-free
Balanced ingredients with no fillers
Cons
No probiotics
Not made in the USA
May worsen GI problems due to fiber inclusion
May interfere with blood thinning medications
Bottom Line: For those simply seeking a boost in their daily vitamin and mineral intake, Easy Being Green is an ideal option. Rooted in Ayurvedic principles, it mixes antioxidant powerhouses with a clean, mild flavor to make daily nutrition a breeze. Even so, its lack of significant probiotics and inclusion of potentially-complicated ingredients like ashwagandha mean that individual research is warranted before deciding to buy.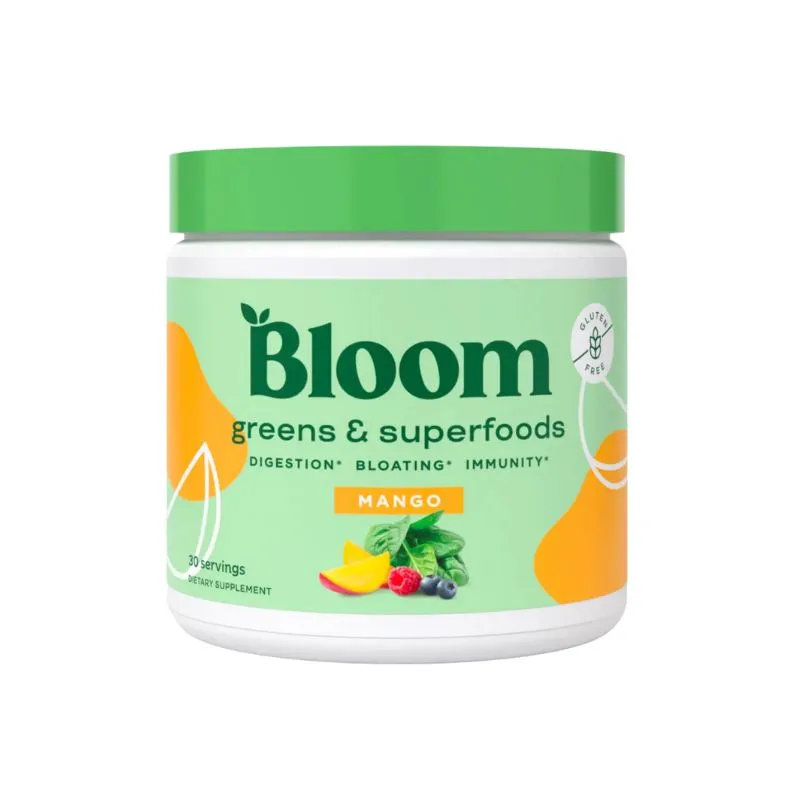 A relatively young company, Bloom Nutrition was founded in 2019 by a self-proclaimed fitness industry amateur, and their flagship greens powder has since gone viral on social media. In addition to their Bloom Greens & Superfoods powder, the company also sells other products that fall in line with their dedication to high-quality ingredients and attractive branding.
By far, the most obvious difference between Bloom Greens and its competitors, however, is flavor: Bloom Greens & Superfoods is substantially sweeter than any other greens powder on this list. While this may be the perfect solution for customers who dislike the traditional grassy flavor of some greens powders, it may be far too sweet for those who avoid sugary drinks. Additionally, the brand uses stevia to achieve this flavor, which some studies have shown may produce gastrointestinal issues or disrupt the gut biome in some users.
Despite these concerns, Bloom Greens & Superfoods provides an impressive amount of flexibility and selection among its various greens powders. Rather than combining all health benefits into a single product, the company instead offers powders specifically tailored for everything from digestive support to better gym performance. Additionally, each greens powder relies heavily on spirulina and chlorella as a basis for their formulas, both of which provide substantial potential health benefits and consistency.
Finally, Bloom Greens & Superfoods is one of the less expensive products on this list, coming in at $35.99 for a 30-serving container. Even better, Bloom Nutrition maintains a strong presence on Amazon, meaning Amazon Prime customers can receive free, expedited shipping and various discounts.
Pros
No grassy flavor
Increased nutrients through fermentation
Relatively inexpensive
Available at popular retailers Target and Amazon
GMP-Certified
Cons
Not third-party tested
Insufficient amounts of some ingredients
May be too sweet for some
Includes stevia
Bottom Line: If you have a sweet tooth but are looking for a way to increase your daily nutrition, Bloom Greens & Superfoods may be the perfect product for you. With a range of sweet, fruity flavors, a solid formula, and a competitive price point, these greens powders offer flexibility and convenience. That said, Bloom Nutrition does not provide third-party testing for its products, which may open the door to complications concerning ingredient sources and quality. Additionally, those who dislike sweet drinks may want to avoid Bloom's products in favor of something more naturally-flavored.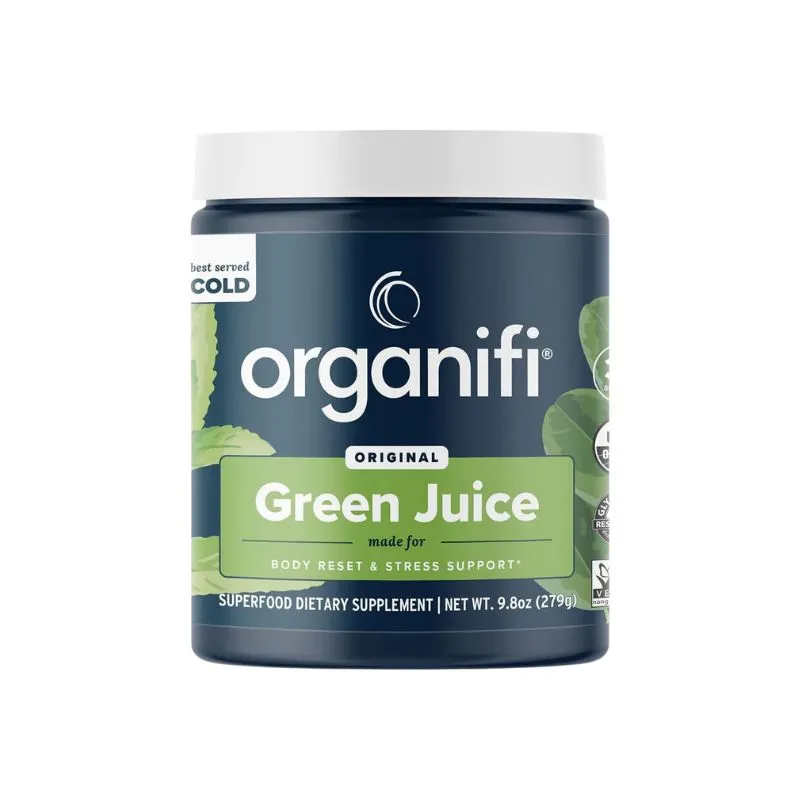 Like many of the companies on this list, Organifi is less of a dedicated super greens brand and more of an overall wellness provider. On top of their Green Juice powder, they also offer products to help with liver health, stress-relieving hot cocoa, and even Organifi-branded magnesium supplements. Because of this product diversity, Organifi has built a strong, dedicated following of customers since it was founded in 2011.
For their greens powder formula, Organifi includes most of what you would expect: wheatgrass, moringa, spirulina, chlorella, and matcha. While all of these provide excellent potential health benefits, customers looking to avoid excess caffeine may want to opt for a different product without matcha. Additionally, Organifi Green Juice incorporates ashwagandha, a potent adaptogenic shown by many studies to reduce stress and help manage cortisol production.
Despite the strength of these ingredients, however, Organifi Green Juice offers arguably little in the way of vitamins or minerals, falling far short of many other products on this list. Although this powder may still provide a considerable dose of powdered superfoods each day, you may still need to supplement with a multivitamin in order to ensure you're hitting your micronutrient goals.
Unfortunately, this lack of essential micronutrients is made even worse, considering Organifi Green Juice's premium cost. At almost $70 for a 30-serving package, Green Juice is easily one of the more expensive formulas on this list. Additionally, the brand's less-than-impressive 10% subscriber discount falls short of what's commonly offered by their competitors. Still, Organifi does allow customers to buy through Amazon, so the free shipping may slightly offset this price.
Pros
Organic ingredients
FDA-approved manufacturing
Vegan, non-GMO, and gluten-free
Stress-fighting compounds
Prebiotics and probiotics
Cons
Caffeinated due to matcha
Relatively expensive
May cause GI problems for fiber-sensitive people
Bottom Line: For a product priced at premium rates on par with industry standouts such as Athletic Greens AG1, you'd expect Organifi Green Juice to offer far more in the way of premium ingredients, micronutrients, and other features. And, while Green Juice is in no way a bad product, it does not seem to live up to the cost and is simply outclassed by several other greens powders at drastically lower price points. While some of the company's other products may be worth the investment, we suggest getting more bang for your buck with another greens powder.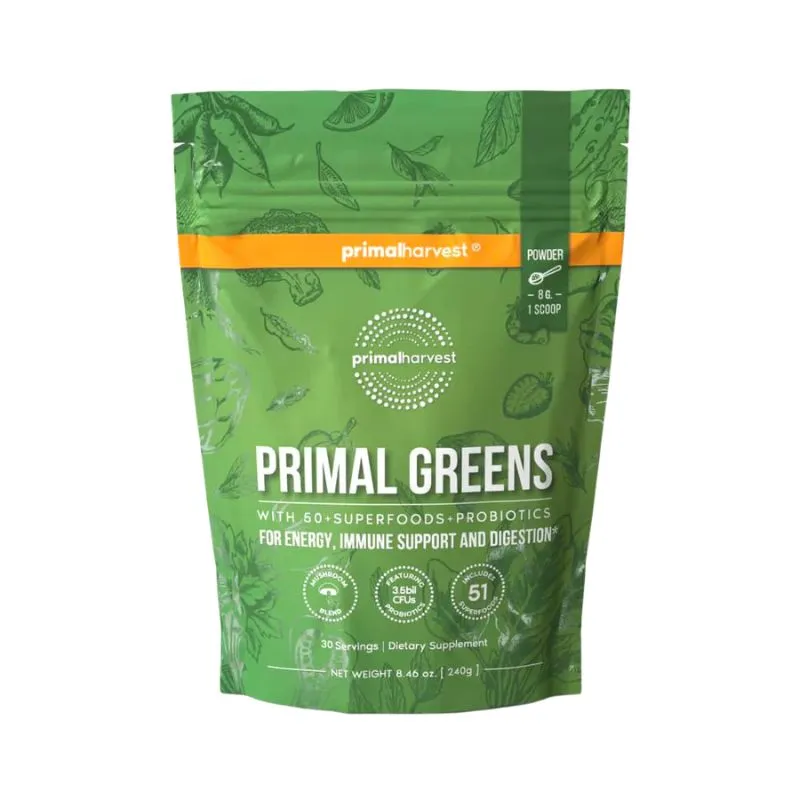 Primal Greens is a complex, ambitious greens powder by Primal Harvest, which also offers a range of supplements for everything from joint support to women's health. While the company has a long history of producing well-received products, their dedication to providing a large quantity of supplements may come at the cost of each individual product's quality.
Unfortunately, this philosophy also carries over into their greens powder formula, which looks to pack more than 50 different superfoods and other ingredients into a single bag. While this may seem admirable at first glance, it actually means that Primal Greens offers far less than effective doses for many of its ingredients, instead wasting space on fillers or suboptimal ingredients with limited benefits.
That said, Primal Greens does do several things right. First, the blend uses cracked cell wall chlorella to ensure bioavailability and overall benefits. On top of this, the greens powder includes a number of potent superfoods, such as wheatgrass, alfalfa leaf, and kale, though no specific amounts are given for each individual superfood. Finally, Primal Greens uses an adaptogenic mushroom complex that it says can boost energy, mood, and mental clarity.
In terms of price, Primal Greens is somewhere in the middle of the pack, coming in at $49.95 for 30 servings, with discounts for both subscribing and for buying multiple bags at once. Additionally, subscribers enjoy free shipping, which further reduces the supplement's cost.
Pros
Relatively inexpensive
Includes a digestive complex
Uses cracked-cell chlorella
GMP Certified
Third-party tested
Cons
Extensive filler ingredients
Insufficient quantities of ingredients
Limited flavors
Uses large amounts of stevia
Bottom Line: Despite their trendy branding, which taps into so-called "predator" or "ancestral" eating, Primal Greens nonetheless falls prey to a common trap among other greens powders on the market: overstuffing their product. Rather than providing effective doses of select, high-quality ingredients, they instead offer an overcomplicated formula with limited quantities of each ingredient.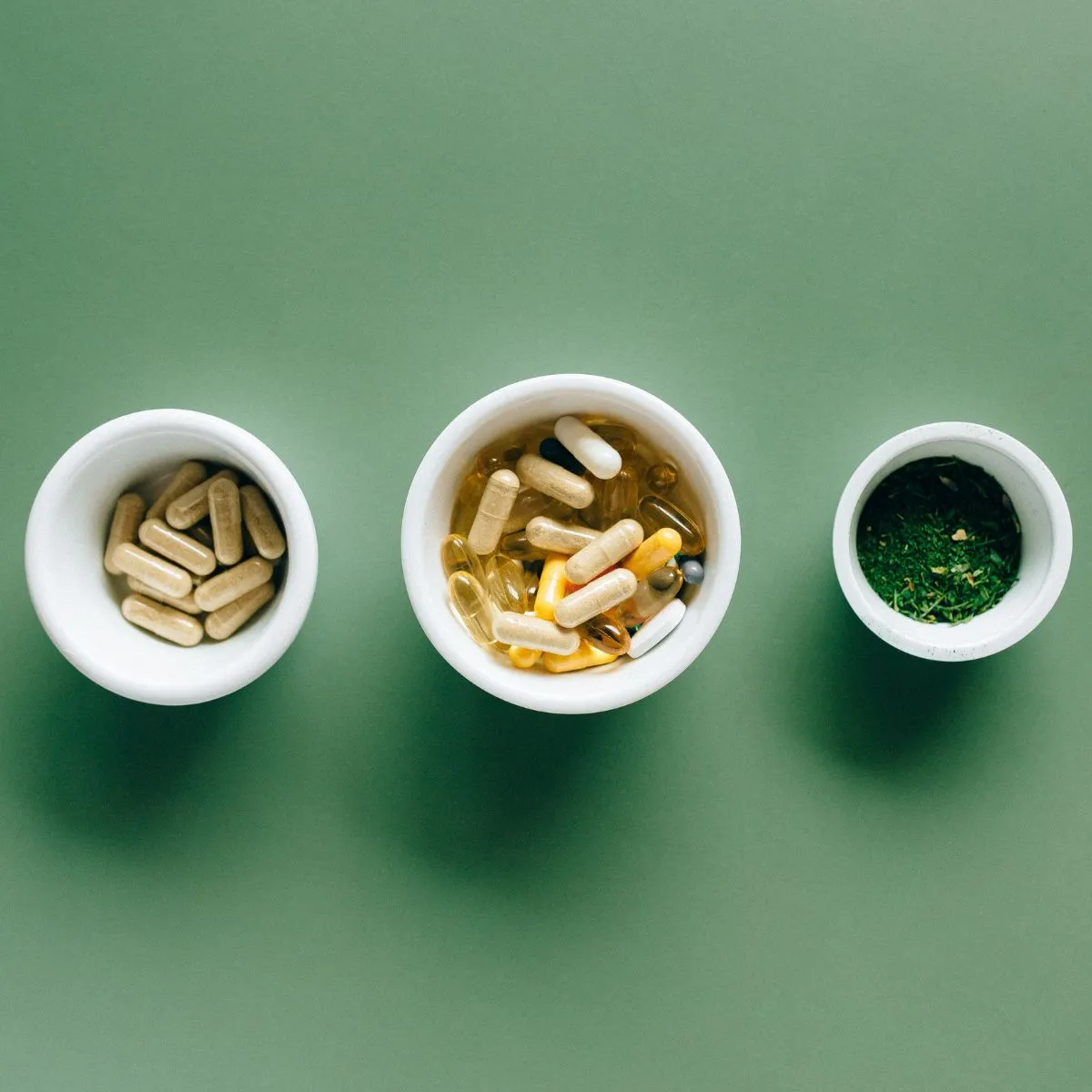 Why Should I Take Greens Powders?
Despite the advance of modern medicine and greater health knowledge among the general public, the Centers for Disease Control estimates that 6 out of 10 adults struggle with a chronic disease, and 4 out of 10 have two or more. These illnesses range from cancer and heart disease to Alzheimer's or diabetes, and experts point to a broad range of risk factors as potential causes. Alcohol and tobacco consumption, poor diets filled with overly-processed foods, lack of physical activity, and even daily stress can all have a profoundly negative effect on our health.
To combat these risks, many individuals have begun taking steps to improve their overall health and start making changes for the better–with nutrition playing a central role in these efforts. Even so, the hectic and fast-paced nature of 21st-century life often means less time to prepare well-rounded daily meals with all of the leafy greens and other whole foods we need to operate at our best.
That's where greens powders come in. On days when you struggle to meet your recommended nutrient intake, a high-quality greens powder can help you bridge the nutritional gap. And, in addition to supplying all the health benefits of traditional green vegetables, many greens powders also incorporate potent ingredients like digestive enzymes to balance gut health and fortify your immune system.
Finally, greens powders offer unparalleled convenience by allowing you to concentrate multiple servings of fruits and vegetables into a single daily scoop. All customers need to do is mix greens powders into a glass of water, juice, or shake, and they're that much closer to meeting their necessary fruit and vegetable intake.
How We Evaluated Each Product
The choice to add any new supplement to your fitness routine should only come after a thorough research and vetting process–and greens powders are no exception. To help you make the best choice, we've done some of the heavy lifting for you. In our mission to identify the best greens powders on the market, we evaluated each product in the following areas:
Quality of Ingredients
Because greens powders refine whole fruits and other ingredients into a concentrated form, the inherent qualities of those ingredients are also concentrated. High-quality, organic ingredients mean more nutrients and better purity. Conversely, impurities from low-quality ingredients are also concentrated during this process, potentially causing anything from bitter taste to heavy metal contamination. This compounding effect is why ingredient quality was at the forefront of our evaluation for every greens powder and why our registered dietitians carefully reviewed each assessment.
Formula Design
When it comes to nutrition, more doesn't always mean better. So, while many greens powders advertise endless lists of complicated ingredients, we focused on those with the most intelligently-designed formulas. Proper amounts of vitamins and minerals, a healthy balance between powdered vegetables and other types of produce, whether or not a powder includes stimulants–all of these factored into our rankings.
Taste
For most people, flavor is make-or-break when it comes to a greens powder supplement. And, unfortunately, many greens powders taste earthy, bitter, or overly grassy. On the flip side, many other greens powders lean on artificial flavors or excess sugar to mask the natural flavors of their ingredients. While researching, we looked for brands using natural flavors, fruits, and healthy sugar alternatives to provide a pleasant-flavored greens powder.
Price
When greens powders first began gaining popularity, the relatively limited number of quality brands meant high prices unchecked by market competition. In recent years, however, intense competition in the supplement industry means lower prices, perks such as free shipping or money-back guarantees, and significant deals for customers willing to subscribe for repeat monthly orders. So, in ranking our top eight products, we looked for greens powders with a respectable balance between value and cost.
Reviews
While we based the bulk of our evaluations on hard facts and scientific research, we nonetheless recognize the value of customer feedback–which is why we carefully combed through reviews for each brand listed in this article. Rather than just looking at one-through-five-star ratings, however, we took the time to actually read the reviews in order to gather insights from real customers with first-hand experience.
Qualities to Look For in Your Super Greens Powder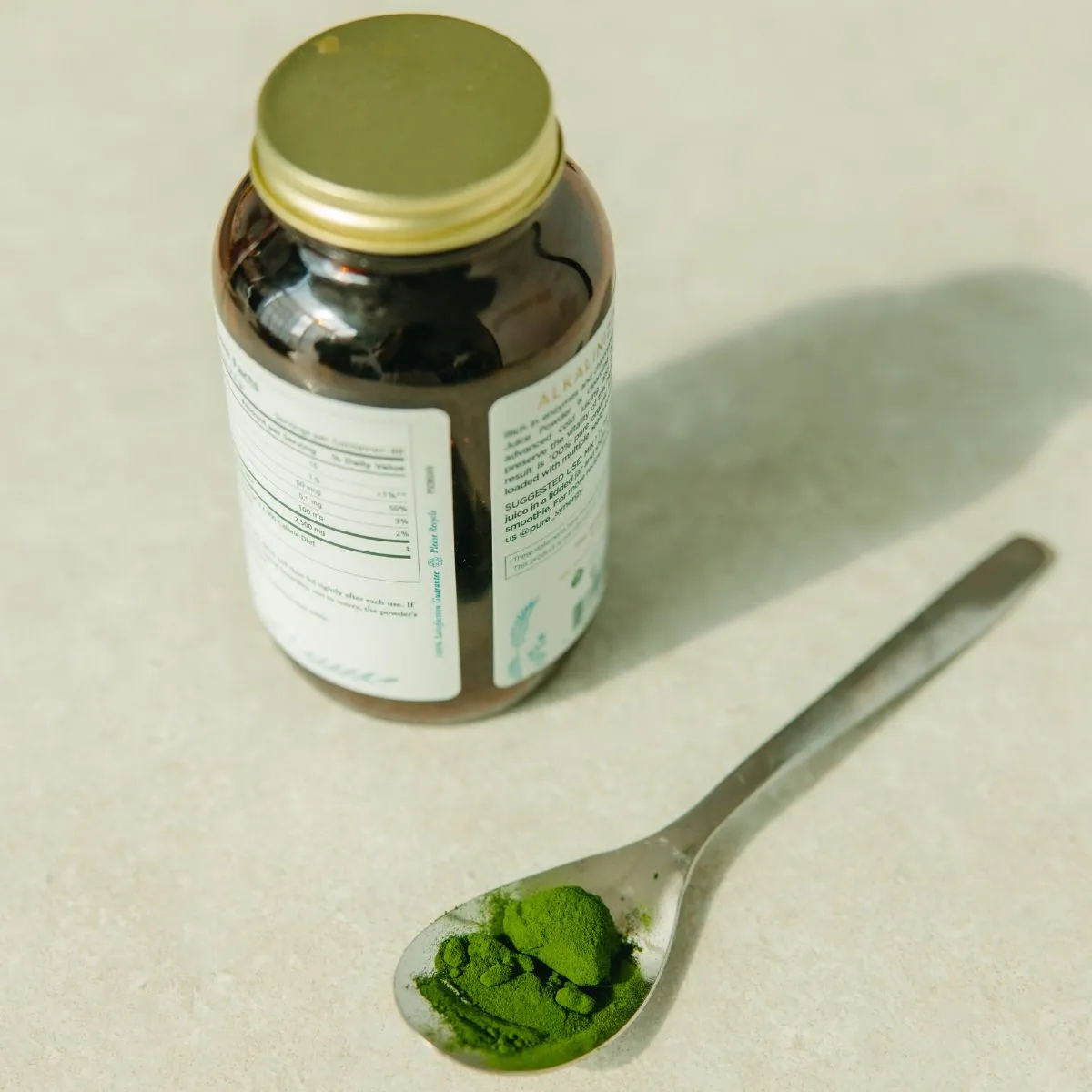 We put a healthy amount of stock into our research and the expert opinions of the registered dietitians who helped guide them. That said, at the end of the day, your health is an intensely personal issue, so the choice about which greens powder to buy is yours and yours alone. As you do your own research before making that choice, consider the following qualities of each potential brand.
Ingredients
When it comes to green powders, more ingredients don't always mean a better product. Instead, look for powders with effective doses of each ingredient as well as those with clear, streamlined formulas. If you typically struggle with trigger foods or food sensitivities, opt for a greens powder with fewer ingredients and more focused health benefits. Also, keep an eye out for all-star ingredients like:
Superfood vegetables, algae, herbs, and grasses, e.g., broccoli, spirulina, ginger, alfalfa, wheatgrass, etc.
Probiotics and digestive enzymes
Prebiotics, sprouted, and fermented ingredients
Natural sweeteners
Just like there are certain ingredients you should ensure are part of a specific product, there are also ingredients you should potentially avoid depending on your own sensitivities or preferences, including:
Unnecessary doses of fortified vitamins
Artificial sweeteners and flavors
Caffeine and other stimulants
Any known allergens
Additives and Fillers
Most greens supplements have a distinct flavor ranging from earthy and grassy to bitter, and some may also lose nutritional value during processing. Because of these risks, some supplement companies turn to additives and thickeners to improve mouth feel and satiation. Watch for fillers and additives such as lecithin, xanthan gum, inulin, guar gum, and carrageenan in your greens supplement.
Organic Certification
Because super greens powders concentrate all the qualities of the product and other ingredients they include, that means any potential impurities or contaminations are also concentrated. Due to this compounding effect, finding a certified organic greens supplement that meets USDA standards can help maximize health benefits while minimizing risks. These standards include guidelines such as:
At least 95% organic content
No use of genetic engineering or synthetic fertilizers
Accurate product labeling
Sourcing
Since the FDA doesn't regulate dietary supplements, it's essential to verify that your greens powder passes Good Manufacturing Practice (GMP) certification. A product marked as GMP-compliant means the product meets the highest sourcing, manufacturing, packaging, and storage standards of the 21st century.
Price
Most greens powders cost between $20.00 and $40.00 for a package of 30 servings, but some more premium or trendy products may cost upwards of $100 for the same amount. Remember to always check the number of servings included in each package and use that information to calculate the price per serving of a given greens powder. That way, you let yourself know how much you should expect to spend each month and ensure you get the most value for your money.
Taste
While an increasing number of greens powders have begun utilizing natural flavors such as mint or fruit juices to improve flavor, the majority of basic formulas still have a strong earthy or bitter taste. For many brands, this drawback can be mitigated by mixing a powder into milk or juice, blending it with whole fruits and vegetables, or incorporating it into cooked dishes.
If you have a sensitive palate, keep that in mind while searching for the ideal greens powder. Depending on your personal preferences, greens powders that draw their flavors from natural ingredients like peppermint or ginger might provide a more pleasant drinking experience. As with any health practice, the most effective greens powder is the one that you enjoy and will therefore take consistently.
Benefits of Using A Greens Powder
Over the past two decades, scientists have conducted one study after another to determine the hard data surrounding the health benefits of greens powders. And, study after study, the results show an overwhelming benefit for the average consumer. From a 30% reduction in cell oxidation to better bone density, improved gut health, and a lower risk of heart problems, experts have conclusively demonstrated that daily use of a high-quality greens powder can mean a profound impact on various health outcomes.
Though this list of benefits could fill its own article, greens powders improve health in these key areas:
Better Digestion
With medical experts estimating that 40% of adults struggle with gastrointestinal issues worldwide, digestive health is one of the most pressing medical issues of the modern era. By combining powerful antioxidants, probiotics, and digestive enzymes, greens powder tackle this issue and promote a healthy, balanced gut biome.
By encouraging good bacteria and limiting the overgrowth of bad bacteria, greens powders can drastically reduce inflammation, bloating, and stool-related issues. For those who typically struggle with high-fiber foods, however, make sure that any powder you choose includes minimal added fiber, as this can exacerbate digestive issues.
Improved Immunity
Your immune system plays a crucial role in protecting you from everyday threats to your health, such as bacteria and other harmful microorganisms. And, whether from stress, poor environmental conditions, or frequent contact with sick individuals, this system can sometimes struggle to keep up.
Similar to their digestive benefits, however, a high-quality greens powder provides a concentrated dose of antioxidants, vitamins, and probiotics to help supercharge your immune system.
Small studies have shown that the antioxidant and anti-inflammatory effects of green powders can help reduce risk of chronic disease, since only 10% of Americans are meeting their daily fruit and vegetable intake requirements

Megan Hilbert, MS, RDN
Protection from Chronic Disease
At the beginning of this article, we briefly mentioned that 6 out of 10 adults suffer from at least one chronic illness, with 4 out of 10 suffering from two or more comorbidities. A common link between chronic diseases like diabetes, high blood pressure, and Alzheimer's, however, is oxidative stress, a process that damages DNA and proteins in our bodies.
To fight back against this process, antioxidants from fruits and vegetables provide a potent tool to delay or stop oxidative stress, thereby reducing your risk of developing chronic health conditions. To maximize your daily intake of these crucial antioxidants, choose the best greens supplement with high antioxidant content to maximize this benefit.
Increased Energy
When we don't get enough vitamins, minerals, or other essential nutrients in our daily diets, it often leads to numerous adverse effects on our general health. Among these, fatigue is one of the most prevalent and debilitating for adults in the 21st century. Unfortunately, many individuals turn to short-term fixes like caffeine and other stimulants to get through their days–but greens powders offer a healthier alternative.
By providing a concentrated dose of the nutrients commonly missing in your daily diet, greens powders give your body all the resources it needs to maintain stable, healthy energy levels. This benefit isn't just conjecture, though: in one double-blind study, participants taking one tablespoon of a greens powder each day reported substantially higher energy levels than the study's placebo group.
Detoxification
As we move through life, our bodies accumulate small traces of toxins and other potentially dangerous compounds from sources like processed food and pollution. In other cases, a disrupted gut biome can lead to harmful bacteria, which produce inflammation-causing chemicals within our digestive systems.
To combat these effects and eliminate toxins from our bodies, few ingredients provide the impressive benefits of blue-green algae like chlorella or spirulina, with some studies showing that these algae may even help the body eliminate heavy metal buildup from dietary sources or compromised dental work. If you think you may be suffering from an accumulation of toxins or contaminants, consider finding a greens powder that incorporates a substantial amount of either chlorella or spirulina.
Final Thoughts
Over the course of human history, the communities most able to consistently provide a healthy, balanced diet have been the ones to thrive. In modern life, the responsibility to maintain this diet has become far more personal. And, despite scientific advances and more diverse food availability, fitting the right whole foods into every meal can nonetheless prove challenging.
Busy schedules, increasingly nuanced and personalized eating habits, and an overabundance of processed foods–all of these contribute to that challenge. With high-quality greens powders, however, you lessen the burden by concentrating a significant portion of your daily nutrients into a single scoop. While these powders can't completely replace whole fruits and vegetables, they can bridge the nutritional gap left over at the end of the day.
In making this list, our goal was to provide our readers with the information, expertise, and insights they need to choose for themselves which product is best. While we definitely have our favorites, we're confident in recommending any of the powders on our list. Regardless of which we choose, we firmly believe in the power of trustworthy greens powders to vastly improve your quality of life and health outcomes.
Frequently Asked Questions
Do Greens Powders Expire?
Due to their dehydrated nature, most greens powders enjoy an extremely long shelf life. Even so, some powders may expire or lose quality when exposed to air, liquid, or other adverse conditions over a long enough period.
Are Greens Powders Worth the Price?
While they're most often referred to as supplements, greens powders essentially provide the same types of nutrients you'd find in whole vegetables and fresh or frozen fruits–just in a much more concentrated form.
For individuals struggling to include a proper amount of produce into their daily diet, a greens powder might offer profound health benefits. If budget is an issue, consider trying one of the simpler, more affordable powders on our list.
How Do Digestive Enzymes Work?
A common ingredient in several greens powders, digestive enzymes such as bromelain (which is found in pineapple) help our digestive system break down foods to facilitate better absorption and overall gut health. If you struggle with issues such as bloating or constipation, digestive enzymes may help to counteract those symptoms.
Determining the best green powder supplement comes down to individual needs. Whether it's a balanced blend of fruits and veggies, digestive enzymes, or added probiotics you're seeking, it's essential to find a supplement that aligns with your health goals.
The "best" for you is one that is rich in a variety of nutrient-dense whole foods, comes from a reputable company, and aligns with your dietary requirements. Always remember, though, supplements should not replace a balanced diet but should complement it. Be sure to conduct thorough research before making a decision.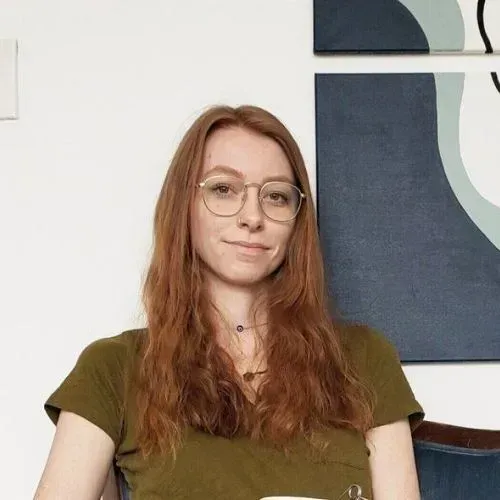 Megan Hilbert is a seasoned Registered Dietitian-Nutritionist with a focus on gut health. Trained in Clinical Dietetics at Michigan State and Grand Valley State Universities, she excels in assisting clients with IBS, chronic bloating, and gut-brain axis healing.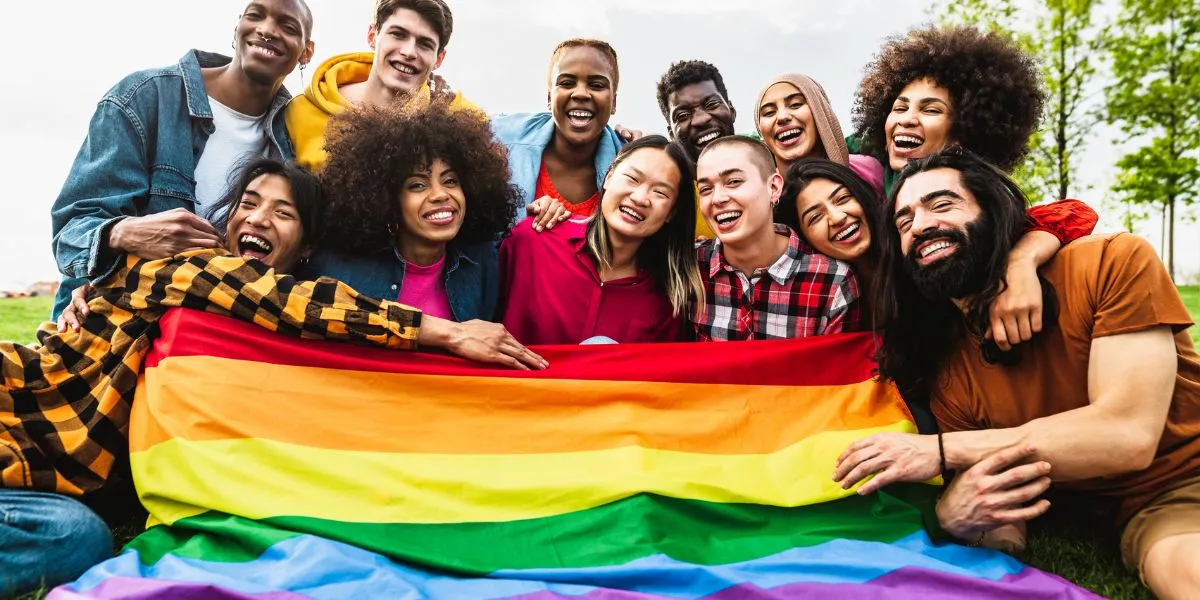 VNutrition & Wellness' Annual LGBTQ+ Vitality Scholarship
The LGBTQ+ Vitality Scholarship is a recurring scholarship open to all students who are part of the LGBTQ+ community and pursuing higher education. The next deadline to apply is July 1, and winners will be announced on July 30.
Scholarship Award: $500
A Trusted Choice Among Universities
About the LGBTQ+ Vitality Scholarship
Scholarship award available for both college and high school students.
The LGBTQ+ Vitality Scholarship is designed to support LGBTQ+ individuals pursuing academic goals while promoting their overall health and well-being. LGBTQ+ students face unique challenges, and we want to empower them as they focus on higher education.
At VNutrition and Wellness, we understand that LGBTQ+ individuals often encounter distinct obstacles that can impact their mental, emotional, and physical well-being, on top of the stressors that naturally come with school. Discrimination, social stigma, and a lack of access to proper resources are just a few examples of the challenges faced by the LGBTQ+ community, and we are dedicated to providing support and opportunities for LGBTQ+ individuals so they can reach their full potential and flourish in college.
We believe that education is a powerful tool for personal growth and creating positive change. By investing in the academic journey of LGBTQ+ individuals, we hope to empower a generation of LGBTQ+ leaders to find personal and professional fulfillment, and who will contribute to a more inclusive and equitable society.
Scholarship Details
Amount: $500
Application deadline: July 1
Winner Announcement Date: July 30
Recurring: Annually
Eligibility Requirements
To qualify for this scholarship, please carefully review the following eligibility criteria. Ensure you meet these requirements prior to submitting your application.
Identifies as LGBTQ+
All high school seniors, undergraduate students, or graduate students
Applicant must be a current U.S. citizen or permanent legal resident
How to Apply
You can apply for this scholarship on the Bold.org scholarship platform. Follow the directions and submit your application for the LGBTQ+ Vitality Scholarship, along with a short essay answering the following prompt:
"How do you plan to use your education to make a positive impact on society?"
Scholarship Frequently Asked Questions
When is the scholarship deadline?
The application will be open through July 1.
What is the scholarship prize?
The scholarship award is $500.
When will the winner be chosen and notified?
Prior to the announcement date, we may contact finalists with additional questions about their applications. Recipients will be chosen based on the merit of their applications.
How will the scholarship be paid?
The prize check will be sent to the scholarship winner's college institution in their name and in the name of their institution (depending on the school's requirements).
Is this a recurring scholarship?
Yes, the LGBTQ+ Vitality Scholarship is an annual scholarship.
How will my scholarship application be verified?
Before we award the scholarship, the winner will be required to verify their academic enrollment status by providing a copy of their most recent transcript.
How can I get in touch with questions?
If you have any questions about this scholarship, email [email protected] and we will get back to you as quickly as we can.
How will my application information be used?
VNutrition and Wellness manages this scholarship with the support of the Bold.org scholarship platform. Bold.org takes student confidentiality and privacy incredibly seriously. Please refer to the application page on Bold.org for full details.
About VNutrition and Wellness
At VNutrition and Wellness, we know that eating healthy can feel restrictive and boring. Our approach to healthy eating focuses on nourishing our bodies without feeling limited by meal choices. We create realistic recipes that are easy to make and tasty so you don't have to feel limited by typical "diet" foods and can enjoy what you eat while getting all of the nutrients your body needs!