This Pumpkin Casserole is a great way to put a veggie-filled dish on the holiday table. This plant-based recipe is so creamy and tasty that no one will even realize how healthy it is! Whether you're vegan, vegetarian or omnivorous, this delicious and comforting casserole is sure to win you over.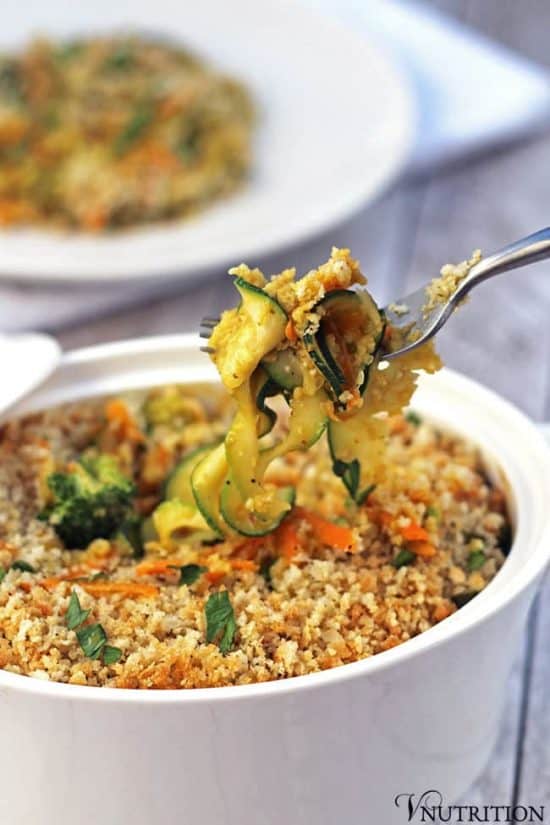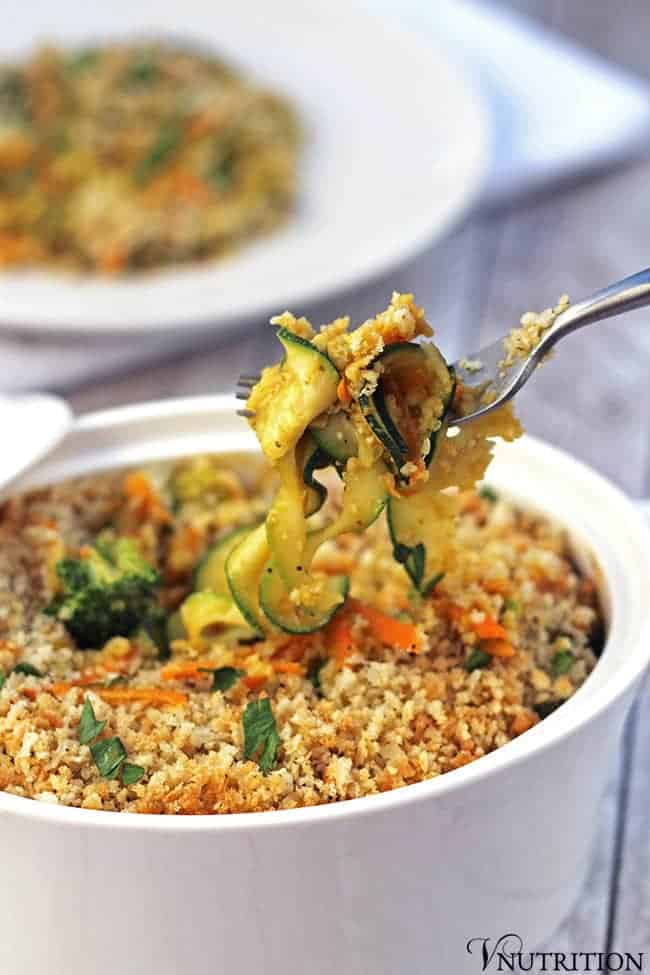 If you're looking for a vegetable filled, plant-based bowl of comfort to share with your family during the holidays, look no further than this creamy vegetarian pumpkin casserole. It's sure to be a hit!
When you're a vegan (or even a vegetarian!), you know that many holidays can be difficult because the festivities revolve around food. I used to be teased about the plant-based food that I brought to the table, but I never let it get me down!
Over time, family and friends have become more accepting and curious about my creations which makes the food less intimidating to others. This vegan pumpkin casserole has become such a huge hit among even my non-vegan friends that I'm basically obligated to bring it to any fall gathering.
Since I'm the resident veggie expert in my family these days, I'm in charge of bringing top-notch Thanksgiving vegetable recipes to share for our celebrations. A beautiful mélange of multicolored vegetables is enrobed in a creamy pumpkin sauce for this healthy vegetable casserole, making it an indisputable star for your holiday spread.
Jump to: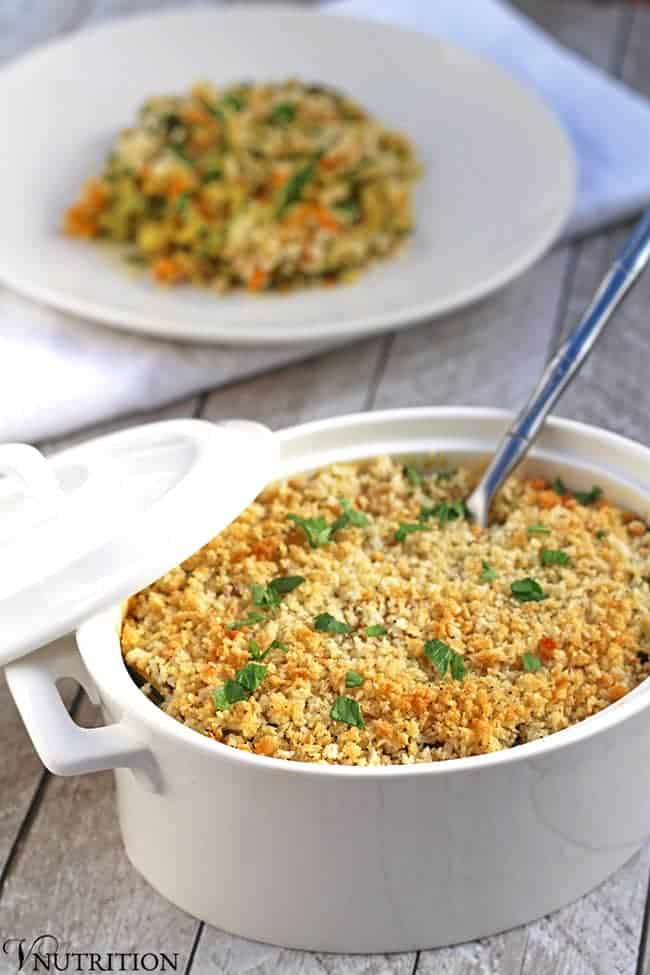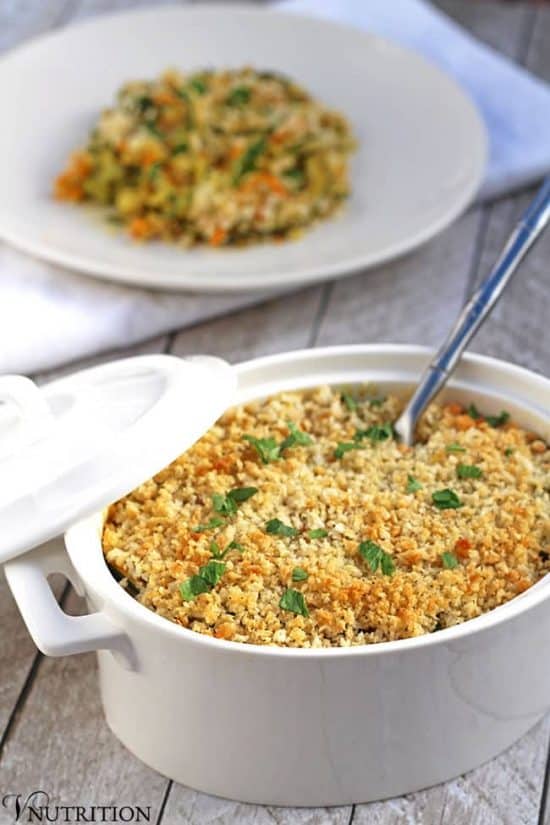 Why You Should Try This Easy Pumpkin Casserole
The holiday season is a natural time to want to show off our cooking skills for friends and family. Today I'm sharing a dish that I think will impress the whole squad - my creamy vegan Pumpkin Casserole with veggies.
This pumpkin casserole is so easy to make especially if you use a vegetable spiralizer or mandolin to cut up the veggies - those are two of my must-have plant-based tools that save hours of chopping frustrations in the kitchen.
Because so many people loved my Pumpkin Pasta sauce I thought I'd use it as a base for the pumpkin casserole! It is creamy and decadent enough that even the most discerning of palates won't miss the dairy at all.
TIP: Looking to do some meal prep while you knock out your holiday sides? Bang out a double portion of the Pumpkin Pasta Sauce and freeze half for after the holidays! Generally speaking, doubling a recipe takes very little extra effort and pays off in a big way when you're looking for a quick, healthy meal on the fly.
The creaminess of the sauce and all around tastiness will make anyone forget that this dish is vegan (and healthy). Adding buttery tasting breadcrumbs adds that little crunch needed for any good casserole.
TIP: Gluten free? Not a problem! Simply substitute gluten free bread crumbs instead.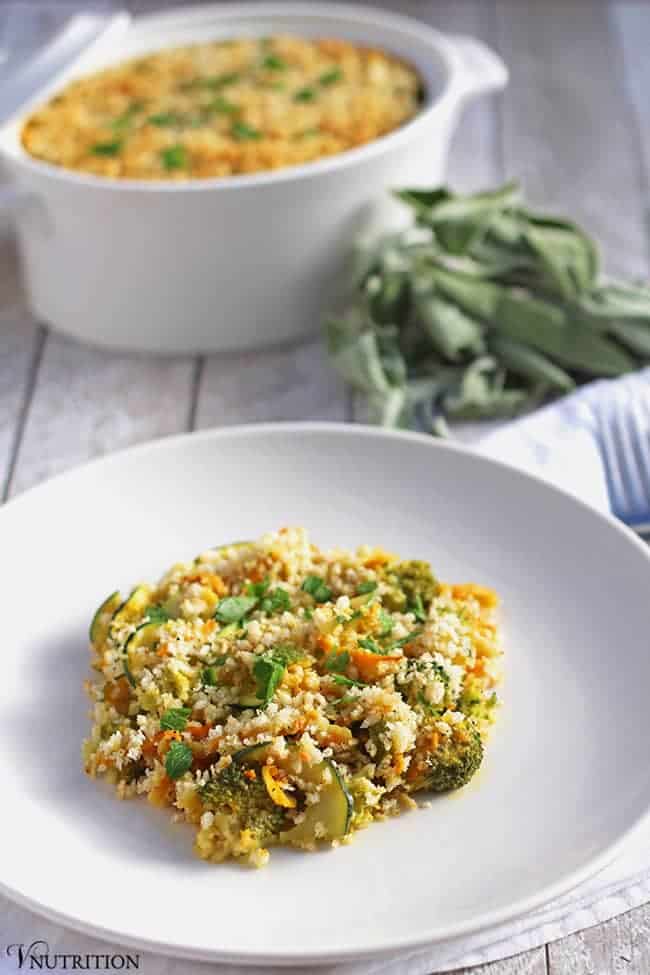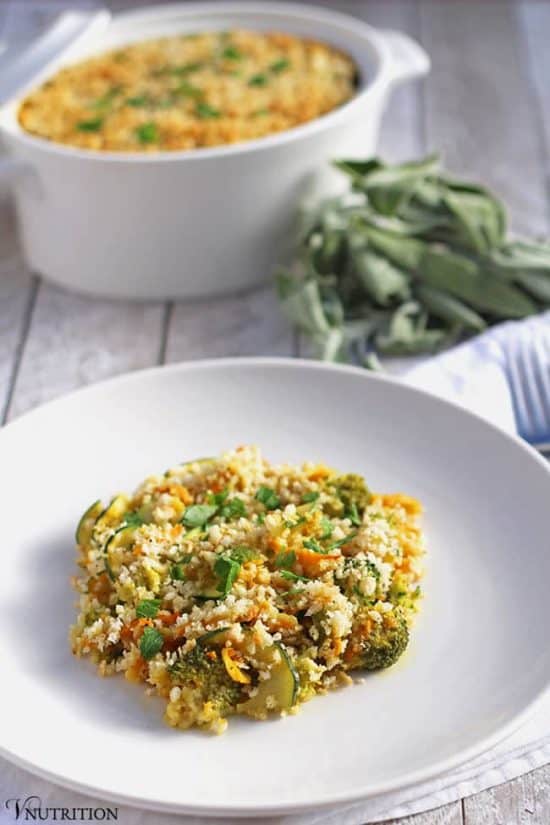 How Healthy is This Pumpkin Vegetable Casserole?
Like I said in my pumpkin pasta post, the creamy pumpkin sauce is loaded with beta-carotene from the pumpkin. Beta-carotene can be converted to Vitamin A in our bodies which aids in vision health as well as a healthy immune system.
Add in carrot, broccoli and zucchini and you get extra fiber, vitamin C and even more beta carotene, plus a whole host of other vitamins and nutrients. In short, this vegetarian pumpkin casserole is a nutritional powerhouse!
How to Make Creamy Pumpkin Sauce
In order to make the pumpkin sauce as creamy as possible, you're going to want to use the coconut cream from a can of coconut milk. To extract this, place a can of coconut milk upside down in the freezer while you work.
Next up, heat olive oil in a sauté pan until shimmering. Add the onion and garlic and cook for 3-5 minutes, until the onion is beginning to soften and become translucent. Add in your aromatics - nutmeg, sage, hot pepper flakes, basil, salt and pepper - and stir to combine.
Cook for about a minute, then add your broth and pumpkin purée. Remove the coconut milk from the freezer and only use the hardened part to add to the sauce along with the vinegar and nutritional yeast.
TIP: Save the watery part of the can in a separate container (once opened, metal cans are not foodsafe storage options) for future use.
Bring the sauce to a boil, then immediately reduce the heat to low and simmer for about 5 minutes. Using an immersion blender or working in batches using a traditional blender, blend the sauce until smooth and creamy.
TIP: When blending hot items in a traditional blender, do not fill the pitcher past halfway. The steam from the hot mix will build up and can cause the sauce to spatter out the sides, posing a risk for burns.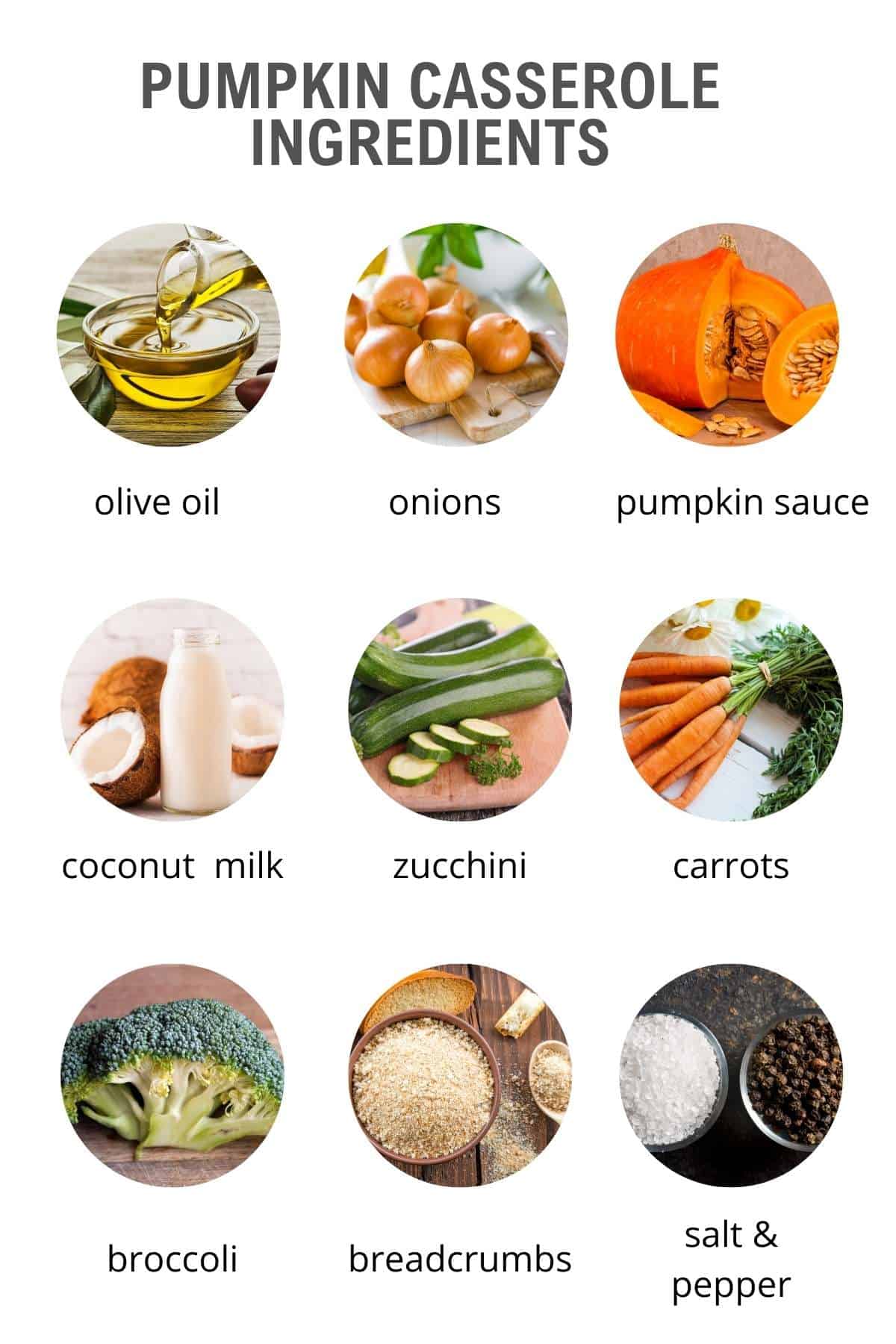 How to Assemble and Bake This Healthy Vegetable Casserole
Heat the olive oil in a sauté pan over medium heat until shimmering. Add the onions and sauté until they are beginning to soften and become translucent, about 3-5 minutes.
In the meantime, combine the pumpkin sauce with your non-dairy milk. Toss your vegetables and sautéed onions with the sauce, then pour into a casserole dish.
In a separate, small bowl, mix together bread crumbs, olive oil, salt, pepper and vegan parmesan (if using). Spread the bread crumb mixture atop the vegetables, then bake uncovered at 350F for 25-30 minutes.
Frequently Asked Questions
Can I use fresh pumpkin instead of canned?
Heck yeah, you can! While I happen to prefer kitchen shortcuts - especially when the holidays are involved - you can absolutely go the extra mile and make your own pumpkin purée from scratch. I recommend choosing sugar pumpkins that are heavy for their size, have slightly dull skin and have no breaches in their skin.
If you opt to make your own pumpkin purée, do yourself a favor and save the pumpkin seeds for roasting. They're high in magnesium, protein and fiber, making them an excellent healthy snack. They're also great to garnish winter soups and salads.
That said, there is absolutely no shame in the canned pumpkin game! Canned pumpkin purée (not pumpkin pie filling!) is chock full of good for you nutrients like beta carotene, potassium and iron.
Can I substitute something other than pumpkin for the sauce?
There's no doubt that 2020 has been a wild ride so far, and the recent lack of canned pumpkin on store shelves is just another indication that we're not in Kansas anymore.
That said, don't fret if you can't find canned pumpkin, as there are plenty of other viable substitutes out there! First, you can venture to make your own pumpkin purée using fresh pumpkins (read question above).
Secondly, you can substitute other similar squash that you can purée instead. Some excellent options include Kabocha, Acorn, Koginut, and Buttercup squash.
Finally, if you're having a hard time finding any suitable squash, you can totally substitute sweet potato purée instead. Just be sure that if you are using a canned version, you do not use the kind that has any added sugars.
What kind of non-dairy milk works best for this healthy vegetable casserole?
Since this is the holidays we're talking about, I recommend going for canned coconut milk because it will have the highest fat content and result in the creamiest, dreamiest sauce around.
That said, oat, almond, hemp, macadamia or soy milk will also work just fine; just be sure to choose an unsweetened, unflavored version of whatever milk you choose.
I'm a vegetarian, not a vegan. Will I still like this vegan pumpkin casserole recipe?
Yes! A thousand times, YES! I can't tell you how many people I have made this dish for that are not vegans who absolutely loved it. I can dang near guarantee that your whole family - vegan, vegetarian, or otherwise - will enjoy this healthy vegetable casserole.
What other vegetables go well with pumpkin?
Want to add more veggies to the mix, or have a family member who doesn't like something on the list? Don't worry, there's a bunch of delicious vegetables you can add/substitute in this healthy vegetable casserole. Here are a few ideas:
Parsnips
Cauliflower
Broccoli
Sweet Potato
Summer Squash
Winter Squash
Can I make this vegetarian pumpkin casserole ahead of time?
Absolutely! You can make the creamy pumpkin sauce ahead of time and freeze it for up to a month. You can also make and assemble the casserole (omit the bread crumb topping until right before you bake) and keep it covered and refrigerated for up to three days prior to baking.
Are pumpkins a fruit or a vegetable?
While my response would be "pumpkins are healthy, what else matters?", there is a scientific answer that I researched to share with the curious among you.
If you're wondering if pumpkin is a vegetable or a fruit, the answer is: all squash are fruit! While we typically categorize pumpkin as a vegetable due to it's savory flavor, the seed bearing structure of pumpkin means that it is scientifically classified as a fruit.
Looking for more comforting vegan Thanksgiving/holiday recipes? Check out these other favorites:
If you make this recipe and LOVE IT, please give it 5 stars ⭐⭐⭐⭐⭐!
📖 Recipe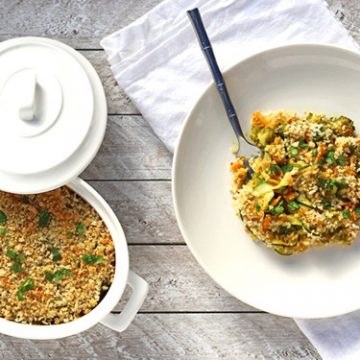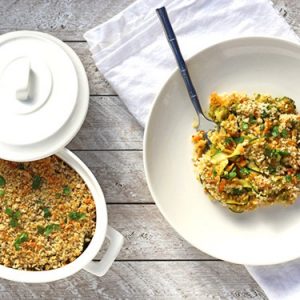 Pumpkin Vegetable Casserole
This Pumpkin Vegetable Casserole is a great way to put a veggie-filled dish on the table. And it's so tasty that no one will even realize how healthy it is!
Email Recipe & Ingredients
Ingredients
1

Tablespoon

olive oil

½

an onion

chopped

1

cup

Pumpkin Sauce

¼

cup

non-dairy milk

2

small zucchinis

sliced or spiralized

1

cup

carrot

grated

1.5

cup

broccoli florets

chopped small

½

cup

gluten free breadcrumbs

(or regular if not GF)

1.5

Tablespoons

olive oil

Dash of salt and pepper

1

Tablespoon

Vegan Parmesan

(optional)*
Instructions
Pre-heat oven to 350 degrees.

Heat olive oil in pan. Add onions and cook about 3-5 minutes.

In a bowl, mix pumpkin sauce with milk.

Add pumpkin sauce mixture, onions, and vegetables to a baking dish.

In a separate bowl, mix together breadcrumbs, olive oil, salt, pepper and parmesan cheese (if using) and sprinkle on top of the vegetable mixture.

Bake for 25-30 minutes.
Notes
Easy make ahead tip: you can enjoy some of my pumpkin pasta a night or two before and save half the sauce for this pumpkin vegetable bake. Two easy dishes in one for the week!
*Nutrition info does not include sauce
Nutrition
Calories:
234
kcal
Carbohydrates:
39
g
Protein:
5
g
Fat:
6
g
Fiber:
5
g
Vitamin A:
10750
IU
Vitamin C:
58.6
mg
Calcium:
100
mg
Iron:
1.1
mg
PLEASE NOTE: Nutritional information data is computer generated and only an estimate so it should be used only as a guide.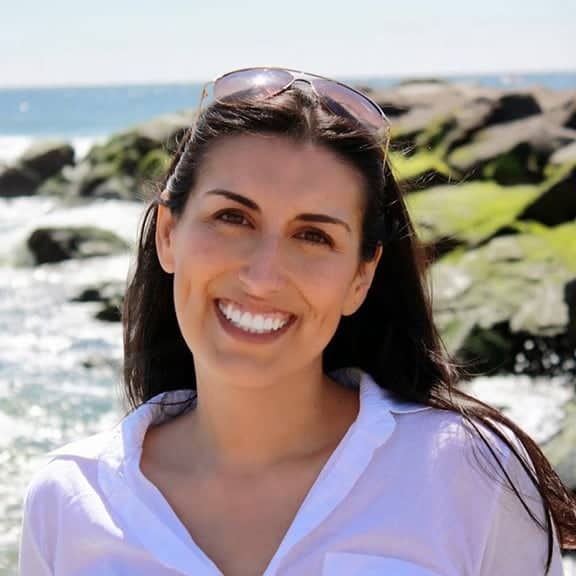 Mary Ellen Valverde MS, CNS, LDN is a Licensed Nutritionist and Certified Nutrition Specialist who empowers vegans to feel clear and confident about what is uniquely nourishing to them. Mary Ellen's recipes and nutrition information have been featured on Yahoo News, Parade, VegNews, LIVESTRONG, Dr. Axe, Greatist, LIVEKINDLY, Brit+Co, Well+Good, and more.