This Kimchi Fried Rice adds a pop of flavor to a traditional dish.  The rice is not actually fried so it's a healthy meal that comes together in about 15 minutes.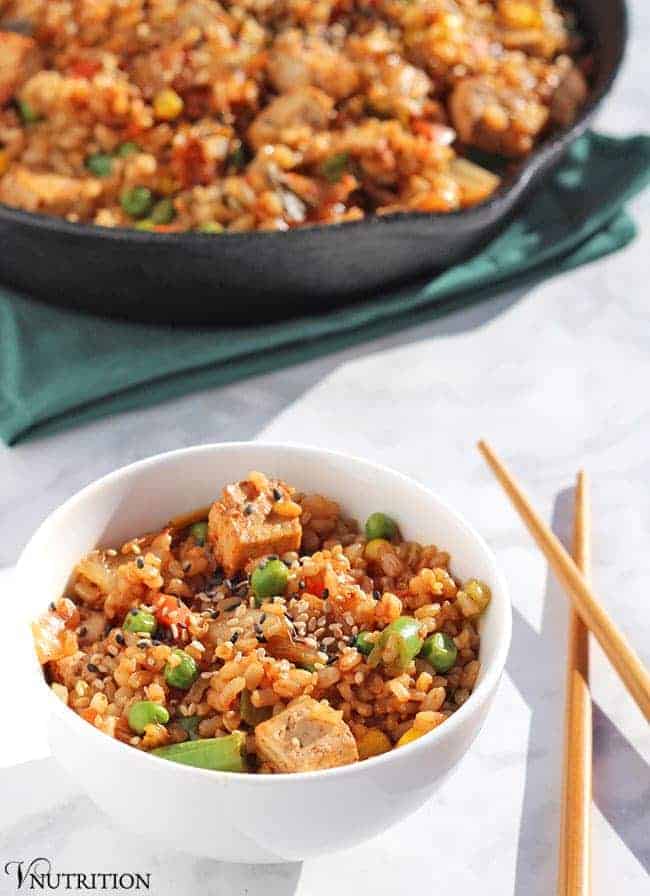 I love the taste of kimchi. It's tangy like raw sauerkraut and it is also a bit spicy and I love anything that gives me a hint of spiciness. I thought it would go great in a kimchi fried rice!
My favorite brand of kimchi is Wildbrine and I especially like the Korean flavor. It is made with red chilies, cabbage, mineral-rich sea vegetables, toasted sesame seeds, and a bit of ginger and garlic. This version is vegan, unlike other kimchi that uses fish sauce or dried shrimp. They also don't use MSG or sugar so it's 100% natural, vegan, gluten-free, and GMO-free with no additives.
If you've never tried kimchi before, start with a smaller amount if you'd like. If you love it like I do, add more! Can't find kimchi near you? You can try making it yourself. I haven't yet but I found a vegan kimchi recipe that you can try.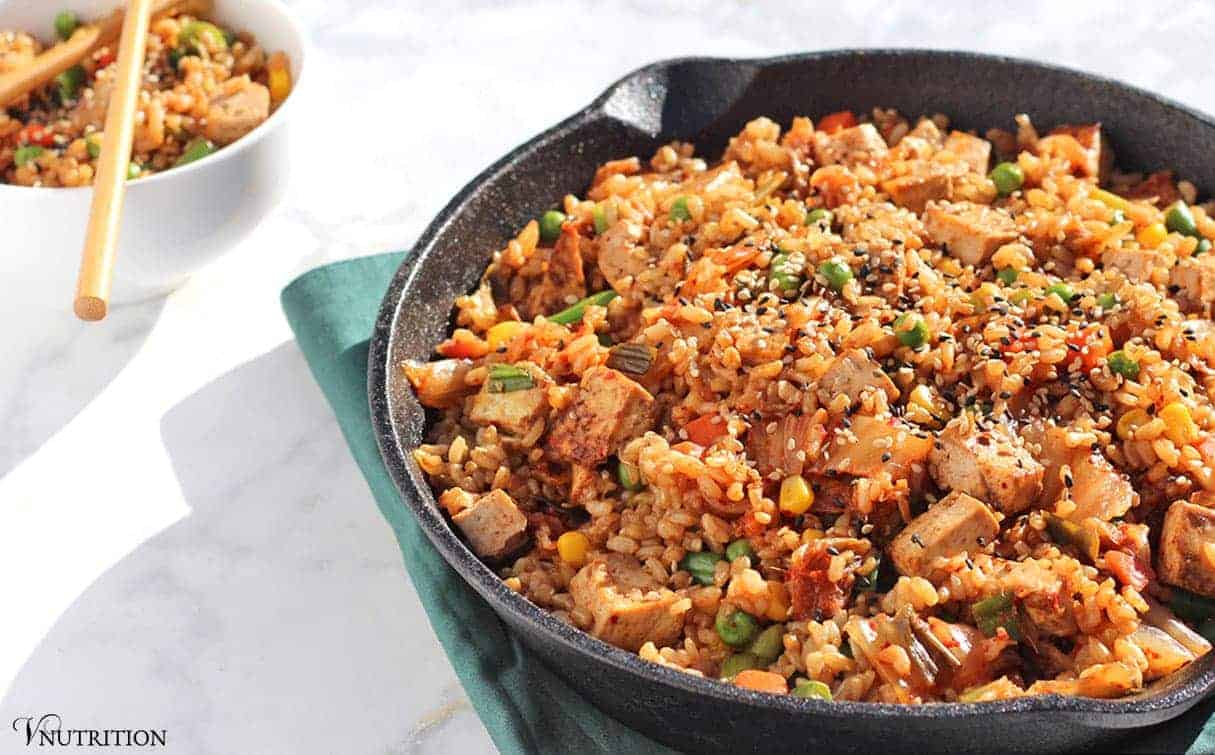 Kimchi Fried Rice Nutrition
Did you know that your stomach/intestinal flora is very important to your health? It's true! Microorganisms in our GI tract have numerous roles in healthy digestion and disease prevention. They help metabolize toxins, reduce GI inflammation, and help maintain immune homeostasis (to name a few).  Kimchi, like other fermented foods, is rich in raw probiotics which can aid in gut wellness.
I usually have a bite of kimchi before a meal to fire up my digestion but this time around I put the kimchi right in the dish. This rice isn't actually fried but it reminds me a bit of the fried rice you can get at Chinese restaurants – only healthier. It's super quick and easy to prepare if you cook the rice the day before and use pre-baked tofu.
One thing to note – kimchi should not be cooked!  Once you heat the kimchi, the good probiotics will be killed. This is why I add it in at the end after you finish cooking. When you have leftovers, you won't get the same benefits because you'll be heating the kimchi but it still tastes as good! I hope you enjoy your
This vegan Kimchi Fried Rice is a flavorful & healthy version of a traditional fried rice dish!
Click To Tweet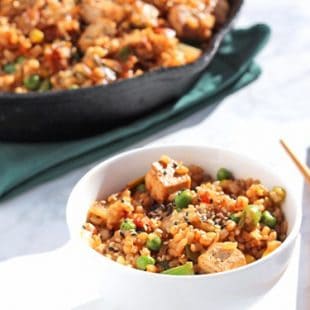 Kimchi "Fried" Rice
This Kimchi Fried Rice adds a pop of flavor to a traditional dish. The rice is not actually fried so it's a healthy meal that comes together in about 15 minutes.
Ingredients
7

oz

package of firm pre-baked tofu

, cubed (or half package of tofu in water)*

1 

cup

frozen veggies of choice

(I used an organic carrot, pea, and corn mix)

4

scallion stalks

, chopped

Veggie broth to cook with - I usually use about 1/4 to 1/2 a cup

2

cups

cooked brown rice

2 

Tb

soy sauce

1/4

cup

kimchi

Topping: 1 tsp toasted sesame seeds

(optional)
Instructions
Add scallions and frozen veggies to a large pan with enough veggie broth to heat them. The amount of broth will vary depending on the size of your pan. You don't want too much, just enough to heat the veggies though and cook the scallions.

Add brown rice and soy sauce. Continue adding a little veggie broth when needed.

Add in tofu and heat for another minute or so.

Remove pan from heat, wait a few minutes, and then stir in kimchi.

Top with toasted sesame seeds and serve!
Recipe Notes
*If your cooking the tofu yourself, take a package of organic tofu in water, pressed it, cube it into small bite-size pieces.  Place tofu in a bowl, add 2 TB soy sauce with a half tsp each of garlic powder and onion powder. Bake it for 15 minutes at 375 degrees F.
Nutrition Facts
Kimchi "Fried" Rice
Amount Per Serving
Calories 233
Calories from Fat 34
% Daily Value*
Total Fat 3.75g 6%
Total Carbohydrates 38.5g 13%
Protein 12.5g 25%
* Percent Daily Values are based on a 2000 calorie diet.
 You may also like…
Like my Kimchi Fried Rice recipe? It would be so wonderful if you could give it some love by sharing!