This amazing dairy-free Vegan Queso recipe is nacho mama's unhealthy restaurant dip. Made with cashews, nooch and other plant-based pantry staples, this veg-ified Tex-Mex staple will satisfy any cheesy craving.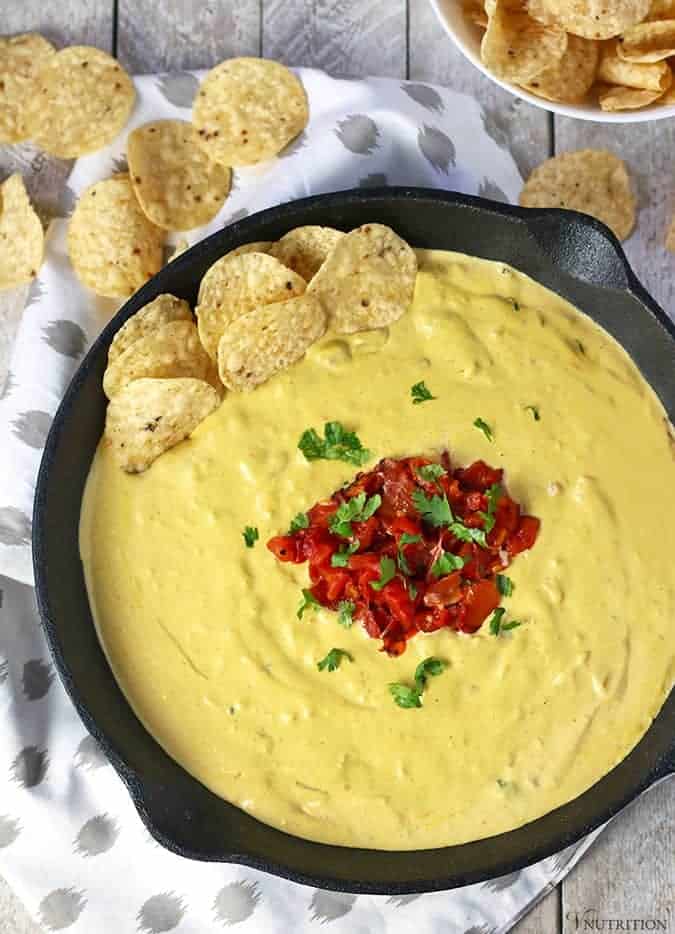 Before my vegan days, my sister and I used to gorge ourselves on queso at Mexican restaurants. We'd order a pitcher of margaritas to share and a full size bowl of queso for each of us. We were not messing around.
Needless to say, when I made the transition to plant based living, there was a queso shaped hole in my heart. I am happy to say that hole has since been filled with all the creamy, cheesy goodness that this recipe has to offer.
Today I'm sharing the BEST vegan chipotle queso dip I've had. That's saying something, because I was obviously OBSESSED with queso (and, if I'm being honest, anything cheesy) before going vegan.
I have tried countless plant-based queso dip recipes in the past, and not one of them has even come close to this easy recipe. If you think I'm being biased, I'm not; I tested this cheese sauce out on my non-vegan sister and she scarfed it down faster than I could make us a marg!
Now that I'm plant-based, I've made it my mission to find vegan cheese recipes that'll satisfy your cheesy cravings. Remember my Vegan Butternut Squash Mac and Cheese, Alfredo Sauce, Vegan Nacho Cheese Sauce, and feta cheese?? I'm pretty sure this cashew queso recipe is one you'll love, too.
Jump to: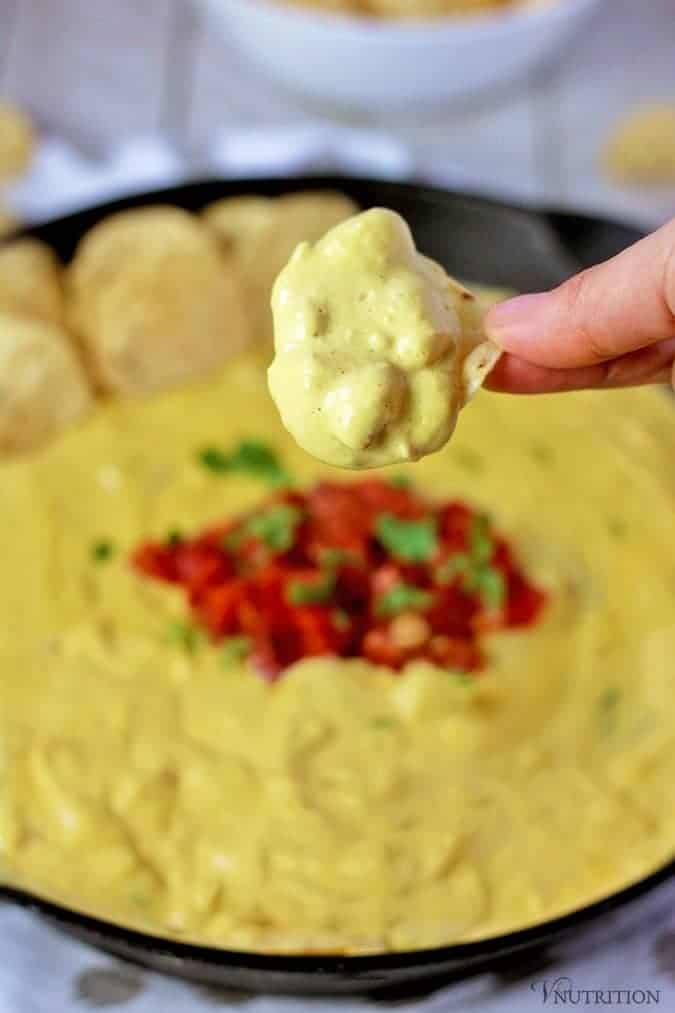 What's in This Vegan Cheese Dip?
The ingredient list for my Vegan Queso is pretty darn short. Here's everything you'll need:
Raw Cashews: Nuts, you ask? Raw cashews are a vegan kitchen workhorse; once soaked, they can be blended into a creamy sauce that is an excellent substitute for dairy. I use them in everything from my Colcannon Soup to ranch dipping sauce for my Buffalo Quinoa Balls.
Chipotles in Adobo: As someone who loves spicy foods, I couldn't resist adding some smoky chipotles to the mix. Don't worry though – it's not crazy hot! Even my mild-loving Mom can handle this queso dip…BUT if any heat isn't your thang, feel free to skip it. If you want more heat (atta girl…or boy), feel free to step it up by adding more chipotle to the mix.
Nutritional Yeast (aka Nooch): Nooch is the absolute best way to get cheesy flavor into vegan recipes. If you're wary of buying a new ingredient, I promise this one is well worth your time. Not only do I use it in a bunch of cheese recipes on the blog, but it is also excellent sprinkled on snacks like popcorn for a burst of flavor.
Turmeric: While this is optional, I recommend adding it to the mix for that lovely yellow color. If you have omnivores coming over, this is a great way to trick them into thinking your queso is conventional. 🙂
Lime Juice: Fresh lime juice is far superior to the bottled stuff. To get the most juice out of your citrus, give it a firm roll on the counter for 15-20 seconds before cutting it in half.
Canned Tomatoes with Chile Peppers: Often sold under the brand name Ro*Tel, this is a staple of Tex-Mex cooking and will add tons of flavor to your queso. Opt for mild, medium or hot depending on your flavor preferences!
Salt: Seasoning is important in any dish, and this savory dip is no exception.
Water: All you need to make this delicious dairy free sauce are 8 ingredients, one of which you can get get from the tap. If this isn't an easy enough recipe for you, I'm not sure what will be!
So now that you've gathered your ingredients, let's get this party started!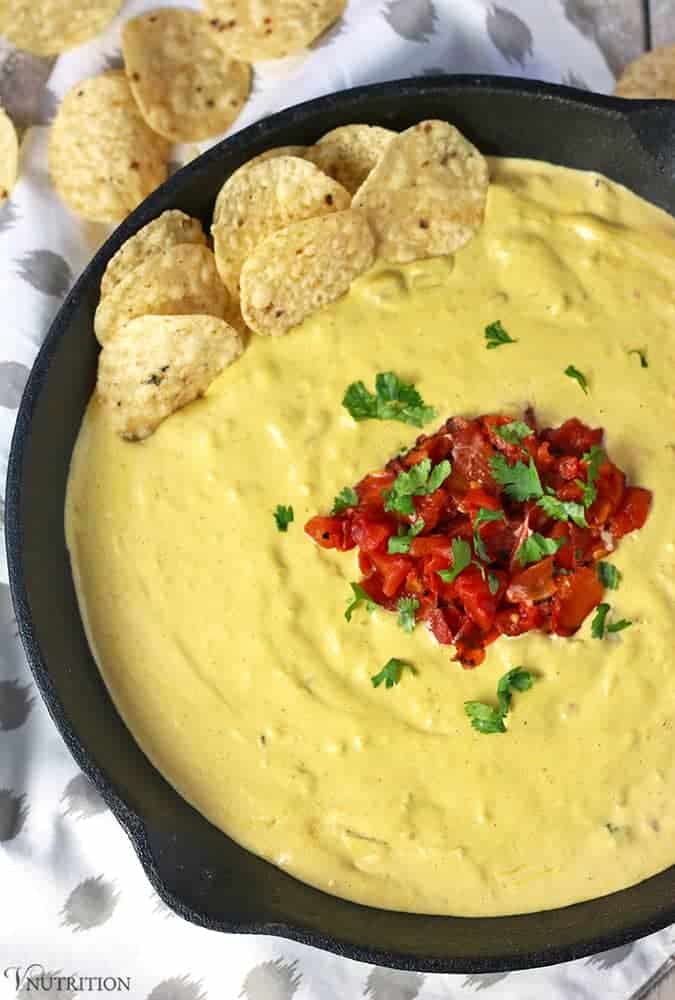 How to Make
Add all ingredients (except the canned tomatoes) into a high-speed blender and blend until smooth. NOTE: If the blade is catching, add small amounts of water *just* until the blender can do its job. You want it smooth but still nice and thick.
Transfer mixture to a saucepan or skillet. Stir in most (or all) of the tomatoes. I like keeping some of the tomatoes as a garnish on top, but that's an optional aesthetic step.
Heat on low for a few minutes while constantly stirring until queso is warm. IMPORTANT: Make sure you keep stirring because I have found that cashew sauces burn or stick to the pan easily!
Top with chopped cilantro and remaining tomatoes and serve with tortilla chips. Remember that sharing is caring. Enjoy!
Optional Variations and Substitutions
This simple and easy-to-make vegan queso recipe is a wonderful base for your creativity. As with most recipes on the blog, there are plenty of ways for you to customize. Here are a few ideas to get you started:
Not a tomato person? Swap in a can of diced green chiles instead.
Want more heat? Add another chipotle or some diced jalapeños to the mix, swirl in your favorite hot sauce, or opt for a "hot" version of canned tomatoes and chiles.
Like things to taste extra cheesy? Add more nooch! (Seriously, friends. You're going to want to add this stuff to everything.)
Cilantro not your jam? Leave it off, or swap in some fresh parsley instead!
Want it extra creamy? Swap in your favorite unsweetened, unflavored plant-based milk for the water.
Don't have lime? Use lemon instead!
This list is in no way comprehensive, so feel free to ad lib your way to your own perfect vegan queso recipe. If you come up with a winner, let me know in the comments below or tag me on your instagram posts!
Serving Ideas
Ahhhh, queso. How I love to eat thee! Let me count the ways:
As a dip with chips or raw veggies.
Drizzled over french fries or tater tots.
As the cheese on a batch of vegan nachos. Bonus points if you add my vegan walnut taco meat!
Tossed with pasta for a Tex-Mex version of vegan mac and cheese.
Mixed into cooked rice for cheesy rice. Serve with my vegan chicken tenders for a super kid friendly dinner!
As a vegan mornay sauce for your favorite roasted veggies.
Once you make this easy cashew queso dip, I can pretty much guarantee you're going to want to put it on everything.
FAQs
Can I turn this into a vegan queso blanco?
Sure! Just omit the turmeric and you should be good to go.
Can I make it ahead of time?
Yep! This cashew queso will last for up to 5 days in the fridge or up to three months in the freezer.
Can I freeze it?
You sure can! It'll last for up to three months in the freezer. Defrost overnight in the fridge prior to reheating.
How should I reheat it?
You can either use the stovetop method or put it in a mini crockpot. Feel free to add a bit of plant milk or water if it requires some loosening up. Also, be sure to stir constantly on the stovetop because it can burn easily.
Is this vegan queso healthy?
While you should enjoy this plant-based cheese dip in moderation (it is intended as an appetizer, after all), it is definitely healthier than non-vegan queso! Here are some facts:
-Cashews are loaded with heart-healthy fats and plant-based protein.
-Nutritional yeast is an excellent source of vitamins and minerals.
-Canned tomatoes are loaded with fiber and vitamin C just like their fresh counterparts.

If you happen to eat the whole bowlful like my sister and I are wont to do, I suggest swapping in fresh-cut veggies for some of the chips to increase the nutritional load.

More Yummy Recipes
If you're still hungry, I've got you covered! Here are some more tasty ideas I think you'll love:
If you tried this recipe for my cashew-based Easy Vegan Queso, please be sure to rate and review it below! Your star ratings and comments help other readers to find this recipe.
For more tasty plant-based meal ideas, follow me on Pinterest, Facebook, Instagram or YouTube. You can also get all of my newest content delivered straight to your inbox by signing up for my email newsletter. As an added bonus, you'll get my FREE Vegan Made Easy guide!

If you make this recipe and LOVE IT, please give it 5 stars ⭐⭐⭐⭐⭐!
📖 Recipe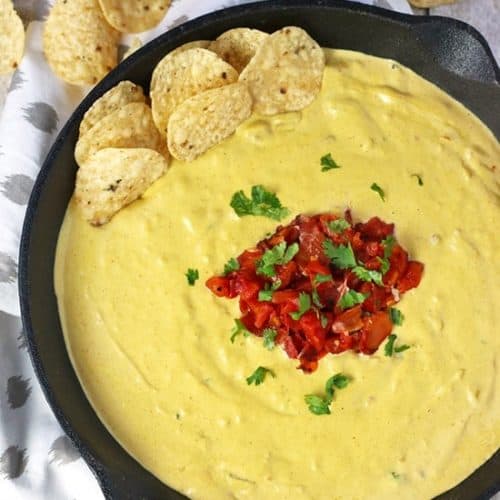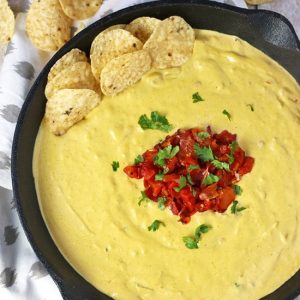 Vegan Chipotle Queso
This amazing Vegan Chipotle Queso will satisfy any cheesy craving. It's made with cashews and tastes just like the queso dip at Mexican restaurants but it's dairy-free!
Ingredients
2

cups

raw cashews

soaked for at least 4 hours and then drained*

1

cup

water

(more if needed)

½

cup

nutritional yeast

½

teaspoon

tumeric

(optional but adds the nice yellow color)

1

teaspoon

salt

1

Tablespoon

fresh lime juice

1

10oz can of

tomatoes with chile peppers

drained of all juice
Toppings
3

Tablespoons

chopped cilantro

(optional)
Instructions
Add all ingredients (except tomatoes) into a high-speed blender* and blend until smooth. If it's too thick, add small amounts of water. You want it smooth but thick.

Transfer mixture to saucepan/skillet and stir in most or all of the tomatoes. I like keeping some of the tomatoes as a garnish on top but you don't have to.

Heat on low for a few minutes while constantly stirring until queso is warm. IMPORTANT: Make sure you keep stirring because I have found that cashew sauces burn or stick to the pan easily!

Top with cilantro and tortilla chips and enjoy!
Notes
If you don't have time to soak the cashews that long, you can put them in boiling water for 10-15 minutes.
I use a high speed blender like a Vitamix when blending the cashews.
Nutrition
Calories:
214.7
kcal
Carbohydrates:
14.25
g
Protein:
10.4
g
Fat:
14.5
g
Fiber:
3
g
Vitamin A:
300
IU
Vitamin C:
3.5
mg
Calcium:
25
mg
Iron:
2.6
mg
Please Note: The nutritional information is a computer generated estimate so these numbers should be used only as a guide.
Tried this recipe? Let me know + share it!
Leave a comment and ⭐ rating below so I know you enjoyed the recipe! Tag @v.nutrition on Instagram with the hashtag #vnutritionandwellness so I can feature you!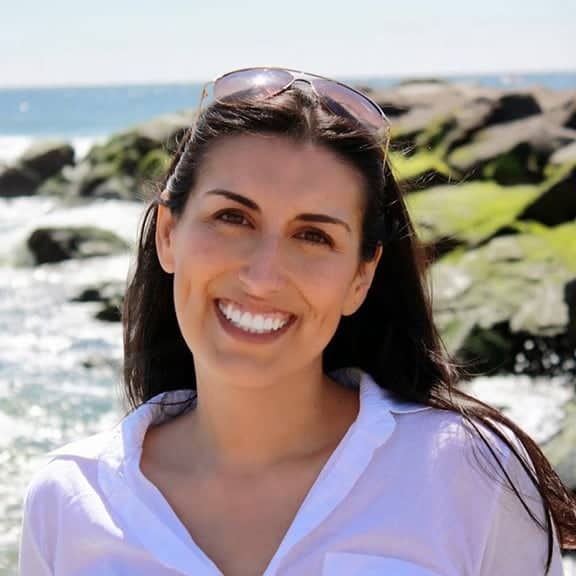 Mary Ellen Valverde MS, CNS, LDN is a Licensed Nutritionist and Certified Nutrition Specialist who empowers vegans to feel confident in creating sustainable habits that align with their values and health goals. She shares easy gluten-free plant-powered food to nourish your body + satisfy your tastebuds. Mary Ellen's recipes and nutrition info have been featured on Yahoo News, Parade, VegNews, LIVESTRONG, Dr. Axe, Greatist, LIVEKINDLY, Brit+Co, Well+Good, and more.