If you're looking for some romantic Date Night Vegan Pasta Recipes, you've come to the right place. These dishes are deliciously dairy and meat-free but still dreamy for those special occasions where only pasta will do.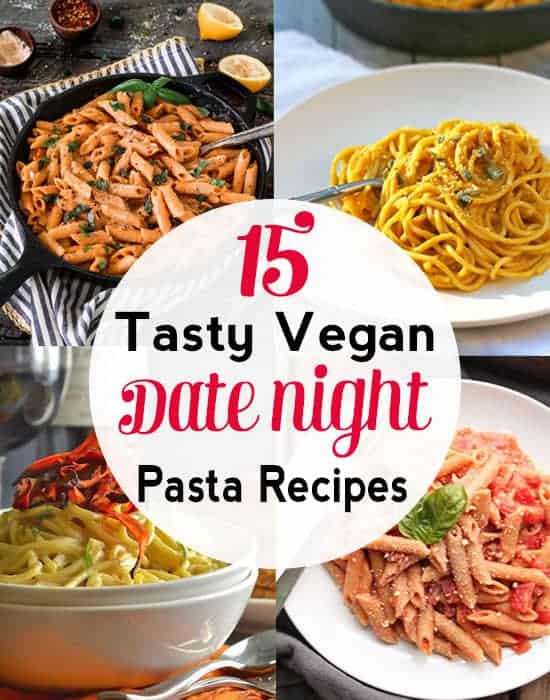 Date Night Vegan Pasta Recipes
Going out to dinner on date night is always fun but sometimes after a long week, I'd rather stay at home, relax, open a bottle of wine, and dig into a tasty pasta dish with the hubs. Ever feel like this too?
Pasta has always been my favorite food. You might have guessed by all the pasta recipes I have on my site (my Cashew Mac & Cheese, Thai Basil Noodles, and Ranch Pasta Salad are a few to check out). So it's no wonder I think of pasta when I think of romance.
Whether you're celebrating Valentine's Day, a birthday, trying to impress a new special someone, or even just having a night in without the kids, these vegan pasta recipes will sure to be a hit.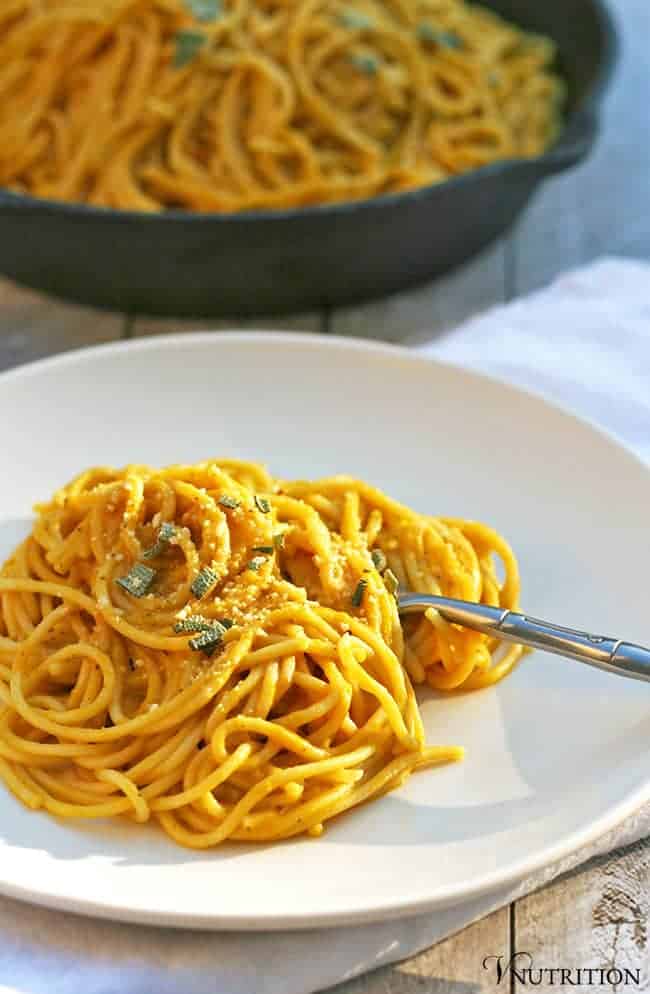 My Creamy Pumpkin Pasta with Sage is an elegant and delicious pasta dish. The sage elevates the pasta which would impress any date.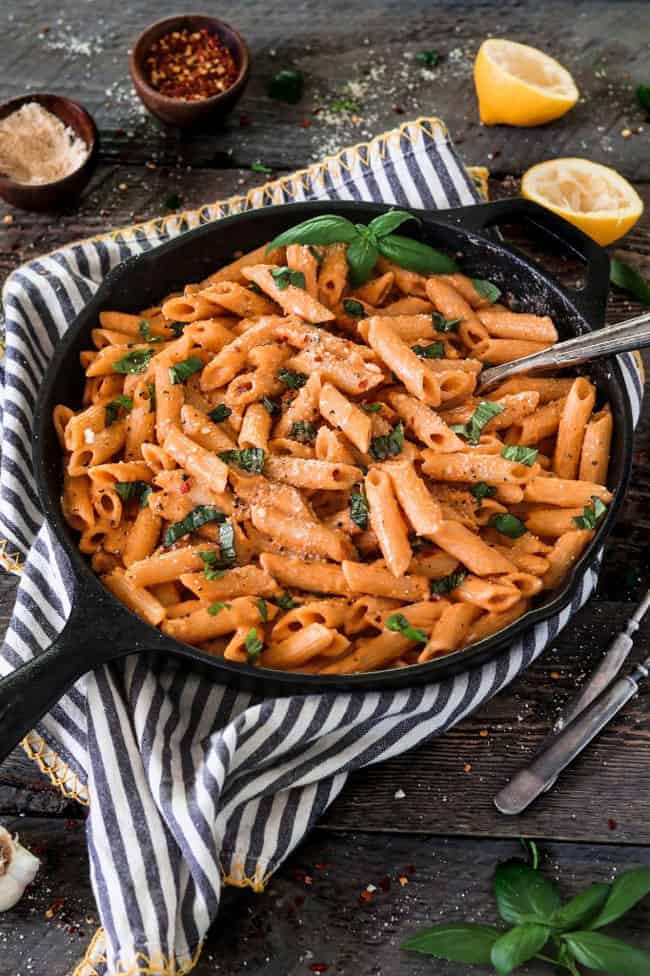 This Roasted Red Pepper Pasta from Vegan Huggs is a total flavor-packed comfort meal that any date would love. It's creamy, garlicky, spicy and smoky-sweet – yum!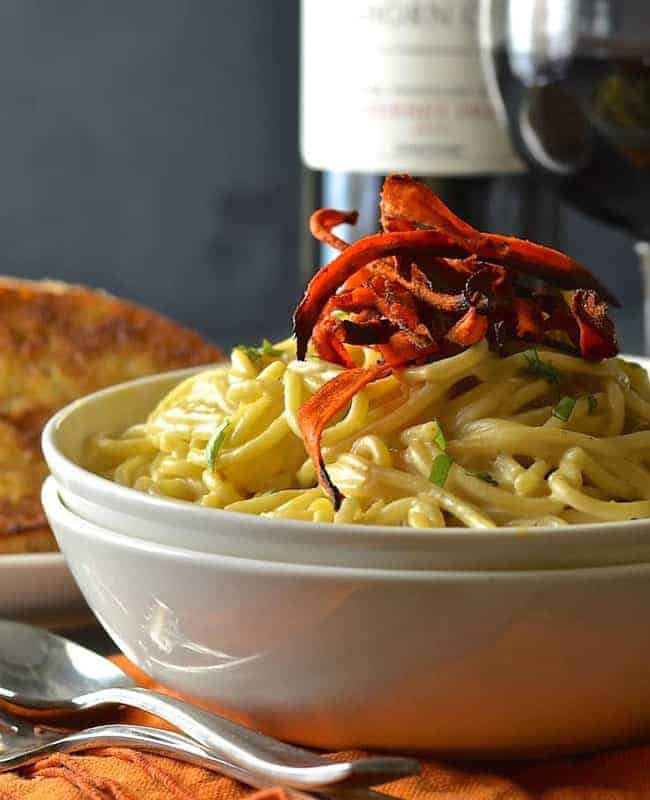 This vegan carbonara from A Virtual Vegan is so simple yet so decadent, that it's magic. A perfect way to impress your loved one!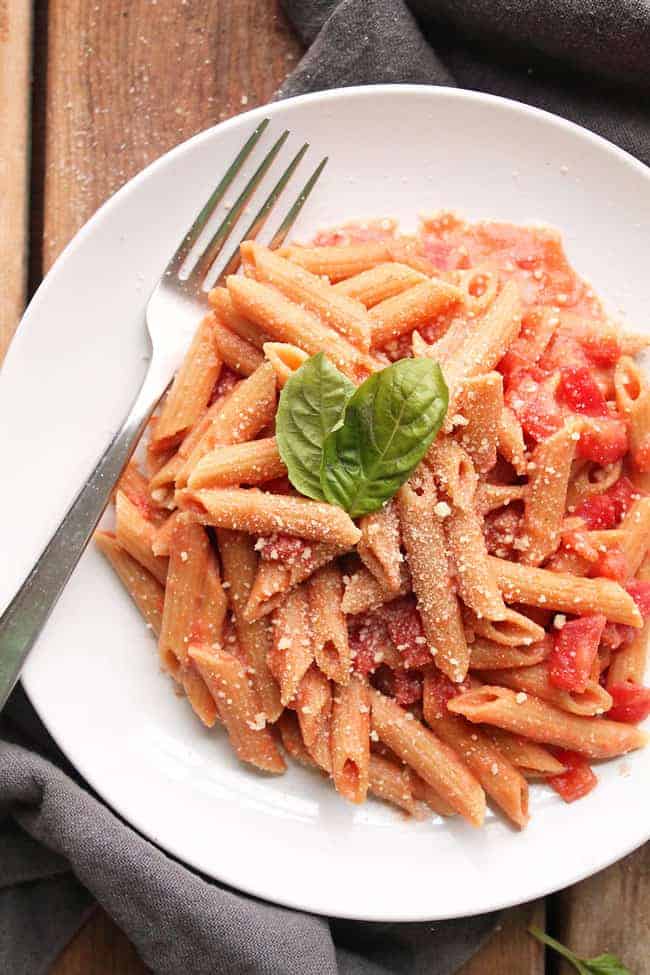 This vegan Penne Pasta with Vodka Cream Sauce from My Darling Vegan is a delicious, creamy, perfectly flavored romantic pasta dish.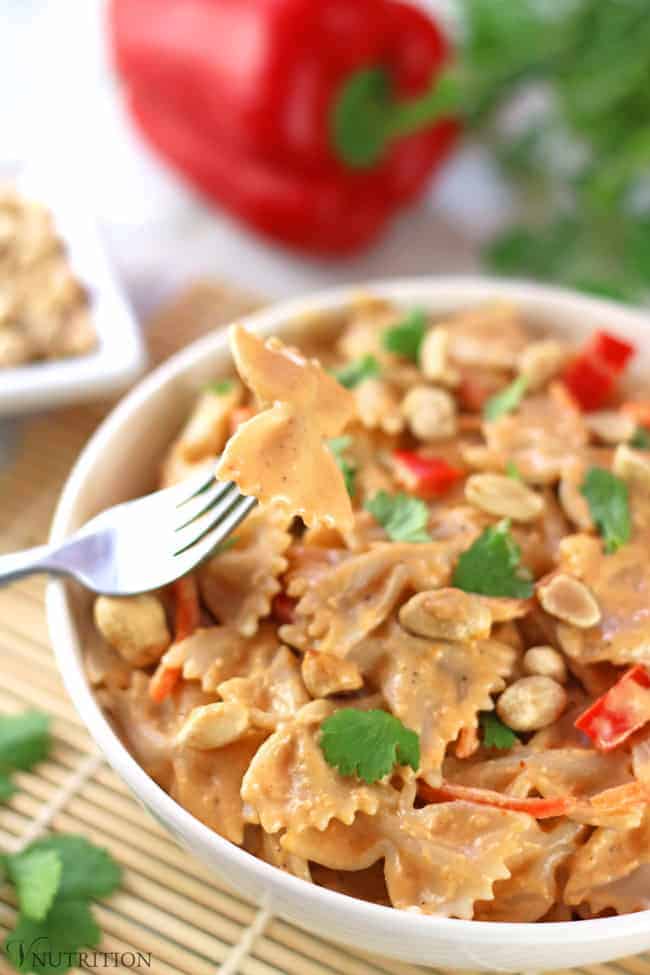 This Thai Curry Mac and Cheese is the prefect food for date night if your loved one enjoys both creamy pasta AND Thai flavors. It's so tasty, your date will want seconds!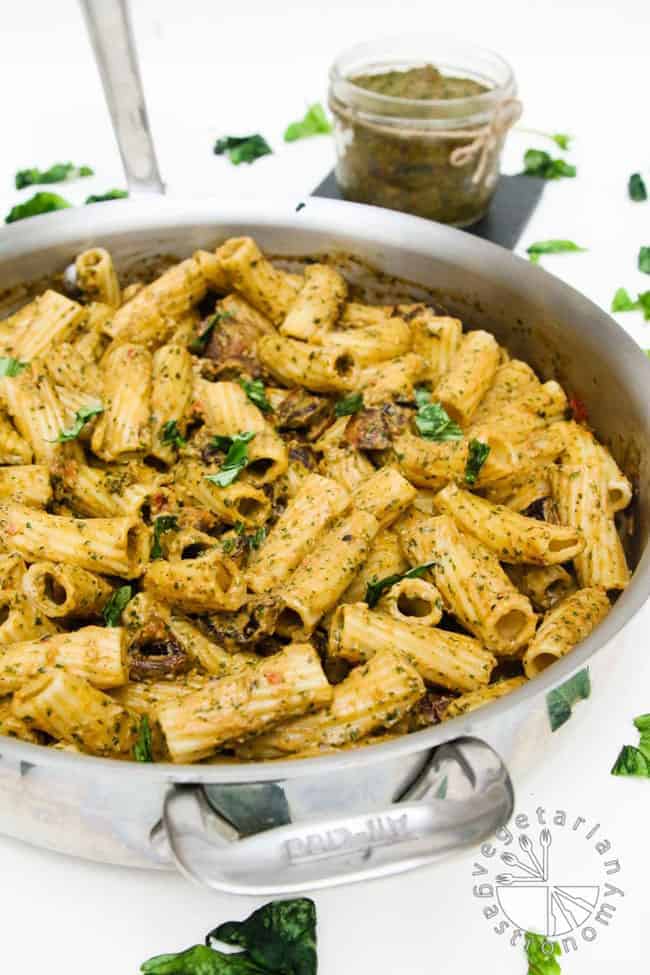 Vegetarian Gastronomy's Creamy Sun-Dried Tomato Pasta would make any date happy. I know I sure would love for my husband to make me a big bowl of this next date night!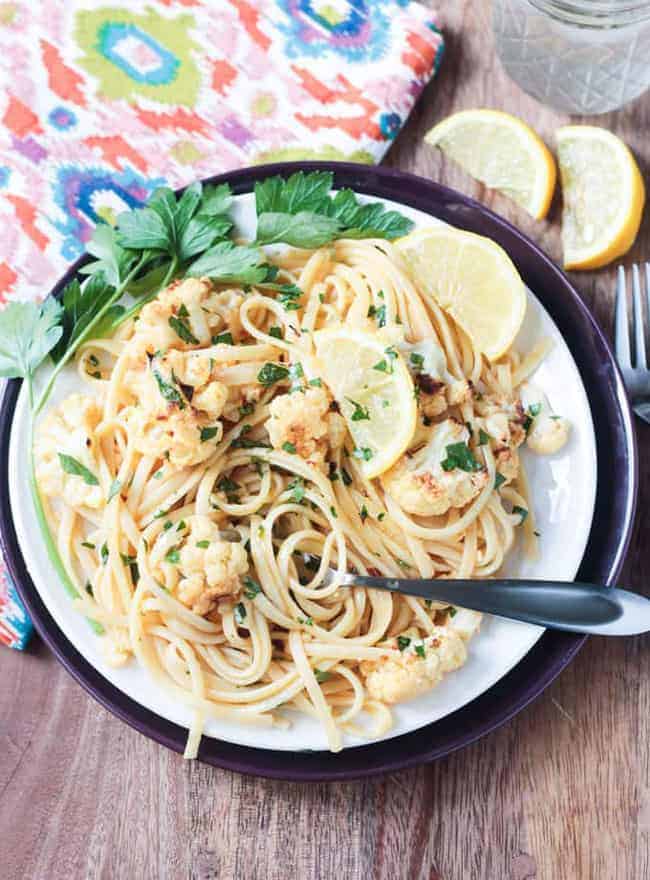 Veggie Inspired's Cauliflower Scampi in Lemon Garlic White Wine Sauce is delicious, fancy and easy all at the same time. What date wouldn't love this for a romantic dinner?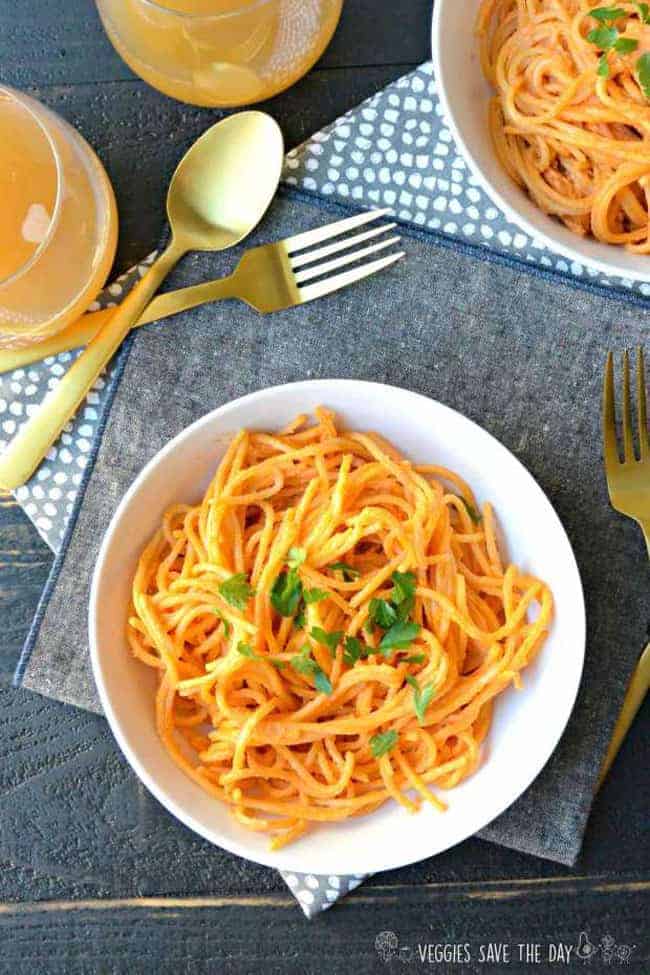 Veggies Save the Day's Creamy Sundried Tomato Pasta is easy to make but elegant enough for a special occasion. Any date would love second helpings of this pasta!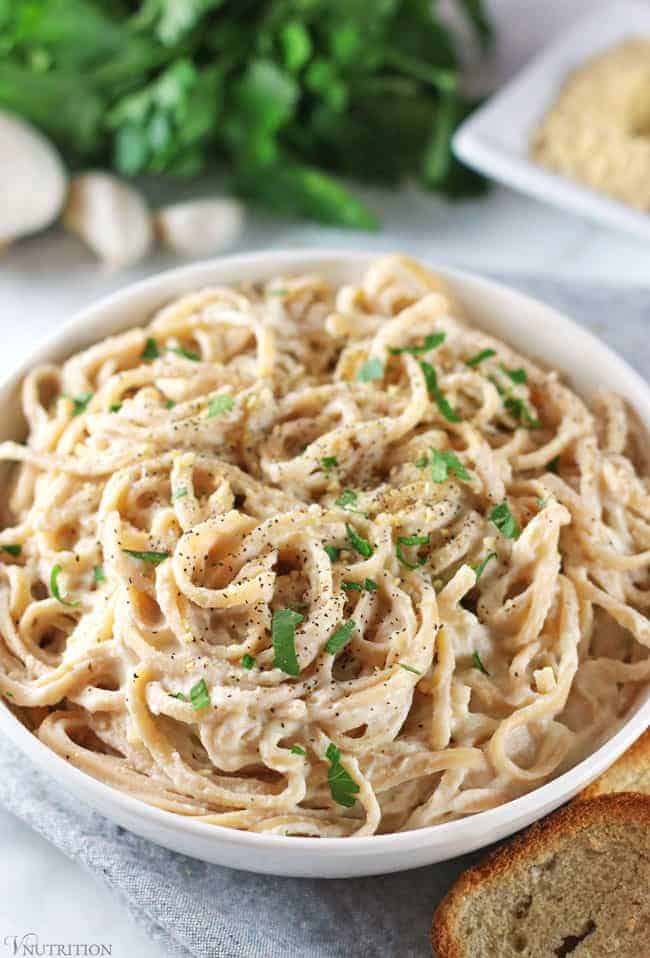 Is your date really into healthy food? This Cauliflower Alfredo is a healthy (yet still delicious) take on Alfredo sauce with a lot fewer calories than the original.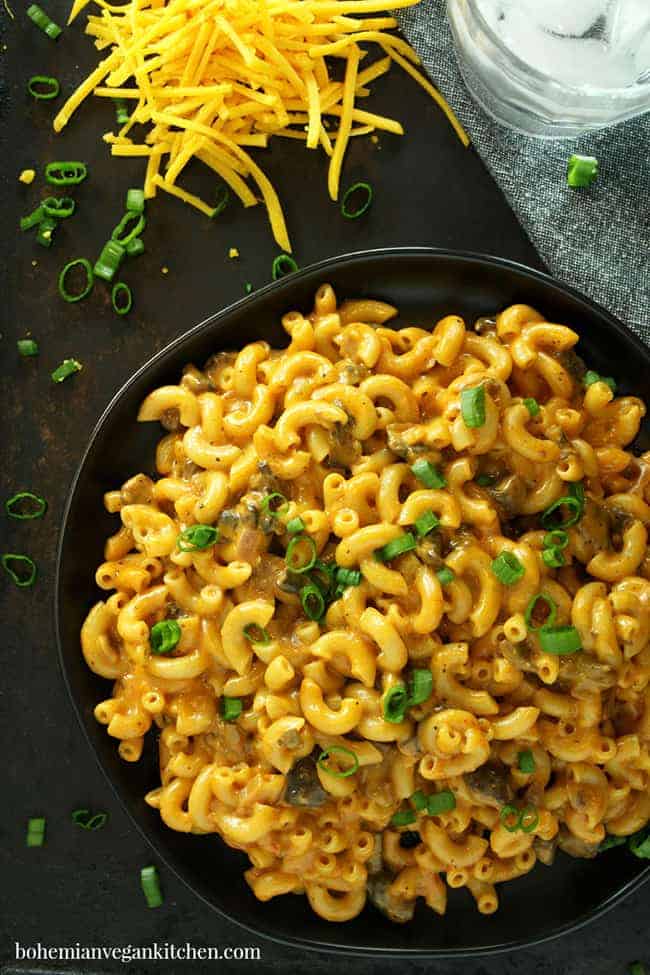 Is your significant other more low-key, then the delicious Vegan Hamburger Helper from Bohemian Vegan Kitchen might be right up their alley! This recipe is so easy to make because it requires one large skillet, and a few simple ingredients that are easy to find.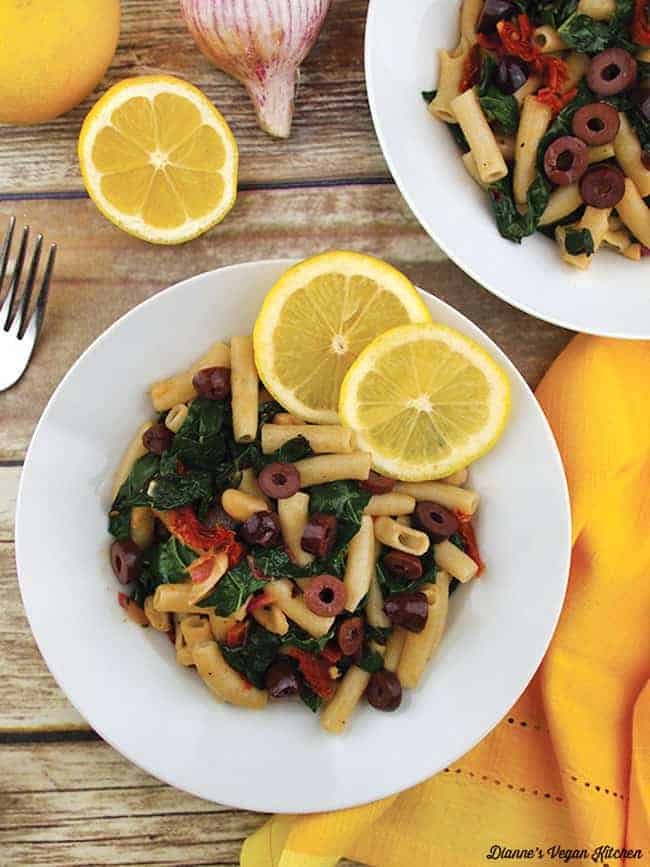 This Lemony Garlicky Pasta from Dianne's Vegan Kitchen comes together quickly, making it the ideal for an easy yet tasty date night meal.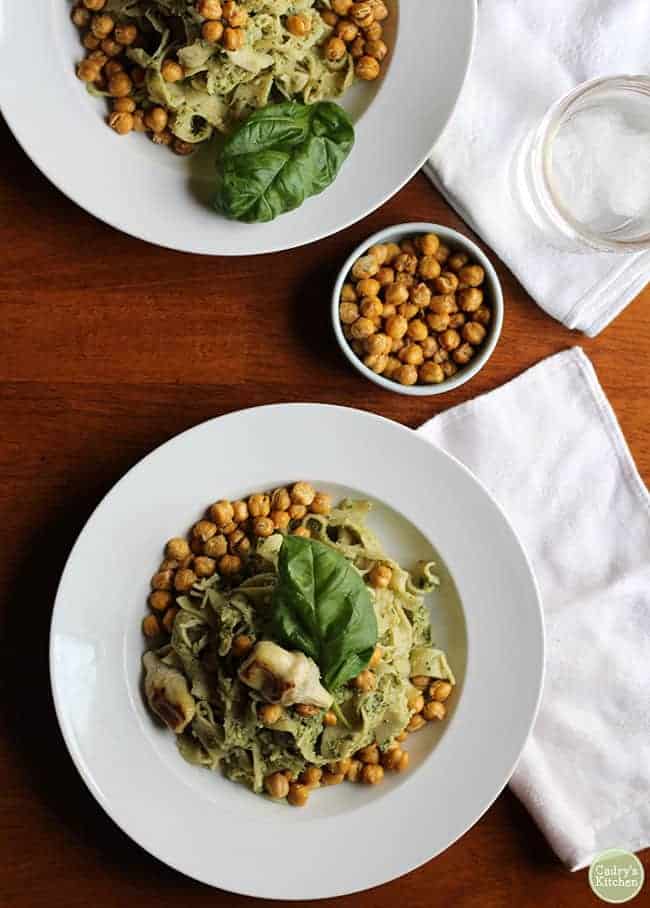 Make your loved one swoon with this delicious artichoke pesto pasta and fried chickpeas from Cadry's Kitchen. Artichoke hearts have the word "heart" built right into the name!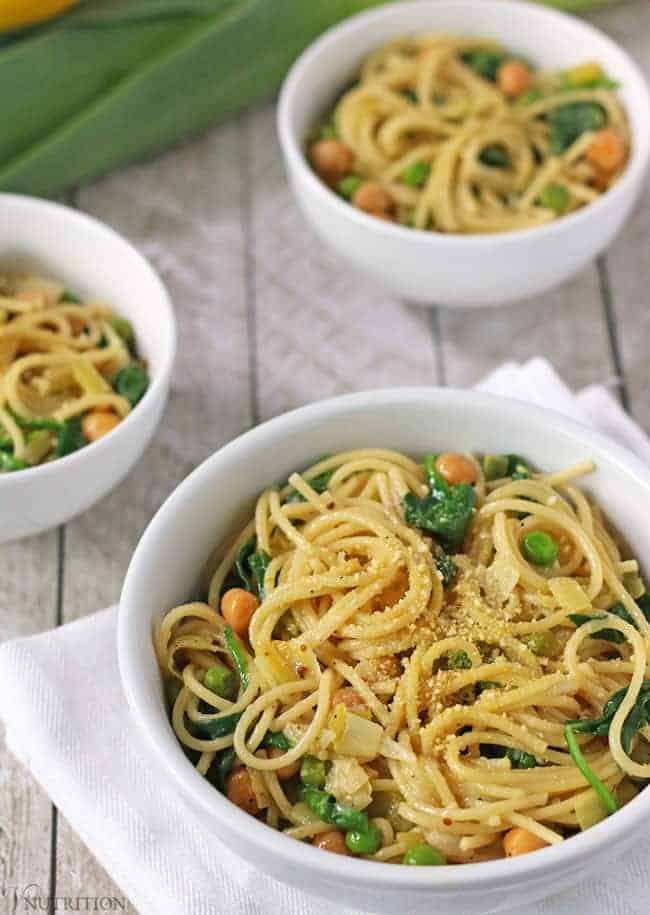 I couldn't have a pasta roundup without my Lemon One Pot Pasta. It's one of my most popular recipes and for good reason. It's so easy to make yet so tasty that any date would be impressed. No one will have to know you just threw all the ingredients in a pot and let it do its thing!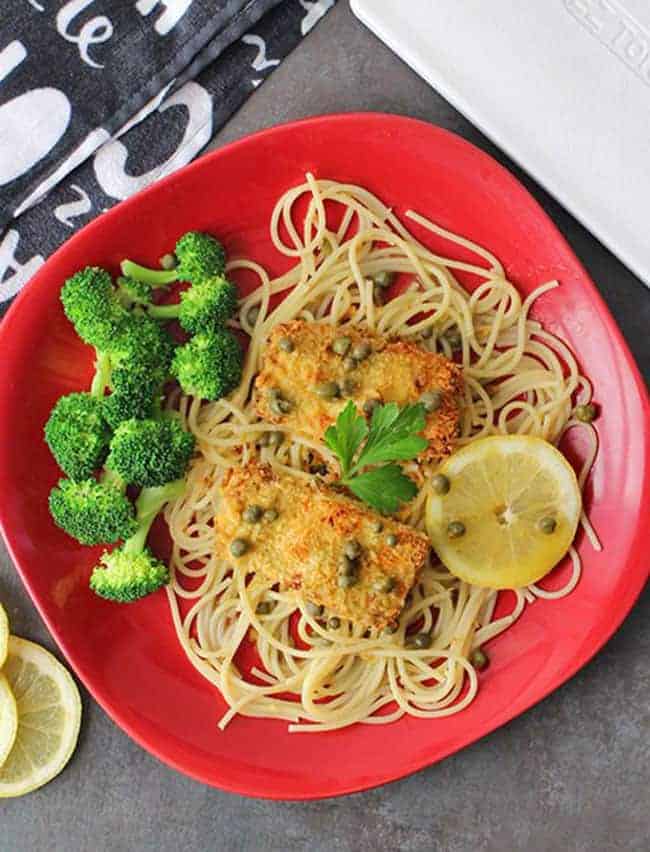 For a different take on pasta, check out Glue and Glitter's Tofu Piccata over spaghetti. Elegant and tasty for the perfect date night dinner.

Vegan in the Freezer's Thai Curry Fettuccine is a great option for someone who loves Thai. It has a curry based sauce that will impress for date night.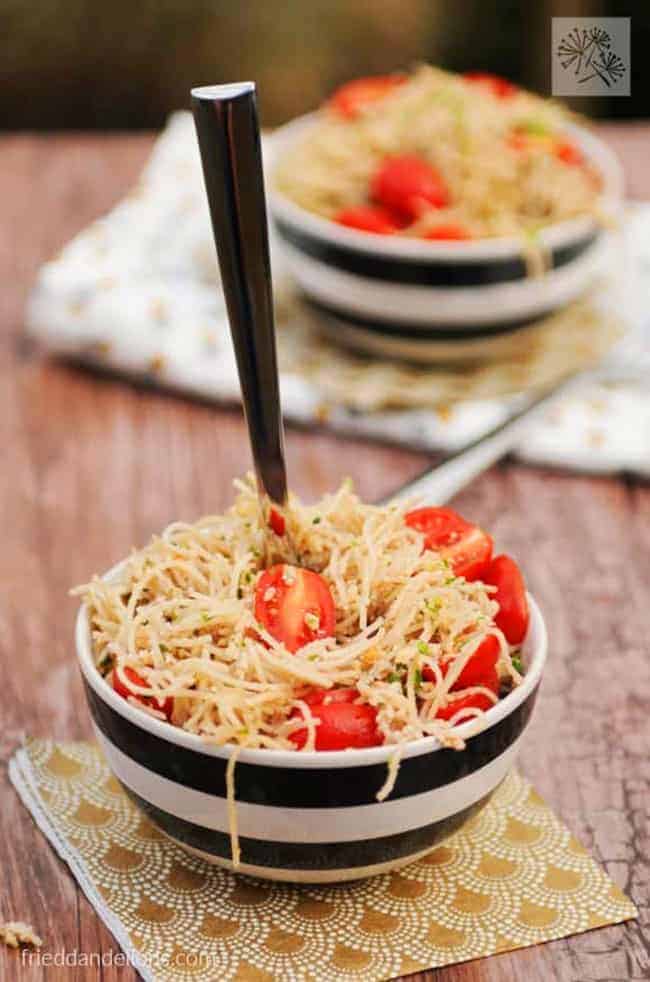 Take your loved one to the Mediterranean without even leaving your house with this Vegan Walnut Feta Pasta from Fried Dandelions.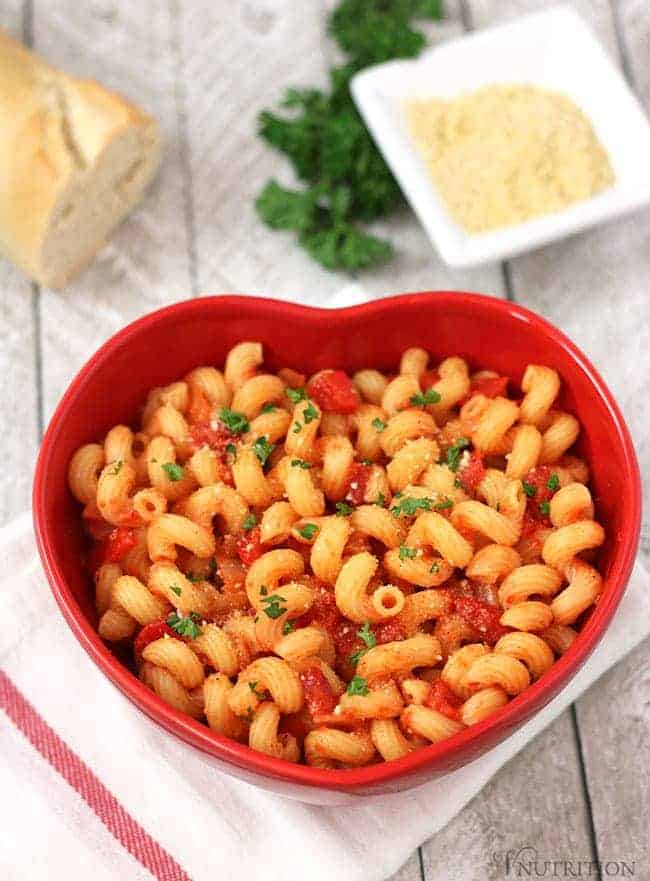 Ever get sick of the same old tomato sauce for your pasta? My Vegan Roasted Red Pepper Sauce is they cure for that. It's so easy to make – toss it with pasta for your loved one and have a special dinner ready in about 15 minutes!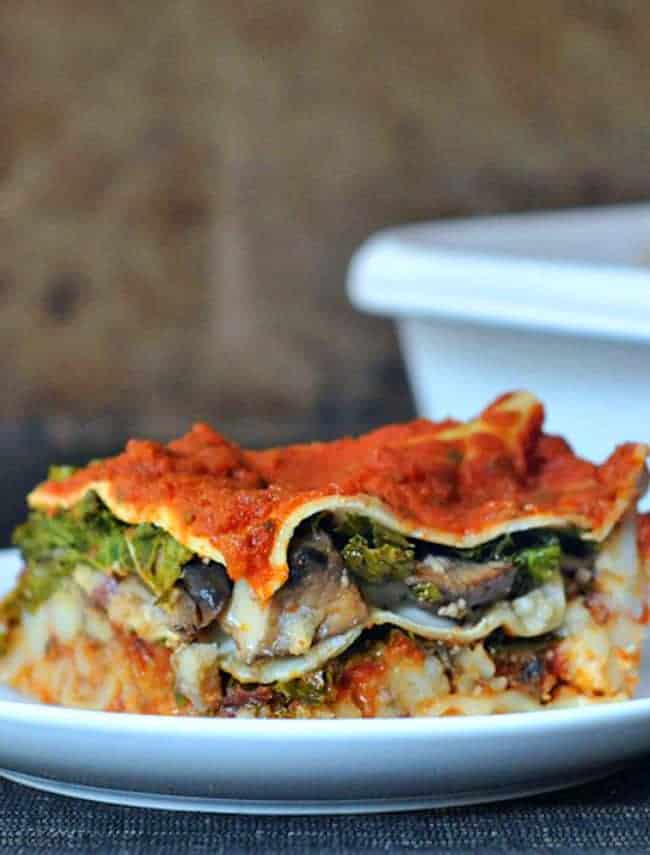 This Hearty Portobello Kale Lasagna from Spabettie is packed with nutrients, layers of flavor, and vibrant colors. The perfect date night comfort food!
You might also like…
So what are some of your favorite Vegan Pasta Recipes for Date Night?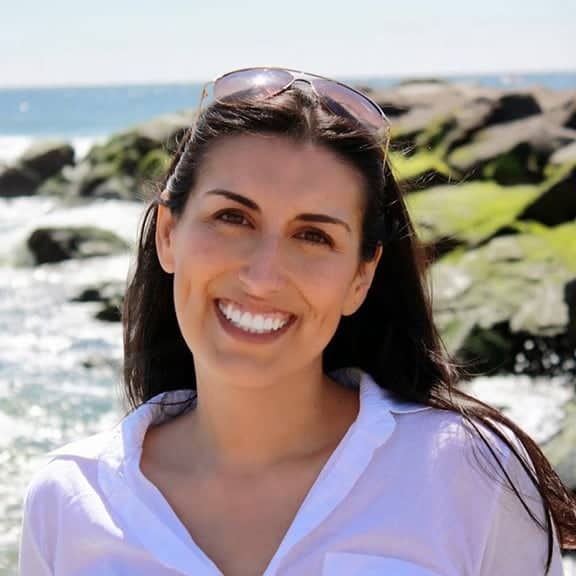 Mary Ellen Valverde MS, CNS, LDN is a Licensed Nutritionist and Certified Nutrition Specialist who empowers vegans to feel confident creating sustainable habits that align with their values and health goals. She shares easy plant-powered food to nourish your body + satisfy your tastebuds. Mary Ellen's recipes and nutrition info have been featured on Yahoo News, Parade, VegNews, LIVESTRONG, Dr. Axe, Greatist, LIVEKINDLY, Brit+Co, Well+Good, and more. She lives in NJ with her husband & two sweet shih tzus, Firenze & Sophie.